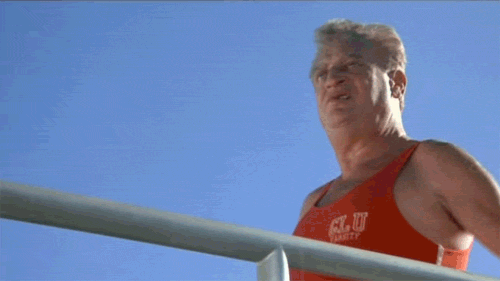 I don't know many guys over the age of 35 that haven't stood on the edge of a diving board, tested the wind with their thumb and casually fired off a series of armpit farts before triumphantly diving into the water. The Triple Lindy is a legendary 80's movie scene courtesy of the late great Rodney Dangerfield, ranking right up there with Daniel LaRusso's crane kick to win the All Valley Karate Championship.
In the last two weeks no batter has scored more fantasy points than Milwaukee's Adam Lind. With 5 home runs, 16 runs batted in and 10 walks, Lind put up 65 points. Only J.D. Martinez and his 7 homers and 63 points came close. With 218 points, Lind is the 28th ranked batter in points leagues. Considering he was drafted in about 0.0 percent of leagues, I'm guessing he's going to end the season as one of the top waiver pickups. And ironically, Triple Lind(y) has no triples on the 2015 season. Isn't it ironic?
But enough about that, let's get to some rankings. It's been a few weeks since my last rankings and considering the All-Star break is upon us, I figured now's a time as good as any. And as it turns out, it's pretty easy to cobble together rankings for points leagues. Especially year-to-date rankings. In points leagues there is only one statistic. Points. He who scores the most points wins. Well the same goes for positional rankings. The player that has scored the most points at a given position has to be ranked number one at said position. If Player 1 scored more points than Player 2, then Player 1 will have a higher rank. I don't care what their names are or the fact that Player 2 was unlucky.
With that said, let's get to it. Actually, I've got a few more things to say before we do. What I've put together is three sets of rankings. Year-to-date (YTD), rest of season (ROS) and end of season (EOS) rankings. As I've already said, YTD were easy. I just grouped the players by position and sorted by points scored in descending order. Easy peasy. For ROS rankings, I had to do some math. Who doesn't love math. Two weeks ago I wrote about projected points for the remainder of the season. Since then I have refined my formulas and have recalculated the results. I am much happier with the final product. Once I had the projected points, I just grouped the players by position and sorted by projected points in descending order. Rinse and repeat.
What about end of season rankings? Am I attempting to go all Nostradamus on Razzball? Perhaps, but I think it's much simpler than that. What I did was take each players' YTD points and add them to their projected ROS points to determine how many points they will have at the end of the season. Voila! Where else can you get end of season rankings months before the season is over? Anway, let the games begin. And may the odds be ever in your favor…
Catcher
I said it preseason, I'm saying it again now and I'll remind you in October, Buster Posey is practically a must own in points leagues. There is no other position where the EOS difference in points between the top and second ranked players is greater. Stephen Vogt or Die, which is actually Sean Combs team name in his league, seemingly came out of nowhere this season. And those that drafted Brian McCann were certainly rewarded. Those that reached for Jonathan Lucroy, were not. Two other catchers I'd like to point out are Kyle Schwarber and Travis d'Arnaud. While it's hardly a valid sample size (that's what she said), over 6 games and 23 plate appearances Schwarber scored 19 points. Extrapolating that over the course of a full season and your looking at a top 3 catcher. You better believe I'm going after him if I miss out on Posey next year. As for d'Arnaud, in 19 games and 77 plate appearances he amassed 59 points and is also a candidate for a top 3 catcher. You heard it here. A season and a half ahead of time. 2016's top three catchers will be Posey, Schwarber and d'Arnaud.
1B
I think Paul Goldschmidt finishing in the top spot was expected by many. By such a margin of difference, I don't know, but as a Goldschmidt owner in a long term keeper league I'm happier than a pig in shit. I think the big surprises here are Albert Pujols and Mark Teixeira. With 282 points Pujols is potentially looking at a 544 point season, which would be his highest total since 2011 and good enough for a top 3 finish. Preseason, most experts had him finishing outside the top 10 among first basemen. For the record, I had him finishing 6th. As for Teixeira, the dude is on pace for 41 homers, 118 RBIs and just under 500 points. Considering his preseason value, I'd label him a big win. Mark it down!
2B
I really don't want to make this all about Robinson Cano, but what do you know. Here I go. Can anyone spell fantasy disappointment of the decade. I think I just did and spell checker didn't argue with me. All I can say is I'm sorry. Even I didn't see this one coming. But I digress. Jason Kipnis has finally ascended to the top. I think the most un-notable name here is Joe Panik. Hey Joe, I said where you goin' with all of them points in your hand? Welcome to the top 5! Jose Altuve and Dee Gordon jump up the rankings in leagues that give 2 points for stolen bases.
3B
Remember that time Robin Ventura charged Nolan Arenado and Arenado beat him like a rented mule? Oh wait, wrong Nolan. My bad. Still one of the greatest fights I've seen in my day in an MLB baseball game. They should have let Bo Jackson and Nolan Ryan duke it out. My money would have been on Bo. You know why? Because Bo Knows! Can you imagine being on the Rangers in that malay and having to be aware of both Bo Jackson and Frank Thomas. Here's my question. How did they let Ryan stay in the game?
Arenado, Todd Frazier and Josh Donaldson. That's what I call a pick 'em. While I'd prefer Arenado, I'd be happy with either of the three. All of whom are on course for 500 plus point seasons. But don't look now! Manny Machado is knocking on the door. Knock knock. Who's there? Manny. Manny who? Manny freaking Machado! With 19 home runs and a .301 batting average he is next in line and is definitely the third baseman I am going after if I miss out on the big three. Because next year I think we will be talking about the big four. Sorry Kris Bryant. And an even bigger "sorry" to anyone that owns Adrian Beltre. Or should I call him the Robinson Cano of third base? Who would have anticipated Alex Rodriguez being much more valuable than Beltre? What do you call a roster with both Cano and Beltre? Dead Man's Party!
SS
Carlos Correa is the future of shortstop. And by future I mean now. I knew the kid was good, but not this good. In just 28 games he has 82 points. That includes 7 home runs, 19 RBIs and 5 stolen bases. Can you say "five tools". Over a full season Correa is on pace for 474 points. That would be the most points from a shortstop since Troy Tulowitzki put up 479 back in 2011. Unless Tulo can stay healthy, I think it's clear that Carlos Correa is the new Monte Carlos of SS!
OF
The fish has been caught. Move over Mike Trout and make room for the new number one outfielder. Bryce Harper is showing everyone why, at just 16 years of age, he was put on the cover of Sports Illustrated. I'm still taking Trout over Harper due to Harper's propensity to get injured, but it's close. Those who doubted Jose Bautista and Andrew McCutchen because of their early season struggles, I have this to say. Shame on you. But for those that doubted J.D. Martinez, I say this. I did too. Two new faces in the top 10 this year are Mookie Betts and A.J. Pollock. Look for them to stick around for years to come.
All Batters
And finally, your top batters. Congratulations Paul Goldschmidt. May you find yourself in this position for many years to come!
Next week I'll take a look at pitchers while I give you an idea of what to expect for the second half of the season. But in the meantime, with the All-Star break upon us, and crucial fantasy baseball decisions to be made, do not go gentle into that goodnight!

Do you know what the fruit salad said to the cantaloupe. Melon! We need ya!!!