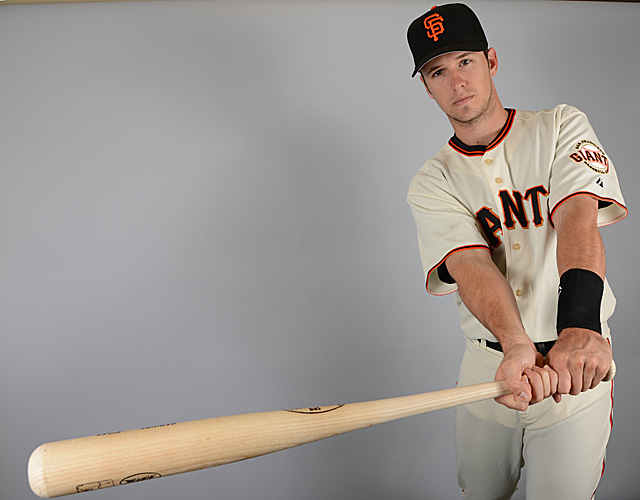 I've got to be "bust"ing your chops by suggesting Buster Posey as a first round pick in points leagues, right? First I declare Clayton Kershaw the top overall pick over Mike Trout, and now this? Some of you are probably thinking that I've been smoking a bit of the devil's lettuce with Tim Lincecum while putting together these posts! Well I can assure you, that couldn't be further from the truth. Although I wouldn't mind sitting down with Big Time Timmy Jim and seeing if I can figure out what the heck happened to him, as I expected The Freak to anchor my staff for longer than he did…
So I have to admit, I'm a bit torn about this whole Buster Posey conspiracy. I consider myself a man of the numbers, and according to FVARz Posey is ranked 10th ahead of the likes of Josh Donaldson, Adrian Beltre, Robinson Cano, Giancarlo Stanton and Paul Goldschmidt. Could I actually draft Posey over any of those players? I don't know. I want to say "no freaking way", but at the same time I don't want to ignore the numbers.
FVARz gives us a players' position-adjusted fantasy value allowing us to compare players across all positions. For the past few weeks I've been consistently saying that in points leagues all we care about is points. So if Edwin Encarnacion is projected to score 454 points, how can I, in my right mind, tell you to draft Buster and his 386 projected points? I've gotta stop all the late night partying with Ron Washington and Josh Gordon!
Here's what it boils down to: Positional battles. Positional what? Sounds like a debate between two or more people that takes place in the bedroom. The war that is fantasy baseball points leagues comes down to the individual positional battles of your starting lineup. The goal is to end up with more points than your opponent and the way you do that is by having players as many positions as possible that score more points. It would be simple if we could just draft all of the top scoring players at each position and be done with it. But that's not how the fantasy draft usually shakes out. If you are able to accomplish this, please invite me to join your league next year.
Buster Posey is projected to score 386 points. That's 112 more than the average number of points scored by the top 13 catchers. The difference in points between Posey and the 6th ranked catcher (Evan Gattis) is 114 points. That's quite the drop off. Let's take a look at the other infield positions.
Miguel Cabrera leads the way at first base with 495 projected points. That's 87 more than the average number of points scored by the top 13 first basemen and 74 points more than Albert Pujols, ranked 6th. The Posey-Pujols combination is more than Cabrera combined with any catcher other than Jonathan Lucroy.
How about second base? The top spot at second base varies depending on whether your league rewards a stolen base with 1 or 2 points. Let's assume 1 point. Yes I know what happens when you assume. I happen to enjoy making an ass of myself. This gives the nod to Robinson Cano with 430 points which is 91 points more than the average and 92 points more than the 6th ranked player (Daniel Murphy). The Posey-Murphy team is more than Cano combined with any catcher other than Lucroy and is a push with Salvador Perez. If you can manage to get your hands on Brian Dozier or Dustin Pedroia to go with Posey, you are looking at a nice points league pair.
And at the hot corner we have Adrian Beltre with 400 points. Well that's only a few more than Posey himself. Are you saying by drafting Posey I can get third base points at catcher? Where do I sign? The 6th ranked third basemen is Kyle Seager and he's slated to score 360 points. That's a difference of 88 points. Now I realize it's not fair to blindly compare the 6th ranked catcher to the 6th ranked player at another position, but I am just trying to give you some perspective of the points.
We might as well finish what we've started. Troy Tulowitzki leads shortstops with 392 projected points. That's 6 more than Posey. Enough said. Why is catcher such an overlooked position? Why is Buster Posey such a bad investment?
Am I saying that you should draft Buster Posey in the first round. Indeed I am NOT. And here's why. Luckily for you a lot of fantasy players don't do quite as much draft prep as they should and often rely on the rankings provided by their league's site and/or the average draft positions (ADP) based on the many mock drafts leading up to that point. The issue with using ADP is that the majority of the drafts that generated that data are based on 5×5 roto leagues and, in many cases, a players' value in roto is not the same as it is in points leagues. Especially depending on your league's scoring system. Sadly many don't realize or care to realize such important details. And that's where you gain the advantage. Well I guess you gained the advantage the moment you typed "www.Razzball.com" into your browser of choice, but you get the point.
There are some sites that do allow you filter ADP to head-to-head leagues and if you have access to this data, great. Here's why. This is where you'll find data showing you what rounds players are being selected in head-to-head leagues in which the selections are greatly influenced by roto values. In points leagues Giancarlo Stanton isn't a first rounder. He's a second rounder, but he is being drafted, on average, with the 6th pick. While I'd love to have him on my team, he won't be on any of my teams. Or will he? But if I am not willing to draft him in the first round, how is that possible? Maybe I am willing, under the right circumstances. Let's say I have the 8th pick and Stanton is still there. Out of the players I have ranked ahead of him that are still on the board, perhaps many of them will be still be there by my next pick. Then maybe, just maybe, I hedge my bets and take Stanton. Anyway, hopefully you catch my drift. Knowing the lay of the land and understanding all of the angles is key to draft day success.
Here's how I suggest you take advantage of all of this. Use my rankings (or your own points-based rankings based on your league's settings) to determine which round each player should be drafted at if everyone in your league were using that same data. Then look to the interweb to find out where each of those players are actually being drafted and compare the results. Look for players like Posey that have a better points leagues ranking than their going ADP and evaluate drafting them. Let's continue with Posey as an example. My rankings say he's a first rounder. His ADP is around 26 which is early 3rd round in 12-team leagues and mid 3rd round in 10-team leagues. He actually seems to be going in the 4th round of a lot of drafts I have been in. So here's what you do. Consider him for the second round and if you can't pull the trigger, take him in the 3rd. If you get him in the 3rd you are getting 1st round value two rounds later. This same principle can and should be applied to all players.
Here are few other examples:
If you can grab any of these players after their "round based on points rankings" then you are getting value for your selection. And I don't know about you, but I do like me some value.
Keep in mind that this principle works in both directions. I was going to say "goes both ways", but I knew that would be opening a can of worms that I just opened up anyway. What I mean is that you can use this system to find players that are being drafted too early and do not offer you good value for your pick. George Springer is a player that comes to mind. I've got him ranked as a 13th round pick, yet he is going much earlier in the 6th or 7th round. As my 35th ranked outfielder in points leagues, that's just not a good projected return on your investment. I do like Springer and could see myself using a 10th round pick on him, but sooner than that seems unwise. Just like upsetting a wookie.
As for pitchers, you're going to have to figure out how you value them compared to hitters. In points leagues I whole heartedly believe that Kershaw, Felix Hernandez and Max Scherzer are bonafide first round picks, with David Price, Madison Bumgarner and Stephen Strasburg to follow in the second. How about relievers? My rankings have Aroldis Chapman, Craig Kimbrel and Greg Holland in the top 15. That's what the numbers say. Each with an ADP of the about the 6th round, I plan to draft one of them in the 5th round.
Remember, ADP is just a guideline, if your research tells you otherwise and you feel the need to reach a few rounds for guy, not to be confused with giving a guy a reach around, then by all means, reach away. Just know what you are getting yourself into and be prepared to clean up the mess. Good luck.
For those familiar with Streamonator, Hittertron and the other top notch tools provided by Razzball you can now buy a subscription to access these game changing services by clicking "Subscribe Now". For those not familiar with them, I suggest you find out more about them. When I asked Ferris Bueller what he thought about the subscription options, here's what he had to say "It is so choice. If you have the means, I highly recommend picking one up."
You can find me malamoney on Twitter.