I thought about going with "Yadda Yadda Yadier" as the title for this week's rant, but I used that line last week when discussing the top catcher in fantasy baseball points leagues. While I would only be stealing from myself I wanted something new. If only Molina had homered three times last night this would have been perfect. I still think it's good enough, and good enough is good enough for me. Speaking of "good enough", Yadier Molina has been far better than good enough. In fact, he has been fantastic. The dude's got 6 home runs, 16 runs batted in, a .316 batting average and 2 stolen bases to boot! With 69 points Yadier is in a league of his own at the catching position. Eat your hearts out Gary Sanchez owners! While you were busy drafting Sanchez in the third round I drafted Manny Machado. And when I drafted Molina in the 12th, you were stuck taking Paul DeJong.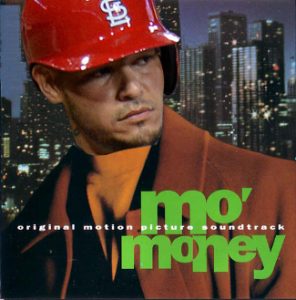 To attempt to put Molina's year-to-date performance into perspective, his 69 points are good enough to be third amongst first basemen behind Freddie Freeman (82) and Rhys Hoskins (79). He has more points than every other first basemen. Does that adequately put things into perspective? In the words of Will Hunting, how do you like them apples?
C: See above
1B: Rhys Hoskins is shaping up to be everything he appeared to be last season. If I'm being honest I didn't expect this, but here we are with Hoskins leading all first basemen with 76 points. This post was written before Freeman's two homer night which actually put him ahead of Hoskins.
2B: Javier Baez is taking second base by storm. Batting second in the Cubs order looks to be wearing well on him. With 90 points he's not only the top 2B, but also a top ten overall batter.
3B: Manny Machado is breaking out. That's a bold statement considering he's averaged 35 home runs, 95 RBIs, 10 stolen bases and a .279 batting average over the last three seasons. Let's not forget he's only 25 years old.
SS: The top hitter in points leagues is Didi Gregorius. Did I really just say that? He actually just hit another home run between the time I started writing this post and now. His 118 points are second to no hitter. Would I sell high? If I could get the right deal I would, but I do think Didi is for real. He should regress, but did project him to be a top ten shortstop this season.
OF: Bryce Harper, Mike Trout and Mookie Betts are the top three outfielders. Who would have thunk it?
Sell High Candidates:
Didi Gregorius, Javier Baez, Mitch Haniger, Matt Chapman and Hanley Ramirez
Buy Low Candidates:
Joey Votto, Edwin Encarnacion, Byron Buxton, Ian Happ, Marcell Ozuna, Alex Bregman and Ender Inciarte.
My two cents.
Bud Norris notched a save on 4/20. That would be like Jason Norris notching a save of Friday the 13th.
Who put the Yu in Ryu? The Chicago Cubs want him back.
Frank Thomas > Jose Abreu
Larry David thinks Walker Buehler is pretty… pretty… pretty… good.
When Preston Tucker told Ronald Acuña that he had put his stuff in the wrong locker, Acuña told him to "go tuck himself".
What if C-A-T really spelled dog.
Does anyone play MiLB fantasy baseball? Drafting the top players seems risky since they will be lost when called up.
I can't take any expert's rankings seriously if they do not have Molina in their top five catchers. All that means is that they really haven't given their preseason rankings a legitimate update.
Kenyon Middleton and Josh Hader are exactly why I don't waste an early pick on a closer.
Adam Eaton was one of the top performing players (1.13 points per plate appearance) before his injury.
Teoscar Hernandez, whom dyslexic people might read as toe scar, has been off to a very good start. He is generating a lot of buzz. If I owned him in a redraft league I would be looking to use him as a bargaining leverage to help me land a known commodity.
More people need to start giving Yadier Molina the respect he has earned.
Buster Posey approves this message.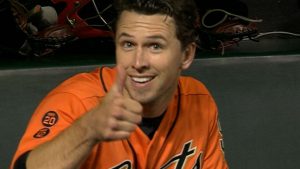 Follow me on Twitter at @malamoney