Joey Votto (614), Mookie Betts (594), Bryce Harper (567), Victor Martinez (568), Miguel Cabrera (606) and Miguel Cabrera (609). This is a list of the batters with the most fantasy points in the last six seasons. Did you notice that there's one name noticeably missing from the list? If you were thinking Alex Blandino, you'd be wrong. By the way, with a name like that he's got to be the most boring player in the league, right? Think again, apparently he was once ticketed for driving while not wearing a seatbelt and occasionally he even puts his recyclables in the regular trash bin. Who would have thunk it! The name I was looking for is Mike Trout. Trout has never finished the season with the most points, and I don't believe 2018 will be any different. It's just not what he does. Right now he has 364 points, but he trails both Jose Ramirez (397) and Mookie Betts (371). My money is on Betts (pun unintentionally intended). Even though he's spent time on the disabled list and has played 19 fewer games (73 plate appearances) than Trout, Mookie still has 7 more points (aka a two-run homer). That might have a little something to do with each player's respective teams. The Boston Red Sox have the best record in baseball and are the highest scoring team to date with 530 runs scored. The Los Angeles Angels of some other town have scored more than one hundred less runs. You do the math. And let's not forget that Ramirez has a 33 point advantage heading into the second half, which is actually less than half at about 67 or so remaining games. My gut says Trout finishes third, but which two finish ahead of him are technically up for grabs. I could see J.D. Martinez, or perhaps even Francisco Lindor, sneaking into the mix. The dark horse is Manny Machado, but a lot depends on where he lands once traded by the Orioles.
I missed most of the Home Run Derby but managed to catch the Celebrity Softball Game. And when I say "catch" I mean it was on in the background while I thought about this post. Here's my few takeaways from that game. I hated The Miz before the game and I hate him even more now. Seriously, the guy is a douche. I know he wormed his way into the WWE, but he completely comes off as a wannabe Hulk Hogan that likes to hang with the guys from the Jersey Shore. Eat shit Miz. What does Miz stand for? Mizerable!
I'm a big fan of Bill Nye the Science Guy and everything he has to say, but damn, I wasn't sure who was going to break their hip first, him or Tim Kurkjian. Love Mr. Nye but he's seriously getting a little long in the tooth. Was I watching softball or an old episode of Tales From The Crypt.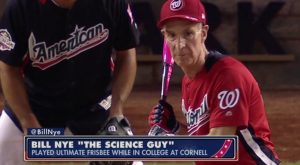 And last, but certainly not least was Andre Dawson misreading a popup hit by a dude that looks like Mookie Betts and having it land on his head. Didn't he play in the Major Leagues for twenty-one years in a non-DH role! No one was happier to see this than Jose Canseco who wanted to be in the game, but was bumped from the roster for Dascha Polanco since she agreed to let the league advertise across her backside for free. Dascha whole lotta space!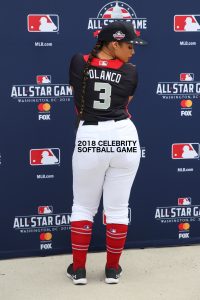 Ok, now that I've managed to insult just about everyone that has read this far, let's jump into some points league content. Which players are going to help you get that extra push you need to get your team into the playoffs?
Even though he's tied for the Major League lead with 132 strikeouts, Aaron Judge still has 262 points at the ASB. While I don't necessarily care about strikeouts as much as I do fantasy points, they do have a negative impact on the latter. I actually think that Judge will be even more productive after the ASB than he was before. Look for him to potentially be a top three OF in points leagues from this point on. Gotta love how I throw the word "potentially" in there to give myself an out.
Nick Castellanos has 249 points. He's not that far behind Judge. Considering an ADP of 152 (13th round of a 12-team league) versus Judge's second round selection, it seems fairly obvious that Castellanos has been more valuable. Like Judge I think he's got more in the tank going forward. Look for him to produce at nearly Nolan Arenado levels rest of season. That says a lot considering Nolan plays half his games in Colorado.
As I mentioned last week, Wil Myers might be fired up to make up for lost time. Over the last two seasons he's averaged 29 home runs and 24 stolen bases. At that rate he's looking at another 12 home runs and 10 stolen bases. I think those numbers are his floor, barring injury. I realize that last statement is a considerable concern, but otherwise I can see him going 15/15.
Robinson Cano is my sneak attack play for the second half. He will be rested and ready to prove himself. Year after year he has been a top second baseman in all fantasy formats. Here are Robinson's points per plate appearance numbers for the last eight seasons: 0.64, 0.73, 0.57, 0.70, 0.76, 0.76, 0.79 and 0.80. The only subpar number is 0.57 back in 2015. His PPPA for those eight seasons combined is 0.72. His PPPA this year before being suspended was just under 0.70. I think he can be in the top five 2B in points from the time he returns to the end of the season. Stash him is he's available.
Since week eight Matt Carpenter has been a solid contributor in points leagues. I expect that to continue.
Remember about a month or so ago when everyone was panicking about Paul Goldschmidt and I was screaming "buy low". Well look at him now. With 267 points only Freddie Freeman (300) and Joey Votto (272) have more at 1B. In each of the last three seasons Goldschmidt has scored a fair amount more than 500 points. I still think he makes a big push at breaking the 500 barrier again in 2018.
Joey Votto has been quietly good in points leagues so far. I expect him to be not so quietly even better ROS.
Joc Pederson's strikeout rate is noticeably down. His points per plate appearance average is up. If he can continue this trend he will be a good second half waiver wire option since he's only about fifty percent owned. He certainly in my watch list.
David Dahl is another sleeper for the second half. He seems like he's this generation's Grady Sizemore with respect to injuries. The main difference between the two is that Sizemore proved himself statistically before going on an injury spree. I think Dahl can put up similar numbers if he can stay on the field. I'm looking forward to getting him in my lineup.
Eddie Rosario is the biggest All-Star snub in my humble opinion. My opinion is far from humble. His 280 points make him a top six outfielder, and overall, he's a top fifteen hitter. I'm expecting him to continue his success and be a top ten OF over the remainder of the season.
I can see Edwin Encarnacion having a solid second half. Somewhere along the lines of 17 home runs, 45+ RBIs and a solid batting average to bring up his current .225 average.
I like Brian Dozier to have rebound before the season ends.
I have always been a big fan of Jon Gray. I own him just about everywhere. His 2018 season has been disappointing to say the least and his recent demotion to AAA was quite the bummer. However, looking at his numbers, it seems he's not pitching all the bad. His 5.44 ERA is not very user friendly, but his FIP is 3.03 and xFIP is 2.83. Gray's K/9 of 11.33 is in the top ten amongst starters. The pedigree is there, and so are many of the stats. In his first start back from AAA he scored 24 points. If he can build on this start he's going to a valuable fantasy asset going forward.
Danny Duffy anyone? Come on, everyone loves double D's. Heck he's even got double F's. Duffy's thrown at least six innings in his last seven starts and nine of his last ten. Seven of those were quality starts.
Trevor Story has a .292 batting average. I'd repeat that, but I don't feel like it. He's also on pace for a 30 homer, 20 stolen base season. That's Mike Trout-esque. He's only 25 years old and he plays half his games in Denver. However, I don't think he can keep up this charade. He seems like a sell high option in redraft leagues as I see a regression coming. I write this just as he ties up the game with a solo homer.
A few other players you might consider keeping an eye on include Elvis Andrus, Yoan Moncada and Chris Taylor.
I wanted to suggest Jurickson Profar, but I think he might be more of a 2019 option.
Here is my top ten batters for the rest of the season. I wasn't going to include this because it seems way too obvious.
Mookie Betts, Mike Trout, Jose Ramirez, Francisco Lindor, J.D. Martinez, Nolan Arenado, Manny Machado, Alex Bregman, Jose Altuve and Freddie Freeman.
Here are the next ten.
Joey Votto, Aaron Judge, Paul Goldschmidt, Bryce Harper, Andrew Benintendi, Ozzie Albies, Eddie Rosario, Charlie Blackmon, Eugenio Suarez, and Javier Baez
My first half points league MVP is a no brainer with Nick Markakis. If you couldn't see that one coming then you need stronger lenses in your glasses. The runner up is Javier Baez. If you can get him in your lineup, I wouldn't hesitate. I think he will have a stronger second half than Markakis.
Next week I'll focus on pitchers.
Follow malamoney on Twitter at @malamoney