I was all about some of that young prospect snell early in the season, ranking Blake Snell within my top-75 preseason ranks.  He destroyed the Minors in 2015, then was a little iffy when he hit the Majors for the first time.  HE'S AWFUL FOREVER!  As we see 95% of the time, initial failure means a prospect is forgotten, even if they start putting up solid numbers a month or two later.
And such was the case for Snell, who had a 3.86 ERA over his first 5 starts (passable), but a horrific 20:15 K:BB and a WHIP close to 2.00.  He's no Trevor Rosenthal!  That aforementioned success in the Minors came with some control issues as well, so it stood to reason he might need a little more refinement.  On top of that, I watched a few of his starts and his stuff looked a little too "loopy" for me.  I have no idea if that makes sense…  But it looked like a lot of huge rolling movement, with nothing crisp, ala a Corey Kluber or Jake Arrieta cutter.  Just very bendy.
Things have gotten a lot better lately though, with a 24:11 K:BB heading into yesterday's start against the Yanks in 24 innings.  As such a highly regarded prospect and with good pure stuff that I think just needed that little extra "umpf" of crispness, I bought in heavily across my leagues and in last week's ranks.  But I figured it would be a good idea to see for myself if his breaking stuff looks a tad better than when I saw it in his 2nd and 3rd starts.  Here's how he looked:
First Inning: Snell's first pitch is a 92 MPH fastball low and away to Brett Gardner.  93 right down the middle fouled off, 93 is outside, 93 is a little high, then 94 sails wayyyy high for a leadoff walk.  Ruh roh.  93 high to Jacoby Ellsbury, and out comes some catcher names Luke Maile for a chat.  Literally never heard of him.  91 MPH is in the top of the zone and flared to foul ground past third, but Evan Longoria T-Rex arms it and it's off the tip of his glove.  Ugh.  So 1-1 count, and Snell's first breaking ball is a slider at 81 in there for strike two, 93 on the hands saws him off for a foul, then a hanging slider on the inside of the plate is bulleted to first, but it pops out of Nick Franklin's glove and they can only get Ellsbury at first instead of a double play.  Some rough fielding so far.  94 on the outer third to Carlos Beltran is fouled off, an outside curveball gets an ugly wave through it for strike two, high heat at 95 is fouled off, hard slider at 83 bends into the dirt, then that curveball at 77 goes 12 to 6 on the outside black gets a swinging K.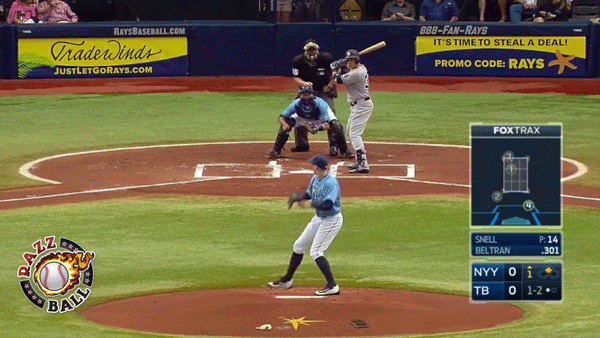 Beltran just couldn't identify that pitch.  Starlin Castro barely holds on an inside fastball 0-1, then 82 MPH slider makes Castro do this.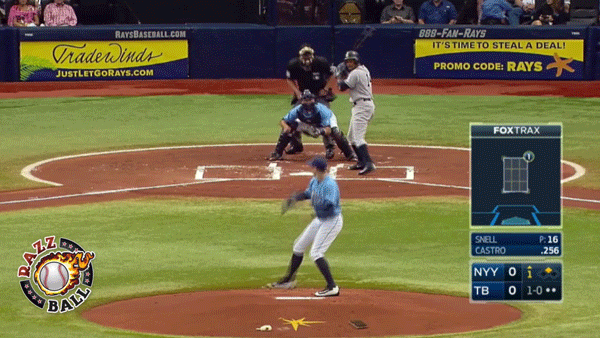 Yikes.  Beltran had an ugly swing too, that's some crazy whiffs.  Then he drops in a curveball for 1-2, and it's to the point now where I wanna GIF every pitch.  And hell why not, 95 on the outside paints the black.  Holy crap!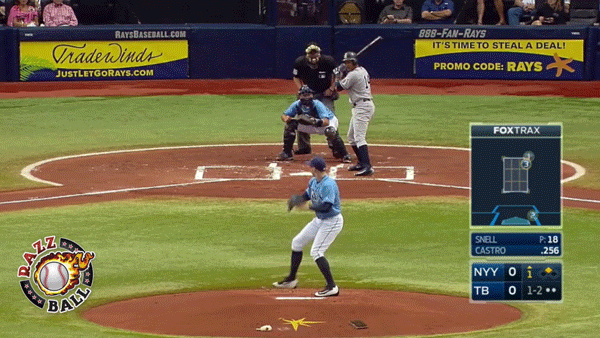 Second Inning: Tough to not be giddy with excitement with those 3 GIFs above, and Snell opens the 2nd with a 93 MPH fastball outside to Brian McCann.  Slider drops low, 94 is outside, 3-0.  Wahhh.  92 gets the call on the letters 3-1, 93 even higher is fouled back, then 3-2 is a 76 MPH curveball?!??!?!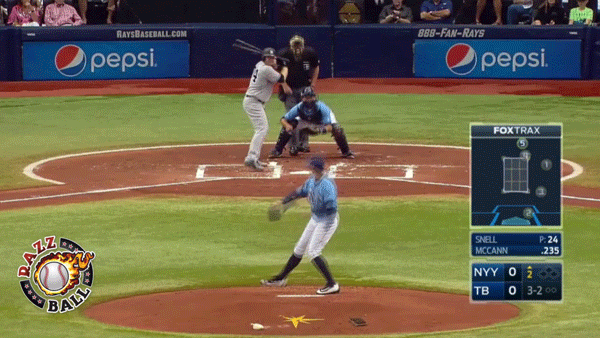 Wow, at my GIF quota already!  This is insanity!  Then Snell goes a first-pitch change-up to Chase Headley at 85 MPH, then 95 blows him away with a foul back, 95 again in there fouled back, then sharp slider breaks into the dirt, 1-2.  Even though it wasn't close, that had the "crispness" I was looking for.  As did an 86 MPH change-up that barely dropped out of the zone 2-2, change again dropping low is pulled weakly foul, 95 sails high, then 85 MPH change-up gets a surprise 5th GIF and we're not through the 2nd inning yet.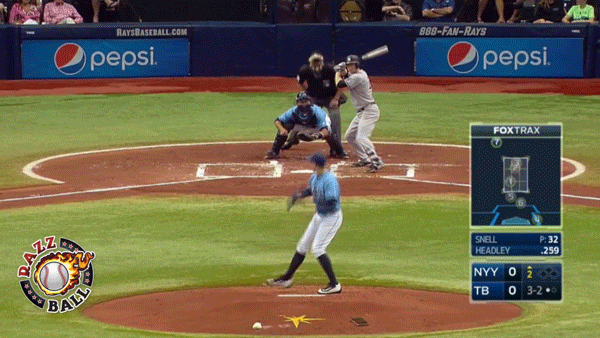 95 blows Didi Gregorius away 0-1, 94 again upstairs gets another whiff, 95 sails way high as he kept climbing the ladder, 94 again up there fouled off, then a curveball that was dropping into the top of the zone gets an emergency hack through it for strike-out-the-side inning.  Gregorius subtly tipped his helmet on it too.  Unreal stuff.  Had no idea this start was going to go this way.
Third Inning: Snell opens the third with a fastball low to Rob Refsnyder, fastball fouled off, then slider is hung a little in the zone – Refsnyder crushes it to third, and Longoria boots it.  It would've been a tough play, but one he would usually make.  They give him an error, so it won't hurt Snell's stats.  Aaron Hicks tries to bunt and it rolls foul, then wait what?!?!  They change the error to a hit.  Lammmmme.  Beautiful change-up gets Hicks swinging 0-2, fastball goes high, change-up absolutely paints the low outside black but is called a ball, awful umping.  Snell then puts a change-up in the same spot for a weak infield fly.  93 in there to Gardner back to the top, big bendy slider goes low, and now that pitch reminds me of the loopiness that didn't impress me before…  Arghhh.  Curve drops in there, curve again drops low and that one had some nice crispness (word of the day!), high fastball slashed foul, then high fastball again well out of the zone is slashed to left for a single.  Gardner pretty much stood straight up out of his stance to hit that – credit the hitter there.  Fastball high to Ellsbury, slider sweeps just outside, 94 fouled straight back, 2-1 is a 95 MPH fastball with good running movement that runs well outside but gets a whiff, fastball again but well high, 3-2 95 MPH fastball fouled off, 94 gets a check swing excuse-me tip backwards, then 95 at the letters is chopped to short, and Brad Miller steps on second and gets Ellsbury at first for an inning-ending double-play.  Wooooo!
Fourth Inning: Still a 0-0 game and Snell drops in a change-up for a strike to Beltran, Beltran then makes another rough half-swing through a curveball 0-2, then 0-2 change-up is nubbed to Snell, and it somehow squirts by his glove for a lame infield single.  Womp womp.  Change-up again is in there to Castro, high fastball has him reaching for it and fouling it off, then an absolutely wicked curveball that bounces in the dirt about a foot in front of the plate gets a horrid swing for another Snell K.  I so shoulda GIFfed that one, but I already started my GIF work at this point!  I'm full up!  Fastball gets a whiff from McCann, curve in the dirt bounces in 1-1, change-up flutters outside, 95 blows him away, 2-2 curveball bareeeeeeely has McCann holding his swing, then the payoff pitch is a slider that goes well low for another walk.  McCann swung right through a fastball in the zone a few pitches before, I don't know why he felt he needed a breaking ball there.  Just showing off…  Then a first pitch fastball on the hands of Headley is flared to left for a single.  Luckily it had enough on it to keep the runners all on.  So bases loaded, one out, and Gregorius fouls a high fastball off, then 95 on the inside edge is grounded pretty hard to second, and Snell gets another inning-ending double play.  Woooo times twooooo!
Fifth Inning: The Rays finally get Snell some support and go up 2-0, and Snell misses low to Refsnyder 1-0.  Change-up is golfed foul, fastball fouled off, then 93 "paints" the outside corner for a K looking.  Yeahhhh, that was outside.  But Snell did have a K taken away by a bad call earlier, so "we'll call it a draw!"  Hicks grounds a fastball foul, fastball again fouled, change drops low, nice CRISP curve drop low, then 95 on the outside edge gets swung through and missed for yet another K.  Gnarly!  93 right in there to Gardner, 93 again in there on the inner half taken 0-2, 95 is a little off the edge, slider breaks low and away, then curveball on the hands gets an emergency half swing for another K, and his second strike-out-the-side inning of the game!
Sixth Inning: Rays now up 3-0, and Snell gets a fastball painting the inside edge, 0-1.  Change-up gets a whiff 0-2, 95 has him chase off the outside edge but he fouls it off, change-up breaks well outside, curve skips in the dirt, slider goes well outside, and after a quick 0-2 count it's full.  Payoff pitch is a 95 MPH fastball barely tipped foul, then 96 is a little high and tight for a leadoff walk.  Ugh.  But at least 96 maxed out the gun for this start on his 97th pitch!  Then crapppppp, a first-pitch change-up that hung a little bit on the outside edge gets ripped to left for a home run by about 6 inches.  The Trop couldn't quite hold it.  Beltran had two of the worst swings in this game, then makes the adjustment…  Well, still a lead for Snell who gets to 96 again but is inside to Castro, 95 in the zone gets a whiff, then 94 on the hands gets a lazy fly to right for the first out.  And at 101 pitches, Snell gets the hook.  The Rays hold the lead for him though, and gets the youngun a W.
Final Line:  W  5.1 IP  101 Pitches (65 Strikes)  2 ER  5 Hits  3 Walks  9 K  Gamescore: 56   Gamescore+: 65.6

Final Analysis: Dude.  It's pretty rare a start just blows me away like this, but whoa!  And even with my only semi-subjective stat, the Gamescore+, it shows Snell had a ridiculous game.  Of the 5 hits allowed, 4 were singles and a few I scored as pretty lucky.  A 10-point disparity might be the biggest I've seen since doing these.

Snell's got one of the best "true" 4-pitch arsenals that I can think of.  And this dude is 23!  Snell and Zachary Davies could both pose as Little Leaguers and no one would know…  Anywho, the stuff is anything but Little League, with a fastball in the 92-95 range, typically closer to the latter.  He even maxed out to 96 on some of his last few pitches.  I've griped on a few young guns for having velocity drop late – Snell's went up!  Then it's hard to know where to start with the off-speed stuff…  I guess I think the curveball is the best, with true 12 to 6 break that usually had that crispness I thought it was lacking his first few starts I watched.  Then to offset that true North to South break, the slider bends something like 10 to 4.  It's almost more like a slurve, but is very different from the curveball moving a few ticks faster on the gun with that horizontal break.  And just to make things even more ridiculous, he has a change-up that he threw 83-85 and could throw for strikes.  Sure the homer to Beltran was on this pitch, but it still looked like a plus pitch overall to me.  In fact, all 4 pitches are plus pitches in the Majors, and all 4 he could throw for strikes.
The stuff is just plain unreal.  It's easy to see why he had control problems though – everything is too explosive!  So I think refinement will come with experience, and it's already taken a step up his last 4 starts now.  I'm absolutely all-in on Snell now, moving him up aggressively yet again this week.  Sure there's a little bit of a concern with an innings limit, but he did get to 134 in the Minors last year and is at 112.2 across the Majors and AAA right now.  I easily could see them push Snell to about 180, which would only be a shut down of his final start or two.  23 is still fairly young, but it's old enough to where you'd like them to feel confident having a full season of starts in his age 24-season.
At the time I wrote this, Snell was owned in an absurd 31.1% of ESPN leagues.  Absurd with extra crispness!  It was only 38% in Yahoo too…  He's must own the rest of the way.  No question.
Updated Top 100 SP
(rankings for ROS based on 12-team Roto, green for risers, red for fallers)
| RANK | SP, TEAM |
| --- | --- |
| 1 | Madison Bumgarner, SF |
| 2 | Max Scherzer, WAS |
| 3 | Jake Arrieta, CHC |
| 4 | Chris Sale, CWS |
| 5 | Jose Fernandez, MIA |
| 6 | Stephen Strasburg, WAS |
| 7 | Corey Kluber, CLE |
| 8 | Jacob deGrom, NYM |
| 9 | Noah Syndergaard, NYM |
| 10 | Johnny Cueto, SF |
| 11 | Jon Lester, CHC |
| 12 | Carlos Carrasco, CLE |
| 13 | Carlos Martinez, STL |
| 14 | Cole Hamels, TEX |
| 15 | Adam Wainwright, STL |
| 16 | Danny Salazar, CLE |
| 17 | Yu Darvish, TEX |
| 18 | Zack Greinke, ARI |
| 19 | Gerrit Cole, PIT |
| 20 | David Price, BOS |
| 21 | Justin Verlander, DET |
| 22 | Kenta Maeda, LAD |
| 23 | Jose Quintana, CWS |
| 24 | Lance McCullers, HOU |
| 25 | Masahiro Tanaka, NYY |
| 26 | Drew Pomeranz, BOS |
| 27 | Julio Teheran, ATL |
| 28 | Matt Shoemaker, LAA |
| 29 | Danny Duffy, KC |
| 30 | Clayton Kershaw, LAD |
| 31 | Chris Archer, TB |
| 32 | Jason Hammel, CHC |
| 33 | Aaron Sanchez, TOR |
| 34 | Kyle Hendricks, CHC |
| 35 | Blake Snell, TB |
| 36 | Steven Matz, NYM |
| 37 | Michael Fulmer, DET |
| 38 | Tanner Roark, WAS |
| 39 | Anthony DeSclafani, CIN |
| 40 | Junior Guerra, MIL |
| 41 | Rich Hill, OAK |
| 42 | John Lackey, CHC |
| 43 | Taijuan Walker, SEA |
| 44 | Dallas Keuchel, HOU |
| 45 | Michael Wacha, STL |
| 46 | Zachary Davies, MIL |
| 47 | Michael Pineda, NYY |
| 48 | Sean Manaea, OAK |
| 49 | Felix Hernandez, SEA |
| 50 | Jeff Samardzija, SF |
| 51 | Chris Tillman, BAL |
| 52 | Trevor Bauer, CLE |
| 53 | Tyler Skaggs, LAA |
| 54 | Brandon McCarthy, LAD |
| 55 | Vincent Velasquez, PHI |
| 56 | Kevin Gausman, BAL |
| 57 | Joe Ross, WAS |
| 58 | Adam Conley, MIA |
| 59 | Jameson Taillon, PIT |
| 60 | Ian Kennedy, KC |
| 61 | Archie Bradley, ARI |
| 62 | Marco Estrada, TOR |
| 63 | Jon Gray, COL |
| 64 | Dylan Bundy, BAL |
| 65 | Marcus Stroman, TOR |
| 66 | Steven Wright, BOS |
| 67 | Aaron Nola, PHI |
| 68 | Hisashi Iwakuma, SEA |
| 69 | Jake Odorizzi, TB |
| 70 | Jimmy Nelson, MIL |
| 71 | Jeremy Hellickson, PHI |
| 72 | James Paxton, SEA |
| 73 | Rick Porcello, BOS |
| 74 | Jose Berrios, MIN |
| 75 | J.A. Happ, TOR |
| 76 | Mike Leake, STL |
| 77 | Andrew Cashner, MIA |
| 78 | Scott Kazmir, LAD |
| 79 | Jordan Zimmermann, DET |
| 80 | Collin McHugh, HOU |
| 81 | Gio Gonzalez, WAS |
| 82 | Carlos Rodon, CWS |
| 83 | Matt Moore, TB |
| 84 | Drew Smyly, TB |
| 85 | Robbie Ray, ARI |
| 86 | Jaime Garcia, STL |
| 87 | James Shields, CWS |
| 88 | Francisco Liriano, PIT |
| 89 | Sonny Gray, OAK |
| 90 | Mike Foltynewicz, ATL |
| 91 | Josh Tomlin, CLE |
| 92 | Bartolo Colon, NYM |
| 93 | Jerad Eickhoff, PHI |
| 94 | Mike Fiers, HOU |
| 95 | CC Sabathia, NYY |
| 96 | Ervin Santana, MIN |
| 97 | Homer Bailey, CIN |
| 98 | Matt Boyd, DET |
| 99 | Dan Straily, CIN |
| 100 | Jose De Leon, LAD |
Dropped Out: Bud Norris, LAD (I don't trust his back issue doesn't force him to miss time, sheesh get the Dodgers a better chiropractor for their pitchers!), Kendall Graveman, OAK (Dude, his pitch selection is insanity right now.  3 of his last 4 starts he's thrown his fastball 81.3%+ amount of the time!  And only a cutter to off-set it!  I liked seeing his velocity going up, but he's pitching like a reliever right now and only getting groundballs.  No bueno for Ks/fantasy), A.J. Griffin, TEX (Doesn't have more than 3 Ks in his last 5 starts?!  Gotta lose him if I lose Graveman…), Lucas Giolito, WAS (Was #100 last week, I just question the innings he gives ROS in the Majors at this point)
You guys buying into this young rookie nookie Snell with me?! And what's your thoughts on this week's ranks?  Shoot your thoughts below, and happy pitching Razzball Nation!
[note – if anyone is traded during the day today, I missed it in my ranks.  So feel free to comment if a big pitcher is moved and my thoughts on their new situation, which will be reflected in next week's ranks]