Before we point fingers and exclaim how "right or wrong" we are, know that I am writing this intro BEFORE Aaron Nola's start yesterday afternoon.  I don't want my intro to sully my thoughts from the top down.  The post needs to read like a before-and-after!  Kinda like how Grey slammed my Joe Ross rank endlessly on the Pod "before" the season, and even with awesome results "after" 5 starts, he's still going to find ways to troll me on him…  Sigh…  Also, I need to use a thesaurus on the word "before"…
So why was I so slow to sip any of the Nola Kool-Aid?  Well, here's the red flags I saw PRIOR TO yesterday's start: .227 BABIP, he averages 90.0 on his fastball, was never a K guy through the Minors, K rate has jumped from 7.88 in 77.2 IP last year to 9.90 in 40.0 IP this year, and finally, he's looking like a 2-pitch guy right now with 59.5% fastballs and 33.7% curveballs.  Now, I admittedly use Fangraphs as my reference, and maybe he mixes a few fastball variants and he's leaning off his change-up since his curve is working so well right now.  Unless you're in the MLB Man Cave, you're not watching every single SP every start (plus you're like, a few weeks behind the current action, so that's lame), so I concede I hadn't watched Nola yet this year.  But after the Nola-grilling on my ranks in the comments last week, seeing Nola was getting the start on Sunday made him the prime Pitcher to be Profiled.  Here's how he looked yesterday afternoon in the Crayola Canyon:
First Inning: Nola's first pitch is a fastball on the outside edge that Ichiro slaps to second for an easy first pitch out.  90 MPH fastball is in there to Martin Prado, then a hanging curveball on the inside edge at 75 MPH is flared to left with Tyler Goeddel making a diving catch for the second out.  Pretty hard hit out there.  Then wow, 90 MPH looked a few inches outside to Christian Yelich but it's called strike one, might be a big zone today.  Fastball high, then heater again low and inside is tapped to second, and the routine out makes it a quick 5-pitch inning.
Second Inning: Game moving along quickly with the Phillies only getting one baserunner through two and Justin Bour takes an 89 MPH fastball high, 1-0.  89 MPH is slung in there and looked like it barely nipped the high black, curveball stays outside, 88 MPH stays outside, then a dangerous 3-1 pitch is a fastball on the outside edge chopped to second for another easy out.  Nice first-pitch curveball barely misses the zone to Marcell Ozuna at 77 MPH, and you can see the power of that pitch.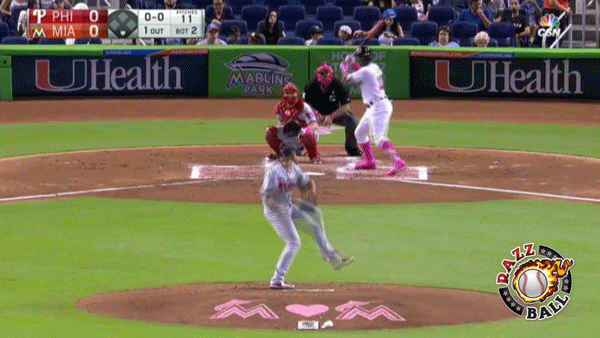 Then Nola follows it up with his best fastball at 91 MPH on the outside edge to even it up 1-1.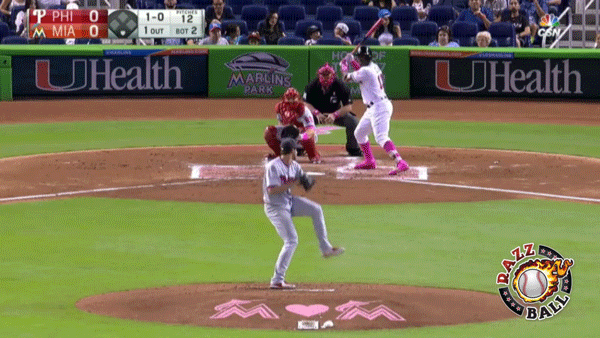 I do like that mix right there.  But then the jinx of the GIF catches me with a fastball on the low inside black grounded up the gap for a single.  Wasn't hit too hard, just found the opening.  Fastball at 90 MPH is in there to Derek Dietrich, then a check at first skips away from Darin Ruf and it moves Ozuna to second.  Yeah, totally on Nola there, terrible throw.  0-1 is a 91 MPH fastball inside, and man, just noticing Nola has a really long delivery.  I'm going to dig into his stolen base metrics when we wrap up pitch-by-pitch.  Another pitch outside, then a nasssssty change-up at 83 gets a whiff, 2-2.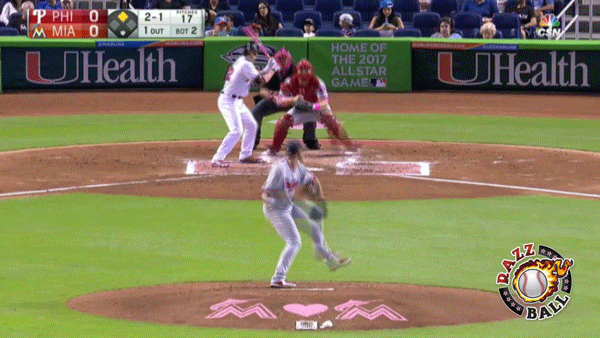 Mannnnn, he only throws these like 6% of the time?!  Might see an arsenal change coming.  Nola then foolishly throws a 2-2 fastball right into the lefty's wheelhouse and it's smoked third deck foul.  Almost a monster homer from Dietrich.  Then curveball at 77 gets Dietrich missing it for Nola's first K.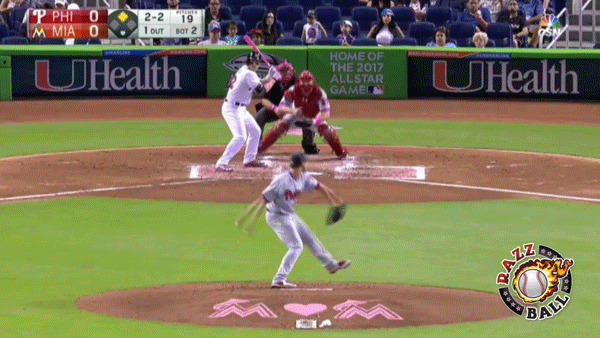 77 MPH is pretty good velo for a curveball!  Curve again at 76 is low and outside to J.T. Realmuto, curve again barely misses the outside edge sweeping across the zone, fastball in there, 91 MPH heater is outside, then 3-1 fastball is lined over Nola's head, but is fielded on the backhand by Cesar Hernandez at second to end the inning.  And I burnt through all 4 of my GIFs in that one inning, so I apparently like Nola's stuff a lot more than I anticipated!
Third Inning: Still a 0-0 game and Adeiny Hechavarria takes a sinking 89 MPH fastball on the inside third for strike one, fastball again up and in, fastball is in there, then a curveball that hung a bit on the inside edge is lined to third, but it's caught for the first out.  Another pretty hard hit out.  Up is opposing pitcher Justin Nicolino who takes outside, fastball barely nips the low inside corner, fastball on the outside edge slashed foul, then a curveball dropping out of the zone gets another swinging K, two down on Nola's second strikeout.  Back to the top and Ichiro takes a 91 MPH fastball for strike one, then a nasty curveball that backdoors the outside black is in there 0-2, then fastball on the inside corner barely misses the zone and easily could've been a called strike 3, 1-2.  Fastball tipped back foul, curveball is dribbled up the first base line but rolls foul, then curve again is rolled over to first for an easy third out.  Nola is at 23 consecutive scoreless innings now!  Crazy.

Fourth Inning: 89 MPH is in there to Prado as the game remains scoreless, sinking fastball at 87 is called barely low, 2-0.  Nola I think goes change-up at 83 and it's smoked to center for a leadoff single.  Might be tough to keep it scoreless now, then again, no Giancarlo Stanton…  Fastball is low to Yelich, fastball again with a little cut on it barely misses inside, back-to-back 2-0 counts.  And yet again a 2-0 pitch is smoked to center on a liner right through Nola's legs, this time on a fastball, and it puts runners on the corners.  Nola just can't afford to fall behind in counts.  And as the broadcast mentions, Nola threw that one on a slide step trying to control the running game, which goes back to my comment above in the second inning on his long, lumbering delivery.  Fastball inside to Bour, and Nola just isn't getting ahead.  Then curveball sweeping into the low middle of the zone is crushed between first and second for an RBI single; it ends Nola's scoreless streak and there's still no one out with runners at 1st and 2nd.  91 MPH fastball is in there to Ozuna, curveball sweeps way low and outside, curve again gets a whiff that broke into the zone, then Nola sweeps that curve to go low and outside in the dirt, and the swing-happy Ozuna whiffs way over it for a huge 3rd K for Nola.  Interesting first-pitch change-up hangs way high and outside to Dietrich, fastball is in there, then after a quick meeting at the mound, an 89 MPH fastball in Dietrich's wheelhouse is rocketed to right for an RBI ground-rule double.  Nola caught a break there too since Bour scored easily before they rule it a ground-rule double bouncing off the black portion of the wall that is out of play.  So a ton of trouble that Nola finds himself in and he's high to Realmuto, curveball gets in there 1-1, curve again sweeps well low and inside, fastball on the inside edge is hit a mile high just foul, then a curveball sweeping just off the plate is tapped to short, but the only play is to first and Bour scores on the RBI groundout.  Three runs given up now, but thankfully there's two outs and a fastball is high to Hechavarria, 1-0.  Fastball again misses, then a 2-0 fastball is yanked low and outside by Nola and it goes to the backstop for a wild pitch.  This is not the Nola I was expecting…  Nola throws an intentional ball to walk Hechavarria, and up is Nicolino who chops foul a first-pitch curveball, 0-1.  Curveball sweeps in the backdoor 0-2, same pitch is tipped foul, curve again a little lower is spoiled again foul, then a fastball gets right on the outer third and is taken by Nicolino for strike three to get Nola out of a tough, grinding inning.

Fifth Inning: Still a 0-3 game and Ichiro slaps a fastball on the outside edge to short, and it's another leadoff one-pitch out on an outside fastball to Ichiro.  Makes life easy!  Curveball drops into the low inside black for strike one on Prado, then Nola tries the same spot – the curve isn't quite as sharp and Prado hits a laser off the wall in left for a double.  Curve drops low to Yelich, then fastball chopped weakly to second gets an easy out, two down.  Nola goes to the rarely-used change-up to get a foul from Bour 0-1, fastball high and tight, change-up again goes low, change yet again nipped back foul, Nola climbs the ladder with an 88 MPH fastball high, then a 3-2 curveball catches the outside black with some great backdoor break and gets Nola out of the inning.
Sixth Inning: The Phils pick up 3 runs to lift up Nola, who opens the bottom of the sixth with a fastball on the hands dribbled foul on his 80th pitch, 0-1.  Nola just misses, big sweeping curve that goes off the plate gets a whiff, curve hangs inside and low, 2-2 is another curve on the inside fouled back, 91 MPH fastball slashed foul (with a Marlins fan making an unreal backhand catch while holding a baby), then fastball again chopped to third for the first out.  Fastball misses to Dietrich, change-up flutters low, then fastball in the zone is rolled up to first for another easy out.  Fastball in there to Realmuto, curveball breaks low and outside, curve again that was going to sweep in for a strike gets a swing-and-miss, then curve again is grounded towards the gap, but Cesar Hernandez makes a great play and 180's himself for the throw to get Nola through a 1-2-3 inning.  And the Phillies would nab another run to give Nola a 4-3 lead as they hand it over to the bullpen, which Andrew Bailey would promptly blow… But the Phillies still ended up getting the W down the road.
Final Line:  ND  6.0 IP  93 Pitches (59 Strikes)  3 ER  6 Hits  1 Walk  5 K  Gamescore: 52 Gamescore+: 53.0

Final Analysis: Hmmmmm, not quite sure what to make of this start.  It's kinda like a microcosm of what I would've expected from a Nola start heading into the year – a few hits, barely any walks, and a nice-but-not-elite K-rate.  He wasn't quite to the level of a top-flight pitcher like how he's looked like on paper coming into yesterday afternoon.  His Gamescore+ came out just above his Gamescore, but they were comparable in a mixed-bag sort of start.
As expected, his fastball sat right at 90 on average, topping out at 91 MPH.  He got some nice sink with the heater, but most importantly, he can locate.  I don't remember a single fastball in the middle portion of the zone, just constantly working both sides of the plate.  His bread and butter is the curveball, which he was able to locate for strikes and bury in the dirt as his out pitch.  However he did hang a few, and the broadcast mentioned that it didn't have the same "bite" consistently as his curve usually has.  Finally he features a change-up; unfortunately my GIFs may have done a disservice as that GIFfed change-up was by far his best on the day.  A few fluttered away and it's not a consistent pitch for him based on what I saw this outing and its low usage thus far in 2016.
While I will admit I was probably a bit slow in moving Nola up, I still didn't see enough to get him into my top-40 ROS.  I know I might get some flack on that, but I gotta stick to my guns and with what I saw yesterday.  Even though it was a "quality start", this was against an atrocious team in a pitcher's park (Prado and Dietrich's doubles might've pushed for homers in Citizen's Bank).  The Marlins batted Ichiro leadoff and Stanton got a day off…  And while he gave up 4 singles as his 6 hits, none of them were cheap.  His low BABIP is going to rise, and I worry about how well he can hold baserunners.  He's allowed 2 steals this year and 5 last year, which isn't terrible or anything, but after watching his delivery and his attempt at a slide-step pitch that went horribly wrong (Dietrich double), I think it's a concern.  The curveball is certainly a great pitch for him, but even the broadcast was urging him to throw more change-ups so he wouldn't become a two-pitch pitcher.  With how well it's gone overall for Nola I would absolutely own him in all leagues, but there's a few more question marks for me to rank him as a fantasy SP2 or 3 in ROS terms.  Then again, I did have 4 pitches I wanted to GIF in one inning, so maybe I'm stubbornly talking myself out of ranking him higher…
Updated Top 100 SP
(rankings for ROS based on 12-team Roto, green for risers, red for fallers)
| RANK | SP, TEAM |
| --- | --- |
| 1 | Clayton Kershaw, LAD |
| 2 | Jake Arrieta, CHC |
| 3 | Chris Sale, CWS |
| 4 | Max Scherzer, WAS |
| 5 | Noah Syndergaard, NYM |
| 6 | Stephen Strasburg, WAS |
| 7 | Jose Fernandez, MIA |
| 8 | Madison Bumgarner, SF |
| 9 | Corey Kluber, CLE |
| 10 | Gerrit Cole, PIT |
| 11 | Jacob deGrom, NYM |
| 12 | David Price, BOS |
| 13 | Chris Archer, TB |
| 14 | Jon Lester, CHC |
| 15 | Danny Salazar, CLE |
| 16 | Matt Harvey, NYM |
| 17 | Zack Greinke, ARI |
| 18 | Carlos Martinez, STL |
| 19 | Felix Hernandez, SEA |
| 20 | Drew Smyly, TB |
| 21 | Johnny Cueto, SF |
| 22 | Joe Ross, WAS |
| 23 | Dallas Keuchel, HOU |
| 24 | Carlos Carrasco, CLE |
| 25 | Masahiro Tanaka, NYY |
| 26 | Carlos Rodon, CWS |
| 27 | Cole Hamels, TEX |
| 28 | Steven Matz, NYM |
| 29 | Taijuan Walker, SEA |
| 30 | Jeff Samardzija, SF |
| 31 | Yu Darvish, TEX |
| 32 | Sonny Gray, OAK |
| 33 | Vincent Velasquez, PHI |
| 34 | Francisco Liriano, PIT |
| 35 | Jason Hammel, CHC |
| 36 | Ian Kennedy, KC |
| 37 | Jose Quintana, CWS |
| 38 | Patrick Corbin, ARI |
| 39 | Marcus Stroman, TOR |
| 40 | Michael Wacha, STL |
| 41 | Kevin Gausman, BAL |
| 42 | Hisashi Iwakuma, SEA |
| 43 | Aaron Nola, PHI |
| 44 | Jordan Zimmermann, DET |
| 45 | Justin Verlander, DET |
| 46 | Wei-Yin Chen, MIA |
| 47 | Michael Pineda, NYY |
| 48 | Jake Odorizzi, TB |
| 49 | Kenta Maeda, LAD |
| 50 | Gio Gonzalez, WAS |
| 51 | Kyle Hendricks, CHC |
| 52 | Adam Wainwright, STL |
| 53 | John Lackey, STL |
| 54 | Aaron Sanchez, TOR |
| 55 | Jaime Garcia, STL |
| 56 | Adam Conley, MIA |
| 57 | Rich Hill, OAK |
| 58 | Matt Moore, TB |
| 59 | Tyler Glasnow, PIT |
| 60 | Juan Nicasio, PIT |
| 61 | Yordano Ventura, KC |
| 62 | Jerad Eickhoff, PHI |
| 63 | Jimmy Nelson, MIL |
| 64 | Tanner Roark, WAS |
| 65 | Drew Pomeranz, SD |
| 66 | Jose Berrios, MIN |
| 67 | Rick Porcello, BOS |
| 68 | Nate Karns, SEA |
| 69 | Eduardo Rodriguez, BOS |
| 70 | Sean Manaea, OAK |
| 71 | Lance McCullers, HOU |
| 72 | James Shields, SD |
| 73 | Mike Fiers, HOU |
| 74 | J.A. Happ, TOR |
| 75 | Luis Severino, NYY |
| 76 | Julio Teheran, ATL |
| 77 | Robbie Ray, ARI |
| 78 | Collin McHugh, HOU |
| 79 | Raisel Iglesias, CIN |
| 80 | Marco Estrada, TOR |
| 81 | Edinson Volquez, KC |
| 82 | Tyson Ross, SD |
| 83 | Scott Kazmir, LAD |
| 84 | Anthony DeSclafani, CIN |
| 85 | Blake Snell, TB |
| 86 | Shelby Miller, ARI |
| 87 | Nathan Eovaldi, NYY |
| 88 | Chris Tillman, BAL |
| 89 | Andrew Cashner, SD |
| 90 | Mike Leake, STL |
| 91 | Derek Holland, TEX |
| 92 | Jon Niese, PIT |
| 93 | Hector Santiago, LAA |
| 94 | Josh Tomlin, CLE |
| 95 | Mat Latos, CWS |
| 96 | Lucas Giolito, WAS |
| 97 | Rubby De La Rosa, ARI |
| 98 | Tyler Duffey, MIN |
| 99 | Steven Wright, BOS |
| 100 | Junior Guerra, MIL |
Dropped Out: Garrett Richards, LAA (uggghhhhh, TJ), A.J. Griffin, TEX (DL – shoulder stiffy)
I've been talking with Adam, a basketball writer over on Hoops who is a big Rays fan, and he thinks David Price gets frazzled way too easy.  Been a lot of frazzlin' going on!  I really wanna start seeing that velo climb too, it's about 2 MPH lower across the board from last year.  On the flip side, I watched highlights of this latest drubbing and he was keeping the ball down and some decent pitches were getting slapped for doubles.  BABIP is .373, LOB% is an unholy 54.2%, so I'm not burying him any time soon, just a little move down.
Here's my big sell high right now – Cole Hamels.  Oh lord, I hadn't taken a deep look at his numbers since ERA and Ks are fine, but it's ugly past the surface!  .267 BABIP, really lucky 87.6% LOB, then the biggie – 4.14 BB/9, almost double a career-high.  So he's walking everyone, but luckily stranding them so far.  He's got by a good margin a career-high FIP thus far.  Yes it's early, but he's throwing his four-seamer less, cutter way more, and I think some rough starts are ahead especially as it heats up in the desert.
Speaking of walk rates, a guy I was way lower on than most was James Shields, who is walking guys EVEN MORE than last year, while striking out fewer.  A lucky BABIP and LOB% are shielding (see what I did there?!) him from numbers that look like a catastrophe.
I still don't fully trust Rich Hill, but that's in more of a ROS context.  I certainly would own him right now, but this could fall apart at any point for a never-done-this-before 36-year-old.
I wanted to move both Tanner Roark and Drew Pomeranz – power of the SP/RP! – up a little more, but both have some bad BB rates and I still think it's a little smoke-and-mirrors.  Streamable for sure though…
Another dominant Minor League start for Tyler Glasnow, striking out 11 with only 1 walk in 7 innings.  He has a 1.64 ERA with a 48:13 K:BB in 33.0 IP.  It's getting to be a little ridiculous he's not in the Majors yet.
I guess at some point I have to believe in Rick Porcello a little bit, but besides this monstrous stride in K:BB, a lot of underlying numbers suggest regression is coming.
Looks like Eduardo Rodriguez is finally close to returning.  I ranked him high in early March before his knee injury due to word he has been developing a cutter, which should play extremely well with his high-velo 4-seamer.  I'm excited to see his 2016 debut.
So, Razzball Nation, am I indeed stubbornly talking myself out of ranking Nola higher as I should?  And what else needs some tweaking in my ROS ranks?  Shoot your thoughts below, and happy pitching!