It's been a while since I've done one of these round-ups, and to be honest, hanging out over at our Fantasy Football site (Football is almost here!), I'm not even sure if I remember what baseball is or how it works. However, looking over the some of the games last night, I noticed that my Padres are 55-61, good for second-to-last place. So things haven't changed at all I suppose. Oh, wait, the Astros are 63-53 and are in first place? Okay, so let me redefine that. Some things change, but nothing changes when it comes to things I like. Yeah, sounds about right. Alright, alright, yes, Matt Kemp did hit for the cycle, the first one ever in Padres history (going 4/5, 1 HR, 4 RBI, 2 R), which I guess is okay… Look, it's impressive, no doubt, but all I'm saying is: it's about time? I mean, to be honest, I'm not sure if I was more impressed with Melvin Upton Jr. managing to get one hit out of four tries. Actually, yes, I'm way more impressed with that. Okay, yeah, I'm pretty sure I'm just being salty at their entire season. Admission is the first sign of recovery folks. Regardless, let's get this show on the road.
Here's what else I saw from yesterday's games…
Chris Coghlan – 2/4, 2 HR, 4 RBI, 2 R. Well, this is one way to stay relevant on a team with such marquee talent like Anthony Rizzo (1/3, 1 HR, 1 RBI, 1 R), Kris Bryant (2/4), and Kyle Schwarber (1/3, 1 RBI). Also relevant: My multiple-player blurb skills.
Jeff Samardzija – 6.0 IP, 6 ER, 2 BB, 5 K. I guess I could have kept listing players in the Chris Coghlan blurb, but I think just showing you how the Shark did adequately defines how well the rest of Cubs offense did. Unless you're Addison Russell. And you're owned everywhere by the writer of this post. Then that definition is lousy.
Adam LaRoche – 0/4. Fufilling the dreams of my ever prescient Bold Predictions post… the gift that keeps on giving.
Stephen Vogt – 3/5, 1 HR, 2 RBI, 1 RUN. Alright, so this is the one shining light of the above mentioned predictions post, and while he's been essentially dead since the All-Star break, he has been batting a (somewhat robust?) .237 in August. Yeah, that's pretty bad, but it's much better than the .163 July. Baby steps, ya know?
Chris Davis – 3/6, 1 HR, 2 RBI, 1 R. Grey and I will be talking about him when we record the podcast tomorrow, as I'm pretty interested to see if our Lothario thinks this actually is the real Chris Davis. Owning him the last three years is the equivalent of owning a 1,095 day seizure.
Ubaldo Jimenez – 5.0 IP, 4 ER, 2 BB, 6 SO. Ah yes, the more things change, the more things stay the same. Much like discovering my Padres still suck, Jimenez is always a source of consistent inconsistency. Which is totally a thing. I would do the math if I didn't suck so much at math, but I wonder how good of a fantasy pitcher he would be if you just skipped him every third start?
Troy Tulowitzki – 1/5, 1 RBI, 1 R. Has hit .228/.343/.421 since joining moving to Toronto. However, he did go 3-for-5 with a homerun and 3 runs with 3 RBI's in his first game with the Blue Jays. I have two solutions here that might work. First, trade him to another team at night and then trade for him the next day. That's true baseball psychology there. The other solution? Create some kind of time-altering construct like in Groundhog Day or Edge of Tomorrow (the sequel to Groundhog Day) and stick Tulowitzki in it. PROBLEM SOLVED.
Pablo Sandoval – 3/5, 3 RBI, 2 R. Further proof that he ate his hamate bone a few years back. Because ham. Look, I don't have any more fat jokes left. A life of total salty jerkness (totally a phrase) has left that land barren. It could also because I used most of them up since CC Sabathia exists in this world.
Tim Hudson – Will need a few more rehab starts before rejoining the Giants. He might still end up in a starting role if Matt Cain keeps struggling, but for now, a bullpen stint looks more likely. Along with a membership to AARP. It's an old people joke kids. I mean, this guy was a waiver steal in my second year playing fantasy baseball back in 1999. Wait a second… I think maybe the "old" joke is on me…
J.A. Happ – 5.1 IP, 1 ER, 1 BB, 7 K. Alright, so, sticking with the theme that I've been away from baseball for a bit, I come back to find out that J.A. Happ is a thing? And Bartolo Colon (7.0 IP, 1 ER, 2 BB, 7 SO) is still pitching? What is going on… oh wait, Michael Cuddyer (0/4) still sucking? Nevermind, all is normal now. All. Is. Well.
Cameron Maybin – 2/3, 2 RBI. A.J. Preller folks! Let's just be thankful that his trading skills aren't as bad as his hair product "selection-skills" are.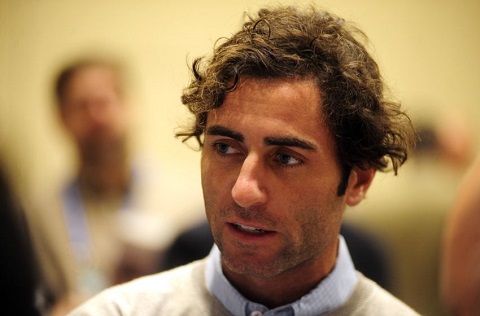 Okay, never mind, they're roughly at the same skill level.
Prince Fielder – 0/3. Alright, so Fielder is another reason why my fat jokes are at all time low. I would make fun of the fact that he's a vegetarian, but I don't make fun of vegetarians. Why add to their suffering?
Jered Weaver – 6.0 IP, 2 ER, 2 BB, 3 K. Hey guys, look at me! I was right about Weaver not being able to keep up with peripherals and hitting the wall of regression! I was only four years off!
Chase Utley – 4/5, 1 RBI. He only has to do this about 28 more times to raise his .208 average to .250. (My math may be a tad bit off.) Hey, we're talking about the Phillies here, it's the small goals that matter. Right? Not really. How about those Eagles?
Corey Kluber – 9.0 IP, 1 ER, 1 BB, 7 K. Corey Kluber, a very good pitcher! Also, a very pun compatible last name. See, that's a next-meta joke. I won't make the pun, since everyone does that, I'll just point out that you can make the pun. Get it? Get it? (Don't worry, we're almost done.)
Dallas Keuchel – 7.0 IP, 1 ER, 1 BB, 8 K. Okay, does anyone ever have this issue?: Every time I see Keuchel doing well, I'm like, awesome, great, glad I have him on my fantasy team. And then when I go to said team, I find out that I own Collin Mchugh instead. Is this a thing? Or is it just because I'm always at least 70% drunk?
Randal Grichuk – 2/3, 1 R. What is a Grichuk and what do I do with it?
Jedd Gyorko – 2/4, 1 HR, 4 RBI, 1 R. I'd like to think that Grey touted Gyorko so hard for the last three years so I didn't have to carry that burden as your local Padres fanatic. Thanks Grey, way to take one for the team, truly a mustache that cares!
Nolan Arenado – 3/4, 1 HR, 2 RBI, 1 R. Well, you didn't think I'd leave Grey hanging on the Gyorko call without talking about the legendary Arenado bandwagon that Grey actually built, right? (Though, I'm not sure why I chose the "bandwagon being built" route. I'm pretty sure Grey wouldn't make it as a carpenter.)
I just wanted to say I wish John Farrell the best. I'm not a particular fan of the Red Sox, nor of Farrell, but going through a diagnosis of Lymphoma is a difficult prospect. Furthermore, I wish the same for all the victims of cancer. You know, I actually want to point out that you aren't victims. You are fighters, and you are survivors. Keep up the good fight! (If you'd like, you can donate to the NFCR, National Foundation for Cancer Research here.)
Want more of the Jay? Don't we all folks? Don't. We. All. Well, you, in fact, can have more. AMAZING. I know. You can find Jay enjoying his dig's over at the Football side of Razz.