Oh, I get it, it was a C lineup for a team whose B lineup ain't an A lineup.  Understood, my dude, don't be rude.  *smacks face*  No more rhyming and I mean it!  Anyone want a peanut?  But yesterday showed the flashes of greatness from Carlos Carrasco — 8 1/3 IP, 0 ER, 7 baserunners, 14 Ks, ERA at 3.29, and notched 200 IP for the first time in his career — that he is constantly hinting at, and I don't want to end a sentence with at — dah!  If only he'd stop with the hinting.  Paint the corners — great!  Paint a picture of an ace — super!  But we're not playing Pictionary here, stop with the hints!  He's 30 years old already.  At what point is it no longer what he can do and rather this is who he is?  No question mark actually.  This is it methinks, I said dressed like a leprechaun.  Some amazing starts, some lackluster starts, some random DL stint, some of the parts is greater than whole.  Yes, I know I spelled sum wrong, don't make me go back there!  Anyway, here's what else I saw yesterday in fantasy baseball:
Psyche!  Before we get into my next-to-last roundup of the year — I know!  Sad face. — just wanted to reminded people to go sign up for our fantasy basketball leagues if you like to do the fantasy roundskin.  That's what they call it, right?  Yeah, let's say it is.  Anyway II, the roundup:
Jay Bruce – 1-for-4 and his 35th homer.  Once again, Bruce collapsed in the 2nd half of the season — 12 HRs, .240 vs. 23 HRs, .266.  Bruce is like a game of Jenga.  You pull out the center piece called "the All-Star Break" and he falls apart.
Jason Kipnis – 1-for-4, 2 RBIs and his 12th homer, hitting .232.  Kipnis will be a bounce back candidate next year like one of those Superballs you bounce and have no freakin' idea where it's going.
Ervin Santana – 5 IP, 0 ER, 4 baserunners, 1 K, ERA at 3.28.  For those slow on the uptake, yes, Ervin had a lower ERA than Carrasco.  I know, I know, ERA means nothing, except it's one of your freakin' categories you're losing in!
Brent Suter – 5 IP, 3 ER, 8 baserunners, 4 Ks, ERA at 3.42 vs. Sal Romano – 5 IP, 2 ER, 7 baserunners, 6 Ks, ERA at 4.38.  Suter and Romano came out to a near-statistical draw, but Sutter Home and Romano makes a lovely picnic spread.  Here, I'll feed you grapes, put your head on my lap.  Metaphorically, you weirdo!
Edwin Jackson – 6 IP, 2 ER, 6 baserunners, 7 Ks.  Well, he had a solid bounce back season, right?  Yeah, for ERA, at least, right?  I mean, he had a low ERA, right?  C'mon, agree with me so I can 180 on your face!  On August 29th, he had a 2.94 ERA, so it had to be a low ERA, RIGHT?!  You, "Fine, yes."  Wrong, sucka!  His ERA is 5.21.  Nice September there, homey.
Sean Doolittle – 1 IP, 2 ER and his 1st blown save in Washington.  You can't spell clutch without "You stupid clumsy non-Dutch jerk!"  I wouldn't be surprised if Kintzler or Madson get a save this weekend if saves matter in your league still.  Though, if any save would matter, why aren't Kintzler and Madson owned?  Ya know what?  I don't need to know.
Josh Bell – 1-for-4, 2 RBIs and his 26th homer and 2nd homer in as many games.  I picked him up yesterday just in case I had an opening in my lineup later in the day because of the early start time of games, but I couldn't fit in Bell, and…Sonavabench!
Carlos Correa – 4-for-4, 3 runs, 3 RBIs and his 24th homer, and 3rd homer in two games.  Damn, someone's bringing a fire emoji into the playoffs.
Marwin Gonzalez – 3-for-4, 3 RBIs and hitting near-.425 in the last week.  Not sure if Marwin is available anywhere, or why he would be, but if he is, you got three days, get him!
Mitch Moreland – 1-for-3 and his 22nd homer, and 2nd homer in the last two games.  What a week for Mitches.  Now, there's something you hear at least once a day.
Giancarlo Stanton – 3-for-4, 3 runs, 3 RBIs and his 58th and 59th homer.  I took an art class earlier this year where we drew nude models, and no matter the model, the teacher would always comment on my coal drawings, "Why do they all look like Giancarlo Stanton?"  I lowered my piece of coal and looked up with my doe eyes and said, "It's all I see," then I whispered, "I love him."
Dee Gordon – 2-for-5, 2 runs and his 58th steal, and one behind Billy Hamilton for the NL and MLB lead.  All eyes will be on this race this weekend, it is like the Tour de France of America.  I will call it, Tore de Pants of running.
Dillon Peters – 5 2/3 IP, 0 ER, 6 baserunners, 4 Ks, ERA at 5.17.  Apparently, the Stream-o-Nator wasn't kidding with the Peters' recommendation.
Julio Teheran – 6 IP, 5 ER, ERA at 4.49.  The economy in Teheran did better this year than Julio.
Paulo Orlando – 2-for-3 and his 2nd homer, and 2nd in as many games.  Ugh, I saw he homered on Wednesday, and was like, "Meh, one homer all year isn't worth mentioning.  Now, your handsome face is worth talking about!"  Then he goes and homers two games in a row.  That burns me up.  And I have no idea why.
Danny Duffy – 4 1/3 IP, 4 ER, ERA at 3.81.  Apparently, Duffy had enough-y of this season.
Matt Chapman – 2-for-3, 2 RBIs and his 14th homer.  Shrieks with cries of pain, "You will never fill in for Matt Olson!  Never!"  By the by, the A's should totally trade for Matt Kemp and Matt Adams this offseason.  Forget OBP, new Moneyball is Matts.
Sean Manaea – 6 2/3 IP, 0 ER, 6 baserunners, 6 Ks, ERA at 4.37.  Can the A's get him to at least change his name to Sean Mattaea?
Wilson Ramos – 1-for-4, 2 RBIs, and his 11th homer, and 4th homer in the last two weeks.  I know catchers are about as exciting as Josh Groban, but Ramos is interesting to me for next year now that the shine is completely off him.
Corey Dickerson – 2-for-5, 2 runs, and his 27th homer, hitting .278.  I call this jpeg, "Where it went wrong," from Corey's Razzball Player Page: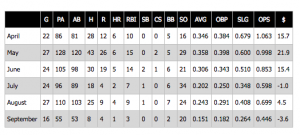 Sonny Gray – 4 2/3 IP, 6 ER, ERA at 3.55.  That's one way to end your season.  There's also going into the playoffs with the hopes and dreams of 40 million meatheads riding on your shoulders and crapping the bed.  Betta not get mom's spaghetti on your sweater.
Aaron Judge – 1-for-4 and his 51st homer, hitting .284.  Fun fact!  He's so big he's both the front and back for the donkey costume.
Greg Bird – 1-for-3 and his 9th homer, and his 3rd straight game with a home run.  I yelled hot schmotato alert for him yesterday, and, if I were doing a Buy/Sell today, Bird might be the lede, but Buy/Sells flew the Coupe de Ville.  Conspiracy Theory Alert!  Cadillac made the Coupe de Ville for Satanists, so they'd just call it a Coupe Devil-ee.  Maybe not, but MAYBE.
Brett Gardner – 1-for-2, 2 runs and his 21st homer.  I'm busy behind the scenes doing top 20's for all position recaps that will be published next week, and, you might be surprised, Gardner's had a Goddamn good season, said the Satanist in a Coupe de Ville.
Carlos Rodon – Could miss Opening Day after having shoulder surgery.  I just dropped him in my top 100 starters for 2018–Wait, I haven't done those yet.
Tommy Pham – 2-for-4, 1 run and two steals (24, 25), hitting .311.  I just realized something, Pham has played all season like he owns himself in fantasy.  If only all players owned themselves.  I bet Brad Ziegler does, he's straight nerdtastic.
Lance Lynn – 5 IP, 1 ER, 7 baserunners, 5 Ks, ERA at 3.43 vs. Kyle Hendricks – 5 IP, 0 ER, 5 baserunners, 9 Ks, ERA at 3.03.  This game was just two pros going out there and showing why they're pros.  Kidding, was just doing my best local Fox postgame announcer.  Then you'd have someone else agree on the field, "You're so right, Todd, they are just pros.  So pro-ish."  "Thanks, Chuck, pro-ish through and through."
Ian Happ – 1-for-4 and his 23rd homer.  Don't even get the Fantasy Master Lothario (don't abbreviate it) started on what Happ's numbers would look like with everyday playing time.
John Lackey – Could retire after the playoffs.  He's debating staying home and eating apples without any hands.