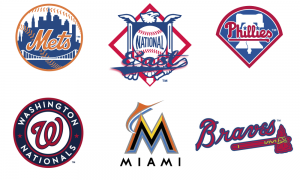 Today, we take a look at the positional battles for the National League East, a division that is quite emblematic of the US of A. The power and leadership resides in Washington DC. The New York Mets have the money, 11th highest payroll in baseball, but they are not the Yankees. Atlanta. Sorry, I mean Hotlanta, always gets overlooked, but there's tons of talent down south. We may be seeing lots of non-Native Americans tomahawk chopping on TV very soon. Philadelphia is usually in the shadow of New York. Well, the Eagles won the Super Bowl, so suck on that New Yorkers. I kid. There's tons of young talent on the Phillies, especially on the pitching side, but they will continue to play in the shadow of their brethren to the east. Miami. This is where things break down. A city of opulence and culture, yet the Marlins sold off all their assets like a Pookie crackhead would for one last hit. The only way I can tie this into the US of A analogy is that Miami is located in the state of Florida, a state in which the lawmakers said that porn is dangerous but refused to talk about assault rifles. Ladies and gentlemen, the NL East.
The 2018 Razzball Commenter Leagues are now open! Free to join with prizes! All the exclamation points!
Please, blog, may I have some more?