Unless you're not into that, of course.  And if you are, that's cool, I'm not into it myself.  Not that there's anything wrong with that…anyhoo, Phillies can be ponies, right?  But of course, we know that even with that reference, it still doesn't work seeing as, well, look at the dang gif, y'all.  You know he ain't talking about equestrians.  For those who still haven't got it, it's a sexual innuendo, or 'inyourendo' if you're 15 mentally which I am so we're good!  Now that I've dated myself very badly, lets get down to dropping that synth-burp bass and talking up Wei-Yin Chen.  Feels like we've been here plenty this year and the theme has been common and easy to follow.  Here's a quick flowchart: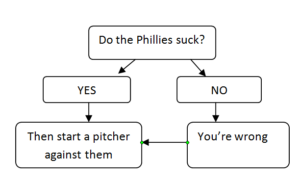 You're welcome for offering up the Staples button for ya because yes, that was easy.  The Phillies have found a new low of late as they've even slipped beneath the Braves in wRC+ against southpaws, sitting at a lowly 64.  They say it's lonely at the top, but what's it like sitting down there on the porcelain throne?  Whew…Chen isn't the safest get for the night based on his own stats on the year and his HR tendencies, but with the opponent at hand, I could see 6 to 7 Ks and it's just a question of how many bombs he gives up whether that's worth much.  I'll play him in cash and tourneys alike on such a smedium evening slate.  But enough about bad 90s R&B, let's move on.  Here's my Peyton Manning grooving hot taeks for this Wednesday DK slate…
New to DraftKings? Scared of feeling like a small fish in a big pond? Well reserve your spot in the 25 Team Razzball Exclusive League set to run next Monday, July 25th, to wet your DK whistle. Just remember to sign up through us before you do. Wanna know what the best part is about signing up with us? The free subscription for the rest of the season to our DFSBot, that's what! For details on the how to, please visit our Razzball Subscriptions page.
Drew Pomeranz, SP: $10,600 – You know, I'm gonna admit I'm intrigued here.  Talent level is still what it was in San Diego, his home/road splits don't show me much to be concerned about and he's facing a team he's familiar with.  I see no reason to pay up in cash, but if the world is swerving him, you got a chance at shaking that Pom Pom at a low ownership percentage.
Jaime Garcia, SP: $7,900 – So on the one hand, the Padres lead the league in K% against lefties on the year at 24.3%.  On the other hand, they own the highest wRC+ against them at 120.  On the third hand which is actually a third hand because you have a physical abnormality, I think this play is gonna get too much play and will be a fade for me on the night given the price.
Michael Pineda, SP: $7,700 – It's one of those kinds of nights.  Which Michael will show up?  Pineda?  Pinata?  Let's call the whole thing off.  He's a tourney play and nothing more.
Gio Gonzalez, SP: $7,300 – Los Angeles Blahdgers, amirite?  Gio being a lefty should neutralize LA's best hitter in Corey Seager and with how dinged up the team is, I'm cool with Gio in cash if you wanna swerve the likely Garcia/Chen combo you'll face.
Robinson Chirinos, C: $2,800 – He's cheap and if he's starting, he's shown himself to handle lefties quite nicely since joining the Rangers last year.  Consider a sweet deal on some cheap pop.
Chris Carter, 1B: $4,100 – Carter will never be a good hitter but we don't need good hitters in DFS, we just need bombs.  On the year, Chris is only hitting .206 against lefties, but he has a .338 ISO.  The fact that it's Jeff Locke on the mound just makes it all the more juicy of a matchup.
Matt Adams, 1B: $3,400 – I have zero qualms with expensive bats and I'm sure the BoSox and David Ortiz are gonna be chalk but I'm just pointing out that Fatt Adams is back and gets to face Clemens.  No, not that Clemens, the Clemens who's a 28 year old journeyman who's landed in the wasteland that is Friars country.
Kolten Wong, 2B: $2,900 – There was a time if loving Kolten was Wong, you didn't wanna be Wright.  Though those days are gone, what aren't are pitchers like Paul Clemens and DFS to enjoy them by.  Cardinals stack anyone?
Manny Machado, 3B/SS: $3,600 – Wait, wait, wait…*checks to see if Machado died*.  Nope, not dead, just underpriced.
Will Middlebrooks, 3B: $2,500 – Meanwhile, Middlebrooks is 2.5K and he's appropriately priced.  Nothing to see here other than chasing potential bombs off Locke again.
Xander Bogaerts, SS: $4,500 – As mentioned, stacking Red Sox makes complete sense to me but with how easy it is to save money on this slate, I'm just saying you can splurge where you wanna and I wanna splurge on Xander.  Those last five words have a dramatically altered meaning with just changing out two letters for two 'o's.  See you can spot it.
Starling Marte, OF: $5,400 – I'm just out here splurging on players.  Again, find where the two 'o's can go!  But for realsies, a Pirates stack including Andrew McCutchen, Gregory Polanco, and even Francisco Cervelli could do wonders today.
Scott Van Slyke, 1B/OF: $3,300 – If you're still looking for cha-ching relief, SVS is your trusted local DFS Pharmacy that provides you with the same dong services as some other companies, but at a lower price.
I'm Only Happy When It Rains
Much like my wife would say when I drop my trousers, 'nothing to see here, moving right along'.
Doing Lines In Vegas
As I said, Garcia will be the chalk today and for good reason: he has the odds forever in his favor at -220 to top the slate.  The fact that he's now the second pitcher of a doubleheader makes it just a bit sweeter.  Tack on that the run line is 9 and we have already talked about attacking Clemens, and I think you have good reason to believe he's the SP1 for cash.  Moving right along, we have Pomeranz coming in at a surprising -215.  Not a bad way to be for your first start on a new team.  He also has a heavy O/U sitting at 10, but again, Matt Cain isn't able so a win, some Ks, and tons of runs behind him seems the likely scenario.  Overall, Vegas expects today to have some runs scored as no game has an O/U below 8.  In fact, only two of the 16 games on this slate sit at 8 so be careful with those pitchers out there.  If you're playing the early slate, throw money on Carlos Martinez with his -210.  He's honestly in a better matchup than what Jaime is.  Yes you can be in a better matchup despite playing the same team.  Don't @ me.