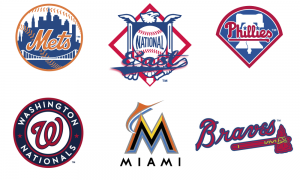 Today, we take a look at the positional battles for the National League East, a division that is quite emblematic of the US of A. The power and leadership resides in Washington DC. The New York Mets have the money, 11th highest payroll in baseball, but they are not the Yankees. Atlanta. Sorry, I mean Hotlanta, always gets overlooked, but there's tons of talent down south. We may be seeing lots of non-Native Americans tomahawk chopping on TV very soon. Philadelphia is usually in the shadow of New York. Well, the Eagles won the Super Bowl, so suck on that New Yorkers. I kid. There's tons of young talent on the Phillies, especially on the pitching side, but they will continue to play in the shadow of their brethren to the east. Miami. This is where things break down. A city of opulence and culture, yet the Marlins sold off all their assets like a Pookie crackhead would for one last hit. The only way I can tie this into the US of A analogy is that Miami is located in the state of Florida, a state in which the lawmakers said that porn is dangerous but refused to talk about assault rifles. Ladies and gentlemen, the NL East.
The 2018 Razzball Commenter Leagues are now open! Free to join with prizes! All the exclamation points!
WASHINGTON NATIONALS: 97-65 record in 2017
When you win 97 games, that usually means you have a pretty good squad. Most of the moves the front office made in the offseason, like signing Matt Adams, were for depth or "break in case of emergency." The return of Adam Eaton from injury will be the one big addition that infuses some energy into the lineup. As it currently stands, Matt Wieters is at catcher, Ryan Zimmerman at first base, Daniel Murphy at second base, Trea Turner at shortstop, Anthony Rendon at third base, Eaton in left field, Michael Taylor in center field, and Bryce Harper in right field.
MIAMI MARLINS: 77-85 record in 2017
Catcher – This is not really a battle. It's more about who actually wants the position. J.T. Realmuto is the starter. There's no debate about that, but Realmuto has voiced that he wants to get traded because….new ownership is cheap as f**k. With Realmuto under control until 2020 and poised to make only $2.9 million this year, it's difficult to see Jeter & Co. granting his wish. With that said, it's a situation worth monitoring because it could adversely affect the production for J.T. If something wonky does happen, Tomas Telis would seem to be the guy with either Bryan Holaday or Chad Wallach backing him up. They all suck.
Shortstop – This is the Royal Rumble for the Marlins. Miguel Rojas vs. J.T. Riddle. Riveting, I know. Jeter has to sell seats somehow. Let's go to the tale of the tape. Riddle is 6′ 1″ 180 pounds and bats from the left side. He plays good defense and filled in "admirably" when Adeiny Hechavarria went on the disabled list last season. In 247 plate appearances after getting called up from Triple-A, Riddle hit .250/.282/.355 with 3 home runs, 20 runs scored, and 31 RBI. He walked 4.9% and struck out 20.2%. Rojas is 5′ 11″ 195 pounds and bats from the right side. He's 29 years old, so he's been around. Known as a utility infielder, Rojas played 77 games at shortstop, 15 at third base, 2 at second base, and 2 at first base. At the plate, he hit .290/.361/.375 with 1 home runs, 37 runs scored, 26 RBI, and 2 stolen bases in 306 plate appearances last season. He walked 8.8% and struck out only 10.5% of the time. Riddle did have shoulder surgery last season, so the team may ease him back in, which would give the nod to Rojas to begin the season. Riddle hit .303 against RHP, while Riddle hit .246 against righties. Gun to the head, I'd go with Rojas, but the Marlins will probably utlilize both, negating the value for both. I feel sick writing so many words about Rojas vs. Riddle.
Outfield – The only constant among many of the websites out there is that Derek Dietrich will patrol left field for the Marlins. As for center field and right field? Rotoworld has Cameron Maybin in center with Scott Van Slyke in right. The official Marlins website has Lewis Brinson in center with Braxton Lee in right. Fangraphs has Brinson in center with Magneuris Sierra in right. Roster Resource has Maybin in center and Brinson in right. Are the freaking Russians trying to divide and conquer again? Anyways, our own Jesus aka Ralph Lifshitz had Brinson as the 11th prospect in his Top 50 back in October. In February, after the trade to Miami, Ralph said a .275/17/20 season wasn't out of the question due to the prospect for more playing time. Grey said back in November that Brinson could be the ROY if he gets the ABs. I'm eschewing the Russian trap and siding with two guys that are smarter than me. Dietrich in left, Maybin in center, and Brinson is right.
ATLANTA BRAVES: 72-90 record in 2017
Catcher – Not a battle. More like a coexistence. Manager Brian Snitker said he expects both Tyler Flowers and Kurt Suzuki to share the catching duties this season. Flowers did miss some time with a wrist injury, but finished the season with 370 plate appearances. Suzuki received 309 plate appearances. Both bat from the right side. Flowers hit .280 with 11 home runs in 264 PA against RHP, while Suzuki hit .266 with 12 home runs in 218 PA. Suzuki was much better against LHP pitching, though. .345 with 7 home runs vs .283 with 1 home run for Flowers.
Left field – Or better known as the future home of Ronald Acuna aka Baseball America's #1 prospect aka <insert any superlative>. More than likely, the Braves will keep him down in the minors to gain that extra year of control. So, who keeps the place warm for him? It will probably be a platoon with Lane Adams and Preston Tucker. Let's see, Adams bats from the right side but is a career .143 hitter against LHP. Granted, in only 35 plate appearances. Tucker, a left-handed batter, has a .229 average in 380 plate appearances against RHP. Stay healthy in the minors, Acuna.
NEW YORK METS: 70-92 record in 2017
First base – A battle between the grizzled vet and the young buck. Adrian Gonzalez (35 years old) vs. Dominic Smith (22 years old). After being a model of consistency throughout his career, Gonzalez did not play at least 150 games for the first time since…..2005. He batted .242 with only 3 home runs in 252 plate appearances last season. The Mets are betting on a bounce back from Gonzalez. Just remember, though, that this was the same organization that invested with Madoff. Smith, like Gonzalez, bats from the left side. In his first taste of the big leagues last season, Smith batted .198 but did club 9 home runs in 183 plate appearances. The 26.8% strikeout rate was high, but he's been sub-20% in every minor league year. Something to monitor is that Smith is dealing with a strained right quad and will have an MRI.
Center field – This is Michael Conforto's house. Unfortunately, he's expected to miss the first month of the season due to shoulder surgery last year. So, who patrols center field while Conforto recovers? Juan Lagares vs. Brandon Nimmo. Lagares is the better defender and in 272 plate appearances last season, hit .250 with 3 home runs and 7 stolen bases. The walk rate was 5.1% while he struck out 20.6% of the time. Nimmo received 215 plate appearances last season and hit .260 with 5 home runs and stole 2 bases. The walk rate was 15.3%, but the strikeout rate was 27.9%. The ISO was .115 while the wOBA was .287 for Lagares. Nimmo, on the other hand, had a .158 ISO and .348 wOBA. Nimmo is also an OBP monster (.379). With the strength of the Mets being pitching, I'd think that they would want Lagares in the lineup to patrol center field for them.
PHILADELPHIA PHILLIES: 66-96 record in 2017
The Phillies look pretty set for 2018. Jorge Alfaro will be behind the plate. Carlos Santana will man first base, Cesar Hernandez at second, J.P. Crawford at short, Maikel Franco at third, Rhys Hoskins in left field, Odubel Herrera patrolling center field, and Nick Williams and Aaron Altherr platooning in right field.
The Eagles win the Super Bowl and, all of a sudden, order and harmony reign supreme in the City of Brotherly Love? What a time to be alive.