So I'm watching Raiders of the Lost Ark with my dad and following Tanner Roark strike out 15 Saturday afternoon, and all primed to write my "Raiders of the Lost Roark" pitcher profile.  But then I was like, "Ya know what?!  I already wrote on Joe Ross and the Nationals don't need ANY MORE press!  I'm not writing two of my first three 2016 profiles on Nats, get outta here!"
Option B: An argument I had with myself the other day: "Is Robbie Ray really that different than Carlos Rodon?"  Think about it – both are lefties with mid-90s heat, plus off-speed pitchers, and are near unhittable.  But they're also two of the most frustrating pitchers to own with their control issues.  So why would I love Rodon and bank on him figuring it out in my ranks and not have similar optimism for the also young (just turned 24) Ray?  Mayyyyyyybe I shouldn't broadcast to ALL of Razzball Nation my inner monologues… "What was that dream last night about?  I think I was taking off my clothes in Miller Park with – – – -"  Yeah, bad idea.
With Ray one of my two decent SP in REL, I decided to megalomaniacally (made up word?!) take the pitcher profile to Arizona and break down how Ray looked again the Pirates yesterday afternoon:
First Inning: Ray's first pitch is a 93 MPH fastball outside to Jordy Mercer interestingly leading off (I guess vs. a lefty thing), 92 MPH is in there, first slider bends low 2-1, but 94 MPH on the outside edge gets a ball lifted to right and it's caught a step into foul territory for a quick first out.  Great start.  Ray misses with a fastball to Andrew McCutchen, 94 is poured right in there 1-1, off-speed is spiked in the dirt, 94 on the outside edge is fouled back, then slider at 85 snaps out of the zone and gets a swinging K on Cutch, two down.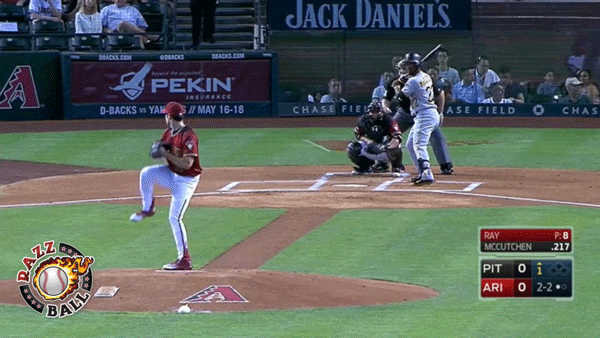 Nice stuff right there!  Follows it up with 93 in the zone to David Freese 0-1, then 94 again out there just blows him away, 0-2.
Man, this is what I was talking about in the open!  Just great stuff when harnessed.  Fastball at 94 again fouled back, again fastball tipped foul, high slider bends in high, but slider again at 85 MPH hangs in the zone and Freese hammers it to deep left center for a double off the wall.  Freese had to kinda reach for it and one-hand it, so thankfully it stayed in the park.  So after the two out double Ray is high and outside to Starling Marte with the fastball, 93 is outside, and ruh roh – 2-0 count.  Attack Robbie, attack!  Ugh, 91 MPH is outside, then 91 again wayyyy outside and hopefully that was more of the "intentional, unintentional walk" than anything else.  Runners at first and second and the recently called up Jason Rogers takes a slider low for ball one, 91 MPH is high, and yeesh the control AND velocity have disappeared and out comes pitching coach Mike Butcher to try and settle him in.  2-0 is a 90 MPH fastball in the zone – nice to see a strike but he really took some off that pitch to get it in there – 91 MPH gets a foul back, 92 is high and tight, 93 on the hands is fouled back, 93 again in the zone is fouled away, then Ray finally goes off-speed and the slider is called low but the pitch tracker had it nipping the bottom of the zone.  Two quick outs and now bases loaded with Ray low with the fastball to Sean Rodriguez, 92 is in there 1-1, 85 MPH slider catches the bottom of the zone in almost the same spot as that 4th ball to Rogers and called a strike this time 1-2, slider again gets a very close call on a check swing but Rodriguez holds up, 2-2 fastball fouled off, then a slider gets dribbled to third for a routine groundout and Ray gets out of the mess and mercifully out of a 33 pitch opening inning.
Second Inning: Au Shizz goes solo job and gets Ray a 1-0 lead, and Ray is in there with a strike one fastball, slider down gets a whiff, then slider one more time at 85 MPH strikes out Gregory Polanco on three pitches.  While awesome, Polanco is red hot against righties but still looks a little lost against lefties.  First pitch slider gets in there to catcher Chris Stewart, fastball nips the outside edge, and 5 consecutive strikes.  Love it.  93 climbs the ladder 1-2, slider spikes into the dirt, then 92 again on the outer third is taken by Stewart for back-to-back Ks.  Opposing pitcher Francisco Liriano pops up the first pitch fastball just inches over the protective screen for a foul ball, Liriano takes a slider all the way and it bends in the zone 0-2, then slider again gets rolled over to first for a routine grounder, and Paul Goldschmidt friggin' Buckner's it!!!!!!  What in the world?!  Is this Ryan Howard fielding?!??!  Last thing we need is more pitches for Ray – on a really bad error at that – and of course it's ball one to Mercer going back to the top.  Ugh!  92 is in there, 91 probably off the outside edge is reached out and poked foul 1-2, 93 is well high, 2-2 fastball at 92 looked really close but called a smidge low, then 93 MPH in the zone is hit well through the gap on the left side of the infield for a single.  Thanks Goldschmidt.  So runners at first and second, 50 pitches already no thanks to the error, and slider that looked to bend in the top of the zone is called a ball, maybe inside to Cutch 1-0, 92 is outside, and another inning with a meeting at the mound with Wellington Castillo coming out.  Fastball is in there 2-1, and another heater in the zone gets a whiff, Ray battling back 2-2.  Fastball again fouled away, then a nassssssty slider at 83 MPH gets Cutch to whiff and gets Ray out of the inning, striking out the side.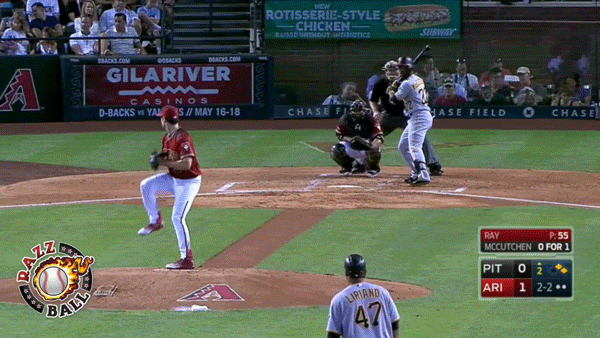 Third Inning: Still a 1-0 lead but a massive 56 pitches already and Ray misses for ball one to Freese, then a slider that kinda rolled to the outside edge is inside-outed to right for a leadoff ground-rule double.  Ray stays offspeed but drops in a strike to Marte 0-1, then slider again is pounded to center for a hard hit single.  Freese is held at third, so no outs, runners on the corners. 92 barely misses the inside edge to Rogers 1-0, 92 high and away is chased and missed 1-1, then a high fastball is tomahawked to left, and it's an easy double with some questionable fielding around the wall for a 2-RBI triple.  It's Rogers' first hit as a Pirate, and a big one.  Yasmany Tomas bumbled his way towards it, and crashed into the side wall as the ball was rolling away with reckless abandon.  A good LF out there might have A – made the catch or B – been able to hold Rogers to a double without pinballing around back there.  A nice slider almost gets a Rodriguez swing but he holds up, slider again is low 2-0, and this isn't looking good at all.  93 MPH fastball is poured in there 2-1, then with the infield in a fastball is hit hard to right where a SS would naturally be, but it's past an outreaching Nick Ahmed for an RBI single.  67 pitches, and still only 6 outs.  Yuck.  But they'll leave Ray in to face Polanco, who squibs the first pitch to third for an easy groundout.  Fastball is wayyyy high to Stewart, fastball barely misses the outside black, 91 is high, 3-0.  Ouch.  91 is in there, then a high 90 MPH fastball is flied to right for a routine out, two down.  Rodriguez tagged to third, so two down and runner at third and Liriano swings over a first-pitch slider 0-1, slider again catches the outside edge as it sweeps across 0-2, slider again in the dirt, 1-2.  A lot of respect for a pretty good hitting pitcher there, going 3 straight sliders to Liriano…  Then a 92 MPH fastball paints the outside edge to get Ray out of the inning with his 5th K.

Fourth Inning: Beef Wellington!  3-run homer from Wellington Castillo and it spots Ray a 4-3 lead and Ray spots a fastball in the zone to Mercer, 0-1.  Maybe he can get through two quick innings and sneak in a win.  Fastball again – but at 89 MPH – is in there 0-2, then 88 MPH – slow fastball again – is hit just over Jean Segura at second for a single.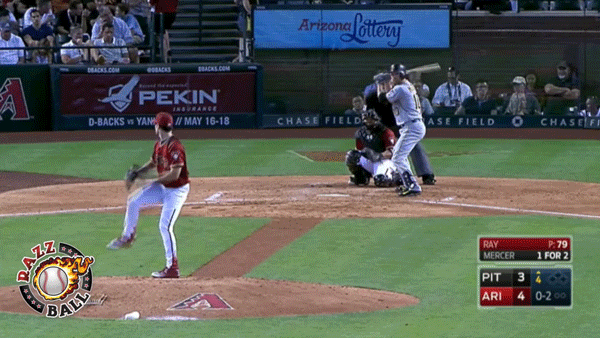 So much for that.  Man, what is this velo drop?!  Ray misses to Cutch, then goes to that slider which McCutchen can't figure out and gets a big whiff, 1-1.  Then slider again is blocked by Castillo, it barely gets out of his reach but Mercer makes it to second.  Then Ray going slider all the way and Cutch hits it pretty well to short, but it's off of Ahmed's glove for a single to left.  Ruled a hit and rightfully so, but Ahmed could've made that play.  And just like that, Ray is out of the game with two men left on (both would score, but an error would save him one of the ER) and it wraps up Ray's worst start on the year.
Final Line:  ND  3.0 IP  84 Pitches (52 Strikes)  4 ER  8 Hits  2 Walks  5 K  Gamescore: 28  Gamescore+: 37.6

Final Analysis: Sweet Baby Jesus! Man, that wasn't fun.  I wrote up this profile live as Ray pitched, and had I known it would be such a downer I would've maybe stuck with Roark.  Stupid Nats!  Not surprisingly, the Gamescore+ came out much more favorably in a short outing with more Ks than innings pitched as Gamescore+ favors Ks and has no additional lean to pitchers going deep into games like standard Gamescores.
Ray's arsenal all starts with a fastball, that I thought was a pretty consistent 93-95 last year.  And for the most part in other starts of his I watched this season, it's been hovering in that range.  But for some reason yesterday, he really struggled to keep up the velocity, especially in that 3rd inning dropping under 90.  Fangraphs had average velocity at 92.0 MPH after 93.7 the last start in his great outing at the Giants.  Game-to-game disparity can happen, so let's just hope this was a minor bump.  Then the big pitch is that slider – got McCutchen on two swinging Ks, had consistent bite, and he could get some over for called strikes.  While Fangraphs lists out slider and curveballs, I couldn't tell a huge difference between the two, so let's just say his breaking ball looked good.  He also mixed in a couple change-ups that weren't  discernible from mini-sliders.  Probably not the best thing, but not the worst either as everything had movement.
Whew, I don't really know what to do here.  I think I'm keeping Ray right where I had him, at the 60-70 range ROS.  A guy you're certainly not holding in RCLs with rampant SP streaming, but 12 team leagues with deep enough benches and non-stringent IP rules, I could see holding on.  The fastball velocity has been good most of the year and was fine early, so I'm hoping it will bounce back just fine.  Plus that Goldy error made him throw 10 or so extra pitches, which could have completely changed this outing.
Moving forward, I would caution using him against a line-up flush with good righties.  He utterly dominated Polanco with a 3-pitch strikeout and a 1-pitch dribbler to get him out.  Lefties are hitting all of .097 against him this year, while righties are hitting a concerning .317.  His next start is at home hosting the Rockies, who have several solid lefties (given a few would likely be platooned).  It's a risky start – I wouldn't stream him in a hard starts-cap like in RCLs – but I hesitantly think he bounces back in that one.
Updated Top 100 SP
(rankings for ROS based on 12-team Roto, green for risers, red for fallers)
| RANK | SP, TEAM |
| --- | --- |
| 1 | Clayton Kershaw, LAD |
| 2 | Jake Arrieta, CHC |
| 3 | Chris Sale, CWS |
| 4 | Max Scherzer, WAS |
| 5 | Noah Syndergaard, NYM |
| 6 | Jose Fernandez, MIA |
| 7 | Stephen Strasburg, WAS |
| 8 | David Price, BOS |
| 9 | Madison Bumgarner, SF |
| 10 | Corey Kluber, CLE |
| 11 | Gerrit Cole, PIT |
| 12 | Matt Harvey, NYM |
| 13 | Chris Archer, TB |
| 14 | Jon Lester, CHC |
| 15 | Felix Hernandez, SEA |
| 16 | Zack Greinke, ARI |
| 17 | Jacob deGrom, NYM |
| 18 | Carlos Martinez, STL |
| 19 | Danny Salazar, CLE |
| 20 | Carlos Rodon, CWS |
| 21 | Cole Hamels, TEX |
| 22 | Joe Ross, WAS |
| 23 | Dallas Keuchel, HOU |
| 24 | Raisel Iglesias, CIN |
| 25 | Drew Smyly, TB |
| 26 | Carlos Carrasco, CLE |
| 27 | Jeff Samardzija, SF |
| 28 | Patrick Corbin, ARI |
| 29 | Taijuan Walker, SEA |
| 30 | Johnny Cueto, SF |
| 31 | Sonny Gray, OAK |
| 32 | Masahiro Tanaka, NYY |
| 33 | Vincent Velasquez, PHI |
| 34 | Francisco Liriano, PIT |
| 35 | Yordano Ventura, KC |
| 36 | Jason Hammel, CHC |
| 37 | Ian Kennedy, KC |
| 38 | Steven Matz, NYM |
| 39 | Michael Wacha, STL |
| 40 | Garrett Richards, LAA |
| 41 | Marcus Stroman, TOR |
| 42 | Luis Severino, NYY |
| 43 | Justin Verlander, DET |
| 44 | Hisashi Iwakuma, SEA |
| 45 | Jose Quintana, CWS |
| 46 | Michael Pineda, NYY |
| 47 | Wei-Yin Chen, MIA |
| 48 | Jake Odorizzi, TB |
| 49 | Jordan Zimmermann, DET |
| 50 | Kenta Maeda, LAD |
| 51 | Juan Nicasio, PIT |
| 52 | Adam Wainwright, STL |
| 53 | Kyle Hendricks, CHC |
| 54 | Mike Fiers, HOU |
| 55 | James Shields, SD |
| 56 | John Lackey, STL |
| 57 | Andrew Cashner, SD |
| 58 | Aaron Nola, PHI |
| 59 | Gio Gonzalez, WAS |
| 60 | Anthony DeSclafani, CIN |
| 61 | Yu Darvish, TEX |
| 62 | Aaron Sanchez, TOR |
| 63 | Jimmy Nelson, MIL |
| 64 | Jaime Garcia, STL |
| 65 | Robbie Ray, ARI |
| 66 | Jerad Eickhoff, PHI |
| 67 | Matt Moore, TB |
| 68 | Rich Hill, OAK |
| 69 | Adam Conley, MIA |
| 70 | Tanner Roark, WAS |
| 71 | Drew Pomeranz, SD |
| 72 | Eduardo Rodriguez, BOS |
| 73 | Collin McHugh, HOU |
| 74 | Lance McCullers, HOU |
| 75 | Julio Teheran, ATL |
| 76 | Tyler Glasnow, PIT |
| 77 | Edinson Volquez, KC |
| 78 | Tyson Ross, SD |
| 79 | Kevin Gausman, BAL |
| 80 | Nate Karns, SEA |
| 81 | Scott Kazmir, LAD |
| 82 | Blake Snell, TB |
| 83 | Ervin Santana, MIN |
| 84 | Jose Berrios, MIN |
| 85 | Shelby Miller, ARI |
| 86 | Nathan Eovaldi, NYY |
| 87 | J.A. Happ, TOR |
| 88 | Mike Leake, STL |
| 89 | Derek Holland, TEX |
| 90 | Jon Niese, PIT |
| 91 | Hector Santiago, LAA |
| 92 | Josh Tomlin, CLE |
| 93 | Rick Porcello, BOS |
| 94 | Mat Latos, CWS |
| 95 | Marco Estrada, TOR |
| 96 | Lucas Giolito, WAS |
| 97 | Jake Peavy, SF |
| 98 | Shane Greene, DET |
| 99 | Sean Manaea, OAK |
| 100 | Chris Tillman, BAL |
Dropped Out: Bud Norris, ATL (yeah that dart throw didn't work), Taylor Jungmann, MIL (just looks terrible, only throwing 2 pitches, velo down), Kris Medlen, KC, Brandon Finnegan, CIN

Thoughts on Sweet Baby Jesus Ray?  And what do you think of this week's updated ranks?  As always, shoot your thoughts below, and let me know what ranks make this list invalidated due to my lunacy.  Invalidated I say!