I'm back baby!
It's been sad these past two weeks off from the Pitcher Profiles, but fortunately I could drown my sorrows in all-inclusive, all-day drinking on the honeymoon.  YES I DID GET A STRAWBERRY DAIQUIRI, GREY!  Although it didn't stain my mustache, especially since a month long of growth would just be shameful peach fuzz…
We're now through the bulk of the season and heading into the stretch run, which means Sky has only September left to get to 1,000 moves in our quote-expert-unquote RCL league.  If expert meant constantly dropping 6-7 duds every morning, than I'm an expert in my thrown room if ya catch my drift…  And on the pitching side, once you get to about 50ish in my ROS ranks, they all can be given the evacuation.  But I've been really bullish on ranking Luis Severino since his promotion, who I think is a must-own even through these final streaming weeks.
It's a little hard to stay light-hearted and joke-y with what happened in Atlanta on Saturday night, but obviously my condolences to the fan's family and we're supposed to have fun in fantasy, so we won't delve any more into that.  Instead, let's embrace what we love on the field, which is some nasty breaking stuff and hitters getting baffled.  Who doesn't base their fantasy-team live-watching on their SPs on a given night?!  So this was a perfect weekend to get back on the Profiles and check out how Severino looked in a full breakdown:
First Inning: After picking up an early run of support, Severino's first pitch is a 94 MPH fastball that Nick Markakis inside-outs for a single to left.  Given Severino's stuff, that was semi get-me-over, but nice hitting.  So runner on first, and Cameron Maybin takes a 90 MPH cutter just off the outside edge for ball one, fastball at 94 blows him away up and in, 1-1 is an inside heater at 95, then the 2-1 fastball is popped back behind the plate for an easy pop out.  Slider (or cutter) at 89 doesn't catch the backdoor to Freddie Freeman, then a nasty slider sweeping across the zone catches the inside corner, 1-1.  96 MPH on the outside edge is slashed foul, then Severino gets absolutely hosed on a nasty 88 MPH change-up painting the outside corner: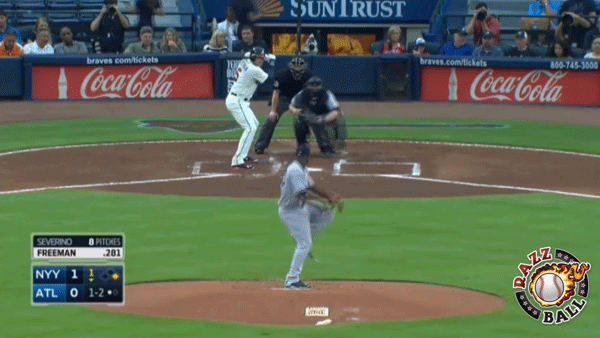 How is that not a strike?!  So 2-2 and he goes slider in the dirt, now a full count.  And Severino goes change again, this one dips low for a walk.  Easily could've been that K.  Runners at first and second, one out, and Nick Swisher takes 96 high, 96 blows him away for a foul tip in the mitt, then a change-up on the fists is hit routinely to second, and it's a tailor-made double play ball to get Severino out of the inning.
Second Inning: Still a 1-0 lead and Severino pounds a fastball in there to Adonis Garcia, 95 paints the low inside corner 0-2, then a hanging cutter is slashed to first, but it's caught on the liner for the first out.  Pretty hard hit, but flared off the hands.  Jace Peterson slashes the first pitch fastball foul, change-up at 89 dips low, slider stays outside, then 97 sinking on the outside corner misses low, 3-1.  97 though!  Then 96 misses high and outside for Severino's second walk already.  Gulp.  7 walks his previous two starts.  Christian Bethancourt swings right through a 95 MPH fastball for strike one, 96 paints the inside corner, then 96 high heat blows him away high as Bethancourt was just overmatched.  High cheese!  Wow, then the next pitch is this first-pitch slider to Andrelton Simmons at 90 MPH.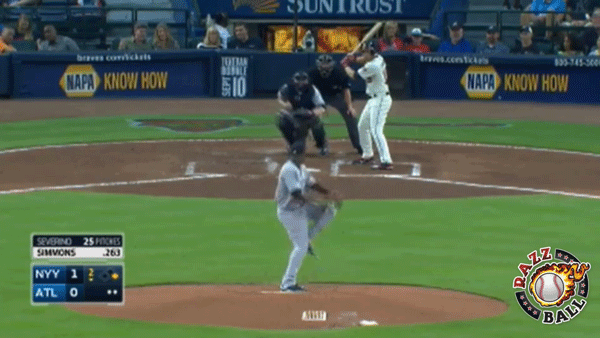 Plus that change-up I GIFfed in the first, and Severino has 3 solid pitches already.  Slider drops low and into the dirt, then right back to that change-up at 88 on the outside edge, and Simmons dribbles it to third for a routine groundout to end the inning.
Third Inning: First pitch of the third is a 95 MPH fastball that looked like strike one to me but I guess is called outside to opposing pitcher Matt Wisler, 96 is in there, then a high 97 MPH fastball gets Wisler to flick his bat at it – Wisler actually squares it up pretty hard – but another liner right to first for the first out.  95 looked a smidge outside to Markakis but called a strike – off-center strike zone, seemingly – then Severino drops a slider out there to backdoor the corner, 0-2.  And why not stay out there, as Severino drops in a change-up, Markakis tips it towards third for a swinging bunt, but a nice play by Chase Headley charging in gets Markakis by a step.  Fastball is in there to Maybin, 95 up and in destroys Maybin's bat for a flare foul 0-2, then Severino barely doesn't get that outside corner again, 1-2.  Severino getting frustrated.  Slider is fouled into the dirt at home plate, then change-up gets another weak dribbler, and Severino fields it very cleanly and athletically for the third out.
Fourth Inning: The broadcast missed the first pitch of this half of the inning but it was a ball, then fastball is in to Freeman, change-up misses outside, quickly 3-0.  95 pounds the zone to stay alive, then 97 on the inside black of the zone is fisted to first for a routine groundout, one down.  Swisher takes a nasty 91 MPH slider in the zone for strike one, then fastball at 97 on the outside black gets a horrible half-swing for strike two.  Overpowering!  And when you're overpowering, you hit the same spot at 96 and get Swisher to strike out swinging.  Nasty.  First pitch hanging slider staying high is fouled off by Garcia, slider this time with sick movement low and outside gets a whiff, slider again is low, slider one more time stays a little low and inside, 97 MPH fastball flared foul, 2-2 again is a slider again that goes low and outside, and wow Severino has the confidence to go slider again but it's dribbled foul, this is turning into a long AB.  Then the payoff pitch is Severino's fastest thus far – 98 MPH – but Garcia was sitting fastball and it's off the wall in dead center, right below the 400 ft. sign.  Maybe 395 feet.  Certainly the hardest hit ball so far and Garcia gets a 2-out double, and Peterson takes a hanging slider outside for ball one.  96 stays low, 96 on the outside edge fouled back, backdoor slider at 90 MPH catches the outside corner 2-2, change-up drops low to run it full, then Severino scared to use a fastball again goes slider, and it hangs outside for his third walk on the day.  Runners now at first and second, and slider gets Bethancourt to swing through it for strike one, slider breaking outside gets Bethancourt unable to hold his swing, then 96 on the inside edge on the hands gets another 3-pitch K swinging on Bethancourt, as that's just a completely unfair matchup.  Poor Bethancourt…
Fifth Inning: Still protecting that 1-0 lead, Severino is outside with the heater to Simmons, slider hangs high and way inside backing Simmons up, 97 MPH fastball is fouled back, again 97 fouled off, and Severino's velo is mad consistent high right now as he paints the outside corner at 97 for a K looking.  Nasty.  94 is low and outside to Wisler, again low and outside at 95, down 2-0 on the pitcher.  Eesh.  94 is then in there – kinda wish Severino stayed mid-90s this AB for consistency – then he brings it back up to 97 on the outside corner for a weak grounder to second, two down.  Markakis takes a slider barely on the high edge of the zone for strike one, ridiculous slider sweeping across the entire zone gets Markakis to look foolish swinging, 0-2: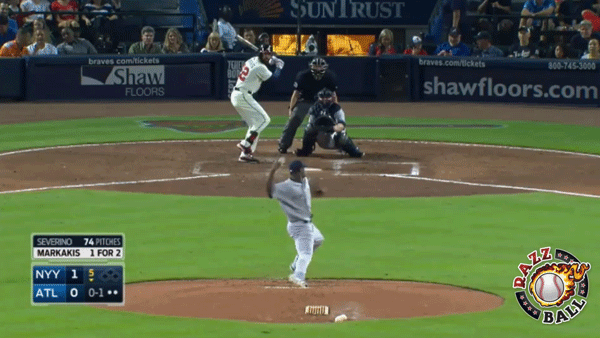 Yeesh, is that a whiffleball?!  Then Severino just paints the outside corner at 97 for one of the most ridiculous 1-2-3 sequences to strike a lefty out: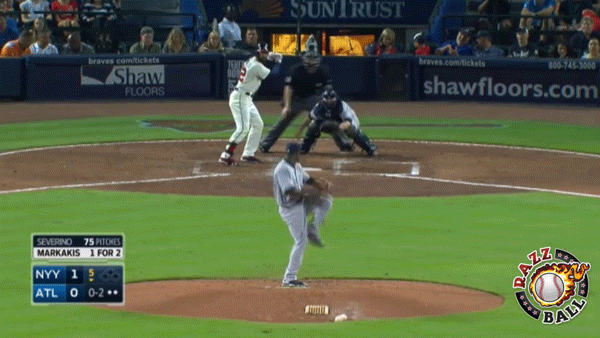 Sixth Inning: Maybin is first-pitch hacking on a first-pitch slider, but it's right to Headley playing in for an easy one-pitch out.  Severino sticks with the slider to Freeman and it's in the zone for strike one, then slider again bending a little inside is chopped to third, and Headley makes a great play to get Freeman by a millimeter.  It was a routine chopper, but the shift made it tough.  Swisher takes ball one, then Swisher has yet another awkward hack through a fastball to make it 1-1.  Then Severino just messes with Swisher's head with a nasty change-up and gets Swisher madly out in front whiffing.  1-2 is a slider low, then 98 on the outside corner is a well-struck single to right.  Well, credit the vet for making the adjustment.  Severino is right back in the zone to Garcia at 95, 0-1 is 93 MPH well inside, then 95 again on the outside edge is hit oppo field for another single to right.  The broadcast is applauding Severino for throwing strikes, but camon, throw an off-speed there!  Anyway, Peterson steps in and quickly gets Severino right out of the mess by topping a first-pitch slider to second for an easy, routine grounder to end the inning.  That'll do it for Severino, who protects that 1-0 lead through 6 to end up with the W.
Final Line:  W  6.0 IP  88 Pitches (57 Strikes)  0 ER  4 Hits  3 Walks  5 K  Gamescore: 66  Gamescore+: 66.0
Final Analysis: Severino is going to be a mad buzzy pitcher in fantasy drafts next year.  The year of the prospect never ends!  Pretty much every team in a 12er next year will feel great about their rotation in 2016 out of the draft.  And wow – for the first time this season, we have a Gamescore and Gamescore+ pulling dead even.  None of the 4 hits Severino gave up were cheap, but all of his outs were pretty weak as well to balance it out.
It's hard not to gush too hard, but Severino's arsenal obviously starts with a power four-seamer, that topped at 98 MPH with enough movement to keep hitters off-balance.  So far this year, the heater is sitting at 95.6 MPH overall before Saturday's start, which as of this writing was still not added into Fangraphs' data.  I would guess it was over 96.0 this start.  Then his main off-speed is that ridiculous slider that is pretty close to a cutter with high-80s/low-90s velocity.  He could back door it like that second GIF, or sweep it like the third GIF.  It's not quite to the Chris Archer/Joe Ross level, but it's not too far behind.  And like those guys, his change-up is his third pitch, but it is right there with those two.  It wasn't 100% consistent every offering, but it has enough of a change of speed and he didn't hang any.  Complete three-pitch package.
The worry with Severino's ROS rank is built into the control.  3 walks again Saturday gives him 10 the past three starts, and while he was hosed on that first GIF showing what should've been strike three, he did have two other for-sure walks.  Then there's the fact he's just a baby (21 years old), and teams love to skip young pitchers' rotation spots.  The Yanks need Severino for the playoff push and his overall innings Majors+Minors isn't too bad, but we might also see early yanks (see what I did there?!) like Saturday at only 88 pitches.  He's still in the most-own class ROS though, and since he came up a little later, I could still see him being a value in 2016 drafts, even with the buzz.
JB's Updated Top 100 SP
(This is the final re-rank of the season!  Rankings for ROS based on 12-team Roto, green for risers, red for fallers.  These are also ranks in a vacuum; dissecting every pitcher's ROS schedule is not only tedious, but unreliable with September call ups, skipped starts, etc.  At this point of the season, fringe pitchers are all relative for single-game matchups.)
| RANK | SP, Team |
| --- | --- |
| 1 | Clayton Kershaw, LAD |
| 2 | Chris Sale, CWS |
| 3 | Madison Bumgarner, SF |
| 4 | Corey Kluber, CLE |
| 5 | Jake Arrieta, CHC |
| 6 | Zack Greinke, LAD |
| 7 | Max Scherzer, WAS |
| 8 | Gerrit Cole, PIT |
| 9 | Jacob deGrom, NYM |
| 10 | David Price, TOR |
| 11 | Chris Archer, TB |
| 12 | Sonny Gray, OAK |
| 13 | Dallas Keuchel, HOU |
| 14 | Johnny Cueto, KC |
| 15 | Cole Hamels, TEX |
| 16 | Matt Harvey, NYM |
| 17 | Michael Wacha, STL |
| 18 | Felix Hernandez, SEA |
| 19 | Masahiro Tanaka, NYY |
| 20 | Jon Lester, CHC |
| 21 | Justin Verlander, DET |
| 22 | Noah Syndergaard, NYM |
| 23 | Danny Salazar, CLE |
| 24 | Francisco Liriano, PIT |
| 25 | Lance Lynn, STL |
| 26 | Stephen Strasburg, WAS |
| 27 | Carlos Martinez, STL |
| 28 | Scott Kazmir, HOU |
| 29 | John Lackey, STL |
| 30 | James Shields, SD |
| 31 | Jordan Zimmermann, WAS |
| 32 | Tyson Ross, SD |
| 33 | Taijuan Walker, SEA |
| 34 | Collin McHugh, HOU |
| 35 | Jake Odorizzi, TB |
| 36 | Jaime Garcia, STL |
| 37 | Shelby Miller, ATL |
| 38 | Jason Hammel, CHC |
| 39 | Patrick Corbin, ARI |
| 40 | Hisashi Iwakuma, SEA |
| 41 | Luis Severino, NYY |
| 42 | Aaron Nola, PHI |
| 43 | Yordano Ventura, KC |
| 44 | Carlos Rodon, CWS |
| 45 | Mike Fiers, HOU |
| 46 | Kevin Gausman, BAL |
| 47 | Michael Pineda, NYY |
| 48 | Julio Teheran, ATL |
| 49 | Carlos Carrasco, CLE |
| 50 | Taylor Jungmann, MIL |
| 51 | Jose Quintana, CWS |
| 52 | Joe Ross, WAS |
| 53 | Steven Matz, NYM |
| 54 | Matt Shoemaker, LAA |
| 55 | Trevor Bauer, CLE |
| 56 | Nate Karns, TB |
| 57 | Alex Wood, LAD |
| 58 | Andrew Cashner, SD |
| 59 | Jimmy Nelson, MIL |
| 60 | Andrew Heaney, LAA |
| 61 | Jeff Samardzija, CWS |
| 62 | Chris Heston, SF |
| 63 | Rasiel Iglesias, CIN |
| 64 | Jake Peavy, SF |
| 65 | Garrett Richards, LAA |
| 66 | Nathan Eovaldi, NYY |
| 67 | Jose Berrios, MIN |
| 68 | Mike Leake, SF |
| 69 | Lance McCullers, HOU |
| 70 | Marco Estrada, TOR |
| 71 | Eduardo Rodriguez, BOS |
| 72 | Gio Gonzalez, WAS |
| 73 | Derek Holland, TEX |
| 74 | Chris Tillman, BAL |
| 75 | Mat Latos, LAD |
| 76 | Ian Kennedy, SD |
| 77 | Edinson Volquez, KC |
| 78 | Kyle Hendricks, CHC |
| 79 | Jose Fernandez, MIA |
| 80 | Hector Santiago, LAA |
| 81 | Wei-Yin Chen, BAL |
| 82 | Erasmo Ramirez, TB |
| 83 | Matt Moore, TB |
| 84 | Drew Hutchison, TOR |
| 85 | Anthony DeSclafani, CIN |
| 86 | Ervin Santana, MIN |
| 87 | A.J. Burnett, PIT |
| 88 | Jesse Chavez, OAK |
| 89 | Kendall Graveman, OAK |
| 90 | Jon Niese, NYM |
| 91 | Phil Hughes, MIN |
| 92 | Daniel Norris, DET |
| 93 | Robbie Ray, ARI |
| 94 | Drew Smyly, TB |
| 95 | Rubby De La Rosa, ARI |
| 96 | Danny Duffy, KC |
| 97 | Martin Perez, TEX |
| 98 | Chase Anderson, ARI |
| 99 | Charlie Morton, PIT |
| 100 | Kris Medlen, KC |
Dropped Out: Matt Cain, SF (DL), Anibal Sanchez, DET (DL), James Paxton, SEA (Sigh.  Looked like he was on the upswing for rehabbing and then a few weeks ago they said he probably won't start again this year…), Dan Haren, CHC (Still OK I guess, but not going deep into games), Aaron Brooks, OAK (just ran out of room), R.A. Dickey, TOR (was fun while it lasted, could still give you some win potential!), Ubaldo Jimenez, BAL (fun as well!), Chris Bassitt, OAK (that K-binge was interesting, but 6:4 K:BB the last two and it seemed fluky, he was the final one out in a crunch for space)
And there ya have it, Razzball Nation!  Ending August strong!  Thoughts on Severino the Machine-o?  And anything glaring with the rankings make you think there was a glitch in the Machine-o?  Shoot your comments below, and happy September, Razzball Nation!