It began as a whisper… a promise… the lightest of breezes danced above the cries of  men and women cheering him on in little league. That breeze became a wind. A wind of freedom… a wind of justice… a wind of vengeance. The time has come, my Beddictites, to prepare yourselves for a breakout of epic proportions. I speak not of the Herp, but of the Harp; Bryce Harper to be clear.
Some would argue that Nostradamus's greatest prophesy was made in the year 1566, mere days before his horrific case of the Gout brought him to his death bed. "What prophesy is this you speak of, oh wise and charming Beddict?" Ask and thou shalt receive. A deep search into the annals of Nostradamus's journals produced this historic find– "In the year of our Elder Gods, 2014, a breathtakingly handsome young writer will come out of the shadows and change the world forever. He will no doubt be criticized by many a troglodyte [Ed. Note– Good word usage bro.], but he shall not hold it against them, for they not know better. On March 10, 2014, this debonaire young man, who will be known as the Mark Twain/William Shakespeare of his generation, will make a prediction about another chosen one, another young man I have seen in my dreams, an athlete of sorts.  These overwhelmingly powerful visions of this brutish boy swinging what seems to be a wooden stick at a bloodless round object have seemingly pushed me to the brink of my grave. It's either these visions or this Mother F'ing gout! Anyway, I know not what this prediction shall be, but whatever it is, it will have an 85 percent chance of coming to fruition. These two young men's futures will be forever intertwined for better or for worse. Take heed, for it has been written. I can now die in peace knowing my last true vision has been recorded in my leather-bound and padlocked journal. Now, if only this useless peasant, wife of mine would bring me my favorite chocolate sprinkled crepes along with some brie. Tis a virtual certainty she's yet again, getting bent over in the barn by my stable boy, Mortimer. By the Gods, I despise that whore." It's been said those were the last sentences ever written by Damus, as he passed and now resides with Hood in "House Death."
Have you seen Bryce Harper lately?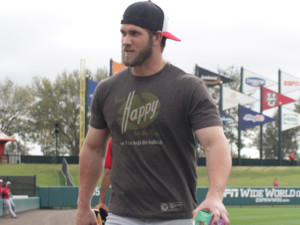 This photo alone should result in you forgetting your prior draft target and coveting the man with the body that could only come from the Elder Gods's magic. We are now blessed with the opportunity to witness greatness and by greatness I mean: 50 + home runs, 120+ RBIs, 10+steals, and an average above .270. Injury is all that can stop this from happening. Harper has had two years in the big leagues and shown flashes as to why he's been known as the chosen one since 8th grade. This beastly young man will not stop until he is the best player in baseball and I foresee a real run on the career home run record. The injuries have been a problem as well as his struggles with left handed pitching, but he's supposedly worked those out in the off-season. Considering the fact that Harper has one of the best work ethics I've ever witnessed, to go along with his other worldly talent, I'm gonna take his word for it. So should you. Harper should fall no further than 5th in all rotisserie league drafts as I will be taking him over the likes of Chris Davis, Adam Jones, Robinson Cano, and Ryan Braun. His OBP rose from .340 to .368 last season so a jump to .400 would not all shock me as we can assume improved plate discipline from this true student of the game. Peep this out yo: Harper put up an .854 OPS as his walk rate went up, his K rate dropped and his power improved. Dude is about to go from Mother Love Bone to Pearl Jam. Tehol spoke in, spoke in. Tehol spoke in, spoke in class todaaaaaay.
Below is a list compromised of players I feel are either being undervalued in this years rankings as well as players I believe are just going to have monster year, their rankings not withstanding. Some are obviously deeper league targets but all of these men deserve your attention. Each player has his ADP (Average Draft Placement) followed by the pick he was selected in the recent Razzball Writers RCL. Before we head there let me leave you with a quote from my esteemed colleague J-FOH, speaking on his behalf as well as the rest of the writers involved in this particular league; "Let it be shown, that we'd rather live on our knees, rather than die on our feet." Hmmmm, did I get that right? Looks like these guys are going to go down without a fight yet again. Witness!
Jacoby Ellsbury – 10.5/22. Yes, I know Ellsbury has burnt more fantasy owners than Miley Cyrus has rappers and yes, I know he seems to always follow up a great season with a total dud, but he couldn't possibly blow his first season in pinstripes, Right!? Will Ellsbury ever approach 30 jacks again (I'm still waiting on a valid explanation on how this was possible)? Certainly not, but he will most def' crack double digits in homers and continue his fantastic theft rate on the base paths. I wouldn't say he's a top-10 choice but if he falls to you in the late 2nd or early 3rd, well that, my friends, is whats's known as a steal.
Matt Kemp – 73.5/73. Not sure about you guys/gals but I sure miss the days when Rihanna and Kemp were the world's hottest couple. Nothing like dimming the lights, lighting a few aroma-therapy scented candles, and letting your imagination run wild about Rihanna twerking in the midst of a savage reverse cow-girl, followed my Matt "The Hammer" Kemp finishing her off with a powerful pile-driver that would receive a kudos from the legendary Brett "The Hitman" Heart. It wasn't so long ago that Kemp was a sure fire first round pick and I have no problems with taking a gamble on man with as much upside as anyone. You want him in the 4th or even 5th round? I have no problem with that. There are plenty of decent players later in the draft to put in his spot should he falter yet again.
Mark Teixeira – 178.8/205. Teixeira's last season in which he played over 130 games, he mashed out to the tune of 39 homers and 111 RBIs. Now, a wrist injury is nothing to play with, just ask Smokey. We literally had to ban him from PornHUB.com so that he could continue writing for Razzball. Those ligaments can only take so much jerking around before they begin to fail. Luckily for Big Tex, he has the world's best doctors and trainers to get back into the swing of things. I've been hearing positive talk around the league and to me, he's well worth the risk. I mean, come on dog, 205th overall? That's downright disrespectful yo.
Hanley Ramirez – 14.6/19. Hanley is going about where he should be taken, but I just wanted to put his name on here cuz I love him like the brother I always wished my parents adopted. You know the deal with Han-Ram: He rakes when not on the DL, but he's seemingly always on the DL. I say he plays over 140 games this season. Draft with confidence.
Domonic Brown – 115.7/75(GUESS WHO). Look for "Demonic" Brown to raise hell and give nightmares to opposing pitchers for the remainder of their miserable lives, for he has been blessed by the Elder Gods with abilities us mortals shall never know about. When I made the argument he could be this year's fantasy MVP last week, I meant that based on him being drafted in rounds 7-10, which is where he's going. Hey, Gilpin predicted Paul Konerko last year for Fantasy MVP. Could I do any worse than that!? "Sir" Domonic" won't let us down.
Will Myers – 77.8/38. Yea, I'm gonna go ahead and chalk down Myers for 30 + homers, 100 + RBIs, and 10+ steals. The aforementioned hateful one, J-FOH, made an outstanding move in our writers league draft, taking Myers 38th overall. Kudos, bro-seph. He is going way to low in average drafts for my taste. Great move by the Royals, trading away a future, perennial MVP candidate for a borderline all-star pitcher in his mid-thirties with one year left on his contract. Oh, that's odd, I wasn't aware "win-now" mode tasted like butthole. Yummers!
Giancarlo Stanton – 34.6/26. Ok, so I just took a gander at the Marlins projected lineup for 2014 and am having second thoughts about including the smolderingly sexy Giancarlo on this list. There is no reason to ever pitch to Stanton when considering the type of hot garbage protecting him in the lineup. I suppose if the game is already out of hand by the 5th inning, Stanton may get something to hit. Hold on just a tic, this is the Marlins we're talking about here. They will no doubt be getting dumped on a regular basis, therefore Stanton will likely see enough RBI opportunities to be included on this list. The upside is still to monstrous to pass up in the late 2nd round, where you will be able to snag him no doubt. Stanton is my favorite player in baseball so it pains me to rank him so low, but I don't allow emotional attachments to alter my drafting………….
Jason Heyward – 84.1/46. Honestly speaking (or writing), Heyward hasn't come close to fulfilling the expectations I had for him since it was known he would be Atlanta's opening day right fielder back in the year of our Gods, 2010. I even drafted him ahead of the legendary Stephen Strasburg and didn't' think twice about it. He done nothing but disappoint ever since, but one is prone to forgetting that he's only 24 years of age, and one might forget that Grey the Elder mentioned the possibility of Heyward parking 40 this season. That's all it took to sell me again, and if it's good enough for me, then it should be good enough for you, dammit!
Brett Lawrie– 127.4/139. Much like Katherine Heigl, who was last seen doing Nyquil commercials, Lawrie has seemingly disappeared off the face of the earth. His upside is worth the risk in the 110-130 range, but this is his last chance to perform for me and that's more than I can say for Heigl, though I love me some Nyquil.
Khris Davis – 191.7/190.  DON'T SKIP THIS NAME! Whatever you do, don't nonchalantly skip over this name. Im giving you my personal guarantee of 30 plus bombs with an average above .255. If Davis doesn't achieve these numbers you will receive 3, Tehol Beddict Fatheads of me in a g-string. Seriously, dude is going to rake.
Josh Hamilton – 95.2/93.  Oh how the mighty Hambone has fallen. Once, the greatest comeback story in the history of the MLB, Hamilton's act has begun to wear thin on his fans and fantasy owners. I've heard he's  in the greatest shape of his life this pre-season and it doesn't take much to sell me on Hambino. An absolute steal where he's getting drafted.
B.J. Upton – 183.6/217. He can't be worse, right?
Adam Eaton – 213.8/168.  Eaton will be an All-Star in 2014. I'd say that's worth a pick before 200, wouldn't you?
Josh Reddick – 199.3/197. In 2012 Reddick hit 32 homers, 85 RBIs, and even swiped 11 bases. He's 27 years old. It's truly a disgrace how late he's being selected. That's all I'm going to say about that.
Christian Yelich – 188.8/114. Everybody loves this guy, right? His power game was pathetic last season as he hasn't had time to build up that "man strength" yet, but I'm guessing it will come. Yelich has all the tools to be a star and I love his upside but I'm a bit more skeptical than most, at least when it comes to this upcoming season alone.
I was going to mention Colby Rasmus until I realized he had ZERO steals last season. How is that possible? Thats like Derek Jeter not beating cheeks for a whole summer. #Disgrace
Jose Abreu – 131.1/88 Just like Madonna, I'm known to froth at the mouth whenever my eyes take sight of a 6'3, 250 pound Cuban import. The power is real, the meat Grade-A, and he makes me feel like a virgin, touched for the very first time.
Justin Morneau – 223.5/Undrafted.  Andres Galarraga reborn? The Big Cat: Part Deaux? Some have said it is so. Worth a flyer.
Howie Kendrick 210.1/230.  Would you feel more comfortable with some nobody named "Scooter" or Kendrick as your tw0-bagger? I'm not going to justify that ridiculous question with an answer! Or am I? Kendrick is the better, and much safer option.
DJ LeMahieu – 260/Un-drafted. Liked what I saw from this little spark plug last season. You could do worse at your SS/2B slot.
Chase Headley – 149.7/162.  I'm not sure what I missed, but wasn't Headley an absolute monster two seasons ago? Isn't he still in his late 20's? Weren't injuries the only issue last season? This is way to low for a player of this caliber.
Will Middlebrooks – 170.4/171.  Get out your notebooks and mark down 30 plus dongs and 100 plus ribbeys for Big Willie Style. Yea, that's gonna happen.
Todd Frazier – 229.7/286. If I remember correctly, I selected Frazier in the 7th round last season in one draft. THE SEVENTH ROUND!!! The guy is now going un-drafted in many leagues. It huuuuuuurts. Thanks Grey! I'm kidding of course, for I'd rather spit in the face of Mother Teresa, than insult Mr. Albright. In fact, I still like Frazier and if you can draft in the last 5 rounds, I'd suggest doing so as the upside is still there for 30 plus homers.
Michael Wacha – 130.2/131. Did you witness this youth in the playoffs last season? I'm sold, how about you? Worthy of going higher.
Carlos Martinez – 260/253. Good gracious, the Elder Gods have blessed the Cardinals with a bountiful load of incredible young pitchers. If Martinez is given a starting job in the rotation, I would personally be drafting him at least 100 spots earlier. Tommy Lee Penis size type upside here.
Tony Cingrani – 175.7/152. Cingrani is the epitome of what you want your fantasy starting pitchers to be. An ERA under 3 and 10.3 K's per nine? Yes please. What am I missing here. If you draft Cingrani at pick 125 or later feel free to crack a bottle of bubbly and celebrate. Just don't forget to pour some out for your dead homies.
Jeff Samardzija – 140.2/123. Many a fantasy expert is down on this former Notre Dame legend this season but I'm not sure why. I mentioned last week I could see a Max Scherzer type jump for Samardzija, and I meant it. He was one of the most unlucky pitchers in the game as far as balls in play and had one bad stretch of pitching. He's a K-monster and a total prototype. I can promise you he shall have a better year than Gerrit Cole, so put that in your pipe and smoke it.
Brandon Beachy – 228.9/209 Can Beachy Bounce Ba Ba Bounce back like my whoadie Juvenile? It's worth a later pick to find out, and that's fo sho doe.
Julio Teheran ADP – 131.4 /80. News flash people. Teheran has flat out filthy Shiznit and guess what? This is going to blow your mind, but Teharan is better than Mike Minor. In fact, his stuff is mind blowingly filthy. Definitely a pitcher with the ability to take the next step into elite territory.
Michael Pineda ADP – 260/257. Use a late round pick on Pineda as I hear he's rediscovered the magic that made him the one time 5th round pick of my dynasty league…..That one hurt. 

Jesus Montero –  I had his name here originally just to bash him but this tub of lard is scorching hot. Worth a late pick in deeeeep leagues.
Travis d'Arnaud – 260/Undrafted. I've been reading about this kid for years. If healthy, will be a top 10 catcher this season. 
That was fun, wasn't it? I look forward to another week of interacting with you on the message board. You may think that I want some of these negative commentator's blood to flow like the ancient rivers of Babylon, but that's simply not the case. Even some of  your mothers knew that since you was in the class with Legos, you'd grow up to be as soft as mashed potatoes. If you have hate in your heart, let it out. Until next time.
Tehol is currently accepting new Twitter followers this week at @TeholBeddict47, so jump on that train ASAP.