Jay has set the table or whatever he was talking about last week with spoons, knives and whatnot. I think he needs to eat before he writes these. Well if I'm reading him right, that is my queue to grab the tablecloth and pull it out while leaving all the table settings perfectly in place. *Grabs cloth, pulls hard* CRASH! No, not Davis…well, the place setting is ruined, literally broke everything with one fell swoop. Okay, I actually jacked all the silverware and pawned it to pay for my anti-depressants. This is a sign my friends and detractors that opening day is almost here. Draft time is cute like a puppy where we are full of hope and optimism, unless you drafted Stroman, Salazar, Wheeler, and Darvish. Now the season begins and it turns into a dog that pisses on your pillow, craps in your shoes, and turns your socks into swiss cheese. Why all the cynicism J-FOH? It's who I am, and the chances of you having a perfect draft is as likely as Grey getting that restraining order Giancarlo slapped on him lifted. Give it up Grey, it's not happening. Seriously, it's time for reality to start as we see how our educated guesses/luck/gut instincts/stat crunching/strategies start to pan out. Here is to not having an unlucky year *toasts 40ozer to computer*.
Like last season, I took a look at a few leagues pre-season and passed draft day judgements. I will be doing the same this year, but instead of a Star Wars theme, will be going with a Seinfeld theme. There will be Master of My Domain for those not reaching with that hand and showing restraint, No Soup for You for bad choices or heavy reaches, and Kenny Rogers Roasters, who like this episode, are the sleepers and bounce backs I like. This is all for fun here and in no way reflects the opinions and attitudes of Razzball Inc, its affiliates and/or subsidiaries.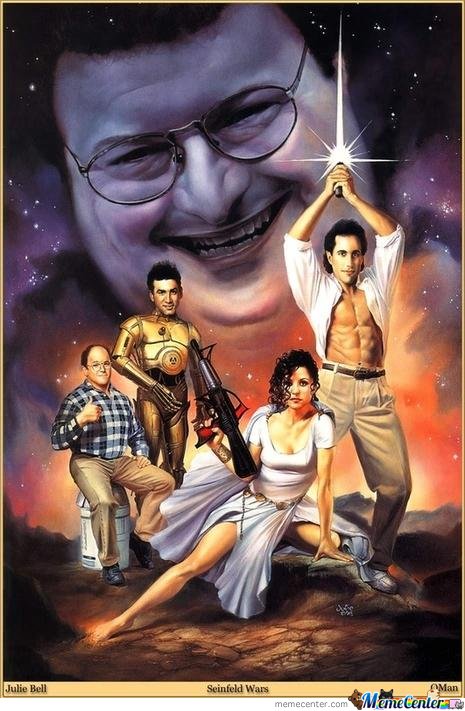 Take on Magoo – looks like a mixed bag of RCL players and what appears to be at least one auto drafter. A few positional reaches but for the most part pretty solid draft. I like all the MR's taken late. That's how you get it done!
Master Of My Domain
3.35 Michael Brantley, Deep North Nine. 4.40 Nolan Arenado, THE SHAKES. 7.80 David Ortiz, The DMT Spirit Molecule. 8.95 Jorge Soler, Big Magoo. 9.103 Charlie Blackmon, Marmot Marauders.
No Soup For You
3.25 Freddie Freeman, Flicker Street Parolees. 5.52 Kole Calhoun, Concord Minutemen. 17.201 Marcus Semien, THE SHAKES.
Kenny Rogers Roasters
10.111 Jay Bruce, YLee Coyotes. 11.125 Evan Gattis, Smoke Em If You Got Em. 12.139 A.J. Pollock Team mack. 15.176, Khris Davis, The DMT Spirit Molecule. 16.191 Brandon Belt, Big Magoo. 20.238 Drew Hutchison, Ezekiel 25:17. 23.268 Nick Castellanos, Concord Minutemen.
Lester's RCL #1 – not as much RCL strategy here. Looks like they are playing it straight and not going all frequent rosterbater in here. Only time will tell
Master Of My Domain
4.38 Justin Upton, No BJs For Melvin. 4.43 Bryce Harper, The Great Knoche. 6.66 Chris Davis, Back Pew Generals. 8.93 Mark Trumbo, Juicy Juice. 9.105 Pablo Sandoval, Cactus Jack.
No Soup For You
2.23 Freddie Freeman, Team kruse. 4.42 Kole Calhoun, Back Pew Generals. 5.57 Sonny Gray, Cactus Jack. 7.80 Jonathan Lucroy, K/9 Unit.
Kenny Rogers Roasters
9.99 Jay Bruce, For Shizzo My Rizzo. 11.127 Evan Gattis, Back Pew Generals. 12.135 A.J. Pollock, Team thirdherders.  17.198 Avisail Garcia, The Great Knoche. 17.203 Khris Davis, No BJs For Melvin. 20.229 Drew Hutchison, Friar Gwynn.
Now some of you may wonder why I did this little exercise here and to be honest its a bit of an ego trip I'm on…I'm on one! Its also to show where the values lie in the draft and that we don't need to panic when we draft. Just because you missed on player A doesn't mean you can't get a comprable player B a little later. Take Kole Calhoun and Charlie Blackmon. I like them both and find them of similar value for 2015. But their RCL ADP difference is 50 spots. Below is a little side by side examination. To be unbiased I'll use Rudy's dollar values, Steamers projections, and Grey's Projections.
| Player/ RCL ADP | Rudy's $'s | Steamer | Grey's Projections |
| --- | --- | --- | --- |
| Kole Calhoun/ 72 | 15.3 | 72/18/62/8/.262 | 98/22/53/10/.269 |
| Charlie Blackmon/122 | 16.3 | 74/15/61/20/.274 | 79/15/60/20/.285 |
I don't want Calhoun owners to get buyers remorse or feel bad if they drafted him too high. He definitely has upside for 2015 and is an exciting player to own. I would just prefer to pay for Chuck later and fill a different need. Blackmon is a guy that some perts have fear for the Weiss factor or are unsure how many homeruns to expect. He plays in Coors, let's stay optimistic. If you still have drafts left let Kole pass until we get into the 80's and keep an eye on falling Blackmon.
Before I take off I want to let you know about what I will be covering here for the 2015 season. As usual I will be covering the Razzball Friends and Family League as we follow the Grey vs. Rudy battle. I'm in this one too so hopefully I'll be talking about them eating my dust…yeah most likely not. I'll be pulling data from Vins great work and sharing them to you as they come up. Regular league coverage will be a staple as I get a chance to talk about all of you every week. Who doesn't like seeing their name in print? If I can get an assist from our numbers guys I would like to get some lovin for the high index leagues this year. You guys are putting in the daily heavy lifting and I love that. I might even throw in some RCL strategy tips as I think some people are not getting what can be done in an ESPN style format. The three most important terms for you to master is rosterbate, batty call and stream stream stream because knowing is half the battle.
TO JOIN A LEAGUE
Click the LINK in the 'League Link' column (see below grid) and enter the PASSWORD at ESPN. Emails are there for some leagues, but you shouldn't need to email anyone.  You can join as many leagues as you like.
TO START A LEAGUE

Please create a league in ESPN based on the league rules reference above. Step by step: Hit Create. Then Create ESPN Custom (middle option), Name League, Change to 12 Teams, Restriction Type: None, Open to All Users, Access: change to Private, create Password, leave as Roto and Snake, Make Draft Date and Time, Create. From Default settings all you have to do is change to TWO DL SLOTS and 180 Starts by pitchers. So, you go to ROSTERS and Click "Edit Roster Settings." There, change to 2 DL Slots and 180 Starts (the counter will change to 20.0 per slot). Then SUBMIT Roster Settings. Finally, Create Your League! (Important Note: Make sure league is viewable to public but requiring a password to avoid non-Razzballers joining.) When that's finished, click here. You will be permissioned shortly so you can add your league info to the Google Doc (the below grid cannot be edited from this page). On that Google Doc, you will need to enter your name, league link, password and please UPDATE the number of openings as your league fills up. That's it. Oh, and don't use your bank account password. You can start as many leagues as you like.
If you need an over the net friend you can follow J-FOH on Twitter.