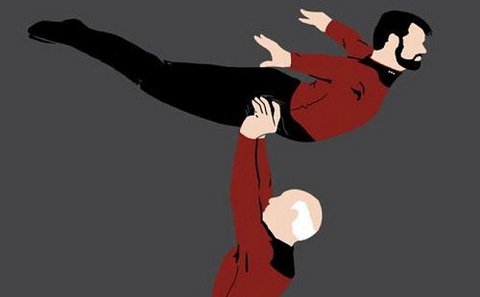 So, we're running on fumes over here at RCL Update Central. We've talked about the RazzBALLiest and Razz, um, ball-ee-least?? selections. At least I think that's what it was about. Who knows with such things. Then, naturally, we moved to what Clint Eastwood thought of your drafts. Thankfully there were no leagues named 'Empty Chair'. And now that the season has officially started (at least down under), (that's what she said btw…), I'm here to cap things off with something I would call comfort food for the mind. And that's a Star Trek themed post. But that's not all you get in this post. SAY WHAT? We have J-FOH in a supporting role to bring some Star Wars into this. Because a post like this could always use more sci-fi pew pew. And of course he would be the one to have undying love for a franchise that's about to blugdeon us to death for at least ten more years. All so George Lucas' chin can eat more cats.
Regardless, I'm not quite sure how this is going to work, and I'm not quite sure what's going to happen, but if the picture above and the empty Markers Mark bottle to my left is any indication, it's that I need fried food immediately. Also, you should probably set your phasers onto the highest stun setting. Because when we look at my randomly selected RCL drafts, you will get stunned. See what I did there? No, I'm seriously asking if you can see what I typed… everything is so freaking blurry…
"The needs of the many outweigh the needs of the few."
Thug BOAT drafting Adrian Beltre (1.7), Mama Tried drafting Jacoby Ellsbury (1.8) and I Wanna Dip My Balls In It drafting Pedro Alvarez (3.36) did their best Spock and sacrificed their early picks so others in the league could have a better draft beginning. I salute you, as you paid proper homage to what is considered the greatest of all Trek films, and one of the most memorable scenes of the series. Even more extraordinary when you think about it, Spock had to be dying of radiation poisoning to leave such an indelible mark. Drafting Beltre, Ellsbury, and Alvarez for the good of all, seems like a less meltier option. He would think that was logical.
Yup. Clayton Kershaw happened at 1.5, brought to you by @_HisDudenessOfNY. You know what happens now, don't you?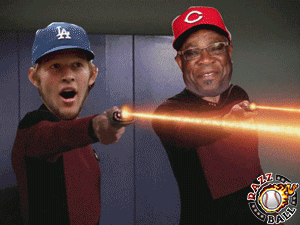 "Reverse polarity!"
The theme here are a couple interesting cases where players were selected before other similar players that I found to be, wait for it, polarizing.
Jay Bruce (3.25), Josey Wales vs. Giancarlo Stanton (3.26), Trout My Cherry.
Prince Fielder (1.7), Team Levy vs. Chris Davis (1.12), TerrepinStation Deadheads vs. Edwin Encarnacion (2.14), I Heart Sky. (BTW, you only love Sky because you don't know him.)
"Live long and prosper."
This award goes to the league name, as it can serve as an allegory for my current dating life. So thanks for that. +1 for all the sadness.
"I'm a doctor, not a bricklayer."
I'm not sure what I'm going to use this quote to represent, but I do want to establish that Hanley Ramirez getting selected at 1.11 seems abnormally risky. As is brick laying? I don't know, I really don't deal with masonry. Greenpoint Gunners… you handle bricks at all? You might poop some when Han-Ram goes on the 60-day DL…
"I'm a doctor, not a coal miner."
So, a theme is being established I think. Bones is most certainly not a bricklayer or a coal miner. Which makes sense when you think about it. He obviously dislikes space, transporters, arguing with Spock, and is totally not going to be confused for a lunch pale blue-collar type of guy. So that rules out the possibility of him being Wes Welker or a Steelers fan. That seems more like a Chekov thing anyhow. Goofy hair, bad English, etc. Uh, I forgot what the point of this was. I will say that the team name of Buster? I Olney Just Met Her presupposes that there is actually a woman named Buster. If so, all the tears for her.
"I'm a doctor, not an escalator."
Okay Bones, now you're just messing with me. And so are you Hunky Fluffers for drafting Freddie Freeman in the second round.
And now, here comes J-FOH with the Star Wars…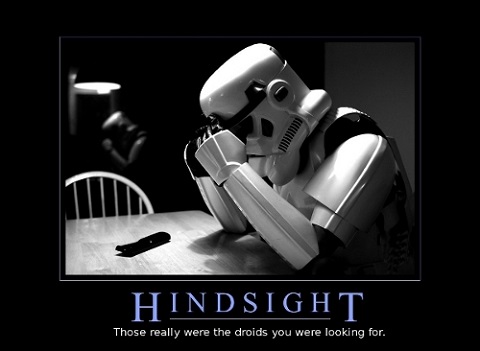 A long time ago, (about 2-3 weeks to be exact), in an RCL far far away…
…were two drafts that many thought would bring balance to the force.  The first was the best Jedi's of the 2013 RCL's assembled together and put on the greatest stage ever made for fantasy baseballer's, Grey's mom's term, the RCL Champions League. Meanwhile on the desolate planet of Tatooine deep in dark corners of Mos Eisley cantina were, "you will never find a more wretched hive of scum and villainy", was the FCL, or Frequent Commenter League. These two collections of some of Razzball's best, brightest and oh so self righteous produced a draft day difficulty level unlike any this writer has faced so far. I'm going to take you all on a little recap of the best (JEDI), the worst (SARLACC PIT), and the great redeemer IE the sleeper (LANDO CALRISSIAN) of these two epic drafts.
These are my opinions and my opinions only and do not reflect the views of Grey Albright, Jay Wrong or George Lucas. No Tauntaun's were harmed in the making of this post. Before I forget, I really wanted to use Greedo instead of the Sarlacc, but was not sure I could handle all the "who shot first? Han or Greedo? remarks. [Ed. Note– Really? You were expecting this?] Now I realize I have now opened that line(s) of remarks. Oh well, I don't believe in using the backspace key on Sunday's.
JEDI
3.33 – Jay Bruce, Slocumb If You Got Em Age 27 year
6.69 – Hunter Pence, Big Magoo, taken after Kemp and Heyward and Billy Hamilton I can't argue against Mr. Magoo
10.115 – Julio Tehran, Colicky Fuddruckers, wow, taken after Salazar, Tanaka, Miller and Cain leaves me scratching my head
15.180 Justin Masterson, Go Get Your Shinebox, Taken after Wheeler, CC, and Tommy Hunter in the same round.
SARLACC PIT
7.81 Yadier Molina, Pink Highlighter, you took Buster Posey in the 6th and follow that with Molina….for shame!
11.132 Christian Yelich, Go Get Your Shinebox, stupid auto draft, still, I have no excuse for that being in the top of my queue….into the pit for me!
5.55 Billy Hamilton, Farquar?I'd barely touch 'er, took him way too high and after drafting three straight SS's…have you met Mr. Sarlacc?
LANDO CALRISSIAN 
23.266 Drew Smyly, sainted aunts, well played pious one. should return SP3 numbers in my book….Ok it's not really a book, it's a magazine with lots of games and pictures
19.220 Jon Lester, Big Magoo, I don't get all the Lester hate and Magoo just got a SP3 at SP5 prices. Redemption my blind friend…..Redemption!
JEDI
4.41 Jean Segura, Kid A, great value taken after other MI's Pedroia, Desmond and Kinsler came off the board.  That vacation to Dagobah is really paying off.
6.68 Justin Verlander, Big Magoo, was shocked he lasted as long as he did, well done Magoo, the force is strong with the blind
8.94 Billy Butler, Wacha Flocka Flame, new writer Jeremy picked up where the others spilled, the padawan is learning.
SARLACC PIT
4.37 Yoenis Cespedes, Nacho el Sr. Obvio, there is reaching and then there is REACHING! In the pit with you and your Desmond Jennings at 7.84 too!
6.62 Buster Posey, Pitching is SO deep, Prezii, too early for a 18 HR Catcher in a year when there are lots of good later options…this pit might be an upgrade for you?
7.80 Michael Cuddyer, Kid A, his .382 BABIP last year divided by his age, 35, equals a trip to the pit for you.
LANDO CALRISSIAN
17.204 Yadier Molina, Nacho el Sr. Obvio, true sign we had no auto drafters in the FCL, I like the value, well played Mr. Cheese.
Free Agent Pool, I wanted to write about Yordano Ventura at pick 22.256 and Taijuan Walker at pick 22.261 but both players have been dropped by their owners, this guy and this guy, and picked up by this guy. Good job Kid A, you are all over this list.