We've got a crazy post ahead of us, so let's get started. But before we do, AHHH, pit stop already? Seriously, I just want to thank all of the commissioners. You have taken my goal of 75 RCL's and shattered it, like those bad guys in Superman II. I'd also like to thank everyone who joined a league, because without you, there would be no us. And you plus me equals us. Because, wait for it… wait for it… I know my calculus. ALL THE POINTS. I want you to know that it really is important to me. There's no money, no fame, no female boobs in it for us. Only a sense of community, and, well, that's why we do this. So seriously, I love you. Let's date. (Oh, and if you still want to join a RCL, there are still spots open! Just scroll to the bottom to get in on some RCL fun.)
So yeah, we didn't just have the writer's draft. We had a bunch of drafts. So let's go over some of those in random ways before we go over whatever you want to call what us writer's did. I'd call it sexual chocolate, but you might call it flailing loins. Something like that. Okay, whew, pit stop over. Now we can get started…
Mr. Grey, Tear Down This Mauer!
Here's their Round 1:
| | | |
| --- | --- | --- |
| R1 | Player | Team |
| 1 | Mike Trout, OF LAA | Philly Cuban |
| 2 | Miguel Cabrera, 3B DET | Mudville Millenials |
| 3 | Paul Goldschmidt, 1B ARI | Minnesota Mink |
| 4 | Clayton Kershaw, SP LAD | Polonia Warszawa |
| 5 | Andrew McCutchen, OF PIT | Stiinta Crajova |
| 6 | Carlos Gonzalez, OF COL | Krispy Jung |
| 7 | Chris Davis, 1B BAL | SoDo Mojo |
| 8 | Adam Jones, OF BAL | Grand Rapids Rampage |
| 9 | Robinson Cano, 2B SEA | Prague Defenestrators |
| 10 | Prince Fielder, 1B TEX | Team Stuckless |
| 11 | Edwin Encarnacion, 1B TOR | I Pity da Fool |
| 12 | Troy Tulowitzki, SS COL | Captain Pypers Pirates |
So, a couple of things. First, Clayton Kershaw was selected fourth overall. You know what's going to happen next…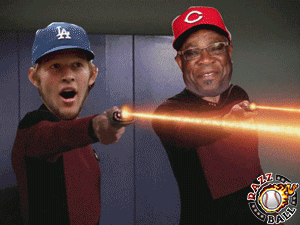 Second, Prague Defenestrators, good word usage bro. Thirdly, and more seriously, that's the highest I've seen Prince Fielder go so far. I like him on the Rangers, but that just feels a little high. For those who are curious, Ryan Braun fell to the 15th overall pick. I love the discount this year, and if you grab him in the second round, you can jump for joy. Unless you're white. Then just eat turkey or play rugby or something.
Ah, a Dug Fister league. Let's see how his team matches up with Razzball's drafting influence.
Mostest Razzballian picks: Adam Jones (11), Jean Segura (62), Sonny Gray (155), Trevor Rosenthal (86), Chris Carter (227), Oswaldo Arcia (251) and Marco Estrada (254).
Leastest Razzballian picks: Justin Upton (35), Matt Carpenter (59), Brett Gardner (179), and CC Sabathia (182).
Verdict? Needs more mustache. And Avisail Garcia. And probably some Josh Rutledge just to be safe…
WUT? More Dug Fister? Give her a break bro! Also, let's give 'Ankeny Couch Potatoes' the Chase Headley award. Best team I've seen so far. No joke. Owning Chase Headley has nothing to do with it. And for the league as a whole, shame on you. Why did Edwin Encarnacion fall to 16th pick overall? And Shin-Soo Choo over Jose Bautista and Giancarlo Stanton? You could argue it… but that strikes me as iffy to real iffy. What can I say? It's an iffy scale. HAHA. Sorry.
Here's their Round 5:
| | | |
| --- | --- | --- |
| R5 | Player | Team |
| 49 | Craig Kimbrel, RP ATL | Hard Wood on Ball |
| 50 | Wil Myers, OF TB | River City Evans |
| 51 | Chris Sale, SP CWS | Turd Ferguson |
| 52 | Ryan Zimmerman, 3B WAS | Tweaked Oblique |
| 53 | David Price, TB SP | Walter P. Duckworth |
| 54 | Jose Fernandez, SP MIA | Rhetorical Butter |
| 55 | Yadier Molina, C STL | LA Angels of Van Nuys |
| 56 | Josh Donaldson, 3B OAK | Javy Lopez's Knee Sweat |
| 57 | Adrian Gonzalez, 1B LAD | Car Ram-Rod |
| 58 | Justin Verlander, SP DET | Spirited Scrappers |
| 59 | Mark Trumbo, 1B ARI | base knoxx |
| 60 | Allen Craig, 1B STL | Team Sir |
I chose the fifth round to highlight to show some nice examples of finding a staff ace late. Yeah, I get it. Kershaw is special. But what's Jose Fernandez? Chopped liver? If so, needs more onion. And less liver. I'm comfortable as any of these guys as my number one. More concerning is seeing Yadier Molina and Allen Craig go here. Why? I'm not being facetious. I'm serious, 'Van Nuys' and 'Sir', let me know in the comments section. Knowledge is power. And I want some powerade. Not really, that stuff is pretty nasty. Also, I want to give an award for the cajones it takes for a team named 'Tweaked Oblique' to draft Ryan Zimmerman. Are you trying to explode the universe? Job well done.
I'm disappointed in this league. A J-FOH run league should know better than to drop Rick Porcello… for shame J-FOH, for shame…
Note: If I missed out on your league, don't worry, I'll talk about it sooner or later. The real question is… why would you want me talking about it?
Without further ado…
So, it should be noted that I was pretty wasted during the draft. You can see the full results here. Just to clear the air about my team… I couldn't remember anything after I selected George Springer. And anything really before him. But I still ended up with Chase Headley, so mission accomplished.
Anyhow, some of the writers wanted to get some things off their chest, so here's what they had to say about the draft…
The Guru says:
"The booze and the bath salts were flowing in the razzball lounge last week as pitching went early and Sky killed a guy with a trident. Your humble-but-nonetheless-handsome Guru managed to avoid the fisticuffs and took the company line approach when it came to drafting this years Razzball Writers team. If we're going to preach the Razzball gospel we might as well live it. Amen. I stuck to Grey's rankings, I used the War Room, the pitching tiers and all the other toys Razzball has to play with. While my team isn't sexy and a little SAGNOF starved the percentages should keep my dirty turban competitive if projections hold true and all falls right, i.e. Albert Pujols returns to form – and by form I mean he's heathy and back to his old Cardinal days "training" regiment."
Sky says:
"I went power heavy in my draft to the detriment of average and steals.  I'm hoping, nay, praying that Avisail Garcia hits .360 with 700 ABs.  Yes, I'm that hard up unless a few guys figure out how to hit .260 and not .240.  But overall I'm happy with my draft.  Feel my core 4 SP if Iwakuma, Gio, Gerrit, and Masterson will hold down the fort and if some of my late grabs go off?  I'll be in fantasy baseball paradise sipping mai tais pool side with all the other nerds who dream about there being an actual fantasy baseball paradise that serves mai tais pool side."
Tom Jacks says:
"With Clayton Kershaw, Yu Darvish, and David Price as my 2nd, 3rd, and 5th picks, it's clear I went after pitching early. I also loaded up on non-elite closers in the mid to late rounds. In order to catch up on hitting, I took a number of guys who are older and/or have an extensive injury history that I believe fell enough to where they were worth the gamble (and 2 DL slots this year should help), including: Jose Reyes, (45th overall pick), Josh Hamilton (93rd), Aramis Ramirez (100th), Aaron Hill (117th), and Chase Utley (141st). Also, I should be set on speed, with Mr. Billy Hamilton and Ben Revere (I dropped Andre Ethier for him). Despite targeting starters, closers, and speed, I hadn't planned to have an anti-Razzball draft. I decided to try it out when it became clear after the first 20 picks that I would have to reach if I wanted to own any of my Razzball faves, so I was curious to try something completely different."
J-FOH says:
"Like, how drunk were you?"
…then he said:
"Starting off with Bryce Harper and Joey Votto was not my ideal situation,but as each day passes I have grown to love those two. A nice combination of youthful power upside and Canadian bore-side. Having the 11th pick forced me to jump ahead when I could and take some early chances. I took Eric Hosmer, or as I like to call him Goldy-Lite, at the end of the 3rd fearing the guy behind me would take him yet feeling confident that I could get Wil Myers 3 picks later which worked out….YES! That turned out to be the pick that created the biggest ruckus in the draft room. I thought Tehol was going to pass out from all the typing he did towards me after that snipe. Next, I went double low end SP1's, Sale and Bumgarner because I wasn't in love with any of the other options. The pick that surprised me was drafting Greinke in the 8th, I had just landed a steal in Beltran (7th), and saw it as a chance to get SP's off my plate for a while, or so I thought, I couldn't resist Wacha in the 11th (he has no innings limit this year!)  Essentially I did some Zig to their Zag…or is it Zag to their Zig? I don't know….At the start of the 12th I went after my favorite bargain lead off man this year, Mr. Norichika Aoki, if he can get Gordon type AB's in KC then I have just landed a 100+ runs performer at a good price. It's a chance I might have to live down for a long time, but that's for me to own. Or I could look like a savant. Brandon Belt in the 13th, Evan Gattis in the 15th, Rajai Davis in the 19th, Howie Kendrick in the 20th and Alcides Escobar in the 21st all made me really happy. Punting the middle infield was my plan and the guys I wanted were there. Thank you other writers and your drunken drafting problems."
Tehol says:
"This isn't the team I drafted right?! FML. Need monster years from "Sir" Domonic and Heyward. Reached on Castro and Profar as I just got both of them 5 rounds later in another RCL league. Pitching staff is sick and if Ellsbury wins the MVP I should be Ok. Uhhhhhhhh, I was smoking peyote. Not sure what happened here."
And there you have it. Mostly. Probably. I'm bad at good-bye's… so, uh, bye.
Want more of the Jay? Don't we all folks? Don't. We. All. Well, you, in fact, can have more. AMAZING. I know. You can find Jay enjoying his new dig's running the Football side of Razz…