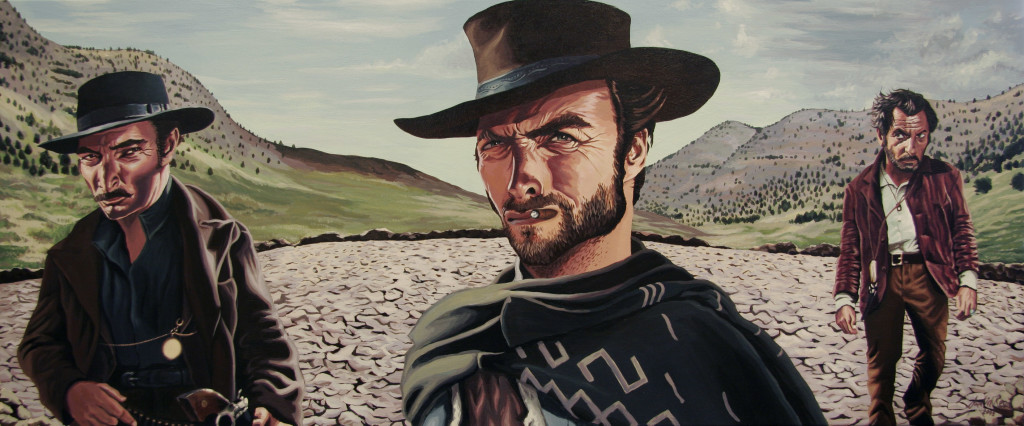 The Good, The Bad, And The Ugly. AKA, yo momma. ICE BURN.
Hey, really quick, did you hear the news? Or, I guess in this case, read the news? Razzball has a radio now! AND we're going on tour this August. That's right, Nick the Podcast Host and I will be traveling to every NFL city to have a beer with you! Click here for the details.
So here we are, another week gone by, another wave of drafts. And for this post, we'll be playing a game. And that game is taking a look at your league drafts and deciding which picks were good, which were bad, and which were ugly. Don't take it personally though, as I'm sure you could look at my teams and pick apart the decision making process I had. Which is pretty much alcohol and homerism. But really, there is no perfect snake draft. ONLY PERFECT BOOBS. Just kidding. All boobs are perfect. Honestly, this post is really just a vehicle to mention Clint Eastwood. The spaghetti western version. Not that having a stroke at the Republican convention version. So let's take a look at some of the RCL leagues that drafted this past week, in no particular order, and pick them apart. And don't worry, I'm plenty hard on myself. That's what she said. Wait, what?
Woot. One of my leagues right off the bat. Let's get down and dirty… (For those curious, I'm in 10 RCL's this year, and the trouble with being in 10 leagues isn't keeping track of everything, but finding clever names for them. I may have failed here, but if I did, at least it was in another language. The language of my ancestors. I guess I could have gone to my Irish side for inspiration, but that would just be me slurring merry drinking songs and wife-beating. HAHA. Too funny.)
The Good —
2.22 Joey Votto, The Balking Dead. Value alert!
2.24 Giancarlo Stanton, Javy Lopez's Knee Sweat. Super value alert!
8.89 Jedd Gyorko, Big Ol' Mr. Knish. Homer alert! But also a good value.
The Bad —
7.84 Wilin Rosario, She Gives Great Headley. (That's me… drafting a catcher way way too high. Yay me! Ugh…)
Rusty Trumbones for drafting four pitchers with his first six picks. He said a program told him to do it. You ain't never seen The Matrix bro? You have the perfect Cliff Notes right there!
The Ugly —
Basically the entire Los Angeles Razzers team. The highlights involved drafting Yadier Molina and Joe Mauer in the 6th and 7th round and the egregious selection of Kris Medlen. Does it matter what round he went? Not really, any round is a hearty fail. But, in this case, the 11th round seems a tad bit high, don't you think? (Don't worry, I'm not this mean. It was on auto-draft… which furthers my point. MATRIX PEOPLE. Don't trust these machines…)
The Good —
2.22 Troy Tulowitzki, Solid As Iraq. Bonus points for team name. (If I find a team named 'First Ever Analrapist', they'll get all the points. It's not the pronunciation that you should be worried about.) Also, Tulowitzki is about as solid as Iraq. Geo-political humor FTW.
12.137 Danny Salazar, The Oppo Boppos. People are still forgetting about this guy. DON'T. That was my stern typing.
The Bad —
1.7 Clayton Kershaw, Algorithmic Holepunchers. Yup, it's coming.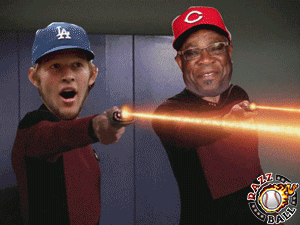 4.47 Allen Craig, Myhitta Myhitta Myhitta. Yeah, I know corner depth is a problem this season, BUT it ain't this bad, is it?
The Ugly —
12.135 Kris Medlen, Stu-Nod. DOH!
The Good —
2.18, Troy Tulowitzki, Johnny Ringworm. Good value alert!
3.29, Giancarlo Stanton, Balco Bombers. Super good value alert!
The Bad —
3.34 Craig Kimbrel, Mua HAHA. Hmmmm….
The Ugly —
Bar-B-Que RBI's 2, for owning both Carlos Gonzalez AND Jason Heyward. There's like a hex or something here that will cause you to strain an oblique and be out until All-Star break…
The Good —
2.19 Joey Votto, CC Needs A Sabathia. It's true. He does. Probably a sandwich too.
14.161 Manny Machado, You're Teheran Us Apart. Another great team name. Kudos. Which I thought was always a cracker. I mean, think about it.
19.219 Rick Porcello, Parker Brothers Pagans. BACON! BACON! We all do some shakin' for dat BACON! What? That's totally a saying…
The Bad —
Kemping It Real for drafting Carlos Gonzalez and Troy Tulowitzki back-to-back. Next is stigmata and 100 days on the DL. FOR ALL OF US.
14.159 Andrelton Simmons, Evansville Aces. Yeah, SS is so dearthy… I understand. But this doesn't feel right. Oh, Evansville is in Georgia? WEIRD.
Paris Froggies, for drafting a pitcher with his first pick, and selecting five pitchers in his first eight picks. One ace is a good thing. Two aces isn't really necessary, but puts you in a good position to get some pitching cat's. But three is overkill.
The Ugly —
11.126 Kris Medlen, CC Needs A Sabathia. That's good hustle to end up on the Good list AND Ugly list. Bravo…
Want more of the Jay? Don't we all folks? Don't. We. All. Well, you, in fact, can have more. AMAZING. I know. You can find Jay enjoying his new dig's running the Football side of Razz.