Who is Chi Chi Gonzalez?
He's a pitcher I only really knew because of his incredible name (and seeing it a few times on prospect lists)… I knew almost nothing about this guy.  So instead of doing any research or pounding the Fangraphs, I decided to go into this week's Pitcher Profile blinded.  I'm going into it like walking into a crowded room, desperately yelling "Chi Chi?!  Chi Chi!??!?!"
And honestly, I wouldn't have broken down his debut against the Red Sox on Saturday had it not been a no-hit bid into the 6th.  Debut bias alert!  "JB, you got suckered in…"  Darn tootin'!  But I was unable to watch the start live, so even though I figured there was some smoke and mirrors going on, you never really know until you sit down and watch a guy to see how he looked.  So alas, here's how I saw Chi Chi's Major League debut:
First Inning: Chi Chi's first pitch is a 90 MPH fastball in there to Dustin Pedroia for strike one.  Welcome to the bigs.  91 again in the zone is fouled off, a hanging cutter or change at 86 is pulled foul, then 91 on the hands is hit to third for a relatively hard hit groundout.  92 perfectly paints the outside corner to Mookie Betts, a nice sinking fastball at 93 is just an inch off the plate, 1-1.  Good to see the velo ramping up.  A sinking fastball at 91 is low and in, Gonzalez way overthrows a 91 MPH fastball in the dirt that skips away, then 3-1 is a fastball way up and in for a walk.  Lost the fastball incrementally there – barely missed and missed more and more – maybe some nerves.  David Ortiz takes 90 MPH way outside, and it's 5 straight balls now.  But Chi Chi gets back in there at 90 to even it up, 90 is just high, 85 MPH change-up flutters way outside, and 3-1 again.  Really not too impressed so far.  90 in the zone is tapped foul, then another high 90 MPH fastball is grounded weakly into the shift for the second out.  Betts moves to second and Hanley Ramirez takes 90 MPH up and in, 86 MPH gets Ramirez out in front for a tap foul, 90 just misses inside, he brings the 2-1 closer to the plate and gets the call on the inside black 2-2, Hanley doesn't like it, then an 86 MPH slider runs into the bottom part of the zone for strike three looking: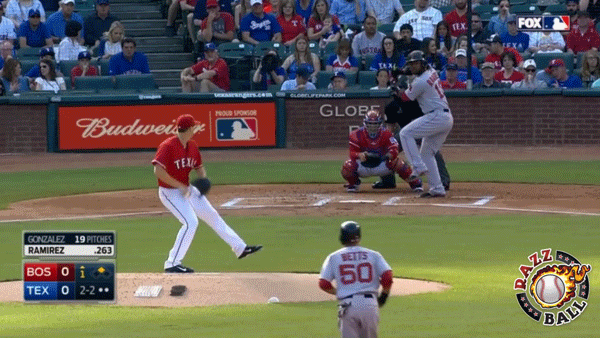 Chi Chi's first strikeout and he gets through a bit of a struggle with his command in the first inning.
Second Inning: Picking up an early run of support, Gonzalez starts the second with an 89 MPH sinker in there to Pablo Sandoval, another sinker is chopped weakly right back to the mound and Chi Chi makes the easy play, one down.  Sinker outside at 89 is fouled back by Mike Napoli, 89 drops in there, 0-2.  The fastball is showing a lot more bite with the sinking action – I'm getting some Rick Porcello vibes!  Slider misses low, then slider again is flared into foul territory and barely missed by Josh Hamilton.  1-2 is a two-seamer at 92 that runs way inside, 91 almost hits the inside corner but is called in, full count.  Chi Chi challenges with a 92 MPH fastball in the zone that's fouled off, 3-2 again is on the hands and pulled foul, then a 91 MPH sinker dropping low gets Napoli to almost offer, but the appeal says he held up and it's a walk.  Tough battle there through 9 pitches.  So runner on, and Brock Holt takes a sinker way low and inside, a great sinker at 90 is tipped foul – a lot of swings out in front getting weak contact.  1-1 is another sinker low, then sinker again induces a tailor made double play ball, but Elvis Andrus drops the ball before he can turn it to first so only the lead runner is out.  Two down, Holt at first, and Sandy Leon takes low, 90 MPH sinker is low again, 2-0.  It's official!  Chi Chi = sinkerballer.  Again a sinker barely misses low and in, 3-0.  And Chi Chi loses him with another sinker low, and it's 3 walks for the rook.  Yikes.  Rusney Castillo takes a mighty rip at a first-pitch sinker and fouls it off, 91 MPH paints the high inside corner, 0-2.  Then Chi Chi ends yet another inning with a K, and this one in flamboyant style with a sinker that completely fooled Castillo and gets him to helicopter his bat into the stands: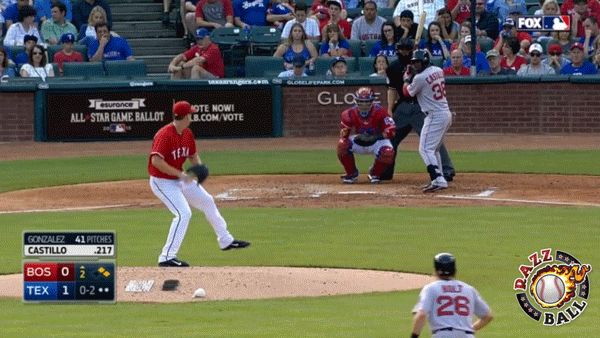 I want to start the chant of "butt-er-fing-ers!", but I'm not there in Texas!
Third Inning: Back to the top and sporting a 1-0 league, Chi Chi starts Pedroia with a slider that dives into the zone, slider again just misses outside, then slider one more time that ended up below the zone is grounded hard to third, but Adrian Beltre makes the backhanded play and it's another hard-hit groundout for Pedroia.  Betts takes a slider in there, then a fastball on the outside corner is flied to right for another fast out – and the first non-groundout/non-K out so far.  Gonzalez paints the outside corner at 92 to Ortiz with a four-seamer – not all sinkers – then paints the same spot at 82 MPH with a slider to get up 0-2: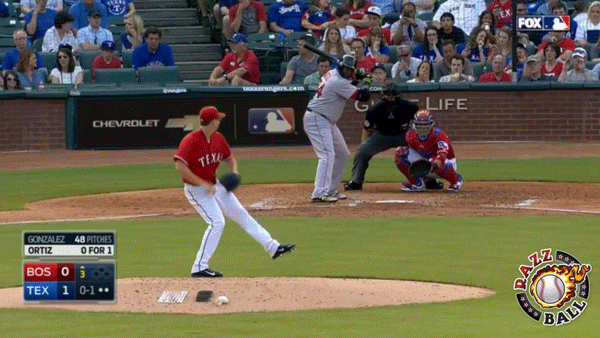 Man, I was about to dismiss Chi Chi entirely as a poor man's Porcello, but he is dialed in right now.  Then Chi Chi climbs the ladder at 93 MPH with a two-seamer and Ortiz pulls a grounder right into the shift for an easy out.  A sorely needed 8-pitch inning and Gonzalez looked like a different pitcher out there, awesome stuff.
Fourth Inning: Hanley takes a slider in there for strike one, Chi Chi's 51st pitch on the day, then an 85 MPH change-up gets Hanley to swing out of his shoes, 0-2: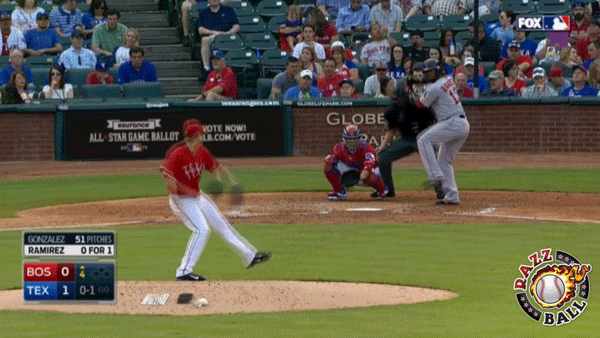 Man, a change-up that close to the fastball velo shouldn't be that effective, but it was there!  And yet another 0-2 count and a sinker gets Hanley to fly it lazily to center for the first out.  And on the first pitch change-up, Sandoval tops it for a weak grounder to second for the second out.  Shaping to be another quick inning.  89 MPH hanging sinker is high and tight to Napoli, a solid slider bends into the top of the zone to even it up, slider again is low, 91 on the hands is popped foul, 92 again on the hands gets an excuse-me tap foul, slider at 87 is taken low, payoff pitch is a sinker on the outside edge fouled back, 3-2 again is a slider tapped foul, then a 91 MPH fastball is just inside for another walk taken by Napoli.  Another long at bat for him too, spoiled a bunch in both.  Holt takes a big slider at 80 MPH low and in – maybe a curveball that time – then 91 MPH fastball is in there, 1-1.  The broadcast shows a great graphic that in 47 starts in the Minors, Chi Chi had only one 3+ walk game – has 4 tonight.  And just like that a slider is grounded weakly to short and Chi Chi is out of the inning with none of the walks hurting him and no hits allowed.
Fifth Inning: Now with a huge 5-0 lead, Chi Chi gets a sinker in there to Leon, big bender at 79 MPH is just off the plate, slider tipped foul, 90 MPH on the hands is barely tipped foul, 86 MPH change-up is flared foul, slider hangs outside, then a 90 MPH sinker on the outside edge is tapped to the mound and Chi Chi makes the easy play for the first out.  Sinker low to Castillo, slider is low, sinker is barely low and in, and a 3-0 count again.  I wish he could carry that aggressiveness from the 3rd and most of the 4th inning all the way through.  Sinker again is in there, sinker one more time is tipped foul, and he's fought back to 3-2.  Payoff pitch is a sinker flared foul, then a 91 MPH fastball is way up and in on Castillo for another walk.  That wasn't even close…  So Gonzalez is still fighting command issues and 91 MPH is barely inside but could've gone either way on Pedroia, then the 1-0 is a sinker that hung at the letters and Pedroia with that upper cut swing gets a good bit of it, but it's caught on the warning track for the second out.  Perdoia has hit all 3 of his outs hard.  Betts takes a sinker in there for strike one, a great slider dips just low at 87 MPH, 91 is outside, 2-1 and Chi Chi is behind again.  Slider is low, 3-1, then a sinker on the outside edge is ripped to third, but Beltre is able to field it cleanly and get the final out.
Sixth Inning: Still a ton of zeroes on the scoreboard, and Chi Chi is outside to Ortiz, 89 MPH on the hands is tipped foul, 85 MPH change-up dives low and outside, sinker in the zone is tipped back foul, 2-2 with Ortiz barking at himself for missing that pitch.  Change-up I think at 79 MPH (maybe a hanging slider) is well outside, the the payoff pitch is a fastball in the zone that Ortiz rips into the gap for a leadoff double.  Well, that crushed everyone's hopes and dreams, but at 93 pitches it's not like Chi Chi really had a chance to go to the distance anyway…  Hoping to recover, Chi Chi throws a first-pitch sinker on the hands and Hanley Ramirez fists it to first with Chi Chi recovering for an easy out.  One pitch to battle back!  Ortiz moves to third and Sandoval takes a sinker low, sinker is way outside, then another sinker is topped right to the mound, Chi Chi makes another great play fielding his position and Ortiz wandered too far off of third base and Chi Chi catches him in a rundown to get the lead runner out.  Some great vet awareness there.  Two outs, only the runner at first now, and Chi Chi is low and in the dirt to Napoli, drops a perfect change-up into the zone, 91 MPH gets a swing and miss on the outside corner, 1-2.  Not too many whiffs on the fastball…  Chi Chi tries to expand the sightlines with a fastball 4 feet out of the zone high, then the 2-2 is a sinker at 91 MPH that stayed elevated in the zone and Napoli crushes it to right for a double – luckily it was Pablo Sandoval at first to keep runners at 2nd and 3rd.  And at 102 pitches Chi Chi's debut is done, and luckily neither runner would come around to score to keep his debut scoreless.  Great moment on the mound with sipper Jeff Bannister praising his rook, and as he walks off the crowd gives a rousing applause.
Final Line:  W  5.2 IP  102 Pitches (60 Strikes)  0 ER  2 Hits  5 Walks  2 K  Gamescore: 62  Gamescore+: 60.8
Final Analysis: Well, pretty much a mixed bag on what I think on Chi Chi, but it's pretty clear he's not going to be a big fantasy contributor in leagues with innings or starts limits.  He's a tried and true sinkerballer with some pretty good pitches to mix in there, and I can easily see why he's usually a good control guy.  As the broadcast mentioned in the 4th inning – in only one of his 47 starts in the Minor leagues he issued over 3 walks.  Not surprisingly, his Gamescore+ came out a little lower than his Gamescore with both hits hard-hit and the low Ks.
Obviously the main fastball offering is the sinker, that stayed low almost the whole game until the double to Napoli.  As with any sinkerballer, when it's up you're hittable.  And when you're brand new to the block, dat's scurry.  The fastball arsenal also mixed in a few cutters and two-seamers.  His slider was pretty consistent with movement biting low in the zone, but nothing with a tight, sharp break.  The change-up needs to be a few MPH lower to have success and he didn't have the greatest consistency with that pitch, but all-in-all this is a Major League ready arsenal…
…Unfortunately this is for fantasy where the future looks…  Rick Porcello-ish.  And that's like early Porcello, not the kinda-decent Porcello we've seen at times the past year.  In roto or H2H leagues you can likely ignore him, but in deeper Pts formats I think he can eat some innings and keep the Rangers in ballgames.  He's in the perfect spot to be a groundball pitcher with a great offense behind him.  I knew not to expect too much from Chi Chi and he seems boring for fantasy, but hey the dude had 5 innings of no-hit ball in his debut.  He'll be a great option to stream on the road against poor offenses to try and vulture some wins, but there's not enough here to crack the top 100.
JB's Updated Top 100 SP
(rankings for ROS based on 12-team Roto, green for risers, red for fallers)
| RANK | SP, Team |
| --- | --- |
| 1 | Clayton Kershaw, LAD |
| 2 | Felix Hernandez, SEA |
| 3 | Max Scherzer, WAS |
| 4 | Corey Kluber, CLE |
| 5 | Chris Sale, CWS |
| 6 | Madison Bumgarner, SF |
| 7 | David Price, DET |
| 8 | Zack Greinke, LAD |
| 9 | Cole Hamels, PHI |
| 10 | Johnny Cueto, CIN |
| 11 | Matt Harvey, NYM |
| 12 | Jake Arrieta, CHC |
| 13 | Gerrit Cole, PIT |
| 14 | Carlos Carrasco, CLE |
| 15 | Chris Archer, TB |
| 16 | Garrett Richards, LAA |
| 17 | Sonny Gray, OAK |
| 18 | Jon Lester, CHC |
| 19 | James Shields, SD |
| 20 | Jeff Samardzija, CWS |
| 21 | Michael Pineda, NYY |
| 22 | Jacob deGrom, NYM |
| 23 | Danny Salazar, CLE |
| 24 | Dallas Keuchel, HOU |
| 25 | Jordan Zimmermann, WAS |
| 26 | Francisco Liriano, PIT |
| 27 | Michael Wacha, STL |
| 28 | Yordano Ventura, KC |
| 29 | Jose Fernandez, MIA |
| 30 | Collin McHugh, HOU |
| 31 | Tyson Ross, SD |
| 32 | Trevor Bauer, CLE |
| 33 | Stephen Strasburg, WAS |
| 34 | Masahiro Tanaka, NYY |
| 35 | Andrew Cashner, SD |
| 36 | Jason Hammel, CHC |
| 37 | Lance Lynn, STL |
| 38 | Jesse Chavez, OAK |
| 39 | Jake Odorizzi, TB |
| 40 | Alex Wood, ATL |
| 41 | Carlos Martinez, STL |
| 42 | A.J. Burnett, PIT |
| 43 | Gio Gonzalez, WAS |
| 44 | Jose Quintana, CWS |
| 45 | Shelby Miller, ATL |
| 46 | Noah Syndergaard, NYM |
| 47 | Mike Foltynewicz, ATL |
| 48 | Mike Fiers, MIL |
| 49 | Jimmy Nelson, MIL |
| 50 | John Lackey, STL |
| 51 | Aaron Harang, PHI |
| 52 | Carlos Rodon, CWS |
| 53 | Rubby De La Rosa, ARI |
| 54 | Clay Buchholz, BOS |
| 55 | Scott Kazmir, OAK |
| 56 | Taijuan Walker, SEA |
| 57 | Julio Teheran, ATL |
| 58 | Eduardo Rodriguez, BOS |
| 59 | Kyle Hendricks, CHC |
| 60 | Drew Hutchison, TOR |
| 61 | Matt Shoemaker, LAA |
| 62 | Chris Heston, SF |
| 63 | Jered Weaver, LAA |
| 64 | Rick Porcello, BOS |
| 65 | Edinson Volquez, KC |
| 66 | Phil Hughes, MIN |
| 67 | Chase Anderson, ARI |
| 68 | Justin Verlander, DET |
| 69 | Nate Karns, TB |
| 70 | J.A. Happ, SEA |
| 71 | Patrick Corbin, ARI |
| 72 | Jesse Hahn, OAK |
| 73 | Alfredo Simon, DET |
| 74 | Ian Kennedy, SD |
| 75 | Anibal Sanchez, DET |
| 76 | Bartolo Colon, NYM |
| 77 | Mat Latos, MIA |
| 78 | James Paxton, SEA |
| 79 | Lance McCullers, HOU |
| 80 | Miguel Gonzalez, BAL |
| 81 | Nathan Eovaldi, NYY |
| 82 | Tim Lincecum, SF |
| 83 | Ubaldo Jimenez, BAL |
| 84 | Wei-Yin Chen, BAL |
| 85 | Hector Santiago, LAA |
| 86 | Mike Leake, CIN |
| 87 | Jake Peavy, SF |
| 88 | Kevin Gausman, BAL |
| 89 | Hisashi Iwakuma, SEA |
| 90 | Tim Hudson, SF |
| 91 | C.J. Wilson, LAA |
| 92 | Nick Martinez, TEX |
| 93 | Danny Duffy, KC |
| 94 | Jon Niese, NYM |
| 95 | Shane Greene, DET |
| 96 | Aaron Sanchez, TOR |
| 97 | Archie Bradley, ARI |
| 98 | Mike Bolsinger, LAD |
| 99 | Kyle Gibson, MIN |
| 100 | Dan Haren, MIA |
Dropped Out: Kyle Lohse, MIL (cue the Charles Barkley "turrible"), Alex Colome, TB (Where's the beef?!  By beef I mean Ks…), R.A. Dickey, TOR (was always in the 90s, just has inspired nothing to stay in), Brandon Morrow, SD (on track to return soon but I just can't wait any more for this guy just to get hurt again)
Big rise this week for the godlike ascension that is Chris Archer.  Dude is getting away with the huge slider rate (38%) and nothing past slider/fastball (barely any change-ups).  But hey, he's been around the block and it's not like it's the first time teams are seeing him.
As much as I wanted to, until we hear any further news I couldn't move Stephen Strasburg down any further with this neck issue DL stint.  Maybe this fixes him!  Or maybe it's hiding a torn shoulder…  So many outcomes…
Mmmmm, another week in and another week closer to JoFer…
Mmmmm, another week and another nice K:BB trend for Mike Foltynewicz, who is 22:3 in his last three starts.
Great debut for Eduardo Rodriguez (who I keep wanting to call Eduardo Ramirez because of Erasmo Ramirez, I guess…) going 7.2 scoreless with only 3 hits and 7 Ks.  Talk of the Pitcher Profile water cooler if you ask me!  Don't get me wrong I like him, but not going balls deep ya know…?
This was me last week!!!! – "If there's one pitcher I would say sell high on, it's Julio Teheran.  He pitched well against my Brewers, but I kept scratching my head at his velo.  I don't know if he threw a single pitch over 90 MPH and his fastball averaged 88.0.  It was previously going up, but that's just really weird to suddenly be 3 MPH slower than where he's been the few starts before (91-92 range).  I'm scared."  This is me this week!!!! – "Ahhhhhhhh!!!!"
Here's to hoping my first real buy into Taijuan Walker came at the right time…  That last start was dominatrix-esque.
Justin Verlander got it up to 96 reportedly, even though his AAA start didn't have great numbers.  I'll take the gamble that deep – it's getting pretty ratty by the 60s now.
Well, now James Paxton has worn out my middle finger tendon too…
Luckily for the Mariners, Hisashi Iwakuma looks like he's over his setback and could return in a few weeks.  I've been low on him all year, but he's good enough to crack the top 100 if he's getting healthier.
I still don't trust Dan Haren; obviously making it at #100 with his stats this year bears it out, but I had to find him a way in…  Even if I feel dirty for doing it…
What are you thoughts on Chi Chi?  More upside than I imagine?  As always shoot your thoughts on the ranks and you pitcher preguntas below, and happy pitching in June Razzball Nation!