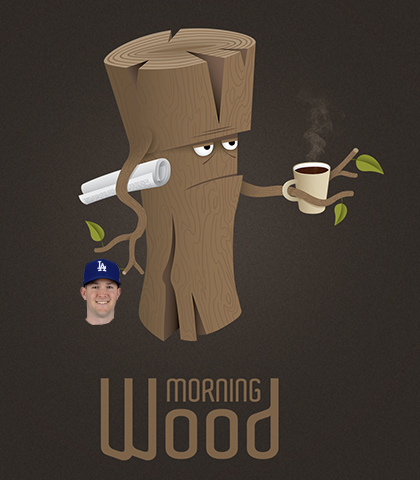 How much wood could a woodchuck chuck, if a woodchuck could chuck wood? Speaking of Alex Wood, he's got my sundial pointing a high noon. Maybe that's because I picked him up this week in every one of my points leagues and started him for Monday's 11 strikeout win. Do you know what I call it when you start a pitcher from the Dodgers in a late game and wake up to find out that he struck out 11 batters? Morning Wood! Click here to see my woody.
I'm not sure how I feel about Wood moving forward. In his five starts so far he has made it past the fifth inning just once. However, he is averaging a little over 17 points per start and a stellar 11.53 K/9 rate. Only Robbie Ray, Jacob deGrom, Chris Sale and Danny Salazar have a better K/9. Alex is a very good pitcher, but his career has been injury riddled, making him hard to trust. If I can erect a decent trade I'd be more than willing to sell. And let's not forget that Wood goes both ways, having SP and RP eligibility in some leagues.
Despite a 3-2 record in his first seven starts, Chris Sale is currently the top pitcher in points leagues. Averaging more than 25 point per start and more than 12 strikeouts per nine, Sale is rewarding the Red Sox handsomely. Unfortunately for Sale, the run support his team has generated for him is approximately piss poor. Did I say approximately? I meant precisely. Unfortunately for me, I went after Madison Bumgarner this year instead of Sale. Little did I know that MadBum would be auditioning for the sequel to BMX Bandits.
Pitchers I'm selling high on in redraft leagues include Dylan Bundy, Dallas Keuchel, Ervin Santana and Luis Severino. However, when I say "sell high", I'm not talking about 80 cents on the dollar. I want the full dollar. Except for Santana. I'd take the 80 cents deal with him. How many innings is Bundy actually going to pitch this year? Last season he threw a career high 109 innings. Same deal with Severino, only his max IP is even lower (80.3). As for Keuchel, I just don't like him. He's an excellent pitcher that seems to be on track for a repeat of his 2015 campaign, but if now isn't the perfect sell high time, I don't know what is. And Santana, well he's not quite this good and he's 34 years old.
Don't look now, but A.J. Griffin is a top ten pitcher in points leagues based on points per start. Averaging about 19.5 points per start, Griffin is doing is best to help Rangers fans forget about Cole Hamels. I'm not all that confident in his ability to maintain this level of performance, but he did have encouraging 2012 and 2013 seasons before injuries derailed his career. Actually I'm pretty sure that Griffin is much more likely to get hurt or shelled than stay the course.
Some pitchers that seem to be underperforming, based on the numbers (points), include Carlos Martinez, Jose Quintana, Matt Harvey, Justin Verlander and Danny Duffy. These players won't be cheap to acquire, but they might just be a tad bit cheaper than a few weeks ago.
Francisco Liriano might be striking out 10.25 batter per nine, but he's also walking a horrendous 6.84! That probably explains why he's averaging just 7.72 points per start. His career numbers are 3.95 walks per nine. If he can get closer to that number, I'm venturing to guess we'll see his success rate and PPS increase.
My top ten SP (rankings based on a special blend of YTD performance and ROS expectations):