Geez, what is it about Steven Matz?!
The puns have been outpouring faster than illogical movies by Christopher Nolan.  Maybe it's because he pitches for the Metz?  I don't know!
I've been… well, naive to not rank Matz to this point.  Even with my standing concerns coming into his debut, he likely should've been ranked the last few weeks.  I thought it would be at least July until he was up, and I questioned how many innings he'd really get through in the Majors.  His peak is 140.2 IP last year across high-A and double-A, and he entered the Majors at 90.1 innings before yesterday's debut.  Innings concerns are a big question mark after his career started with major elbow issues (TJ and complications).
And after that debut with 4 RBI at the plate, the mythical legend might be one of the biggest gaps from perception to reality.  Then again, I'm saying all this before breaking down his first start without seeing much of him beyond the numbers.  What Pitcher Profiles are all about!  You can't know for sure on a guy until you really get a chance to see him pitch.  So without any more noodling, here's how Matz looked in his debut:
First Inning: Matz's first Major League pitch is a 96 MPH fastball way outside and to the backstop to Brandon Phillips.  Nervous nelly!  96 is then low, and the big lefty is rocky early on.  96 is inside, 3-0 to start.  95 is in there, then 95 right down the middle is rocketed to left center, it's off the wall for a long single it was hit for so hard, but on review it hit the railing above the line and Matz's career start opens with a leadoff homer.  Shocking since he gave up so few HR in the homer prone PCL.  Horrible at bat with no control, then two fastballs right down the middle.  So regrouping, Matz throws Joey Votto a first-pitch 80 MPH curveball and it drops in there for a strike.  Nice bounce back! But fastball is high, then Matz throws his best heater painting the outside corner at 96.  1-2 curve is low, then 95 on the hands eats him up for an easy groundout to second.  95 pounds the outside corner on Todd Frazier, then an 87 MPH change-up on the outside edge gets tipped back and absolutely fooled Frazier, 0-2.  Nasty pitch there.  Fastball high, 96 barely high, then a 78 MPH curveball gets Frazier to golf at it for an infield pop out to short.  Curve just outside to Jay Bruce, then a 96 MPH fastball gets Bruce to wave through with a horrific weak swing, 1-1: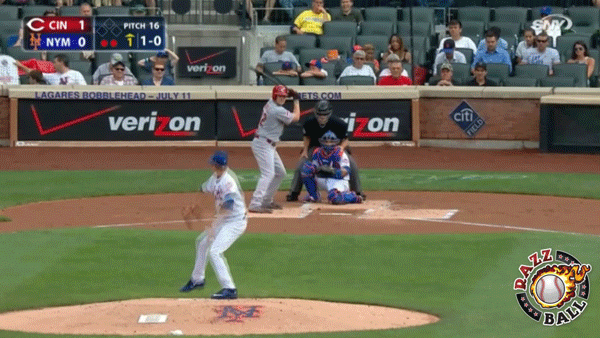 Look how bad he's fooled there!  96 up and in fouled back, 80 MPH curveball sweeps just low, 78 hangs high, then 96 MPH fastball is outside for a walk.  Man, Matz completely overpowered him, but he threw two curveballs and couldn't get back in the zone, I didn't like that AB.  Marlon Byrd fouls off a fastball, 95 is in, 95 again up and in is fouled back, curve breaks inside and is dribbled foul, then I think a change-up at 84 with some ridiculous downward break gets Byrd unable to hold his swing for Matz's first career strikeout: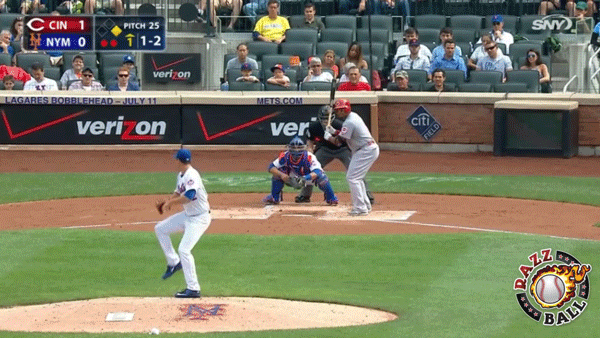 Second Inning: After a long 26 pitch inning, Matz needs some quickies and is in the zone at 95 to Brayan Pena, fastball again fouled back, then 94 high is chopped to second for an easy groundout.  93 way high and outside to Eugenio Suarez, then a big looping curveball at 76 breaks into the zone, 1-1.  Another looper is slashed foul, then a 95 MPH fastball is popped to shallow right for another easy out.  Pitcher Josh Smith takes 94 in there, 94 high is fouled back, then a 76 MPH fastball breaks into the zone for a K looking for indeed a quickie inning, nice stuff against the bottom of the order!
Third Inning: Well, here's where the legend grows as Matz gives himself two runs of support with a 2 RBI double in the top of the inning.  So up 2-1 now, and Billy Hamilton bunts the first pitch and Matz makes the play for an easy one pitch out.  I guess as the Reds you hope to rattle Matz a little, but I don't get giving up a one pitch out.  So back to the top and Phillips takes a curveball in the zone this time for strike one, another curve is fouled back, and after being behind 3-0 to Phillips to start the game, Matz is up 0-2 this time.  OK, and this is officially the moment I buy Matz.  Change-up, and Matz gets his revenge, just watch: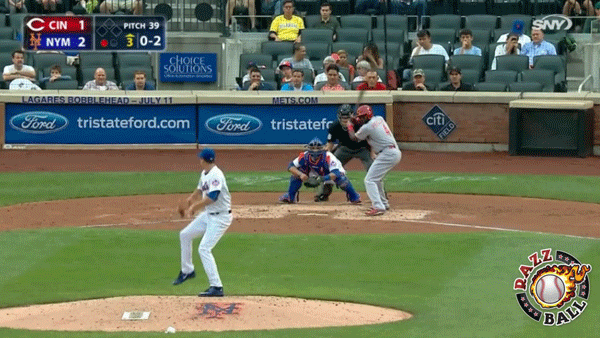 Wave goodbye!  96 is in there Votto, then another horrible weak swing from a Reds hitter, look at Votto wave through this 77 MPH curveball: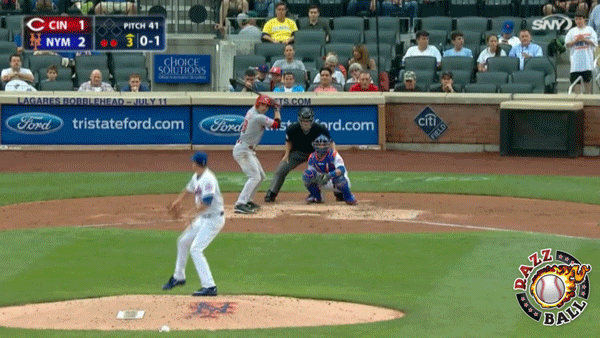 Nice sharp break at the end of that one.  95 is way high 1-2, curve is low, change-up is chopped foul, 95 high and a bit outside, 3-2.  This is the second time now where Matz completely overpowered someone and got to 0-2 to then fall to a full count.  But he makes this one count with a painting 95 MPH fastball to get Votto to strike out looking.  A little close, but I'd still like to see him go full attack.
Fourth Inning: Still a 2-1 game, Frazier takes a fastball in there, change-up on the outside edge is fouled off, 94 is way high, then 95 on the outside edge is ripped to left, and Frazier was able to extend his hands enough to get a homer.  The fastball was supposed to be in, but it leaked to the outside edge and got hammered.  Bruce takes a ball, then a curve drops in 1-1.  Curve is low, 96 is low, 3-1 fastball at 94 was likely too high but is chased and fouled back, then a curveball at 77 is way outside for another walk.  Attack, Matz!  Byrd then attacks himself, and hits the first pitch 94 MPH fastball into a lazy flyout to right.  One down and Pena takes 93 outside, a nice change-up at 83 drops in there, 91 is outside, then 94 on the outside edge is grounded right to Matz and the lanky lefty makes the turn for an easy double play, inning over.
Fifth Inning: At 62 pitches, Suarez gets sawed off a bit on the hands, but it flares into center for a leadoff single.  A little lucky, but his swing was ready for an inside fastball.  Then Smith bunts the first pitch for a good sacrifice, and two pitches and we've got runner at second with one out.  Hamilton takes a fastball high, a hanging curve stays outside, another is outside, fastball finally gets in the zone, 3-1.  95 on the outside edge is fouled back, 94 again out there popped out of play, and one more time out there and a little low is flied out to right for an easy out.  Two down, and Phillips swings out of his shoes on an 84 MPH change-up for strike one:
Bonus 5th GIF!  So nasty that Phillips re-tweaked his hand or wrist.  So Phillips is banged up, it's time to attack, Matz!  Change-up is taken outside, and I hate that pitch.  Challenge his gimpy hand with power!  And there is the fastball at "only" 94 and he's way behind on it.  Geez, I should be a catcher and call these games!  Then change-up again is popped up in the infield, it gets it done but another fastball would've gotten Matz another K, no question.
Sixth Inning: Now a 3-2 game, and Matz throws a high fastball to Votto, fastball then gets in there, change stays inside, curveball breaking into the zone gets Votto hacking through it, 2-2.  Votto didn't give it a weak swing like that earlier GIF, but still got tied up.  Fastball flared foul, then a 75 MPH curveball gets Votto to fly it lazily to center for an easy out.  Votto dropped a very, VERY audible F bomb after hitting that one!  Frazier slashes a first pitch fastball foul, change-up at 86 gets him out in front to fly it foul, change-up again is outside, change yet again outside, fastball on the hands fouled back, then a 77 MPH curveball that stayed inside and broke in gets a swing and miss for another K.  Then a first pitch curveball at 77 gets Bruce to fly out lazily to left for a very quick inning.
Seventh Inning: And the legend continues, with Matz picking up 2 more RBI for the well-publicized 4 RBI debut.  But we don't care about that!  We only want pitching, Matz is now up 6-2, and Byrd rips a 94 MPH fastball right past third for a leadoff single on the first pitch.  95 is in there to Pena, then a 94 MPH fastball is ripped to Wilmer Flores at second and he just misses it on a dive for back-to-back singles.  Both were hit hard, but both were a foot or two from being outs.  Curveball drops in to Suarez, change is low, change again is inside, fastball at 94 perfectly paints the low inside corner, 2-2.  Might have been low.  Then a 95 MPH fastball is chopped perfectly to short for a tailor-made double play.  Lordy the Reds bottom of the order is awful.  First-pitch curve is in there to pinch-hitter Jason Bourgeois, fastball at 96 paints the outside corner for a nasty 0-2 count, 95 is slashed foul, then 95 again barely high out of the zone gets a swing and miss for his 6th K.
Eighth Inning: At 100 pitches, I'm shocked to see Matz back out there, but he gets 95 in there to Hamilton, Hamilton whiffs at 96 outside, 95 is just inside, then 95 on the outside edge is inside-outed to first for an easy first out.  The replacement for Phillips is Ivan De Jesus who hits the first pitch fastball pretty well to center, but it wasn't the toughest catch to get the second out.  Matz blows Votto away on the inside edge at 96, 95 is outside, 95 again is outside, curve stays high, then a fastball is just inside for a two-out walk.  Matz will come out, but the legend is born.
Final Line:  W  7.2 IP  110 Pitches (72 Strikes)  2 ER  5 Hits  3 Walks  6 K  Gamescore: 64   Gamescore+: 65.6
Final Analysis: Monster start, and with the historic 4 RBIs I think this could be the ultimate sell-high in redraft leagues.  Almost all of his in-play outs were pretty weakly hit, so I'm not surprised in the least to see his Gamescore+ come out higher than his Gamescore.
As with most buzzy young guns, it all starts with a power fastball.  Reaching 96 several times, it very very rarely fell out of the 94-96 range.  Matz has a very smooth delivery with the heater, which makes it jump up on hitters.  His main off-speed is a curveball, that had some nice sharp movement and he was able to throw it for strikes.  I wish he was able to use it more in a swing-and-miss fashion – instead it broke more laterally and got misses while dancing in the zone.  Then there's my real eye-opener – a dominating change-up.  Most young pitchers don't have a change-up that can stay consistent, but man oh man – Matz's change was a thing of beauty.  It was so good I broke my 4 GIF rule!  With that pitch as developed as it is, it kept the Reds off balance all night long.
So with virtually rave reviews from everyone – and now me included – why is Matz only 50 for me rest of season?  All boils down to innings.  As I mentioned in the open, Matz's 140.2 innings was his peak last year, and I would be really shocked if the Mets allow him to go over 180.  He missed his first three years after being drafted with elbow issues, and the Mets have shown they like to handle pitchers cautiously.  I also think the Mets fall further out of the race with that horrific offense.  With that 180 innings in mind, Matz has now thrown 98 this year.  That's 82 remaining, so maybe 11-12 starts left?  It's possible he pitches through the end of the year if they skip some starts, but I don't know if he's going to push into the top 30s of value ROS with fewer innings.  And one final bit of cold water – that Reds line-up was atrocious yesterday.
In dynasty leagues though, it's a whole new ball game.  I was blown away by that change-up, and looking at my ranks, I think he's an easy top-20 guy.  His future is easily ace-worthy.  But building from that valuation and this awesome debut, I think you could get a fortune right now in redraft leagues.
JB's Updated Top 100 SP
(rankings for ROS based on 12-team Roto, green for risers, red for fallers)
| RANK | SP, Team |
| --- | --- |
| 1 | Clayton Kershaw, LAD |
| 2 | Max Scherzer, WAS |
| 3 | Chris Sale, CWS |
| 4 | Felix Hernandez, SEA |
| 5 | Corey Kluber, CLE |
| 6 | Madison Bumgarner, SF |
| 7 | David Price, DET |
| 8 | Gerrit Cole, PIT |
| 9 | Zack Greinke, LAD |
| 10 | Cole Hamels, PHI |
| 11 | Matt Harvey, NYM |
| 12 | Chris Archer, TB |
| 13 | Jake Arrieta, CHC |
| 14 | Jacob deGrom, NYM |
| 15 | Sonny Gray, OAK |
| 16 | Johnny Cueto, CIN |
| 17 | Carlos Carrasco, CLE |
| 18 | James Shields, SD |
| 19 | Francisco Liriano, PIT |
| 20 | Jose Fernandez, MIA |
| 21 | Dallas Keuchel, HOU |
| 22 | Jon Lester, CHC |
| 23 | Michael Wacha, STL |
| 24 | Michael Pineda, NYY |
| 25 | Garrett Richards, LAA |
| 26 | Danny Salazar, CLE |
| 27 | Stephen Strasburg, WAS |
| 28 | Masahiro Tanaka, NYY |
| 29 | Jeff Samardzija, CWS |
| 30 | Jason Hammel, CHC |
| 31 | Carlos Martinez, STL |
| 32 | Taijuan Walker, SEA |
| 33 | Jordan Zimmermann, WAS |
| 34 | Tyson Ross, SD |
| 35 | Alex Wood, ATL |
| 36 | Scott Kazmir, OAK |
| 37 | Trevor Bauer, CLE |
| 38 | Gio Gonzalez, WAS |
| 39 | Shelby Miller, ATL |
| 40 | A.J. Burnett, PIT |
| 41 | Noah Syndergaard, NYM |
| 42 | Lance McCullers, HOU |
| 43 | Jesse Chavez, OAK |
| 44 | John Lackey, STL |
| 45 | Julio Teheran, ATL |
| 46 | Mat Latos, MIA |
| 47 | Lance Lynn, STL |
| 48 | Clay Buchholz, BOS |
| 49 | Collin McHugh, HOU |
| 50 | Steven Matz, NYM |
| 51 | Jose Quintana, CWS |
| 52 | Andrew Cashner, SD |
| 53 | Mike Fiers, MIL |
| 54 | Vincent Velasquez, HOU |
| 55 | Carlos Rodon, CWS |
| 56 | Jake Odorizzi, TB |
| 57 | Jesse Hahn, OAK |
| 58 | Patrick Corbin, ARI |
| 59 | Yordano Ventura, KC |
| 60 | Drew Hutchison, TOR |
| 61 | Rubby De La Rosa, ARI |
| 62 | Chase Anderson, ARI |
| 63 | Anibal Sanchez, DET |
| 64 | Kyle Hendricks, CHC |
| 65 | Trevor May, MIN |
| 66 | Eduardo Rodriguez, BOS |
| 67 | Jimmy Nelson, MIL |
| 68 | Jaime Garcia, STL |
| 69 | Ubaldo Jimenez, BAL |
| 70 | Edinson Volquez, KC |
| 71 | Phil Hughes, MIN |
| 72 | J.A. Happ, SEA |
| 73 | Kevin Gausman, BAL |
| 74 | Ian Kennedy, SD |
| 75 | Wei-Yin Chen, BAL |
| 76 | Chris Heston, SF |
| 77 | Ervin Santana, MIN |
| 78 | Alfredo Simon, DET |
| 79 | Matt Moore, TB |
| 80 | Joe Blanton, KC |
| 81 | Kendall Graveman, OAK |
| 82 | Marco Estrada, TOR |
| 83 | Justin Verlander, DET |
| 84 | Nate Karns, TB |
| 85 | Dan Haren, MIA |
| 86 | Mike Leake, CIN |
| 87 | Jake Peavy, SF |
| 88 | Hector Santiago, LAA |
| 89 | C.J. Wilson, LAA |
| 90 | Nathan Eovaldi, NYY |
| 91 | Joe Ross, WAS |
| 92 | Hisashi Iwakuma, SEA |
| 93 | Aaron Sanchez, TOR (oops! will fix next week) |
| 94 | Aaron Harang, PHI |
| 95 | Bartolo Colon, NYM |
| 96 | Aaron Sanchez, TOR |
| 97 | Matt Shoemaker, LAA |
| 98 | Danny Duffy, KC |
| 99 | Yovani Gallardo, TEX |
| 100 | Kyle Gibson, MIN |
Dropped Out: Tim Lincecum, SF (was only barely in anyway – awful/injured), Mike Foltynewicz, ATL (more below), Mike Bolsinger, LAD (never made it further than the 90s, figured it would end), Chi Chi Gonzalez, TEX (I don't think made it past 97, so the same…), Rick Porcello, BOS (barely bounced in, he's just been so hittable.)
Yikes, the grumpy old man in me is more stubborn than Clint Eastwood in Gran Torino.  "Get off my lawn!"  Clayton Kershaw is still going to edge out Max Scherzer for me ROS, but it's splitting microscopic hairs.
All this elbow stuff from Johnny Cueto is now starting to give me the heebie jeebies.  I know he throws in a bad park, but with a wonky elbow and if he's traded to the AL…  Eesh.
Mmmmm it's about to be Jose Fernandez Thursday!  I'm anointing it a national holiday.
Really pumped for Patrick Corbin coming off the TJ as well.  It's been a little bit of a rocky rehab road (a fun Ben & Jerry's flavor), and you might bench him his first few starts, but I'm excited.
For extended thoughts on why you did a double-take on Joe Blanton, check out today's Podcast.  I'd have him even higher if he was for-sure in the rotation ROS!
Ugh, stupid former Brewers doing well…  Yovani Gallardo I still can't fully believe in, and same for Marco Estrada.  But both have shown enough to make it in.  Estrada's change-up is the only good pitch either has, so he gets a slight boost.
Mike Foltynewicz has walked 4 in each of his two AAA starts since being sent down.  Yikes.
Am I too low on Matz ROS?  And what do you think of the rest of the top 100?  Shoot your thoughts below!
Also, I will be out next week, so the Profile will return the following Monday, July 13.  See you then, Razzball Nation!