Yeah, I did already use this title, didn't I?!  Manaea?  Maeda?  Tomato?  Tomatto?!  Let's call the whole thing off!  What's funny is Sean Manaea and Kenta Maeda couldn't be more different either, with the former is a lefty hard-thrower, and the other a righty craftsman…
I got a good amount of flack the first few weeks of the Pitcher Profile ranks for not moving Maeda way up, but I think he's going to end up a pretty average pitcher in fantasy terms – something akin to a standard league SP4.  Like Grey's Pulitzer-winning "Matt Harvey is sucking because of the playoff workload last year" advice on the Podcast, I've always maintained the entirely unique and previously un-thought "Maeda could start strong, but will fade as the league sees him more."  We're all about the hard-hitting advice here at Razzball!
We've begun to see the cracks in the armor from Maeda (can't use a different phrase because of Jeremy Lin, thanks ESPN).  After a 0.36 ERA through his first 4 starts, he sported a 5.82 the next 4 heading into yesterday afternoon.  Didn't expect it to regress this fast!  Comments exclaiming for a Maeda move-up in my ranks certainly went away!  But within this 8-start microcosm, I indeed think Maeda is somewhere in that law of averages.  So after a few requests for a Maeda profile, I decided to break down his start yesterday afternoon in a saucy matchup at Petco to see how he looks.
Psyche!  Quick heads up I'm out next week, but the Profile shall return with all its GIFs and ranks glory on June 6th.  Catch ya then!
First Inning: Maeda's first pitch is an 87 fastball taken outside by Jon Jay, fastball again out there is slashed foul, fastball again outside, little slider is hacked on late and fouled off, then a looping curveball at 82 is skied to left for a routine first out.  Maeda spikes a 90 MPH fastball for ball one to Wil Myers, 90 MPH is in there, then a fastball on the inner half is hammered to third, but Hungry Howie Kendrick makes the play for a pretty hard hit second out.  90 MPH fastball is outside to Matt Kemp – fallen behind to all 3 hitters thus far – fastball again fouled off, heater one more time fouled away, big slider at 82 breaks low and outside, then slider again except much more compact at 82 MPH gets Kemp swinging over it and Maeda a quick 1-2-3 inning.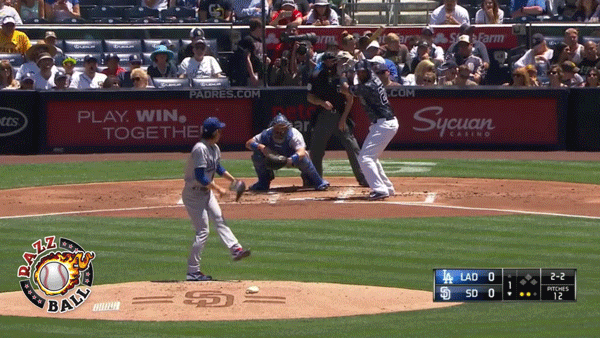 Second Inning: Two-seamer opens up inning number two and breaks a little outside to Yangervis Solarte fresh off the DL, looked like a change-up hangs high 2-0, sinking fastball at 90 gets a foul back, then that big loopy curveball at 72 gets dribbled to second for a weak first out.  89 MPH four-seamer is right in there for Maeda's first first-pitch strike – that's good to see – he's a little high to Melvin Upton 1-1, fastball again high gets a whiff at 90 1-2, two-seamer at 90 MPH barely doesn't nip that outside corner 2-2, slider is barely tipped into the dirt, 92 MPH two-seamer pouring in to the knees gets flared foul – highest velo so far – then that loopy, rolling curveball at 75 that was probably going to hang high is popped up to shallow right for another easy out.  Brett Wallace looks at that curveball at 70 MPH this time for strike one, but that one was a little sharper.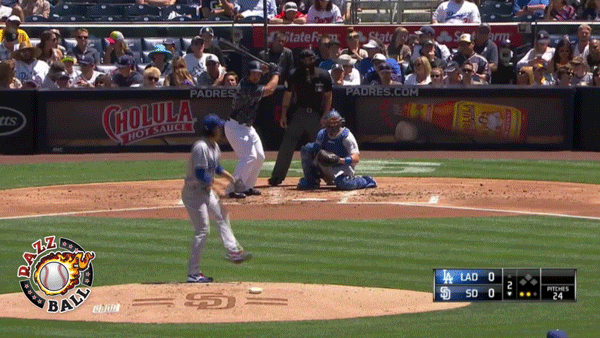 Nice weapon to have that as a first-pitch strike.  Curve again at 71 dips low, then Maeda tries to pound him inside with a fastball and it nips Wallace's jersey for a HBP.  "LOSE FIVE POUNDS IMMEDIATELY OR GET OUT OF MY BUILDING, LIKE NOW!"  Stupid fatties.  Anyway, Christian Bethancourt takes a little slider on the inside edge 0-1, fastball at 90 goes low, Maeda gets a late whiff on an outside fastball 1-2, then 90 MPH gets Bethancourt swinging to end the inning.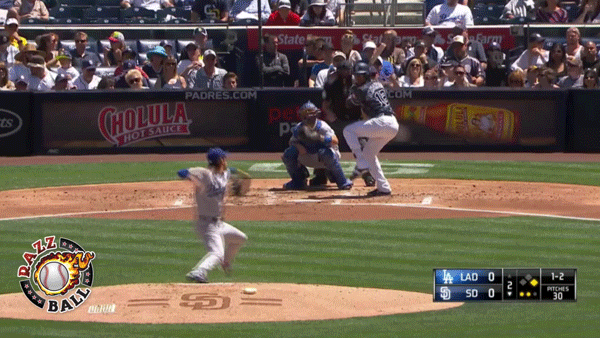 And that whiff right there made Maeda look like he's throwing 97.  Yeesh.
Third Inning: Moving quickly through the order this first time through, and Alexi Amarista follows suit and ground the first pitch right to Chutley for an easy first out.  Fastball to opposing pitcher Colin Rea is in there, curveball sweeping outside gets a huge wave and miss, slider goes low and outside, again a slider – but the more compact one – bends barely outside, fastball narrowly misses the low outside black, now 3-2 to the pitcher. Then Maeda gives him that tight slider again, and the little wrinkle gets a whiff, two down and 3 Ks.  Back to the top and Jay takes a two-seamer bareeeeeely missing the outside corner, slider is fouled back, 1-1 fastball on the hands is fouled back again, that compact slider gets nipped back foul, then we get a perfect example of why this matchup needs to be taken with a grain of salt.  Just watch this GIF: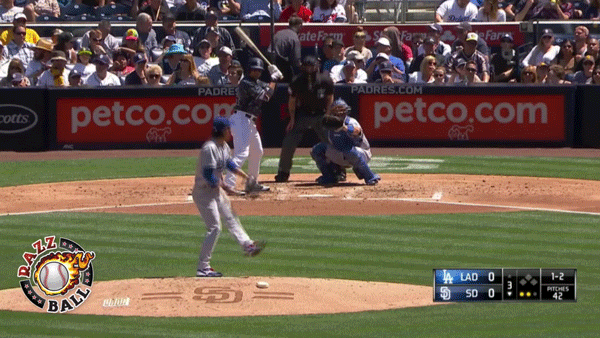 A.J. Ellis wants a high fastball 1-2, and Maeda misses right down the middle.  And even at only 91 MPH, Jon Jay made it look like he was protecting the plate from an Aroldis Chapman fastball.  He wasn't even close!  And that was sooooo hittable (although re-watching the GIF, "right down the middle" might be a smidge harsh)!  Then again, Padres ARE in the Dodgers division, so not like Maeda won't have this matchup another time or two…
Fourth Inning: Still scoreless and Myers takes strike one, fastball is outside, that big curveball at 73 is outside, slider is cut on late and fouled, 92 MPH on the four-seamer barely misses low and outside, then 92 again in the zone but nice and low gets a swinging K for the first out.  Lord the Padres are baaaaad.  Fastball way outside to Kemp, hanging slider gets a late swing and miss, a better slider but one that looked pretty hittable again gets another whiff 1-2, then fastball on the outer half at 92 is hit pretty well to center, but Joc Pederson gets it on the run for the second out.  Then what looked like a first-pitch change-up to Solarte is popped out to shallow right and caught by Chutley to end the inning.
Fifth Inning: Despite still being a 0-0 game, Maeda is back on the mound after a lengthy delay after the ump got hit in the nethers with a foul tip on a bunt attempt in the top of the frame, and had to leave the game.  Yikes, don't they wear cups?!  So we'll see if that has any impact on his performance, and first pitch is an 89 MPH fastball right down the middle, and Upton smashes it to center for a single and the first hit allowed.  Two-seamer to Wallace is fouled just out of play to left, the big bender this time all the way down at 69 MPH goes too low, fastball low, 2-1 is a two-seamer to runs way low and outside and Upton steals second base.  What a year Bossman is having…  Wallace chases ball four  – a high fastball – and nicks it back foul, then a slider in the zone is almost grounded through the infield, but Chutley making all the plays gets it in the gap and gets Wallace by a step.  Unfortunately Upton is at third with one out, and slider is in the dirt to Bethancourt, 1-0.  Fastball is well low, nice tight slider at 82 gets a whiff breaking off the outside edge, 2-1 is a carbon copy whiff on that outside slider, then slider again would've been an absolutely routine groundout to short in a normal situation, but with the infield in it shoots through and Upton scores on an RBI single.  So down 0-1, and Maeda drops that hammer curveball in there for strike one to Amarista, then a fastball is hit to Utley and the Dodgers almost turn a beautiful DP but Amarista beats the throw.  Runner at first with two down and Rea swings over a first-pitch slider, then Maeda goes to that curveball and just rolls in a hanger that Rea hits well to center for a single.  Ugh, can't do that!  Now two on and slider barely misses the backdoor to Jay, then an ugly fastball goes low and in and missed Ellis' set-up spot by about 3 feet, 2-0.  Fastball again is way low, 3-0 and Maeda is losing it.  Fastball catches the outside black 3-1, then slider misses the outside corner again for a walk and the bases are loaded.  Danger zone now with Myers fouling off an outside fastball, Maeda goes higher and gets a whiff upstairs with the fastball, again staying upstairs and Myers fouls it back, yet again staying high at 92 MPH is fouled off again, then the first slider of the at bat is flared to right, and Yasiel Puig has to dive charging in and misses it, ending up scoring…  All.  3.  Baserunners.  Ohhhhh man.  Maeda misses to Kemp, gets the outside corner with a fastball, 1-1 fastball on the hands nipped back foul, then a hanging slider that stayed high is popped to center, and the nightmare after the delay is over.  It would end up being the end for Maeda, but the Dodgers would pick him up after being down 4-0 and hang him with a no decision.
Final Line:  ND  5.0 IP  84 Pitches (54 Strikes)  4 ER  4 Hits  1 Walk  5 K  Gamescore: 47   Gamescore+: 50.8

Final Analysis: Mannnn, that 5th inning just shows how marginal and fast things can change; cruising through a start then having it all fall to pieces.  It was very, VERY unlucky though, with a lengthy delay between the 4th and 5th innings due to the ump getting hurt, then an RBI single through an infield-in alignment, a very close play on a double-play, and a bloop triple that could've just been a single if Puig help up on it…  All in all, I'm very happy the Gamescore+ valuation is signifying what it should – Maeda was pitching better than the numbers look.  Hurray for stats!
Maeda's arsenal is all over the place – off-speed in fastball counts, fastballs with two strikes, etc. – but the broadcast brought up he had been going away from his fastball too much lately and he wanted to use it more this start.  He certainly kept that game plan all the way through with his four-seamer 89-92 and two-seamer with nice movement in that same range used frequently.  The slider looks to be his main off-speed, with a few variants – one a nice-and-tight break like that strikeout GIF on Kemp, and another a big bender than is effectively a fast-curveball.  Maeda's "real" curveball is a slow roller and a nice "show-me" pitch for strike one, but if a hitter can see it coming, it's not sharp enough to be anything other than that slow change-of-pace offering.  Maeda's least-thrown pitch is his change-up, and I only saw 3 or 4 in this start.  Maybe he's leaning off that one a little bit and relying on his plus slider.
Microcosms – it's the theme of this article!  His first 8 games have seemed to be a microcosm of what I thought his 2016 season would be like, and this outing was a microcosm of his start in the MLB.  Mowin' em down, then having some tough luck.  He had 4 perfect innings minus hitting Wallace's jersey, but the 5th was more a comedy of missteps than getting pounding.  That said, he did walk a guy, lost his command a tad at the end/he's gotta be able to pitch after long delays should the Dodgers ever put up a crooked number, and this is the Padres.  I wish they had give Myers a single and a 2-base error on Puig though…
I certainly didn't see anything that would worry me moving forward that Maeda can't be a 3.30 ERA kinda guy with maybe 8ish Ks per 9, so if someone is fed up with the string of bad starts lately, I might try to buy pretty low.  I could see him being dropped in the shallower leagues too – he still needs to be owned.  And to you commenters that yelled at me for not having him top-40 – trust the system!  Although I know I did have him 60ish in the preseason… So I know I did stand to be corrected a little bit!
Updated Top 100 SP
(rankings for ROS based on 12-team Roto, green for risers, red for fallers)
| RANK | SP, TEAM |
| --- | --- |
| 1 | Clayton Kershaw, LAD |
| 2 | Jake Arrieta, CHC |
| 3 | Chris Sale, CWS |
| 4 | Max Scherzer, WAS |
| 5 | Noah Syndergaard, NYM |
| 6 | Stephen Strasburg, WAS |
| 7 | Jose Fernandez, MIA |
| 8 | Madison Bumgarner, SF |
| 9 | Corey Kluber, CLE |
| 10 | Gerrit Cole, PIT |
| 11 | David Price, BOS |
| 12 | Jon Lester, CHC |
| 13 | Jacob deGrom, NYM |
| 14 | Danny Salazar, CLE |
| 15 | Johnny Cueto, SF |
| 16 | Taijuan Walker, SEA |
| 17 | Drew Smyly, TB |
| 18 | Yu Darvish, TEX |
| 19 | Chris Archer, TB |
| 20 | Jeff Samardzija, SF |
| 21 | Carlos Carrasco, CLE |
| 22 | Carlos Martinez, STL |
| 23 | Felix Hernandez, SEA |
| 24 | Joe Ross, WAS |
| 25 | Masahiro Tanaka, NYY |
| 26 | Carlos Rodon, CWS |
| 27 | Cole Hamels, TEX |
| 28 | Steven Matz, NYM |
| 29 | Aaron Nola, PHI |
| 30 | Jose Quintana, CWS |
| 31 | Zack Greinke, ARI |
| 32 | Vincent Velasquez, PHI |
| 33 | Justin Verlander, DET |
| 34 | Dallas Keuchel, HOU |
| 35 | Rich Hill, OAK |
| 36 | Matt Harvey, NYM |
| 37 | Drew Pomeranz, SD |
| 38 | Jason Hammel, CHC |
| 39 | Ian Kennedy, KC |
| 40 | Marcus Stroman, TOR |
| 41 | Michael Wacha, STL |
| 42 | Francisco Liriano, PIT |
| 43 | Kenta Maeda, LAD |
| 44 | Jordan Zimmermann, DET |
| 45 | Jaime Garcia, STL |
| 46 | Patrick Corbin, ARI |
| 47 | Wei-Yin Chen, MIA |
| 48 | Lance McCullers, HOU |
| 49 | Jimmy Nelson, MIL |
| 50 | Kevin Gausman, BAL |
| 51 | Gio Gonzalez, WAS |
| 52 | John Lackey, STL |
| 53 | Julio Teheran, ATL |
| 54 | Aaron Sanchez, TOR |
| 55 | Kyle Hendricks, CHC |
| 56 | Chris Tillman, BAL |
| 57 | Sonny Gray, OAK |
| 58 | Hisashi Iwakuma, SEA |
| 59 | Tyler Glasnow, PIT |
| 60 | J.A. Happ, TOR |
| 61 | Matt Moore, TB |
| 62 | Jake Odorizzi, TB |
| 63 | Nate Karns, SEA |
| 64 | Rick Porcello, BOS |
| 65 | Marco Estrada, TOR |
| 66 | Tyler Duffey, MIN |
| 67 | Yordano Ventura, KC |
| 68 | Rubby De La Rosa, ARI |
| 69 | Tanner Roark, WAS |
| 70 | James Shields, SD |
| 71 | Alex Wood, LAD |
| 72 | Jameson Taillon, PIT |
| 73 | Adam Conley, MIA |
| 74 | Junior Guerra, MIL |
| 75 | Juan Nicasio, PIT |
| 76 | Michael Pineda, NYY |
| 77 | Adam Wainwright, STL |
| 78 | Eduardo Rodriguez, BOS |
| 79 | Mike Fiers, HOU |
| 80 | Raisel Iglesias, CIN |
| 81 | Robbie Ray, ARI |
| 82 | Collin McHugh, HOU |
| 83 | Edinson Volquez, KC |
| 84 | Hector Santiago, LAA |
| 85 | Blake Snell, TB |
| 86 | Steven Wright, BOS |
| 87 | Jerad Eickhoff, PHI |
| 88 | Scott Kazmir, LAD |
| 89 | Anthony DeSclafani, CIN |
| 90 | Nathan Eovaldi, NYY |
| 91 | Shelby Miller, ARI |
| 92 | Sean Manaea, OAK |
| 93 | Josh Tomlin, CLE |
| 94 | Jon Gray, COL |
| 95 | Andrew Cashner, SD |
| 96 | Mike Leake, STL |
| 97 | Derek Holland, TEX |
| 98 | Colby Lewis, TEX |
| 99 | Michael Fulmer, DET |
| 100 | Ervin Santana, MIN |
Dropped Out: Jose Berrios, MIN (I still like his long-term upside, but I think the Twinkies take their time to iron him out and we don't get too much this year), Lucas Giolito, WAS (30:22 K:BB in AA isn't gonna get you a promotion any time soon…), Jon Niese, PIT (I know he just had an OK game, but he has a target on his back for those younguns), Matt Andriese, TB (wasn't a huge fan, but he was only at 98 last week for a singular showing in my ranks), Tyson Ross, SD (still no timetable and not throwing and it doesn't even sound like he's close; yeesh)
With this start yesterday, is there still any Maeda mania left?!  And what ranks do I need to be sure and change when I'm back in two weeks?  Shoot your comments below, and happy pitching Razzball Nation!