At this point in the season, it's like a tag line for a bad horror film, no one is safe.  Narrator, "This fall, in a theater near you, Jamie Lee Curtis, the world's hottest cougar.  A cougar so hot when she enters any room, a DJ plays, "Stray Cat Strut," but the people in the room replace cat with cougar."  Unsuspecting person, whistling, "I'm just going to open this random closet over here while this ominous music plays.  No, I'm not going to turn on a light first, that would be silly."  Unsuspecting person opens the closet door and Jamie Lee Curtis jumps out, "Boo!"  "Boo as in you want to be my boo, because you are so hot for a 70-year-old.  How about me, you and the diner waitress who calls me sugar get a motel room?"  Jamie Lee Curtis shakes her head and walks away as people sing Stray Cougar Strut.  Narrator returns, "No one is safe, and everyone wants to sleep with the 70-year-old Jamie Lee Curtis, because she is so hot.  Has she had work done?"  No one is safe on fantasy teams either.  In the Sells, I'll get to dropping, but this is about picking up (and not just 70-year-old women).  There's a good chance I go all-in on Daniel Palka this offseason.  Of course, before going all-in, it's important to get consent first.  I learned this the hard way with Giancarlo.  This post is just about what he can do over the next week.  That would be best informed by what he's done over the last week:  4 HRs and hitting .375.  As I tell Jamie Lee Curtis in my daydreams, giddy up, sexy, we're going for a ride!  Anyway, here's some more players to Buy or Sell this week in fantasy baseball:
BUY
Willians Astudillo – Have you seen him motor around the bases?  I'm using 'motor' quite literally; he looks like a 6-year-old who makes an engine noise with his lips as he runs.
Austin Hedges – Since 9/9, he has three homers.  Is that why you should grab him?  Yes, dude's divisible by three!
Ji-Man Choi – He sounds like a sexual conquistador who named his unit, "The Pommel Horse."
Ryan O'Hearn – I'm owning Royals in the final week of the season?  O'Hearn'd that correctly!
Peter O'Brien –  If you stack how many "posts" are in front of "hype sleeper" for O'Brien, those "posts" reach the moon.  He has been hot recently, so we're going to the moon, Alice!
Jeff McNeil – On our last 7-day Player Rater, he is still high up there for 2nd basemen. (He's no Mondesi though.  Damn, Cousin Sweatpants is joining the ranks of the elite with the Stone Masons.)
Brandon Lowe – When we go Lowe, they go, "Hi, 2nd baseman who I have to take a long look at this offseason."
Joey Wendle – So many guys in this post could be stowaways in my ship, U.S.S. Winnow Down Guys I Like For My 2019 Rankings.  Yes, I need to finish the name of the ship on my attached dinghy.  Thank God, that dinghy is attached!  Whew.  Okay, who are we fooling, all I have is a dinghy.
Paul DeJong – Something we have to talk about at least once a year.  DeJong looks like he owns a pair of Opti-Grab glasses.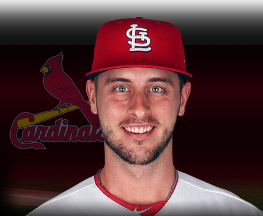 Some things that sound like they'd be said to the guy in that picture:  "Um, Paul, why are you walking a lizard on a leash?"  "Paul, you shouldn't sit three inches from the TV."  "So, you say you've been frozen in that gaze for six months?  Hmm, have you tried a cup of coffee?"  "Paul, are you wearing those glasses with open eyes and are really sleeping?"  "Paul, I'm happy you got laid, but that was two months ago, can you lose the shit-eating grin?"  Seriously, I can go on all day.  "Paul, buddy, you've been out of the water for twenty minutes and the shark is still biting your arm."  Okay, done now.
Jorge Polanco – You know how I know a lot of these guys are hot as shizz?  I own them, as I bench or drop guys like Odor and Semien.  Speaking of Odor/Semien, why does a tree in my neighborhood smell like dirty hotel sheets?  The Bradford Pear tree smells like semen because God ran out of smells or:  "I wanna play a good joke on blind people."  Angel, "Um, you took their sight already, do you really think a joke is the right thing here?"  "Yeah, smell this tree.  I mean, what the what!"
Garrett Hampson – While Story's out, Hampson could see playing time.  Also, wanna see something crazy?  Check out his projections on the Prospect-o-Nator.  He's the #1 projected rookie hitter!
Joc Pederson – Say we start an expansion team and get a player from every team who doesn't play.  We'll call that team, Fantasy Master Lothario's Important Superb Dream Team Fellows (don't abbreviate it!).  On that team, my starting outfield is Joc Pederson, Domingo Santana and Tyler O'Neill.  That's better than half the outfields in the majors.
Scott Schebler – I will need to push Schebler a little harder next year — Schardler? — for deep leagues.  He is always underrated, and is even better if you can platoon him in a daily league.  On our NL-Only Player Rater, he's a top 35 outfielder.  How much does he cost you in the preseason?  A few bucks?  Okay, now can someone get me down from my soapbox?
Randal Grichuk – He now has two straight weeks with a two-homer game.  *makes MC Hammer hand signs*  Two legit, too quit!  No?  Okay, I'll take a nap. *blinks, claps hands*  Nice to get some shut eye!
Ty Buttrey – Frequent commenter, Dave, Sciosciapathic Therapist, brought something to my attention.  Rey is Spanish for King, so Ty's name is Buttking.  Or as he's known in his home country of Lickenstink, The Butt King.  This buy is, of course, for this year, but (hehe) if you can stash The Butt King in your keepers, we might be seeing the emergence of a cheap closer for next year.
Steve Cishek – Seems to be in the lead for saves in Chicago.  For the Cubs, but the White Sox could use a closer too, if Cishek wants to work overtime.
Pat Neshek – Here's me on the phone with Elias Sports Bureau, "Has any manager changed closers more than Kapler when there's been absolutely no reason to change the closer?"  Listens for a moment, then,"How can I tell if there's a reason or not?  I'm the one asking questions!"  This year Kapler changed closers for no reason more than he changed his leopard-skin thong.
Yoshihisa Hirano – Watch this offseason, the Diamondbacks are going to be like, "Hirano has the lead for the closer job next year," then I will say something like, "I've been telling you to do that since May!"  And that's me quoting future me!
Tyler Glasnow – This is a Stream-o-Nator call like the call it makes to the Yacht Rock station to ask for them to play a sad version of Mr. Roboto.
Anthony DeSclafani – He gets the Marlins and this is another Stream-o-Nator call.  "How about 'I Love You (Miss Robot)' by The Buggles?"
SELL
Any Starter That Doesn't Have A Good Final Matchup – Don't do a "Find" on your team page for "Any Starter That."  He's not an actual player.  This is self-explanatory.  There's no time left in the season to be waiting on a guy that, say, goes to Coors next.  I'd even look at cutting top arms after their next to last start if they're headed to the playoffs.  Kluber, for unstints (that's how I spell it), could only go a few innings in his final start.  Or get skipped completely.  Kershaw, for unstints, may only see a few innings in the final week.  You, more or less, need to think of every pitcher as a streamer from here until the end.
Any Hitter That Is Cold Or Day-To-Day With An Injury – This is looking at you, Trevor Story.  Will he be healthy the rest of the year?  To quote Bryce Harper, that's a frown question, bro.  The Rockies keep talking about Trevor Story's totally, fully, entirely, looks great UCL.  The Rockies were so overwhelmed with the beauty of that UCL they said, "Is this a UCL or is it your mother's cooking after returning from a 3-year stint in the military?"  You're goofy in the coconut if you're waiting around for Story.  There's no time to be waiting around for cold hitters either.  Today, is your Independence Day from cold players, so don a Benjamin Franklin wig and start losing guys!