(NOTE: THIS POST WAS RELEASED EARLY YESTERDAY ON OUR PATREON. IT'S $5/MONTH.)
Being hearing a lot of gossip about Clint Frazier. That's healthy. Ya know, some ginger tea. Don't think the Yankees called Clint Frazier up just for make-up games, though this was overheard: "He's not a clown?" Aaron Boone continued, "Oh, I thought he was for makeup games." Then Boone laughed himself out of his mask.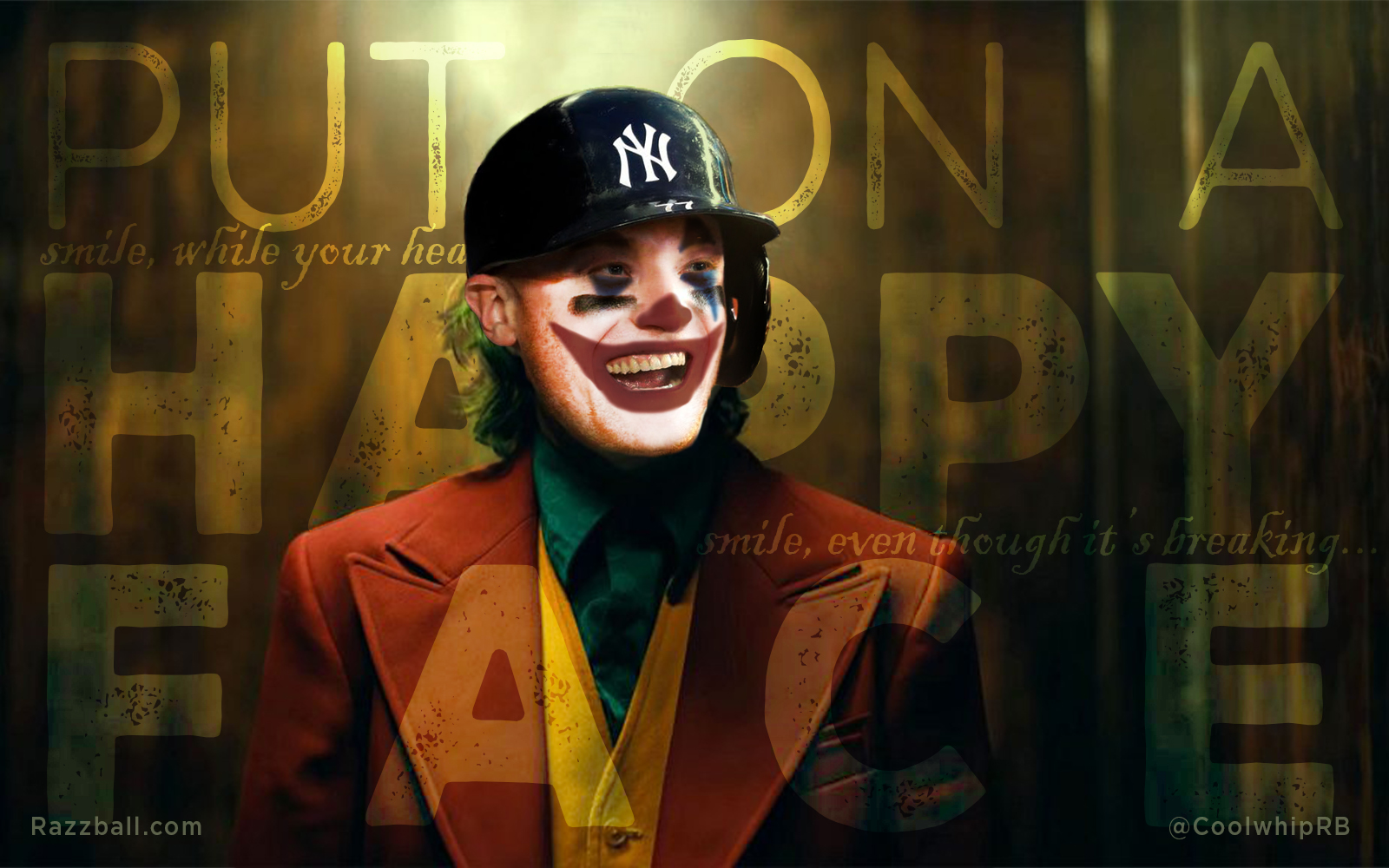 Artwork by our talented writer, CoolWhip.
So, Clint Frazier has struggled to get real playing time with the Yankees, but maybe he's this year's spark plug. He does look like he's fire. He's a 20-homer, 7-steal, .260 hitter over a 162 games, and that lineup is so great, I'd take a flyer on Frazier. Some might say, "Clint Frazier? I like Mike Tauchman!" Yeah, Tauchman's projected for 3 HRs, 2 SBs and a .255 average, how can he not be owned?! Dude's a 20-game hot streak away from one good Trevor Story game! Okay, I'm being unfair and underselling. Projections don't love Tauchman, but if he gets everyday at-bats, he's worth a look or whoever is in that lineup replacing Stanton, whether it's Aaron Hicks, Mike Ford, Clint Frazier, or PTBYankee'dL. So, this is kind of a Yankees' placeholder in lineup endorsement, but Clint Frazier is the most interesting. Plus, *pinkie up as I sip* ginger tea. Anyway, here's some more players to Buy or Sell this week in fantasy baseball:
BUY
Isiah Kiner-Falefa – Prior to this year, IKF was a IHOP pita sandwich rip-off that served Rooty-Tooty Fresh Turnip and Bean Hummus and a hot stack of shawarma. With the pandemic, the International Known Falafel had to close leaving a void that the Rangers' IKF has filled nicely. Now if they can just lose that Odor.
Austin Nola – Just think if you own Austin and Aaron Nola, you can rename your team Drunk On Julio Borbon Street.
Mitch Moreland – Fun fact! In the middle of the night, if Cougs moves onto my side of the bed, I kick and yell, "*itch, more land." Then apologize saying I was thinking about the waiver wire, which she naturally understands and tells me to go back to the couch.
Todd Frazier – Every time we think we're out, the Toddfather pulls us back in with a hot streak and makes us agree to put a horse's head in Adam Eaton's bed.
Alec Bohm – Just went over him this morning. Get your scroll on. Also, can check my Alec Bohm fantasy from during the shutdown.
Jesus Aguilar – Didn't think Jesus would be this valuable of a pickup for the Marlins for a few years when climate change caused the water to raise above field level.
Howie Kendrick – Sometimes I pick him up and drop him dozens of times saying, "Howie like me now…Howie doesn't like me now…" Then I realize I should hold some of my waiver wire moves for other transactions.
Luis Urias – More of a deep league move, but if you're desperate for a middle infielder, I could see grabbing him. Though, Uriasity has been known to kill the cat(egories).
Garrett Hampson – Was a bit surprised to see Hampson owned in less than 50% of ESPN leagues, but the more I thought about it, the more it made sense. Hampson is a player who is owned by people who think they know more than average bear, and ESPN owners, well, I'm not sure what they know.
Dylan Moore – On our Player Rater, any guess where Dylan Moore is ranked? Okay, now I'm gonna guess you're too low. His numbers are so goofy out of control. He's a .210 hitter with 7-homer, 10-steal speed over the course of 162 games. We're seeing what it would've been like if Tuffy Rhodes had the good fortune to play in a 60-game season.
Jake Cronenworth – Unlike Dylan Moore, Kyle Seager, or other guys who are playing well above their heads like Al on Naked Gun, Cronenworth appears to be showing who he is, which is to say a good bet for average, power and speed. On the last podcast, I called him a poor man's Tommy Pham — Tommy Shamwow? — and Ralph compared him to a rich man's Andrew Benintendi — Andrew Bettertendi? Cronenworth sounds like a misspelled Google search for a currency rate question when traveling to Norway, but we're not going to Europe and he can be valuable.
Maikel Franco – You don't want to see Maikel succeed. I can tell. You think he's a failed prospect that will never make good. I agree, but he's been hot.
David Peralta – Feel like every time I mention you should pick up Peralta, I'm also thoroughly confused why he isn't just owned. He is always* a top 40 outfielder. *Always? Yo, am I David Peralta's agent? Who am, Scott Boron? Get eff out of here with that superlative. Though, Peralta is worth rostering, even in 10-team mixed leagues.
Kole Calhoun – Was thisclose — yes, no space, and italics! — to making Calhoun my lede buy this week, but my knowledge of Gunsmoke, The Virginian and other 50's Westerns is too scant to make Rory Calhoun allusions.
Dylan Carlson – Just went over him this morning, claiming he could be great or useless. Napoleon would turn away from Versailles and say, "No, Grey's Carlson hedges are the best."
Austin Slater – Be careful of his elbow that kept him out of Wednesday's game, but Austin Slater could be Saved By The Bay! Then Pablo Sandoval pokes his head in, "Meesa turtle!" Rethinks, "Wait, that's Willians Astudillo talking like Jar Jar Binks. This Saved by the Bell reimagining stinks."
Every Cardinals Hitter – *you searching for a player named 'Every,' can't find one, exasperated, you run through a wall like the Kool-Aid Man* Welp, ,we lost that guy. Okay, so the Cardinals are going to attempt to play 55 games in about 17 days. That'll go well for their pitchers, and won't at all injure all of them. How'sever, their hitters are about to get a ton of at-bats. Everyone from Tommy Edman to Tyler O'Neill could get a a lot more counting stats than other players at their position.
Pablo Lopez – This is a Streamonator call. Like the call it makes to a consignment store to see if it has any secondhand electronics that seem lonely.
Brandon Bielak – This is also a Streamonator call. "Put the phone up to the LCD monitor and I'll tell you if it's lonely."
Rafael Montero – A lot of teams have terrible bullpens, but the Rangers seem to always have a decent bullpen, then pick the worst one in the pen as their closer (Leclerc, not Montero). They were trying to make Leclerc a thing for like 18 months. Fetch ain't got nothing on that.
Drew Pomeranz – Yates has been yikes and 'ranz does dance, so eat a D, Fogerty.
Rowan Wick – Gonna drop a bunch of other names who aren't owned in a majority of leagues: Buttrey, Taylor Williams (Who? Yeah, I don't know), Ryan Pressly, Blake Taylor, Andre Scrubb (and that's just one team), and Nick Anderson…Well, maybe.
Giovanny Gallegos – I don't want any part of any Cardinals starter because of their schedule the rest of the way: "Welcome back to Cardinals baseball! Jack Flaherty, who only pitched 3 innings yesterday, says he's good for four innings today, but the last two might be him kicking the ball towards home plate." But, as I don't mind their hitters, Gallegos might have more saves chances than most.
Jordan Romano – With Bass getting the hook the other day, and Ken Giles on a timetable for sometime in September, Romano has been great for Toronto, which is to say good in Buffalo. Interested in him just for his fastball gaining two miles per hour (up to 97) and his nasty slider. Gaining velocity at 27 years old? That's quirky, Romano!
Jairo Diaz – Have we seen a matchup of Castellanos and Jairo? Because I'd like to see if the Greek God of Hard Contact tries to slice off a piece of Jairo's spinning meat and corrects his teammates by saying, "It's year-row." Stop trying to rhyme Jairo with gyro? Sorry, I'm no Bard. Speaking of which, Daniel Bard might get Rockies saves too.
SELL
Kyle Lewis – *staggers around, clutching heart, falls over, Cougs bends over me and administers mouth-to-mouth while we're both wearing masks, eventually I sit up like The Undertaker* What the hell happened to me? I felt like a shot went through my heart, like I was telling people to sell Kyle Lewis. Oh crap! I was! *screams for forty-five minutes, pauses to sip on a boba, begins to scream again* So, Kyle Lewis is playing a little above his head. On our Player Rater, he's up in the rarefied air with Trout, FTJ and Blackmon. Okay, that's goofy. Lewis is a great story, not a great Trevor Story. I still love him, but c'mon. He's striking out nearly 30% of the time and has a BABIP that's north of north when his average should be more like the movie, North — terrible. Not saying to trade Kyle Lewis for a piece of shoofly pie made of actual flies found in a shoe, but I would go to our Fantasy Baseball Trade Analyzer and explore options.