Greetings and welcome back to the Mike Maher end of summer backyard bash, where we talk about our beloved top 100 hitters. I will be taking a one-week hiatus after this post as I pack up my apartment and drive 1,200 miles north from Fort Lauderdale, FL up to Pennsylvania. That's right, the true King of the North is returning home to his roots. No more tank tops in January for me for a little while. After my one-week absence, though, I will be back to tell you how good Rhys Hoskins is. You may have heard of him by now. We focused on him last week, so we don't have to go over him again, even though he has pretty much homered in every game since we talked about him. And for once, that isn't even an exaggeration. Check out his game log:
Take me on in the Razzball Commenter Leagues for a chance at prizes! Free to join, leagues still open!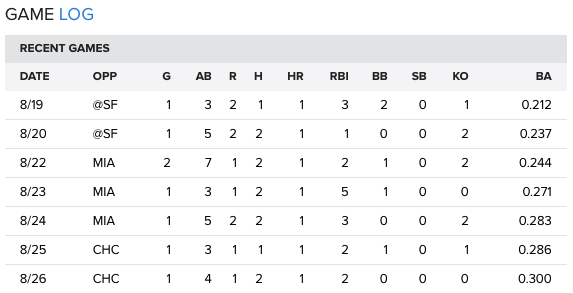 But enough about Hoskins. Any more and this will turn into a second straight post about him. Maybe next season I can write a third weekly article that will focus solely on Rhys Hoskins and what he did that week. I'll make a note of it.
I was going to focus on Nicky Delmonico and talk about what he was doing and what I saw, but he had to go and get hurt before I wrote the post. I suppose that is better than him getting hurt AFTER I wrote the post, though. So, we'll touch on Byron Buxton instead, since he has been mentioned in comments the last couple weeks while he was heating up at the plate.
I have never had any Buxton stock the past two years, so I have never been burned by him and don't feel as salty about adding him to the list as others might. I have also never been a huge Buxton fan, even back when he was a prospect everyone was drooling over. However, he has been en fuego lately with an 11.03 PR15. Game recognize game. He's earned his spot. He is still owned in less than 60% of ESPN leagues somehow.
The important factor here is his SAGNOF value down the stretch, as speed is always going to be the key for Buxton owners. The problem up until now has been that he just hasn't been able to really hit at all, which killed his value and also killed his playing time and led to him getting sent down for a while in the past. He hit .209 during his first taste in the show, then hit .225 last season. At times, his average has dipped below the .200 mark, and he looked absolutely lost at the plate. His top prospect shine started to fade as impatient analysts and fantasy owners moved on to newer, shinier toys.
It's easy to forget that he is still just 23 and was called up two years ago, which, in retrospect, was probably too soon. So, he has pretty much been gradually figuring things out at the major league level for the better part of three seasons now. What that does to his overall development remains to be seen, but what is important for fantasy owners is that he is hitting NOW.
Buxton's 11.03 PR15 is good for the fourth best in all of baseball. During this hot streak, he has also moved up in the batting order, which should only help his value going forward, assuming he continues to hit. Steals and runs are going to be his appeal, so being higher in the order is important for those counting stats. While he will probably never hit for much power on a consistent basis, he does have 10 home runs this season, so you aren't dealing with a Dee Gordon guy who has NO power. There is some pop in there, but it won't show up all the time.
At this point in the season, with only a few weeks left and, in many H2H leagues, only a week left before the playoffs begin, what is important is what a player is doing recently and what they can do the next few weeks. Buxton hit below .200 in two separate months earlier in the season. But that is behind us now. He hit .387 in July and is hitting .309 overall in the second half. He has been streaky at times in his young career, so enjoy the ride while you can. Watch him closely because he could turn back into that April pumpkin at any time, but his upside is too high not to utilize right now. I'm not sure why he is still owned in less than 60% of ESPN leagues, but hey, that is their loss.
Miguel Sano

– Sounds like Sano's shin injury is lingering longer than expected or hoped, and he is going to need more time than the minimum ten days required by his disabled list designation. Owners hoping for some power down the stretch are going to have to wait at least another week.
Giancarlo Stanton

– Do we need to mention him here? I don't even want to write down any stats because by the time I finish this sentence he will have hit two more home runs.
Gary Sanchez

– Suspended four games for throwing punches, which is easily the coolest way to get suspended. Unfortunately for Sanchez owners, he was on fire at the plate, with a 10.82 PR15 and eight home runs in his last ten games. He is appealing the suspension, but I wouldn't count on him winning that appeal.
Rhys Hoskins  – I sat on Hoskins all year in a league that allows one minor league spot, and his call-up could not have come at a better time for me. I lost Bryce Harper, Joey Gallo, and Miguel Sano in the same week, and Hoskins and his dingers have saved me in a H2H league. And to think, some of you were questioning the Hoskins ranking last week. Well,

how do you like me now?



Complete list of players to hit 10 home runs in their first 17 career games:

Rhys Hoskins pic.twitter.com/UZ1wngG8Eo

— NBC Sports Philadelphia (@NBCSPhilly) August 26, 2017
Manny Machado last 30 days:
2 BB (1.6%), 8 K (6.3%), 10 HR (7.9%)

— Jeremy Frank (@MLBRandomStats) August 27, 2017
Josh Bell

– Bell is another guy I never became enamored with as a prospect but who is delivering at the moment. I probably won't even glance at him in drafts next season, but a 5.49 PR15 with some pop down the stretch will do just fine, especially with all of the injuries lately.
Yoenis Cespedes/Michael Conforto – Putting these two in the same note because, well, Mets. I can't recall a team in recent memory that was so cursed with injuries. Of course, there is a reallllly questionable training staff making the calls over there, at least as far as I can tell, so maybe that has something to do with it. If you are ownership, wouldn't you be asking that staff some questions this offseason? Anyway, Cespedes is done for the year and Conforto probably is, too. Then again, this is the Mets, so Conforto will probably be rushed back to play in meaningless games the last week of the season.
Carlos Correa – Correa is coming back! He should start a rehab assignment this week and return to the team after playing in the minors for about a week. Great news for the Astros, but better news for Correa owners who need him down the stretch. I am adding him back to the list.
Note: These rankings are considered ROS Trade Value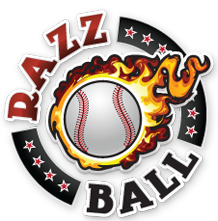 Mike Maher's Top 100 Hitters
(Rankings based on 12-team Roto. GREEN = player rising. RED = player dropping. BLUE = new to the Top 100 or Honorable Mentions.)
The Honorable Mentions (Next Five In…)
Dropped from the rankings: Yoenis Cespedes, Michael Conforto, Jarrod Dyson, Justin Bour
As always, disagree with anything here? Have any questions or comments? Want to tell Mike how great he is or how much you agree with him? Want relationship or investment advice?
DROP THOSE COMMENTS!
If you want to talk fantasy baseball or football or have players you want Mike to feature, hit him up on Twitter at @mikeMaher or post a comment below!