I know, I know.  Most boring Pitcher Profile in the lauded history of the Pitcher Profiles…  But Tim Lincecum has been the talk of the town in some circles, that is, if the circle you're in is at a retirement home…
I was hotly debating writing this week's profile on the sexy new call-up Cody Reed, but legit decided to flip a coin to see who's 2016 debut I would go with.  One side was Jennifer Lawrence and the other side Sir Laurence Olivier.  As in he's old!  Wait, I don't think he's even alive…  Don't fact check that…
It's been several years since Old Tiny Tim has been fantasy relevant, and it's only fitting that the reason why is a hip issue.  He shoulda pressed the Life Alert earlier!  But now he's had the surgery, showed some flashes in his Minor League rehab games (7 inning 1-hitter with 8 Ks his last AAA start), and debuted for the Angels on Saturday afternoon.  Here's how his 2016 debut went down going at the A's:
First Inning: Lincecum's first pitch of 2016 is a low and away fastball at 89, 1-0 to Billy Burns.  Fastball gets the call and and up in the zone 1-1, fastball sinks well low, then a 2-1 change-up gets Burns flipping the bat to shoot it to right, but it's caught fairly easily for the first out.  88 MPH four seamer in there to Coco Crisp, then that big change-up at 82 gets Lincecum's first whiff, 0-2.  Timmy Tim sticks with the change and gets a bullet hit to short, but the alignment was right there for a clean play to first.  Breaking ball at 83 gets the top of the zone to Stephen Vogt, fastball low and away, 90 MPH on the hands gets Vogt jammed for a weak foul back, inside slider gets popped foul and barely falls between two Angels in foul ground, 1-2.  Inside fastball is taken, fastball again fouled off, change-up at 83 flutters low and away, then a 3-2 high fastball is crushed to left center for a double off the wall.  Lincecum gave in there, but in his defense, probably should've been an out on the foul pop earlier in the AB.  Nice slider at 83 gets strike one to Danny Valencia, and if that pitch can work for strikes, Lincecum might be decent this year…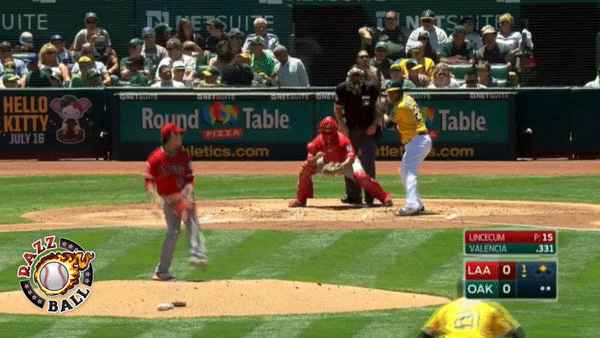 Then he follows it with a 90 MPH fastball perfectly placed on the outside corner.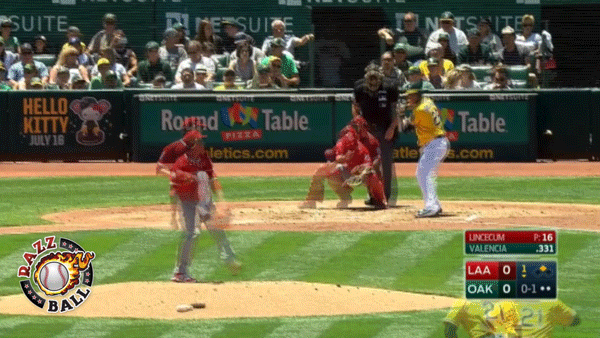 He threw it so fast he almost was faster than the GIF!  Sorry that one got a little jacked up, had issues with the MLB stream of this game…  And I really love this sequence, change-up to put him away.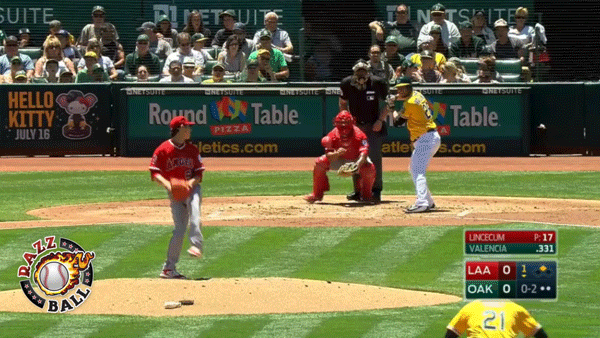 I had very low expectations for this start, but I was pumped to GIF early today!  Sign of some goodness to come!
Second Inning: Hanging breaking ball stays high to open the second, 1-0 to Khris Davis, breaking ball again high in the zone gets a mighty swing-and-miss 1-1, low and away fastball is ball 2, fastball again paints the low black 2-2, slider breaking low at 84 is fouled off, then fastball on the hands is flared to right for an easy first out.  High fastball gets Timmy ahead 0-1 to Jed Lowrie, high fastball again makes it 0-2 to Lowrie's chagrin, fastball gets a late-swing foul back, fastball again gets another late swing and foul, change drops low, big slider gets a pretty close check swing but it's 2-2 (replay shows he might have gone there), then change-up is dumped to left for a single.  On both of Lincecum's hits there could've been outs right before them!  Fastball at 88 in there to Yadier Alonso, fastball again fouled off, slider gets a check swing that dies in the dirt right next to the catcher, high fastball fouled back, then change on the hands is dribbled to third, and Yunel Escobar's only play is to first for the out.  Josh Phegley takes a slider in there 0-1, change-up breaking low and in gets a weak foul, then change again gets a weak grounder to short and Lincecum out of the inning.
Third Inning: Still a 0-0 game and Lincecum breaks out a biggggg 74 MPH curveball that's well low to Marcus Semien, curve again stays high, 2-0 fastball fouled off, fastball again fouled, then change-up is chopped to third, but the play is made by Escobar, 1 down.  Lincecum again goes curveball on the first pitch, but Burns sat on it and slaps it to left for a single.  I dunno if that curveball is gonna do much for Lincecum today…  Slider gets strike one on Crisp, Crisp bunts the next one foul, fastball well outside 1-2, fastball high, change-up drops low, then a nasty change-up at 81 gets Crisp to swing over it for Lincecum's 2nd K: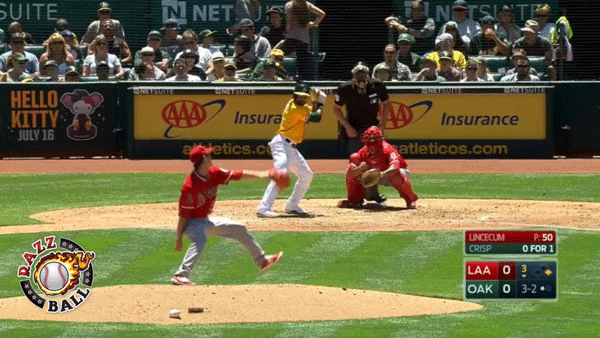 Two down, Burns still at first, and Vogt takes a change-up with Burns taking off, and Burns barely makes it safe at second on the steal.  Runner in scoring position and change again flutters low and outside, slider inside makes it 3-0, then fastball that looked good to me is called ball four for a walk.  Fastball well inside to Valencia and Lincecum fell over on that one, not sure what happened there, slider in the dirt, and getting a little shaky 2-0.  Fastball again misses 3-0, then Valencia hacking 3-0 gets a broken bat single up the gap with his bat heilcoptering behind it.  Burns scores and Lincecum gives up his first run.  So still two down, and slider hangs high to Davis, slider again stays high and Davis swings out of his helmet ala Carlos Gomez 1-1, then fastball inside hits Davis's elbow to load the bases.  Yeesh.  After a visit to the mound from the pitching coach and catcher, Lincecum fires a good fastball in the zone to Lowrie who swings and misses, then change-up gets him to roll over it to first for the out and get Lincecum out of a hairy inning.
Fourth Inning: After that grinding 3rd inning Lincecum is at 64 pitches, but finds himself up 2-1 now and fires a nice slider for strike one is taken by Alonso, 0-1.  Change-up low and outside, change again misses 2-1, then fastball is hit hard to third, but Escobar makes a great play on the shift for the first out.  High fastball to Phegley 1-0, fastball again foul-tipped back, then fastball on the hands is golfed to shallow left and caught in foul territory for the second out.  Fastball low and inside to Semien, slider outside, then 2-0 fastball is popped up to shallow left and gets Lincecum a sorely needed 1-2-3 inning.
Fifth Inning: Still a 2-1 game and Lincecum opens the inning the third time through the order and misses high to Burns, fastball is in there 1-1, fastball again gets a slap well foul, fastball again gets that slap swing that slices foul, fastball misses outside, then slider gets a weak grounder to short, one down.  Fastball misses to Crisp, then fastball again is hit hard to right, but it's caught by Kole Calhoun on the run, 2 down.  Vogt takes a good fastball in there 0-1, Lincecum misses outside, slider fouled off, change fouled off, then change again is flared to left for another 1-2-3 inning.
Sixth Inning: The Angels absolutely rip the game open scoring 5 in the top of the inning, giving Lincecum a 7-1 lead.  I'm actually a little surprised they brought Lincecum back out after a long layoff there and at 87 pitches, but he's outside to Valencia, then low with the fastball again, then 2-0 fastball is outside, quickly 3-0.  But fastball is in there to fight back, then 3-1 fastball at 87 misses outside for a walk.  Change gets a huge rip from Khris Davis who whiffs 0-1, big slider break low 1-1, change hangs high, fastball stays high, then 3-1 fastball gets grounded to short for a tailor-made double play.  Davis bailed him out there.  Then a first pitch fastball is lined hard to left by Lowrie, but caught on the run by Shane Robinson to get Lincecum out of the inning and would end up being his final out of a winning debut to 2016.
Final Line:  W  6.0 IP  98 Pitches (59 Strikes)  1 ER  4 Hits  2 Walks  2 K  Gamescore: 60   Gamescore+: 56.2

Final Analysis: Meh.  Can that be my whole analysis?  I went in "trying" to have an open mind about Lincecum maybe being a surprise this year, but I wasn't hugely impressed.  Not surprisingly, the low Ks gave Lincecum an unfavorable Gamescore+ compared to the Gamescore, but it wasn't like too many outs were rockets.
Lincecum's arsenal starts with that deceptive fastball that sat 87-89 most of this outing, topping out at 90 MPH.  No surprises there from the reports we heard from the Minor Leagues – the Lincecum fastball from the Cy years isn't back or anything.  His main off-speed is the change-up, which he relies on heavy sink and deception off the fastball.  A lot of foul balls and weak contact in this start, so it was mainly working.  He threw a good number of sliders as well; a few had some nice bite, but it didn't feel like a consistent pitch to me.  He also flashed a few curveballs in the mix, but that pitch wasn't really there for him as he wasn't throwing them for strikes, and the one time he did he gave up a single.
It's really nice to see Lincecum back, and he's in a pretty good pitcher's park yet again, so there's some streaming value here.  But I think we're going to see a career low K-rate fall well below 7 (I know you're like "duh!" but he was over 7 even in the rough last few years in SF) and some rough starts on the road.  The A's are pretty much the Padres or Braves of the AL offenses, so this was a dream matchup and in a dream park for giving up a lot of foul balls.  I think only one foul turned into an out in the giant O.co's foul grounds, but it was still a great situation.  I struggled with adding Lincecum to my ranks, but I think the nice park and fresh arm will make him semi-usable at the right times and barely cracked him in my top 100 ROS.
Updated Top 100 SP
(rankings for ROS based on 12-team Roto, green for risers, red for fallers)
| RANK | SP, TEAM |
| --- | --- |
| 1 | Clayton Kershaw, LAD |
| 2 | Jake Arrieta, CHC |
| 3 | Chris Sale, CWS |
| 4 | Max Scherzer, WAS |
| 5 | Noah Syndergaard, NYM |
| 6 | Jose Fernandez, MIA |
| 7 | Madison Bumgarner, SF |
| 8 | Stephen Strasburg, WAS |
| 9 | Jacob deGrom, NYM |
| 10 | Jon Lester, CHC |
| 11 | Johnny Cueto, SF |
| 12 | Corey Kluber, CLE |
| 13 | Danny Salazar, CLE |
| 14 | Zack Greinke, ARI |
| 15 | David Price, BOS |
| 16 | Carlos Carrasco, CLE |
| 17 | Chris Archer, TB |
| 18 | Carlos Martinez, STL |
| 19 | Justin Verlander, DET |
| 20 | Matt Harvey, NYM |
| 21 | Masahiro Tanaka, NYY |
| 22 | Joe Ross, WAS |
| 23 | Aaron Nola, PHI |
| 24 | Steven Matz, NYM |
| 25 | Cole Hamels, TEX |
| 26 | Jose Quintana, CWS |
| 27 | John Lackey, CHC |
| 28 | Jeff Samardzija, SF |
| 29 | Taijuan Walker, SEA |
| 30 | Dallas Keuchel, HOU |
| 31 | Jason Hammel, CHC |
| 32 | Drew Smyly, TB |
| 33 | Julio Teheran, ATL |
| 34 | Aaron Sanchez, TOR |
| 35 | Gerrit Cole, PIT |
| 36 | Rich Hill, OAK |
| 37 | Yu Darvish, TEX |
| 38 | James Paxton, SEA |
| 39 | Matt Shoemaker, LAA |
| 40 | Michael Fulmer, DET |
| 41 | Carlos Rodon, CWS |
| 42 | Kyle Hendricks, CHC |
| 43 | Kenta Maeda, LAD |
| 44 | Drew Pomeranz, SD |
| 45 | Jordan Zimmermann, DET |
| 46 | Julio Urias, LAD |
| 47 | Chris Tillman, BAL |
| 48 | Jameson Taillon, PIT |
| 49 | Lance McCullers, HOU |
| 50 | Marcus Stroman, TOR |
| 51 | Marco Estrada, TOR |
| 52 | Adam Wainwright, STL |
| 53 | Tanner Roark, WAS |
| 54 | Sonny Gray, OAK |
| 55 | Kevin Gausman, BAL |
| 56 | Michael Wacha, STL |
| 57 | Gio Gonzalez, WAS |
| 58 | Steven Wright, BOS |
| 59 | Jon Gray, COL |
| 60 | Trevor Bauer, CLE |
| 61 | Francisco Liriano, PIT |
| 62 | Hisashi Iwakuma, SEA |
| 63 | Ian Kennedy, KC |
| 64 | Jimmy Nelson, MIL |
| 65 | Tyler Glasnow, PIT |
| 66 | J.A. Happ, TOR |
| 67 | Felix Hernandez, SEA |
| 68 | Vincent Velasquez, PHI |
| 69 | Jake Odorizzi, TB |
| 70 | Nate Karns, SEA |
| 71 | Wei-Yin Chen, MIA |
| 72 | Rick Porcello, BOS |
| 73 | Adam Conley, MIA |
| 74 | Danny Duffy, KC |
| 75 | Zachary Davies, MIL |
| 76 | Jerad Eickhoff, PHI |
| 77 | Patrick Corbin, ARI |
| 78 | Blake Snell, TB |
| 79 | Anthony DeSclafani, CIN |
| 80 | Nathan Eovaldi, NYY |
| 81 | Scott Kazmir, LAD |
| 82 | Archie Bradley, ARI |
| 83 | CC Sabathia, NYY |
| 84 | Junior Guerra, MIL |
| 85 | Mike Leake, STL |
| 86 | Robbie Ray, ARI |
| 87 | Jaime Garcia, STL |
| 88 | Josh Tomlin, CLE |
| 89 | Colby Lewis, TEX |
| 90 | Matt Moore, TB |
| 91 | Michael Pineda, NYY |
| 92 | Mike Fiers, HOU |
| 93 | Sean Manaea, OAK |
| 94 | Cody Reed, CIN |
| 95 | Collin McHugh, HOU |
| 96 | Edinson Volquez, KC |
| 97 | Tim Lincecum, LAA |
| 98 | James Shields, CWS |
| 99 | Bartolo Colon, NYM |
| 100 | Derek Holland, TEX |
Dropped Out: Eduardo Rodriguez, BOS (ugh), Matt Andriese, TB (surprised he was yanked for the rotation to be honest, not that Snell isn't good or anything, but Andriese had been OK…), Hector Santiago, LAA (probably shoulda yanked him a week or two ago…)
Thoughts on Timmy Tim Tam?  And what do you make of the ranks this week?  Shoot your thoughts below, and may your hip labrums stay untorn!