When I wake up in the morning and the alarm gives out a warning and I don't think I'll ever make it on time. By the time I grab my books and I give Razzball a look, I'm at the website just in time to see the news fly by. It's alright 'coz I'm saved by Josh Bell. Was Samuel "Screetch" Powers spotted in Pittsburgh last night? No he was not. Neither were any of the other cast of Saved By The Bell. However, Josh Bell was in attendance. Trailing by five runs going into the ninth, Bell's three run homer helped the Pirates tied the game. You'd have to be living under a rock not to notice how well Josh has been this year. If it weren't for Yelich and Bellinger, Bell would be the top choice for the National League MVP. Bell went two for four on the night, but the Pirates ended up falling short in extras. As for Mr. Belding and crew this year marks the 30th anniversary of the show. In related news A.C. Slater and Zack Morris are both blue belts in jiu-jitsu. Perhaps we can get rematch of their fight that took place at Bayside High.
Michael Brantley – Considering he went four for four with a two doubles, a homer and a single, Brantley probably deserved the lede. I just couldn't come up with a title I liked that wrapped his efforts. He'll have to settle for second fiddle.
Ryan Zimmerman – Zimmerman posted a triple double last night with three triples in six at bats. That's also one base for every at bat.
Alex Dickerson – A-Dick hit another Friday night home run. Seriously?! That's three in a row to go along with my three Saturday morning roundups. I told you last week I was going to have him in my Friday night DFS lineup and I am a man of my word. Hope you listened.
Trea Turner – At first sight seven home runs and 17 stolen bases is not all that impressive coming from Turner. Especially considering Elvis Andrus has 7 and 19, Jose Ramirez 7 and 18 and Jonathan Villar 10 and 16. The key stat I'm leaving out here is that all three of those players have more than a hundred additional at bats than Turner. His production in 48 games expands to 23 homers and 57 stolen bases over 162 games which he managed to play in 2018. Last night hit his seventh homer, a single, scored a run and drove one in.
Adalberto Mondesi – While we are discussing speed players with some pop how can we not mention this guy. Adalberto went 3 for 5 with a single, double, a triple, two runs scored, two driven in and a stolen base. Talk about ticking all the stat columns. He leads the Majors in both triples (9) and stolen bases (28). Speed kills. I mean speed rules. He's only on pace for 13 home runs, but with 50+ swipes the homers are just a bonus.
Orlando Arcia – He hit his 12th home run of the season. Not much more to say about him. His last name feels like it's missing a leading G.
Aaron Judge – The Judge wasted no time welcoming Brendan McKay to his court homering off him in the first inning. Always judging. He hit a second solo shot in the 11th. Court dismissed.
Aaron Hicks – Every Aaron on the Yankees roster his a home run last night. Hicks hit a pinch hit ding dong in the 8th inning to tie the game up at four. Perhaps Boone should have pinch hit as well.
Brett Gardner – I swear this guy just doesn't ever seem to go away. Last night he went 3 for 5 with a homer and two singles. I never realized how thick his neck was. Beefy!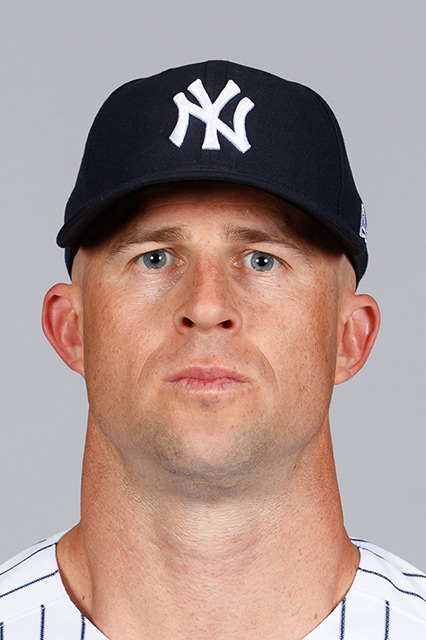 Nate Lowe – It took 47 plate appearances over 12 games, but Lowe finally hit his first MLB home run. Slow and Lowe.
Mike Zunino – Zunino, batting .186, hit his fourth home run. That's on the season, not the game. Zuni-NO.
Christian Yelich – He walked three times. No home runs? Come on dude, what a disappointment. Can we call this a slump?
Keston Hiura – A single, two stolen bases and a run scored. Travis Shaw hit two home runs for San Antonio so I suppose Hiura will be sent down any day now.
Rafael Devers – Devers hit his 16th home run and drove in two to give him a total of 61 on the season. I keep forgetting he's only 22 years young. I own him in a keep fordever league and am looking forward to the next eight or so years. Mookie Betts who? Just kidding.
Jordan Yamamoto – His last name sounds like the name of a motorcycle company. Last night he struck out seven over six scoreless innings. He took a no decision as his team managed to give him zero run support.
Julio Teheran – The terrorist struck out six over six scoreless pitching against Yamamoto. He also took a no decision thanks to a lack of any run support. He walked two and gave up five hits while Yamamoto walked three and gave up two hits. Slight advantage Yamamoto.
Kole Calhoun – KC masterpiece went two for four with a double and his 19th home run. He's on pace for a career high in home runs.
Mike Trout – Just Mike Trout being Mike Trout hitting his 26th home run.
Shohei Ohtani – Ohtani connected off of Verlander in the third inning for his 13th home run in 51 games. I really hope his days as a pitcher are over and he can just concentrate on being a 40 homer guy with a .300 average and double digit steals. Fo Sho!
Justin Verlander – Any time he has more hits allowed than strikeouts I'd call that a subpar outing for JV. Six strikeouts, seven hits, four earned and a walk over seven innings is not exactly his calling card, but there are many pitchers that would love to have that line.
Paul Goldschmidt – Holy shit Goldschmidt hit a homer. Despite his abysmal first half, he's actually on pace for 28 home runs. If he can even make just a small improvement in the second half he could easily end the season with 30+ homers. Buy low.
Chris Davis – Crush hit his 7th home run in a two for four effort. Seven home runs? Hitting home runs was the only thing he was ever good at. If you're only good at doing one thing and then you are no longer good at that anymore, what are you good for?
Jonathan Villar – Two singles, a ribbie and a stolen base. Not spectacular, but enough to get a mention.
Dylan Bundy – With the win Bundy improved to 4-10 on the season. Yes, I know that's pretty shitty (that rhymes), but I think he's better than his record indicates. Last night he struck out six over six and two thirds, giving up just one earned run. Except for his most recent (6/26) outing where he lasted only four innings, he has pitched at least five innings in his last 15 starts and has a 9.49 K/9 on the season.
Scott Kingery – Led off the game with a solo home run. I guess I didn't need to mention it was a solo shot considering he led off. Kingery Dingery dock!
Pete Alonso – Two for four with a double and his 29th homer. Just another day at the office for this rookie.
Jacob deGrom – Ten strikeouts and two earned over seven. Unfortunately that was only enough to earn him a no decision. He's used to that by now.
Edwin Diaz – More like Edlose after yielding four earned in a third of an inning. Boom goes the Diaz.
The Minnesota Twins – The Twinkies (can I still call them that) combined for 15 runs and 20 hits. Among those twenty hits were home runs from Luis Arraez, Jorge Polanco, Jonathan Schoop and Mitch Garver. Garver added a double, continuing his breakout campaign. Not to be outdone, Schoop hit two doubles going 4 for 5 on the night with 4 ribbies and a 2 runs scored.
Christian Walker – Three for five with two homers (16 and 17) and five runs batted in. Despite his name he had no walks.
Dexter Fowler – Fell a double shy of a cycle. How many fowl balls did he hit though? That's the real question.
Zack Greinke – Seven scoreless with nine Mike Tyson punch outs. Aces up.
Franklin Barreto – Joined Nate Lowe in hitting his first career big fly.
Clayton Kershaw – Kershaw struck out nine batters and pitched seven innings and gave up one earned run and settled for a no decision. How's that for a run on sentence.
Odubel Herrera – Suspended for the remainder of the season for violating MLB's joint domestic violence, sexual assault and child abuse policy. This will cost him $2,634,409. What an idiot. Hope he doesn't beat himself up over it though.
Carlos Carrasco – Sadly he has been diagnosed with leukemia.
Follow malamoney on Twitter at @malamoney