This is happening on the other side of my laptop as I sit here writing the Two-Startapalooza…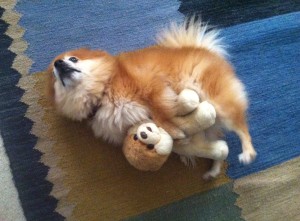 Yes, that is a dog dry-humping Boo the star Pomeranian in stuffed animal form. He does it all the time, but for some reason it seemed profound to me and strangely relevant to this week's batch of pitchers. [Jay's Note: Uhhhh. Okay?] Perhaps my dog represents the fantasy gods, and Boo is fantasy owners everywhere, especially those on the playoff bubble in their leagues. No Clayton Kershaw, no Max Scherzer, no David Price, no mega-aces to speak of. Combustible No. 2's. A lot of mediocrity. Dudes obviously pitching over their heads, and dying to, well, eff you over. And then the looming threat of namby-pamby real-life baseball managers pulling guys early in games to get ready for the real-life playoffs and even scratching top-flight starters with mysterious blisters, hangnails and other assorted bogus injuries in an effort to save them for the postseason. The nerve! But I see two little gifts from these same fantasy gods: Two guys with potential who have good-to-great matchups this week.
First up is Eric Stults, a Hodgepadre with two home starts (Brew Crew and Dodgers) and a nice run going. He's 3-1 in August with a 1.49 ERA, and only one of those starts was in Petco. Also, he's only walked two guys in his last three starts, and has the potential to strike guys out on top of that. Then there's Dillon Gee, who looked like a potential ace out of the gate this year but then missed two months with a back injury. He's been about as appealing as amusement park food since his return, racking up a 5.50 ERA and a 1.33 WHIP with no wins over the last 30 days. But if you drill down into his last four starts, he hasn't been that awful. He held down the Giants for the most part on Aug. 4, giving up two runs over 5-plus innings. He then dominated the flat-lining Phillies in Philly. Now I'll make some excuses. Is there shame in getting a little shaken (4 ER in 5 innings) in a loss to the first-place Nats at home or a road loss to first-place Oakland? This week, Gee welcomes two beatable opponents to Citi Field: The strikeout happy Braves and then those same crappy Phillies. I like Gee and Stults as streamers who won't "screw you over" (heh) and nothing else. Now let's see what else we got in the Two-Starter cupboard this week.
Must Start
Madison Bumgarner (COL, MIL), Johnny Cueto (CHC, @PIT)
We got two Woods going this week and one Bumgarner. Ouch! Cueto was on quite a roll until his most recent stinker in St. Louis, but that start against the Cubs is yummy!
First Tier
Tanner Roark (@PHI, @SEA), Alex Cobb (@BAL, BOS), Alex Wood (@NYM, MIA), James Shields (NYY, CLE), Jake Odorizzi (@BAL, BOS)
I don't get the lack of love for Tanner Roark. If you need wins and peripherals, he won't let you down.
Second Tier

John Lackey (@PIT, CHC), Jeff Samardzija (@HOU, @LAA), Matt Shoemaker (MIA, OAK)
I also don't get the lack of love for Matt Shoemaker. Even after Grey professed his love for the man who looks like he's wearing one of those fake winter beard hats, still no love.
Third Tier
Chris Tillman (TB, MIN), Michael Pineda (@KC, @TOR), Jimmy Nelson (@SD, @SF)
Considering matchups and recent performance, if you have these guys and need to battle to make the playoffs, I'd roll them out there with confidence. I have more faith in Pineda than most, even against the Jays on the road.
Fourth Tier
Dallas Keuchel (OAK, TEX), Francisco Liriano (STL, CIN), Brandon McCarthy (@DET, @TOR), Rick Porcello (NYY, @CWS), Dillon Gee (ATL, PHI), Eric Stults (MIL, LAD), Jose Quintana (CLE, DET), Danny Duffy (MIN, CLE)
These guys I'd stream and wouldn't blink twice.
Fifth Tier
T.J. House (@CWS, @KC), Roenis Elias (TEX, WSH), Jarred Cosart (@LAA, @ATL), Jake Peavy (COL, MIL), A.J. Burnett (WSH, @NYM), Jason Hammel (@HOU, @LAA), Scott Feldman (OAK, TEX)
These guys I'd stream but would feel kind of eh about it. Burnett sucks, period, end of story and I don't mind saying it at all. Perhaps my feelings are colored by the fact that I'm a Phillies fan, but I see nothing of interest in a guy who is 6-14 and is only consistent in giving up 4 or more earned runs every time he takes the mound.
Sixth Tier
Bruce Chen (TB, MIN), Clay Buchholz (@TOR, @TB), Jorge De La Rosa (@SF, @ARI)
You are desperate. You must eat the cat poo.
Don't Start
Wade LeBlanc (MIA, OAK), Ricky Nolasco (@KC, @BAL), Nick Martinez (@SEA, @HOU), Tyler Matzek (@SF, @ARI), J.A. Happ (BOS, NYY)
Garbage, garbage everywhere.