Greetings from beautiful Sandestin, FL. I am on vacation for a long holiday weekend, but I am so dedicated to Razznation that I am taking time away from the beach to make sure you still have the information and insight you desire this week.
Before we get started, feel free to ignore Clayton Kershaw. I have no inside information that he might not start twice this week, but it seems that every week that he is on the list Dave Roberts and the Dodgers change things up on us. Going forward, if he is on the list, just assume that he will be removed. If he is not on the list, assume he will be added. Roberts and Co. are determined to tinker with their rotation every week, possibly just to mess with us. Since he is scheduled to start twice as of this writing, I assume that that will no longer be the case by the time you are reading this roughly 18 hours from now.
Rant over. Anyway, the target of the week for Week 14 is Jerad Eickhoff, who is apparently going to come off the disabled list and start on July 4 (go America!) against the Pirates. That would put him on track to start again against the Padres over the weekend. He is owned in just 20% of RCLs, and the Razzball Streamonator currently has him as the 11th (out of 40) best option for two-start starters for Week 14 with a value of $6.3.
Now, the first concern that jumps out is that Eickhoff is, as of this writing, not a 100% lock to start on July 4. He should. He probably will. All signs point to him starting that game. He threw another bullpen session this week, and there have been no reports of a setback or lingering issues. He is definitely going to start against the Pirates on July 4. I think.
Eickhoff has been up and down this season. After a great initial debut in 2015, he was solid for the Phillies in 2016. This season, though, he has kind of been all over the place so far. He started off the year with three straight quality starts and looked like he might be taking a step forward in 2017. But then he tossed just one quality start in his next nine, and his ERA ballooned from 2.55 to 5.15. His walks were up and his command was off, as you can see from his 1.53 WHIP (it was 1.16 last season) and his BB/9 (1.92 in 2016 vs. 3.98 in 2017).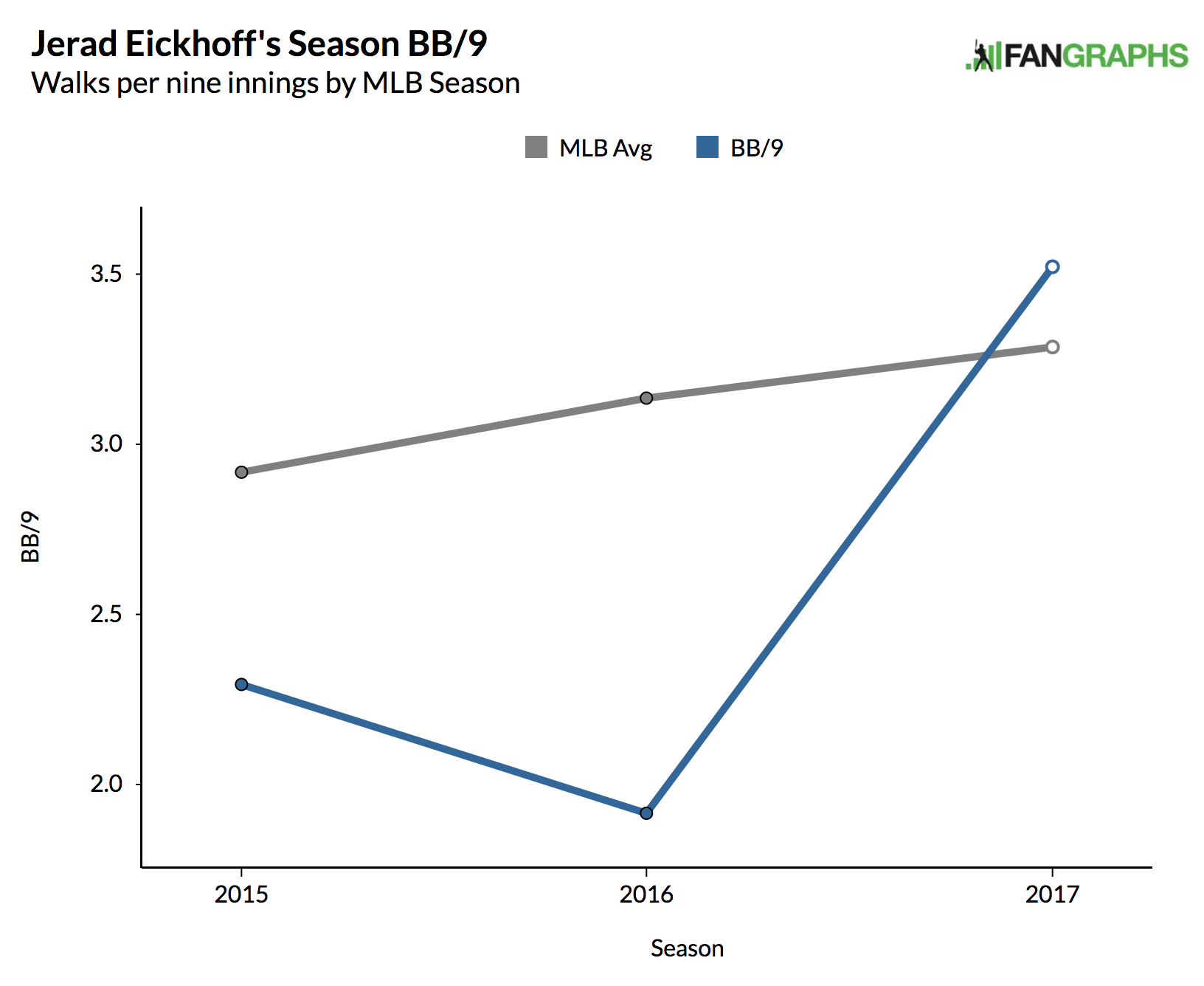 His strikeout numbers are nearly identical between 2016 and 2017. In 2016: 7.62. In 2017: 7.63.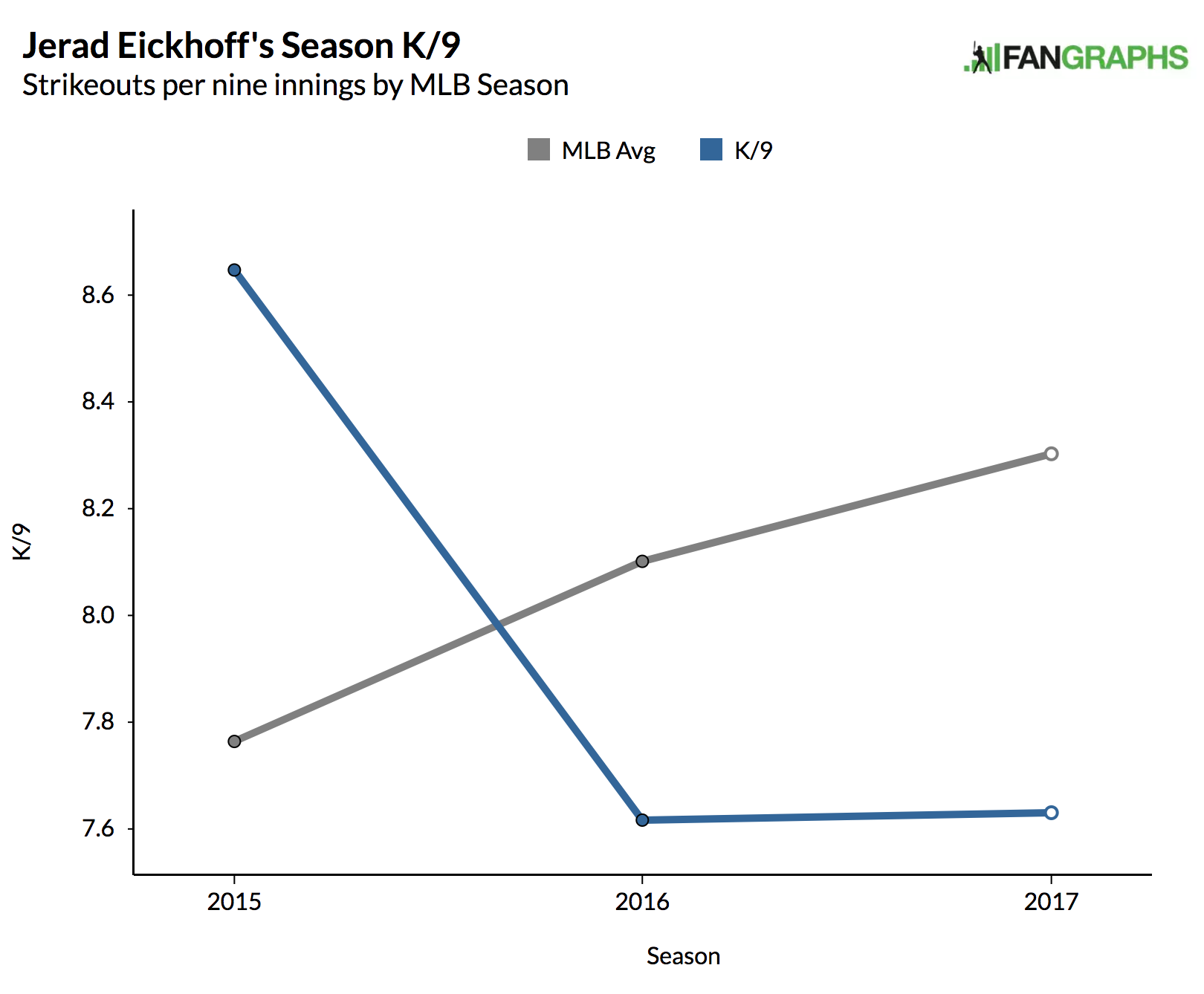 And that is where we start to get into some of the good and why it might be worth the risk to roll with Eickhoff, at least for this week. Before landing on the disabled list a couple weeks ago, he had thrown two quality starts in a row. He has also had some bad luck this season, as you can see when you take a look at BABIP numbers.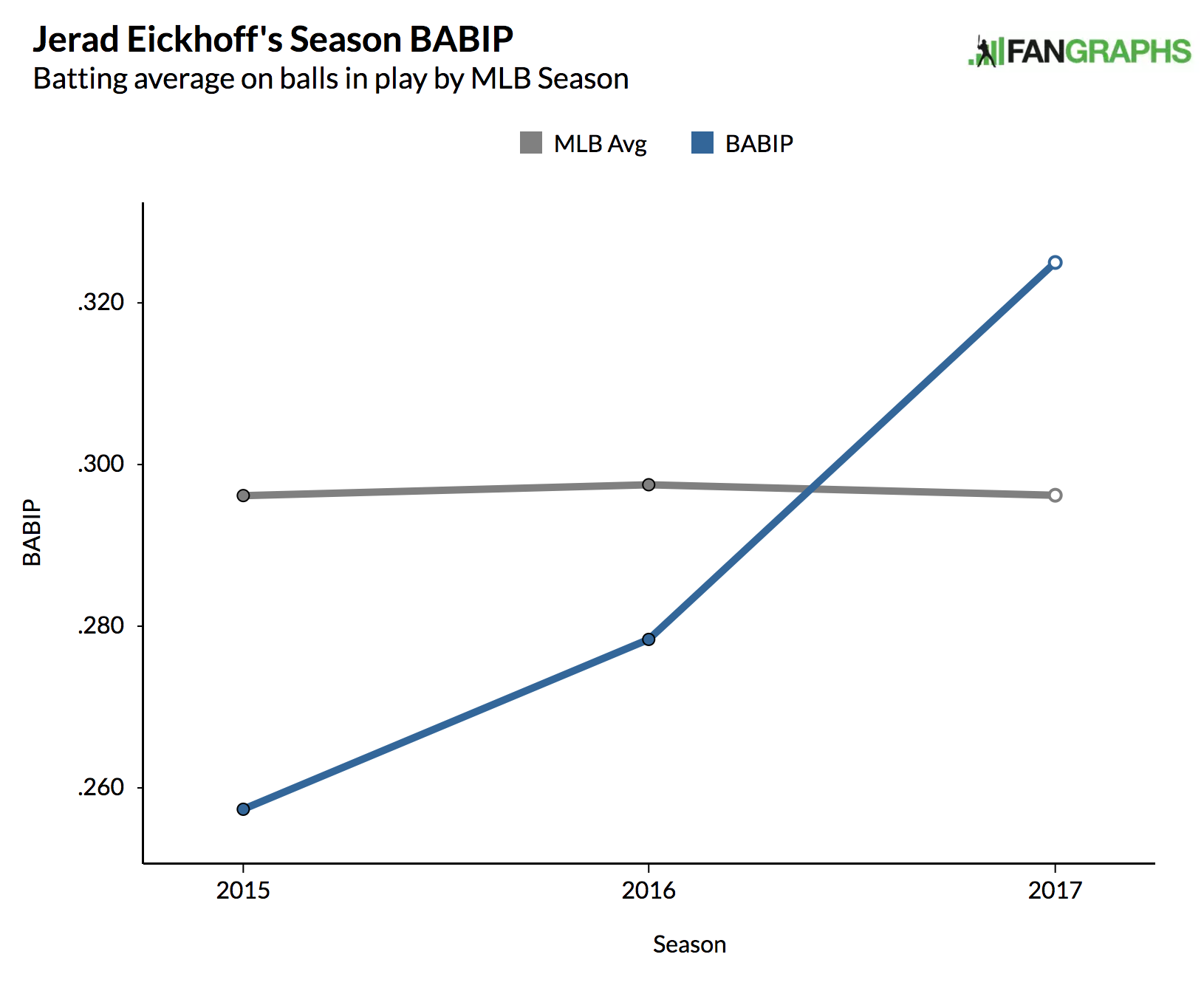 Eickhoff's BABIP went from slightly below league average last season to way above league average last season. Did he just get lucky all of last season, or is he getting incredibly unlucky this season? Probably a combination of both, though 2016 is obviously a much larger sample size. A slight regression to the mean for Eickhoff's BABIP could lead to more success, so that is a reason for hope.
Another normalization to keep an eye on is his ERA to FIP ratio. 2016: 3.65 vs. 4.19. 2017: 4.93 vs. 4.18. Despite nearly identical FIP numbers, his ERA is more than a full run higher in 2017. Some normalization here could also lead to better overall numbers.
Now, when it comes to why you should consider Eickhoff specifically this week, the answer is a bit more simple: The two teams he is tentatively scheduled to pitch against this week just aren't all that good.
The Pirates and Padres are not exactly offensive juggernauts this season, and the boast wOBAs of .294 and .298, respectively, over the last two weeks. That puts both of them in the bottom third of the league, which is where they have both spent most of the season. As a bonus, Eickhoff would get to face both of them at home, as well.
The Streamonator likes Jerad Eickhoff this week, and I am not one to argue with tools created and managed by the great Rudy Gamble. Now, for the rest of the two-start starters this week.
Pitchers are listed in order by rank. Colors represent 8 toughest or 8 easiest opponents according to team wOBA for last 14 days.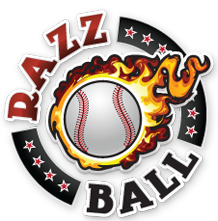 THE BEST
THE REPLICAS
THE STANDARDS
THE KNOCKOFFS
Player
Opponents
ERA/FIP
K9/BB9
Steven Matz NYM

@WSH

,

@STL

2.67/4.99
6.00/2.33
Blake Snell TB
@CHC, BOS
5.36/5.28
7.66/5.74
Carlos Rodon CHW*
@OAK,

@COL

4.04/4.01
9.16/2.95
Jeff Hoffman COL
CIN, CHW
4.04/2.83
9.35/2.34
Yovani Gallardo SEA

KC

, OAK
6.06/4.78
6.64/3.78
Wade Miley BAL

@MIL

,

@MIN

4.54/4.97
8.19/5.09
David Paulino HOU

@ATL

, @TOR
6.52/5.10
10.55/2.17
Daniel Gossett OAK
CHW, @SEA
5.57/5.42
5.57/1.29
Luis Castillo CIN

@COL

, @ARI
3.38/6.42
11.81/6.75
Jose Urena MIA

@STL

, @SF
3.42/4.79
5.66/3.18
THE 
* 2016 statistics
** Two 2017 starts
All pitchers are projected for two starts as of Friday night. 
If you would prefer to see the above tables as a color-coded graphic, we've got that too!
(Click to enlarge)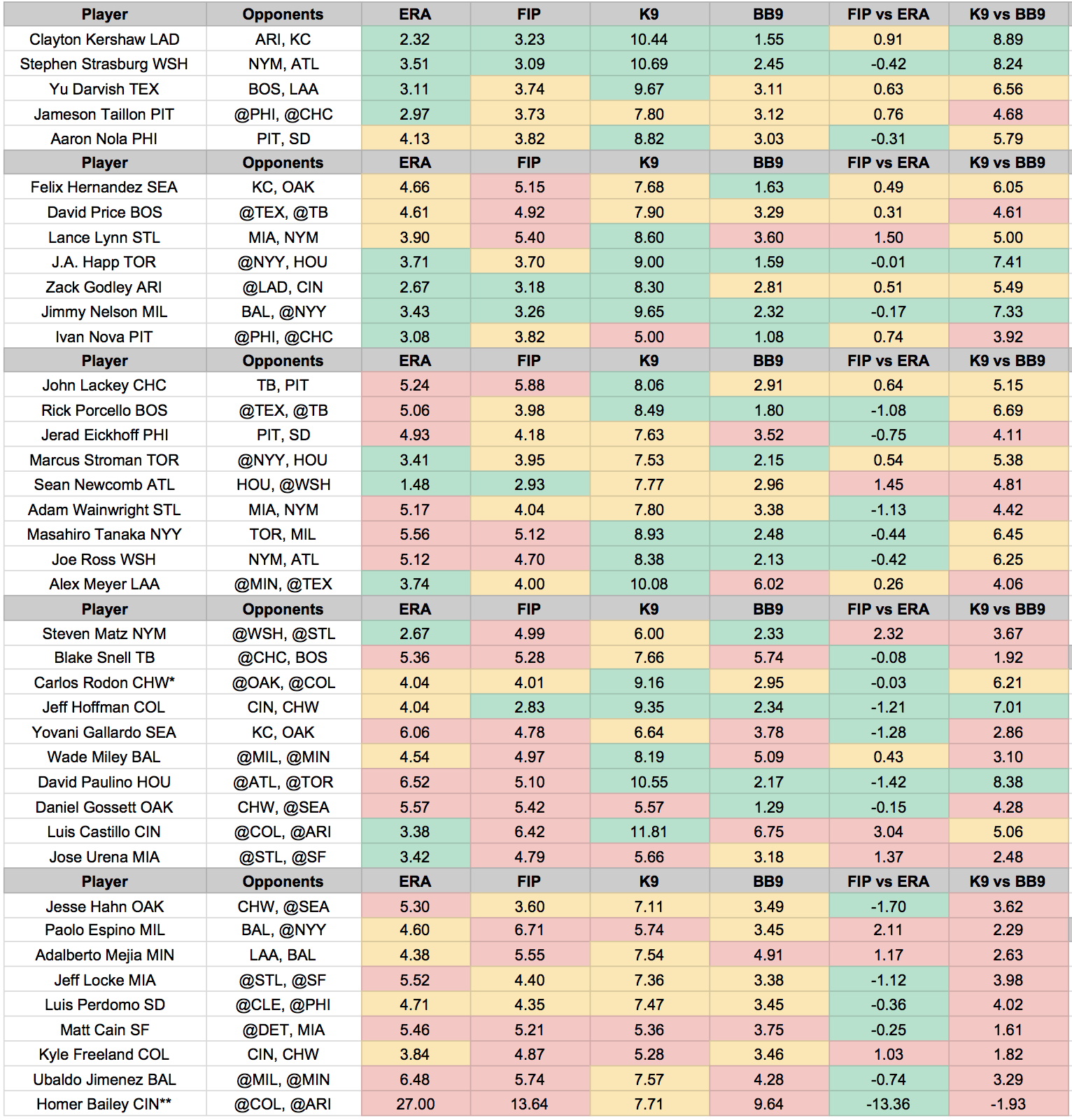 As always, disagree with anything here? Have any questions or comments? Want to tell Mike how great he is or how much you agree with him? Want relationship or investment advice?
DROP THOSE COMMENTS!
If you want to talk fantasy baseball or football or have players you want Mike to feature, hit him up on Twitter at @mikeMaher or post a comment below!