In a time long ago, when men were men and athletes freely used performance enhancing drugs to little or no consequences, there was a gameshow. A show that celebrated such athletes both male and female, athletes that invested their time, money, and focus into becoming the most gargantuan human beings they could become. On this show they matched average everyday sclubbs against these well built steroid fueled warriors in feats of strength and agility. What is this show pray-tell? Well of course it's a little show called American Gladiators. Ever heard of it? No young-ins, I'm not talking about that gross bastardization of a program that was on 7-8 years ago, I'm talking the genuine article. The flag waving, patriotic leotard rocking, testosterone train ride, where the women had high hair and the type of muscles that would have you asking them to open the olive jar. The early 90's were a simpler time friends.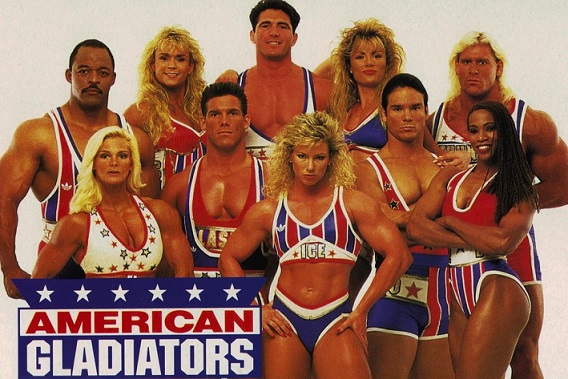 In the spirit of the Pros vs Joes competition of American Gladiators we have a roster of extremes with two start pitchers this week. A bountiful cornucopia of aces and an overflowing toilet of crap. And we the collective delegation of the fantasy baseball world are left to sift through the rubble to uncover two-start double dipping gold. Come with me on a journey of self exploration, and the best part is you don't even have to leave your couch. Why are you unzipping your pants? Uhhhh what's with the baby oil? This just got weird…I was getting poetic and you prepared to masterbate…we do have female readers you know. What? Tell me more about them? Okay I'm leaving…
Breakthrough and Conquer – This is the top tier and it's filled to the brim this week with lots of ace level arms. Starting us off is reigning NL MVP Clayton Kershaw as he looks to regain top form in home starts vs San Fran and Arizona. There's no need to panic especially when you factor in his 1.93 xFIP. Clayton gon' Clayton, don't worry. Johnny Cueto's matchups this week have me salivating, as he's home vs Milwaukee and at the Braves. While Mad Max is at Atlanta and at the Mets. I know Amazing is in great form at the moment, but are you going to bet on that lineup vs a king like Scherzer? Love David Price to rebound after getting his shorts run up the flag pole vs the Yanks on Wednesday. He's at Minnesota and at the Royals. Sale, Kluber, and Mad-Bum all have a little bit of good start-bad start this week. So keep your expectations in check. The real elephant in the room/tier is Sonny Gray. Sorry guys but I believe. I know the 6.04 K/9 isn't sexy and the 3.81 xFIP is a red flag, but he keeps the ball in the ballpark and has cut down on the walks. Daddy likey! On face value both the Angels and Rangers sound like tough matchups. The truth is it's all reputation from a time gone by, they're both in the bottom third of team wRC+ and wOBA.
Clayton Kershaw, LAD: (vs. SF, vs. Ari); Johnny Cueto, CIN, (vs. MIL, @ATL); Max Scherzer, WAS: (@ATL, @NYM); Chris Sale, CWS: (@BAL, @MIN); David Price, DET: (@MIN, @KC); Corey Kluber, CLE: (vs. KC, vs. TOR); Madison Bumgarner, SF: (@LAD, vs. LAA); Sonny Gray, OAK: (vs. LAA, @TEX).
Powerball – This tier is made up of those just a tick below ace level, and this week that says a lot because we're loaded with ace level double dippers. Headlining this tier is Jeff Samardzija, whether he faces suspension for his involvement in the Yordano inspired Royals-Sox Brawl from Thursday night remains to be seen (as of writing this). Shark has ace type stuff but a date with the O's in Baltimore has me a little nervy, while the visit to Target to face the Twinkies looks delicious. Speaking of Yordano "the hottie" Ventura he's "scheduled" to go twice, but there's about as much chance he avoids suspension as there is Tehol avoids referencing GoT or G-Unit in his next post. BTW follow Tehol on Twitter probably the best Razzball account to follow IMHO. Michael Wacha has been lights out and he gets two great home matchups with Philly and the Pirates, who aren't hitting much for what it's worth. Jake Odorizzi is dealing of late, with all that's been written about Chris Archer (no matter how justified) "Eggs" is right there.
Jeff Samardzija, CWS: (@BAL, @MIN); James Shields, SD: (vs. Hou, vs. COL); Michael Wacha, STL: (vs. PHI, vs. PIT); Collin McHugh, HOU: (@SD, vs. SEA); Yordano Ventura, KC: (@CLE, vs. DET); Anibal Sanchez, DET: (@MIN, @KC); Jake Odorizzi, TB: (@NYY, @BAL); Doug Fister, WAS: (@ATL, @NYM).
Joust/ Gauntlet – Cole Hamels has been pretty gnarly so far this term, just look at the HR/9 of 2.63. Pair that with a puke inducing BB/9 of 4.50 and you should be running for the hills. The K's are still there (8.63 k/9) though, so it's not all blood on the walls and bodies on the floor. Lets hope he can get right against the Cards and Marlins this week. Otherwise Hamels may end up in that awkward place between love and hate. That's on your bench where you don't trust him but want to. This tier is otherwise full of guys that you own but don't trust. Pitchers like Julio Teheran, Jeff Weaver, and Ubaldo Jimenez. Speaking of Ubaldo I have no idea what to make of him. He has a 2.30 ERA and a .89 WHIP but a single quality start in 3 turns. His 4.02 BB/9, 1.15 HR/9, and 4.20 FIP scream regression. The gem of this tier is Jimmy Nelson, he's pitched great. I was close to pushing him up into the previous tier but it doesn't feel right just yet. Let's wait a week before we crown him.
Jimmy Nelson, MIL: (@CIN, @CHC); Cole Hamels, PHI: (@STL, @MIA); Julio Teheran, ATL: (vs. WAS, vs. CIN); John Lackey, STL: (vs. PHI, vs. PIT); Jered Weaver, LAA: (@OAK, @SF); Ubaldo Jimenez, BAL: (vs. CWS, vs. TB): Drew Hutchison, TOR: (@BOS, @CLE); Homer Bailey, CIN: (vs. MIL, @ATL).
Assault – Joe Kelly hurts my head, he always seems on the cusp of joining the elite. His stuff is Nasty with a capital N. Then he has a meltdown like he did on Wednesday in Tampa and I lose all faith in him. He was cruising against the Rays and just fell apart in the 6th. He pitches Monday's game vs. the Blue Jays at Fenway. This is a game of note in the Lifshitz household as it will be my 4 year old son's first Big League game at "The Fens". Word is he's starting in Right….Taijuan Walker's last start vs the 'Stros wasn't horrible but he still has control issues. He gets the Rangers to start the week and then faces the Astros again. The most interesting name in this tier from a streaming perspective is Chase Anderson of Arizona. Grey spoke about him early last week and I'm feeling him this week and rest of season. There's a lot to like in his 8.00 K/9, 2.00 BB/9, and .50 HR/9. J.A. Happ is another stream worthy double dipper this week, he's quietly put together a nice season. So far he's gotten into the 7th in each of his starts and is yet to give up more than 2 earned runs. You're not streaming him for K's though, this is a straight ratio play.
Chase Anderson, ARI: (vs. COL, @LAD); Joe Kelly, BOS: (vs. TOR, vs. NYY); Yovani Gallardo, TEX: (vs. SEA, vs. OAK); Taijuan Walker, SEA: (@TEX, @HOU); J.A. Happ, SEA: (@TEX, @HOU); Jason Hammel, CHC: (vs. PIT, vs. MIL), Jarred Cosart, MIA: (vs. NYM, vs. PHI); Aaron Sanchez, Tor: (@BOS, @CLE), Tommy Milone, MIN: (vs. DET, vs. CWS).
Whiplash – Good luck if you're starting these mutants….
Dillon Gee, NYM: (@MIA, vs. WAS); Nathan Karns, TB: (@NYY, @BAL); Vance Worley, PIT: (@CHC, @STL); T.J. House, CLE: (vs. KC, vs. TOR); Adam Warren, NYY: (vs. TB, @BOS), Kyle Kendrick, COL: (@ARI, @SD); Jeremy Guthrie, KC: (@CLE, vs. DET); Mike Pelfrey, MIN: (vs. DET, vs. CHW), Roberto Hernandez, HOU: (@SD, vs, SEA): Eric Stults, ATL: (vs. WAS, vs. CIN).
Remember these starters are subject to change. If anyone was missed or gets pushed back/moved up drop me a line in the comments and I'll Rank 'Em.