Some call them cookie dusters, others dirt squirrels, lip luggage, snot mops, and upper lipholstery. I believe our Boss/fearless leader/fantasy master lothario calls his "old bullet proof", but I'm not sure. I'm of course talking about those lip rugs knows as mustaches. Our sport of baseball more so than any other contest of athletic prowess has embraced the flavor savor. Over the years there have been some top choice lip rugs in the American past time. So this week's theme is Baseball Mustaches. Seriously narrowing hardball's best mustaches down to just six was damn near impossible. I tried anyway and I'm sure all of you will call me thick as brick for not including the handlebars you'd most like to ride. But that's why we have comments, so you can belittle and abuse me for my lapses in judgement, poorly formed opinions, and general lack of research when it comes to the pitchers being skipped two days after this article posts. I mean in some circles I am known as the Oracle and my propensity for knowing the future is rather well documented. Still I'm at least 37% human, so cut me some slack.  Week 12's roster of two start pitchers is top heavy and flat bottomed, it's like the Kate Upton of two start pitching weeks. You know because she's big…..wait I'm not going to bother explaining this.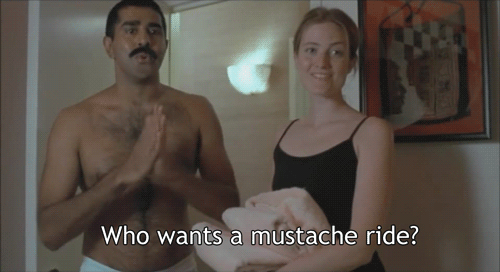 Rollie Fingers (Aces) – Say what you will but Rollie Fingers wins in all mustache battles even against Tom Selleck. This is the Michael Jordan of face furniture. Just classic! As for these handsome sons of guns you ain't sitting any of them. You know it, I know it, everyone but that Amish meth dealer from Orange is the New Black knows it. But that's only because it takes her awhile to get stuff.
Clayton Kershaw, (@CHC, @MIA); Zack Greinke, @CHC, @MIA); Johnny Cueto, (@PIT, @NYM); Madison Bumgarner, (vs. SD, vs. COL); David Price, (@CLE, vs. CWS); Felix Hernandez, (vs. KC, @LAA)
Wade Boggs (Must Starts) – I'm a Red Sox fan who was born in the early 80's so Wade Boggs is like Ghandi, John Holmes, and Elvis rolled into one. Could you argue for Schmidt or Gossage or Mattingly? Sure, but it's my post so I make the choices! Also none of them have the sort of beer drinking exploits that legends are made of.  Carlos Martinez over his last 7 starts has been simply fantastic. A 1.19/2.73/2.95 slash line paired with a nearly 10 K per, and a plus-60% GB%  has me rolling him out against anybody…. Is Michael Pineda an ace? His K/9 and BB/9 difference is 8.41, that's screams ace to me. Need more proof? His FIP is 2.68 and his xFIP is 2.57, this all looks pretty ace like, no? He gets the Phillies and a trip to H-Town. I love the Phillies start for obvious reasons, but the Astros matchup can go either way. On the one hand they're one of the best offenses vs RHP, but they also strikeout at a 25+% clip…. Damn Jordan Zimmermann has been awful his last 3 starts huh? Well okay he wasn't terrible last start going (7IP, 3 ER, 8 k's) but he wasn't great either. He allowed two homers and his two starts before that weren't so hot. Zimmermann is what he is, a pitcher with very good ratios and not enough K's to get you excited. He pulls two great matchups in dates with Atlanta and Philly…. You know Jason Hammel's numbers aren't that far off from Pineda's. He's a plus 9 k/9 guy with a sub 2 Bb/9, that's dirty you should want some of that. Hammel draws one really tough matchup against the Dodgers and a sneaky good matchup against the Cards. For some strange reason St. Louis can't hit RHP lately. Can't miss Fat Adams that much can they? This is peculiar because they are a lefty heavy lineup. This is my way of saying Hammel is a goer for that start…. Alex Wood is better than you think, go trade for him, and Julio Teheran while you're at it. I have a feeling the Braves starters turn it around in the second half. Wood faces the Nationals and the Pirates, and I'd roll him out for both. The Nationals haven't been great the last three weeks with Bryce Harper in the lineup, Wood might face them without him. I'm all over that. The Pittsburgh start is good as well, the Bucs tend to struggle against lefties…. Jesse Chavez seems to be available in a lot of leagues. Why? Guy is criminally underowned, everything about his numbers this season say 90%+ owed guy. He draws matchups with the Royals and Rangers, neither matchup is great but I'd start him for both.
Carlos Martinez, (@MIA, vs. CHC); Michael Pineda, (vs. PHI, @HOU); Jordan Zimmermann, (vs. ATL, @PHI); Jason Hammel, (vs. LAD, @STL); Alex Wood, (@WAS, @PIT); Jesse Chavez, (@TEX, vs. KC)
Goose Gossage (Why Can't I Sit You) – I'm not saying Goose's stache is bad. I'm just saying it might be the kind of nose neighbor that takes you out on a date, and then threatens to leave you deserted in the middle of nowhere if you decline his invite into the back of his Astrovan. That's what these guys are, potentially unabashed predators to your ratios and fantasy well being. But they look so rugged and handsome, and who can refuse a steak dinner? Not I. Collin McHugh why can't I sit you? You're awful and you make my insides ache. Seriously I feel organs I've never felt before. (That's what she said!) I'm not sure if he's a buy low or a lost cause. His peripherals are meh and I don't feel like he's offering a ton in the strikeout department. I'm out this week, and if you own him in 12 team leagues or smaller you should be too…. Jeff Samardzija has been solid over his last few starts but still don't trust him. The Twins start should be a go but I'd stay away from that Detroit start…. Mike Fiers!!!!!!!!!! How you frustrate me…. Drew Hutchison is the king of bad luck, he's once again pitching better than his 5+ ERA. With a FIP of 4.03, xFIP of 3.83, and a really low LOB% of 66% it's tough not to think better days are ahead. Problem is every time I start to believe in Hutch he burns me. I'd start him for both starts against the Rays and Rangers. Still each time I start him I get the feeling that there's a 50% chance I'm going to wake up in a sleezy motel room outside Providence, RI with my wallet missing and scar where one of kidneys used to be. For those of you unfamiliar Rhode Island is the Tijuana of the northeast. Complete with donkey shows!
Jeff Samardzija, (@MIN, @DET); Collin McHugh, (@LAA, vs. NYY); Mike Fiers, (vs. NYM, vs. MIN); Drew Hutchison, (@TB, vs. TEX)
Mike Schmidt (Streamers!!!) – Mike was very close to being the figurehead of the top two tiers but mustache wax and the ability to will ones self invisible gave Fingers and Boggs the slight edge. So no reasoning behind this I just thought I owed Schmidt's caterpillar the nod of respect that it's due…. I listened to the Streamonator last week and snatched up a gem from Tommy Milone on Wednesday against the Cards. He's coming off back to back good starts and faces the two worst lineups vs LHP according to wOBA and OPS. I'd definitely stream him for his starts this week…. I was on the fence with Jon Niese, in someways his he might be more of a good start bad start than a streamer. After all the Reds are a top 5 offense vs LHP. Thing is they aren't a great road team and I could see Niese giving you a quality start in both of his turns. He's a guy I would take a flier on in 14+ team leagues…. Jeff Locke is another lefty that faces the Reds at home. I have a little more faith in Niese than Locke vs the Natti 9, but I like the Pirates' southpaw in his second stat vs the Braves. Just like his predecessor Locke is a solid streamer in 14+ team leagues…. This week I'm suggesting strictly left-handed streamers, as CC Sabathia rounds out this tier. I love his start vs Philly for obvious reasons, but I'm not scared of his date with Astros, even though I should be. The Astros are a feast of famine opponent in fantasy this year. Some games they go off for 8 runs and kill your ratios or they have an off night and strikeout 12 times. If you decided to sit C.C. for the Astros start I could dig it, as I said they can always go either way.
Tommy Milone, (vs.CWS, @MIL); Jon Niese, (@MIL, vs. CIN); Jeff Locke, (vs. CIN, vs. ATL); CC Sabathia, (vs. PHI, @HOU)
Sal Fasano (One Good/One Bad) – It had it's good points and it's bad points. There was the handlebarred genius, and the Yankees Muzzy jail. These starters have one good start to target and one bad start to avoid.
Hector Santiago, (vs. HOU, vs. SEA); Ubaldo Jimenez, (@BOS, vs. CLE); Chi Chi Gonzalez, (vs. OAK, @TOR); Chase Anderson, (@COL, @SD); Joe Kelly, (vs. BAL, @TB)
Alvaro Espinoza (Stay Away) – This Mustache was awful just horrible….
Tsuyoshi Wada, (vs. LAD, @STL); Odrisamer Despaigne, (@SF, vs. ARI); Kyle Kendrick, (vs. ARI, @SF); Jose Urena, (vs. STL, vs. LAD); Kyle Ryan, (@CLE, vs CWS); John Danks, (@MIN, @DET); Matt Andriese, (vs. TOR, vs. BOS); Kevin Correia, (@NYY, vs. WAS); Joe Blanton, (@SEA, @OAK)
As always if any starters are added or dropped from Two-Start-dom we'll discuss it in the comments….