Man, I was coming into yesterday afternoon all pumped for today's Profile – high-caliber young gun in Noah Syndergaard going on Sunday, facing my terrible Brewers, it was going to be a monster start…  Andddddd – he plunks my favorite player Carlos Gomez in the face.  F you Noah!  You went from Chris Hemsworth to whoever played the nincompoop in Blue Lagoon.  What a ninny!  And he didn't even look remorseful, but in retrospect while re-reading my open, he was a little shaken.  Regardless, I only barely like him more than Yordano Ventura now…
Biases be as they be (I think I heard that on some rap mixtape Grey made for me), but I still gutted through an objective-as-possible Pitcher Profile to break down how Syndergaard looked and how much we can expect from him in his rookie season:
First Inning: Thor's first pitch is a 97 MPH fastball that Gomez rips at and fouls back, then Syndergaard goes curveball and CarGo is way in front for an easy infield pop up.  97 is in there to Khris Davis, then a nasty curve at 80 MPH almost gets the inside corner, 1-1.  Seeing that nice mix of power and curves, and yet another curve gets a late swing tipped back foul, then Davis with his hard-to-watch-as-a-Brewers-fan long swing misses at 98 MPH away – first K for Syndergaard and the second out: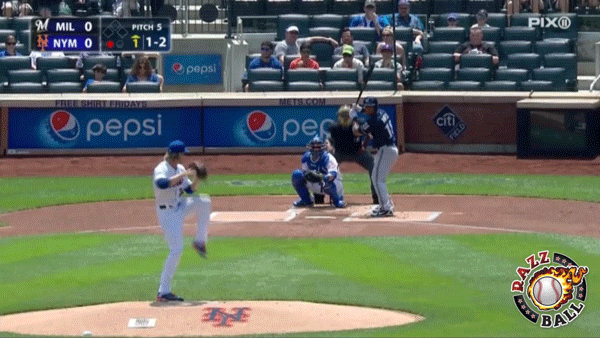 Gotta love that power arm!  And he keeps it ramped up with a perfect 98 MPH fastball on the inside lower corner for strike one to Ryan Braun, heater again fouled, 97 jams Braun up and in for a foul back, curveball at 78 is in the dirt, fastball inside again is fouled off Braun's foot, 98 right down the middle has Braun late on it foul, change-up at 88 dips low, long battle here.  Then the 8th pitch of the AB is another fastball inside, it ties up Braun trying to hold up, but he clearly goes around for two Ks in the first.
Second Inning: Syndergaard gets an early run of support and starts Adam Lind with a 95 MPH fastball in there for strike one, 96 on the outside corner has Lind swinging late and whiffing, then 97 up and in gets Lind tied up inside, and it's 3 straight Ks.  Man, pounding em right now.  Fastball is taken by Aramis Ramirez outside – first batter he's been behind on – then oh man, look at this buckling curve to get strike one: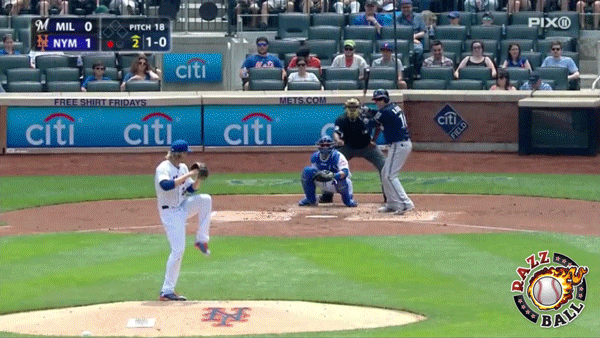 Sheesh, when you're sitting fastball and get that, yikes.  Fastball again at the knees gets Rammy to fly out to center for an easy second out.  Scooter Gennett rips at the first-pitch high fastball and cuts it foul, Syndergaard pounds another fastball in and it's hit back foul again, 0-2.  Syndergaard keeps going inside and Gennett pops it foul, and inside one more time at 98 MPH gets an easy infield pop to end the inning.
Third Inning: Up is catcher Juan Centeno making a rare start and he drags the first-pitch fastball foul, dayum this Brewers line-up is atrocious with all our injuries…  Decent 86 MPH change-up flutters outside, fastball just off the plate, 96 is inside, down 3-1.  And Syndergaard misses high and outside with the heater again for four straight balls for a walk.  Opposing pitcher Wily Peralta hitting 8th shows bunt all the way, and lays down a good one to move Centeno to second.  9th hole hitter Luis Sardinas takes an uppercut swing on the first pitch fastball low and inside and flies it out easily to right, two down.  Back to the top and Gomez barely holds his swing on a high fastball, then Gomez with his patented helmet-loss swing guesses fastball and guesses wrong at this curveball, 1-1:
You see that pretty much every other game now – hey Carlos, talk to the equipment guy and get a helmet that fits!  Stop using Bartolo Colon's!  Maybe not the best curve, but when Gomez sits dead red fastball he can go really empty.  And Syndergaard goes curve again and it moves tighter a little more laterally almost like a slider, and CarGo misses again 0-2.  Then curve one more time, Gomez is all over this one but is barely under it for an easy flyout to left.  That said, Gomez swung hard and missed that by a millimeter; he even lets out a likely curse word right after contact.
Fourth Inning: Whoa, Syndergaard again starts with that knee-buckling curve to get strike one on Davis.  The fact he can hook that in for strike one is fantastic.  Fastball is fouled back, 97 up high is again fouled back, curve bends too far inside, then the 1-2 is a 96 MPH fastball laced hard to left, but Michael Cuddyer is able to snag it for the first out.  First hard contact thus far.  The crowd boos Braun who takes a nice curveball that goes a bit too low, then Braun reaches for 98 MPH that was likely outside for an easy grounder to first, two down.  Syndergaard gets a perfect painting fastball on the outside corner for strike one on Lind, Lind fouls back a 98 MPH fastball, a curve that hung a tad is laced just foul, fastball low and outside is flared foul, still 0-2.  An 88 MPH I think change-up is in the dirt – he hasn't really found that pitch yet – but he tries it again and 88 MPH hangs in the zone and Lind crushes it for a single.  Bad pitch selection there – you're up 1-2 in the count, just threw a bad change, I don't like it.  Then Syndergaard misses way outside with the fastball – probably his worst one – 1-0.  Then Thor misses way way inside and almost hits Ramirez hopping back, 2-0.  Over comes I think Eric Campbell from third for a quick chat, and yeah after finally giving up a hit, Syndergaard indeed seems a little rattled.  2-0 98 MPH fastball is right down the middle, but the terrible Ramirez pops it foul instead of working the count and Syndergaard is out of the inning with it caught first base side.  Horrible decision to swing at that, even though it was hittable.  Make the rookie work his way back into the count, ya schlub!
Fifth Inning: The Mets pile on and give Syndergaard a 5-0 lead, and Gennett takes a 95 MPH fastball in there for strike one, Scooter rips an inside fastball foul, curve is low, back-to-back fastballs are fouled off, 98 on the hands is tipped back foul, then Syndergaard gets absolutely hosed on a curveball that was all in the zone, 2-2.  Hey, I told you I'm objective!  Then another inside fastball is rolled over weakly to first for an easy first out.  Fastball is low and inside to Centeno, 97 high and tight gets an easy flare to left, another easy out.  Pitching everyone inside.  Syndergaard is way outside to Peralta, 97 is in there, 97 again is taken all the way 1-2, then 97 paints the outside corner for his 4th K.  Not much an opposing pitcher could do with that anyway.
Sixth Inning: At only 65 pitches, Sarinas takes a fastball in there, 96 is high, 96 on the hands is blooped foul, 1-2.  Keeping it inside.  97 yet again inside is popped back foul, a great curveball just misses outside, 2-2.  That one was close but I think indeed was off the plate.  Then 97 again inside, and the young Sardinas has made a good adjustment and turned on it, but it's just foul.  Easily had home run distance – which is surprising since he's hit only 6 HR in over 1,000 AB in the Minors.  Then Syndergaard tries that change-up and it again costs him – Sardinas pokes it to the third base gap and gets a leadoff single.  That change-up is just not ready – it was fluttering out of the zone but hung with no break.  Up is Gomez and we all know what happens and my heart rate is going nuts, 96 is inside but he hits it back foul, then 97 is the killer and hits Gomez in the face.  Luckily it was off the helmet just below the ear hole and Gomez avoided a concussion, but he indeed comes out of the game.  Damn, nice reaction from Gomez on a 97 MPH fastball, he had to turn away from it to get it off the helmet – a millisecond slower and it gets him in the jaw.  Man, you can see the ear flap's red wrinkle across Gomez's cheek!  Maybe the equipment guy did his job well with the helmet after all!  Gomez is able to walk off, Syndergaard has to regroup, and his first pitch to Davis is a high 95 MPH fastball, 1-0.  Davis foul tips into the mitt a 95 MPH fastball, curve is low, 96 is high, down 3-1.  95 is high but in the zone with Davis swinging, and it's right back into the catcher off the mask, 3-2.  Man, dangerous game right now.  Luckily Johnny Monell is OK and the payoff pitch is 97 rolled foul, then one more time is another 98 MPH fastball Davis has no answer for, and Thor gets the first out: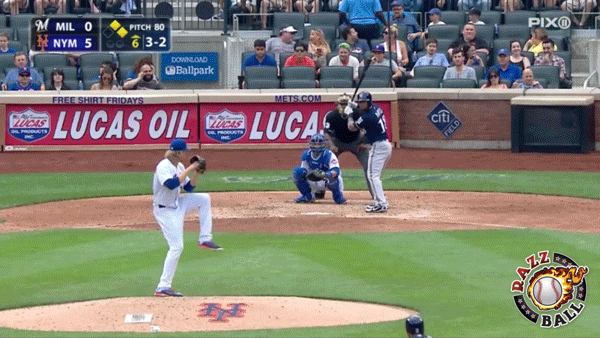 Righties with long swings have no chance.  And Syndergaard with that strike one curve is in there on Braun, 0-1.  Such a weapon.  Then he follows it up with 98 away and Braun is late and under it whiffing, 0-2.  Syndergaard then tops it out at 99 and Braun is late and fouls it off, 98 gets another foul, then a nasty nasty curveball at 79 gets a late swing and it's fouled back to spoil it, still 0-2.  That was probably in the zone too, just all-out attack.  Curve again just off the outside corner is tipped back foul, and the Mets broadcast is all but screaming for Synergaard to pound inside.  Change-up at 89 is in the dirt – Mets broadcast hates it – then 98 again on the outside corner is rocketed by Braun to right for a hard hit single scoring Sardinas.  It wasn't a terrible pitch, but Braun is great at inside-outing outside pitches and Syndergaard didn't want to go in.  Maybe some lingering effects of the Gomez HBP.  Up is Lind with runners at the corners and he takes 97 way outside, and out comes Monell for a brief pow wow.  Again outside 2-0, 88 MPH change-up flutters way outside, 3-0.  Change-up is just not there.  97 paints the outside corner – BIAS ALERT!  It looked outside.  Then the 3-1 is a 96 MPH fastball up at the letters and Lind pops it weakly to left.  It was a hittable pitch, but Lind didn't get the bat high enough.  Then Ramirez swings at the first pitch fastball, it's driven pretty well to center but doesn't quite make the track and Ramirez again bails Syndergaard out with a bad at bat.  Sigh.  Oh yeah, this is about Syndergaard!  Showed some good moxy to get out of the inning and avoid the 6th inning blowup that ruined his debut, and the Mets easily hold on 5-1 to get his first Major League win.
Final Line:  W  6.0 IP  95 Pitches (67 Strikes)  1 ER  3 Hits  1 Walk  5 K  Gamescore: 66  Gamescore+: 69.8
Final Analysis: I really think that top-20 to top-25 potential is there right now…  But I can't quite rank it out that way – it's only been 2 starts – and his lack of a third pitch is scary.  And I will cut him a little slack on that Gomez HBP – Syndergaard's game plan was to pitch inside all game so it's not like it was a show pitch that got away or anything like that.  But subjectively, listen to today's Podcast for my real thoughts…  His Gamescore+ came out very favorably compared to his Gamescore due to a lot of weak contacted outs – although it is worth mentioning Gomez almost crushed one his second AB and Sardinas yanked one just foul himself.
It obviously all starts with the fastball – just ask Carlos Gomez's face – as it constantly hit 97-98 and topped out at 99 in the 6th on Braun.  He was locating it well all night, able to move in and out of the zone.  It was especially impressive to see him pitching well inside to both righties and lefties; the only mistake was the HBP to Gomez.  Really his only other ML-ready pitch is the curveball, but it's a dandy.  Able to drop it in for strikes and also drop it into the dirt to get Gomez-helmet-losing swings, he had a great command for it all day.  Then there's the big question – will his change-up ever come around?  It was not a good pitch yesterday, as he only threw maybe 7-8 and two of them yielded 2 of the 3 hits.  They were either hittable in the zone or way in the dirt.  If he showed any promise with that pitch, I'd be all about Thor's hammer.
The easy comp is the lefty rookie who came up at the same time, Carlos Rodon.  Both with blow-em-away fastballs and a fantastic breaking ball, but Syndergaard has better command with both of his pitches.  Neither have a third pitch, and I think we're going to continue seeing the effects of that as he goes through the order a third time.  The 6th inning in his debut against the Cubs ruined his first outing, and it took 30 pitches to get through the 6th in this game.  Fortunately the Brewers bats (cough, Aramis) bailed him out.  Plus, other than Lind, the Brewers have no real lefty presence.  As Syndergaard faces better lefties and teams a second or third time, I think he'll show some warts.  But for now I think he makes an immediate short-term run.  It also helps he's in probably the best division to pitch against with some lowly O.
JB's Updated Top 100 SP
(rankings based on 12-team Roto, green for risers, red for fallers)
| RANK | SP, Team |
| --- | --- |
| 1 | Clayton Kershaw, LAD |
| 2 | Felix Hernandez, SEA |
| 3 | Max Scherzer, WAS |
| 4 | Corey Kluber, CLE |
| 5 | Chris Sale, CWS |
| 6 | Madison Bumgarner, SF |
| 7 | David Price, DET |
| 8 | Matt Harvey, NYM |
| 9 | Johnny Cueto, CIN |
| 10 | Zack Greinke, LAD |
| 11 | Jake Arrieta, CHC |
| 12 | Cole Hamels, PHI |
| 13 | Gerrit Cole, PIT |
| 14 | Stephen Strasburg, WAS |
| 15 | Garrett Richards, LAA |
| 16 | Sonny Gray, OAK |
| 17 | Michael Pineda, NYY |
| 18 | Carlos Carrasco, CLE |
| 19 | James Shields, SD |
| 20 | Michael Wacha, STL |
| 21 | Jon Lester, CHC |
| 22 | Jacob deGrom, NYM |
| 23 | Collin McHugh, HOU |
| 24 | Danny Salazar, CLE |
| 25 | Jeff Samardzija, CWS |
| 26 | Dallas Keuchel, HOU |
| 27 | Tyson Ross, SD |
| 28 | Chris Archer, TB |
| 29 | Jordan Zimmermann, WAS |
| 30 | James Paxton, SEA |
| 31 | Francisco Liriano, PIT |
| 32 | Andrew Cashner, SD |
| 33 | Julio Teheran, ATL |
| 34 | Jason Hammel, CHC |
| 35 | Lance Lynn, STL |
| 36 | Jesse Chavez, OAK |
| 37 | Scott Kazmir, OAK |
| 38 | Yordano Ventura, KC |
| 39 | Jake Odorizzi, TB |
| 40 | Alex Wood, ATL |
| 41 | Carlos Martinez, STL |
| 42 | Trevor Bauer, CLE |
| 43 | A.J. Burnett, PIT |
| 44 | Anibal Sanchez, DET |
| 45 | Gio Gonzalez, WAS |
| 46 | Jose Quintana, CWS |
| 47 | Masahiro Tanaka, NYY |
| 48 | Shelby Miller, ATL |
| 49 | Noah Syndergaard, NYM |
| 50 | Jose Fernandez, MIA |
| 51 | J.A. Happ, SEA |
| 52 | Phil Hughes, MIN |
| 53 | Mike Fiers, MIL |
| 54 | Mat Latos, MIA |
| 55 | Carlos Rodon, CWS |
| 56 | Matt Shoemaker, LAA |
| 57 | Patrick Corbin, ARI |
| 58 | Rubby De La Rosa, ARI |
| 59 | Jimmy Nelson, MIL |
| 60 | Aaron Harang, PHI |
| 61 | Bartolo Colon, NYM |
| 62 | Chase Anderson, ARI |
| 63 | John Lackey, STL |
| 64 | Ian Kennedy, SD |
| 65 | Taijuan Walker, SEA |
| 66 | Drew Hutchison, TOR |
| 67 | Kyle Hendricks, CHC |
| 68 | Shane Greene, DET |
| 69 | Edinson Volquez, KC |
| 70 | Drew Pomeranz, OAK |
| 71 | Rick Porcello, BOS |
| 72 | Jered Weaver, LAA |
| 73 | Chris Heston, SF |
| 74 | Jesse Hahn, OAK |
| 75 | Archie Bradley, ARI |
| 76 | Mike Leake, CIN |
| 77 | Miguel Gonzalez, BAL |
| 78 | Nate Karns, TB |
| 79 | Jon Niese, NYM |
| 80 | Clay Buchholz, BOS |
| 81 | Nathan Eovaldi, NYY |
| 82 | Danny Duffy, KC |
| 83 | Anthony DeSclafani, CIN |
| 84 | Alfredo Simon, DET |
| 85 | Ubaldo Jimenez, BAL |
| 86 | Wei-Yin Chen, BAL |
| 87 | Wily Peralta, MIL |
| 88 | CC Sabathia, NYY |
| 89 | Jake Peavy, SF |
| 90 | Kevin Gausman, BAL |
| 91 | Tim Hudson, SF |
| 92 | Tim Lincecum, SF |
| 93 | Kyle Lohse, MIL |
| 94 | C.J. Wilson, LAA |
| 95 | Alex Colome, TB |
| 96 | Aaron Sanchez, TOR |
| 97 | Brandon Morrow, SD |
| 98 | R.A. Dickey, TOR |
| 99 | Henderson Alvarez, MIA |
| 100 | Lance McCullers, HOU |
Dropped Out: Doug Fister, WAS (flexor strain, yikes), Hisashi Iwakuma, SEA (suffered a setback with his lat, was regressing hard anyway, I don't know that another 1-2 months out is worth holding in the top 100 if you don't have DL room), Hyun-Jin Ryu, LAD (more and more setbacks with that shoulder), Travis Wood, CHC, Chris Tillman, BAL (slight back issue, major being bad issue)
Thoughts on Thor?  Any ranks have you want to hit me with a hammer?  As always, shoot your thoughts below and happy pitching Razzball Nation!