Joey Gallo has struck out in 43.5 percent of his at bats this season. Sweet Iván DeJesús! In points leagues the penalize for strikeouts that's a death sentence. Talk about hanging from the gallows. While he does have twenty home runs, it feels almost like tits on a bull at this point. Ignoring the run scored and RBI, a home run is worth four points. Gallo's twenty bombs are worth 80 points. In -1 point strikeout league his strikeouts are worth -102 points, completely erasing his homers. Now let's include the guaranteed run scored an RBI that comes with a home run. Now his twenty long balls are worth 120 points. I thought about titling this post "Long Balls", but I didn't want to offend our senior male readers. Thanks to his 102 strikeouts, his twenty homers are now worth 18 points. Paul Goldschmidt scores 18 points with his eyes closed. And lastly, the best case scenario is a league that only penalizes half a point for a K. In this case his twenty moon shots are worth 69 points. 69 dudes! As far as points leagues that don't subtract for strikeouts are concerned, I literally refuse to acknowledge their existence. Gallo has more home runs than any other third baseman yet he's not even a top-25 3B.
Keon Broxton is on pace to fall just short of a 30/30 season. I remember when a 30/30 season was something only superstars could achieve. We're talking Rickey Henderson level shit here. Despite a horrendous start to the season, Broxton has turned into the power/speed combo that many were excited about before the season began. But guess what. Along with those 30 homers and 30 stolen bases, he's on pace for 212 strikeouts. At the moment he has 101. His 13 homers (78 points) and 13 stolen bases (13 points) total 91 points. His -101 points for striking out bring his total to -10 points, completely wiping out his 30/30 numbers. What does this all mean? He's shit in points leagues.
Do you remember how many times I told you that Chris Davis should never be drafted in points leagues? I'm too lazy to go back and link you to all the instances, but trust me, I hate that strikeout machine. In 214 at bats he now has 14 long balls and 95 strikeouts for a total of 97 points. I realize he's on the DL, but if you actually own this guy you should stop reading my posts.
Kris Davis (101) and Miguel Sano (100) also already have at least 100 strikeouts. The difference with them is that it hasn't been strikeout or home run. While Sano has been more productive with this plate appearances, both have hit their fair share of base hits. I wouldn't quite consider either of them must starts, but they are must owns, unlike the previous three players I've discussed.
At this point the only batter that's been striking out a ton that is a must start is Aaron Judge. Despite striking out 35 percent of the time, Judge has managed to score 273 fantasy points. Only Paul Goldschmidt (309) and Joey Votto (294) have more. The kid is well on his way to an American League Rookie of the Year and MVP Award.
Here's what else is going on my point leagues. I'm currently in several leagues, but here is how I am doing in a few leagues of relevance.
CBS Experts Head-to-Head Auction League
This league consists of mostly experts from the CBS Fantasy Sports teams. Myself, Lance Brozdowski and a few others were lucky enough to get an invite to participate. Well after twelve weeks I find myself in first place. I must admit that I have gotten lucky a few weeks, playing a team that didn't quite score many points. However, that is the way the cookie crumbles in head-to-head points leagues. Losing Noah Syndergaard has hurt, but thankfully since Corey Kluber returned from the DL he has been lights out. My top batters, believe it or not, have been waiver wire additions. Cody Bellinger and Mark Reynolds have been leading the charge amongst my bats. In just about every season prior to this, one would have expected to see Reynolds listed in the top section where I discussed hitters that erase their home run points by striking out.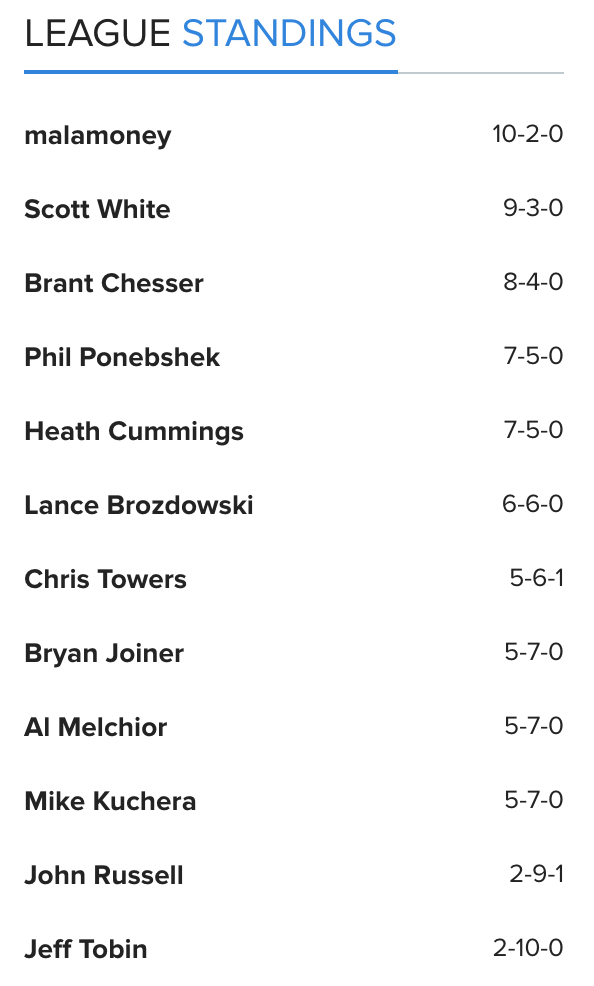 The Experts Points League
This points league is comprised of twelve fantasy baseball analysts/experts/writers across multiple websites. For more details on who is in this league you can read this older post I wrote earlier in the season. As it stands now, Steve Rapin of Fighting Chance Fantasy is leading the charge with just over 6000 points. This is a season long weekly points league. Tanner Bell (Smart Fantasy Baseball) is not too far off in his rear view mirror trailing by 189 points with 5860. My team is in fifth place with 5218.5 points. I've got a long ways to go to catch Steve, but at the moment I have my sights set on passing the Fantasy Six Pack team who is just 68.5 points ahead. Heck, I should be able to make up that ground once Freddie Freeman returns next week (fingers crossed). My problem in this league is that my pitching staff sucks. Alex Wood is my ace and I got him off waivers. Michael Pineda has been better than expected but Jose Quintana, Julio Teheran, Tanner Roark and Danny Duffy have not.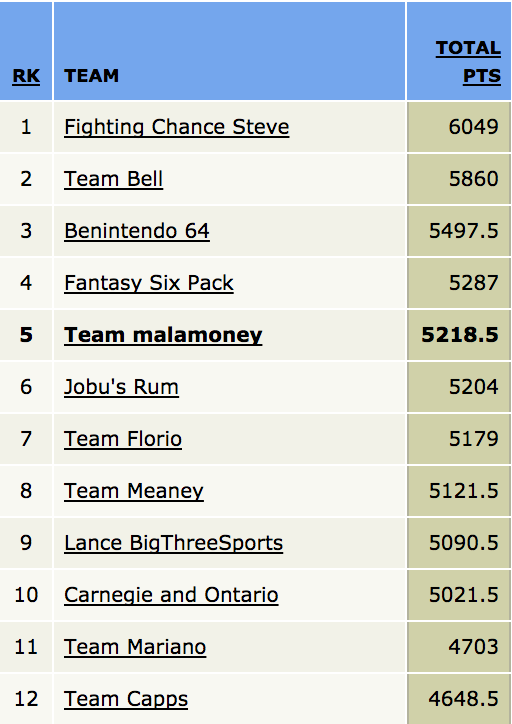 League of Kings
This is a ten-team league that I have been in with the same people for the last fifteen years. The skill level of every owner is top notch, and that's just the way I like it. Unfortunately it's another head-to-head points league with some rules that are in serious need of modernization. But since the league has been around for so long and it's the main way a lot of us stay in touch, we all just keep coming back year after year. In those fifteen years I have three championships, two second places and two third place "here's your money back" finishes. My keepers coming into this season were Paul Goldschmidt, Freddie Freeman, Joey Votto, Francisco Lindor and Stephen Strasburg. Not too shabby. I am happy to say that despite losing Freddie Freeman, Adam Eaton and Jon Gray I have been in first place since week 1. Fortunately I will get two of those three back in the next two weeks. With Goldschmidt and Votto leading all hitters in points, my bats have been carrying my squad. Now I just need Mashairo Tanaka and Quintana to start pitching like the early round draft picks that they were. My team is Baba Booey.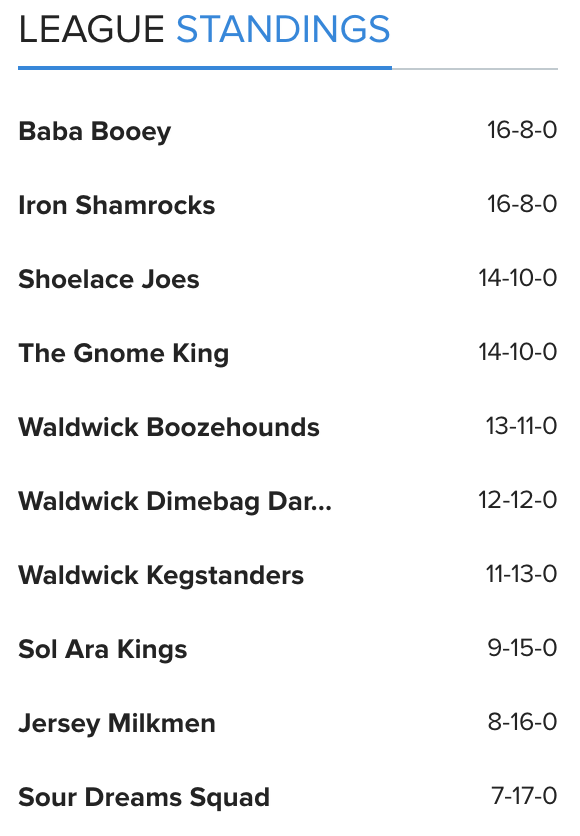 malamoneyball
I am actually in two of these leagues. This is a modified points league I created in order to attempt to eliminate as much luck as I can. In brief, I hate in head-to-head leagues when your team scores the second most points in the week only to play that one team that scored more than you. You end up with a loss for the week while some team that scored a measly 150 points gets a win. Total bullshit. For more on the rules of malamoneyball see this post. In my opinion it's a pretty cool concept. Each week you play two games. One against another team in the typical head-to-head fashion, and another against the entire league. At the end of the week the teams in the upper half for that week with respect to points scored that week gets a win. Those in the bottom half get a loss. This goes a long way to evening out my earlier example where you scored the second most points and ended the week with a loss.
As I mentioned, I am in two of these leagues. The first is with people from my personal life. This is a 12-team auction league. I forgot to mention that malamoneyball are auction leagues. I do not like snake drafts. In this league I am currently in second place. Big shout out to my final pick of the auction of Cody Bellinger for $1. He's going to make quite the keeper next year! Unless I trade him for Clayton Kershaw, Max Scherzer or Mike Trout. Surprisingly Jose Abreu leads my teams in points with Jake Lamb just behind. Because ESPN has no way to keep track of the extra game each week against the league, I have to compile the standings each week manually.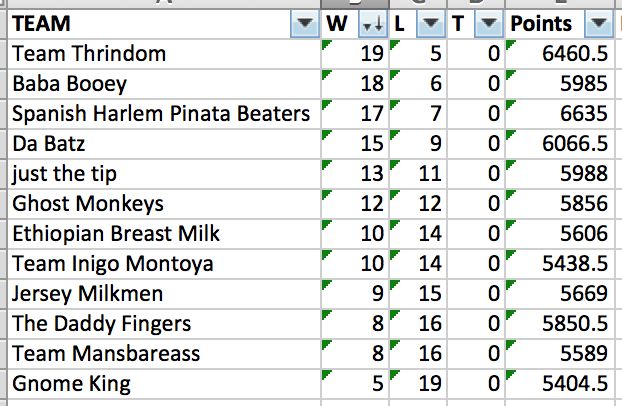 The second instance of this league is with Razzball readers/commenters. When I came up with the idea for this league last year I reached out to the readers and quickly filled up a league. I am sitting in 4th place in this league, but I feel like I've bit a tad bit lucky. Although it will be nice to have Freeman and Jon Gray back. It seems I own both of them in several of my leagues. I am currently considering if it makes more sense to hold onto Corey Dickerson and Jose Berrios, both $1 keepers, or move them to a team that is out of contention for a high priced stud they'd be foolish to keep. I could use the boost right now as I'm close to the top, but having them as keepers next year would be a great start. Two dollars total for both of them!
I am Pretty Hate Machine. I feel a bit like Iron Man saying that.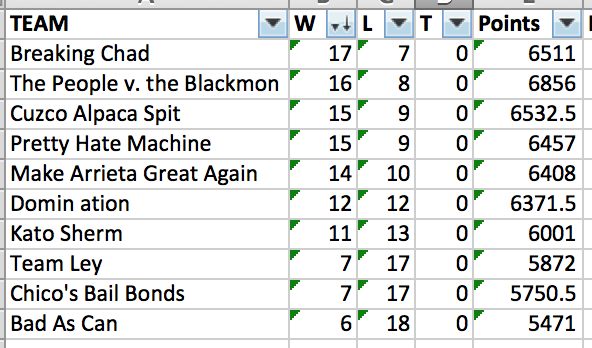 How are you doing in your leagues?
Follow malamoney on Twitter at @malamoney