For those of you familiar with online auction draft rooms, you know the constant refrain to which the article title refers. Waiting for that final, SOLD, to make sure you can mark the player off your list. Well, I was invited to join the CBS NL auction league hosted by Scott White with many names that you're likely more familiar with than mine.
Spreadsheets on Spreadsheets
Let me start by plugging Rudy's tools as part of the Razzball subscription. The War Room alone is worth the price of the subscription and is something I take into every roto or categories draft. Grey can give you the hard sell over in his write up though.
I combine Rudy's War Room with my auction values. I think of auction values in tiers of players with a range of dollar amounts for that tier. If you have a dollar values assigned to tiers rather than specific player values, you can wait for the value or anticipate the cliff coming in that tier rather than being strict on a specific number.  There is, of course, that delicate balancing act between not overspending early when everyone is flush with money and waiting too long while missing out on all of the top options.
Before entering the auction, I lay out the positions on a spreadsheet and input various dollar amounts for different spending in the auction. It helps me to see what rosters may look like if I take a $45 Christian Yelich vs a $30 Pete Alonso. How spending various amounts at hitting vs pitching can adjust a team's construction.
It's nothing fancy, just an Excel spreadsheet using the sum function at the end of each column.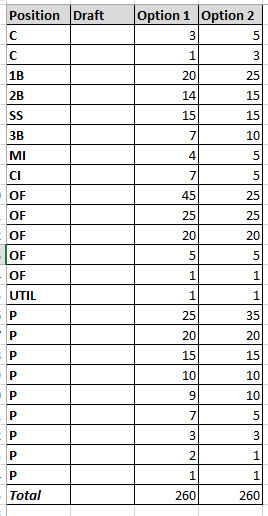 As the auction progresses and I win a player, I assign the total across the different options, which gives me a live sandbox to see how my spending looks for the rest of the auction. Maybe it's because I lack any form of impulse control, but seeing that spending $30 on a player midway through the draft will leave me with only a $10 max bid left tends to curb my enthusiasm more than simply having to click, "bid +$1", and worrying about it later.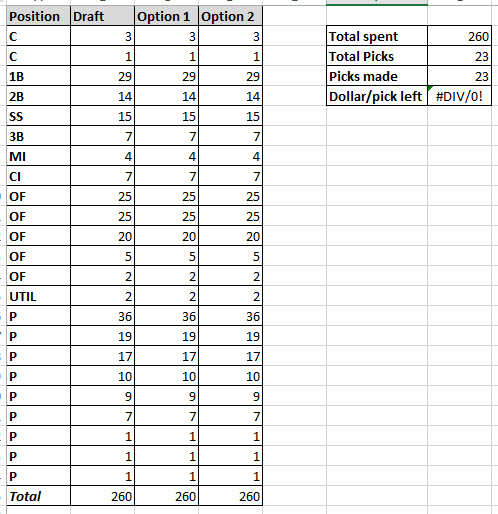 Golden Rule
No, this isn't some rhetoric about how you HAVE to perform in an auction. Auctions are great because it allows a drafter to be as conservative or aggressive as they want to rather than simply waiting for somebody to fall to you in a snake draft. The Golden Rule is, nobody cares about your fantasy team. However, that's kind of the point to this write up, so, here we go.
The Squad
C: Tyler Flowers, $3
C: Tony Wolters, $1
1B: Pete Alonso, $29
2B: Gavin Lux, $14
3B: Matt Carpenter, $7
SS: Kevin Newman, $15
CI: Johan Camargo, $4
MI: Starlin Castro, $7
OF: Kris Bryant, $25
OF: Tommy Pham, $25
OF: Kyle Schwarber, $20
OF: Franchy Cordero, $5
OF: Hunter Pence, $2
UTIL: Brendan Rodgers, $2
P: Walker Buehler, $36
P: Zac Gallen, $19
P: Dinelson Lamet, $17
P: German Marquez, $10
P: Will Smith, $9
P: Dustin May, $7
P: Michael Wacha, $1
P: Kyle Wright, $1
P: Vince Velasquez, $1
RES: Cole Tucker
RES: Shane Greene
RES: Corey Knebel
RES: Tyler Chatwood
RES: Touki Toussaint
RES: Dan Winkler
RES: Robert Gsellman
The Bats
Knowing some of the draft habits of the room, I assumed that Acuna, Yelich, Bellinger, and Degrom would all go for $40+. As stated previously, I was going for a more balanced approach, so, unless one of them went for under $40, I'm out on the elite tier :( . For my top tier bats, I wanted to spread out the money I allocated ($160) for hitting to have starters at each position with a couple fliers at MI or CI potentially.
I spent $29 on the 2019 home run champ. It's not a great average for the highest salaried hitter on my roster, but with a 45+ HR threat in the lineup, I figured I could make that difference up later. We're talking about a rookie that had the 2nd best barrel rate in the majors last season.
After Alonso, I pieced together the rest of the higher end offense with Kris Bryant and his dual eligibility. Grey hates him, but a healthy KB could put up similar numbers to mixed league second round pick Rafael Devers and with positional flexibility. Plus, I think he may have some extra motivation this season after losing his arbitration hearing.
Tommy Pham gives me some much needed stolen bases, but by no means an empty at the other categories. Add in some steals from Kevin Newman, Gavin Lux, and a handful from a few other players and I have a start. Stolen bases are one area that I have to monitor closely early in the season and either look to be aggressive on the wire or potentially look at making a trade.
Kyle Schwarber was my other buy in the OF. He could burn me, yet again, but Schwarber made real changes to his approach in the 2nd half and one can only hope they carry over into 2020. We've seen Schwarber get hot for half of a season before, but this was more than that. His K rate in the 2nd half last season dropped south of 22%, which is not only the best mark for any half season, but even any month of Kyle's career. These adjustments came with a .280 average, a 2nd half 151 WRC+, 20 HRs, and a .366 OBP over the course of 257 PAs.
I admit that I got caught on Gavin Lux, as I was looking to spread his $14 around to the MI as well, but a $14 Lux is still a solid buy. My one concern for Lux is that he will be hitting at the back end of the lineup, but at least it's one of the best lineups in baseball. I need Carpenter to stay healthy and one of Camargo, Rodgers, or Tucker to win a job for my MI spot. It could be a crowded outfield in San Diego, but if they can find someone to take on Wil Myers contract, I do believe Franchy could hit 25+ HRs. Hunter Pence is admittedly gross, but he went to the one team that may give him real playing time and he did manage to hit .297 with 18 HRs and 6 SBs last year in only 316 PAs.
The Arms
Considering the $160/$100 split that I wanted to accomplish between hitting and pitching, I feel that my pitching staff is strong and among the top 3 in the league without sacrificing too much on the offensive side. The 3 pitchers that I spent money on were all high upside, high K pitchers that shouldn't have any rotation questions. Innings and strikeouts are what I want in an NL/AL only league and then I will figure out the rest as I go using Rudy's Streamonator and Hittertron.
If this was just an auction with Grey, Marquez likely would've gone for about $2.50 and a jawbreaker, but at $10, I felt his upside was worth the gamble. It wasn't a pretty year for German and I'll have to play the match ups home and away, but he did get his K rate back above 26% in the 2nd half and I'm hoping at least the strikeouts will be there. Marquez's terrific 2018 2nd half was at least partially due to an increased use of his nasty slider. He dialed it back and went more balanced with the curveball in 2019, but hopefully, he'll get back to the bread and butter of fastball/slider in 2020.
The bullpen is a weak spot for my pitching with only Will Smith as even a potential closer breaking camp. With approximately 60% of MLB bullpens turning over in 2019, I'm trying not to invest heavily into many RPs this season. Will Smith isn't the official closer, but I don't trust Mark Melancon to keep the job or even stay on the field. Will Smith is clearly the better pitcher at this point in their careers.
I took a couple of flyers at RP with Shane Greene as a backup to Melancon/Smith. Corey Knebel who could, in theory, take his closer role back at some point if the Brew Crew decide to put Hader back into high leverage, multi-inning outings again. Dan Winkler has been a solid reliever for the Braves and now joins a Cubs team with no clear backup plan should Craig Kimbrel fail.
The last piece of the 'pen was a few guys that may fluctuate between reliever and starter in 2020. I took Tyler Chatwood who is penciled in as the 5th starter (as Cubs fan shake their head in disgust). Touki Toussaint was a top starting pitcher prospect as recent as last year. He has a shot at the rotation, but also showed he can be electric in relief. Did I mention I don't believe in Mark Melancon?
Then, finally, I grabbed Robert Gsellman. Failed starter turner reliever, but may be given an opportunity at a starting gig again. Plus, he was terrific in the bullpen and can be a nice fill in to maintain some ratios. If you're looking for RP ratios at the end of your draft, I prefer some of the converted starters that can throw multiple innings as the 3 batter minimum may hurt some of the more traditional relievers.
The Rest of the Story
If you want to see what Grey had to say about his NL auction, you can read about it here. Or if you'd rather listen to Donkey Teeth, Grey, and myself talk about the auction, you can listen to that podcast here. And last, here is the CBS write up and the full draft results.