It's the Winter Meetings, Part 2:  This Time Free Agents Are Really Signing.  Starring as Eric Hosmer is Turtle!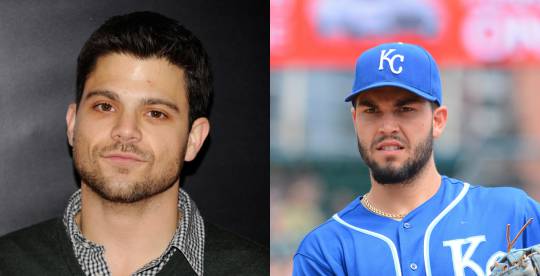 Starring as Wil Myers is your goofy friend from high school who now works for Enterprise Rent-A-Car: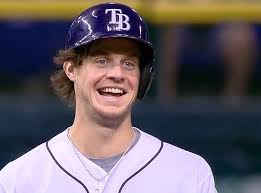 Trailer Voice, "What if all of MLB's owners weren't in collusion….But just the rich teams!"  In the last few days, the Padres, Twins and Rays got some deals done, which is kinda like shuffling the deck chairs on the Titanic.  Some 'perts will likely move Hosmer down in their rankings, but I always assumed Hosmer would be a Padre, and ranked and projected him as one in my top 20 1st basemen for 2018 fantasy baseball.  There, I said, "Here's what I will say when Hosmer signs, "I made the case last year that Hosmer was Joey Votto Jr.  I called him Kangaroo Embryo.  I just thought of a kangaroo wearing a Kangol, but I've never thought about an alligator wearing an Izod shirt, I'll have to discuss this with my shrink.  At one point, Wil Myers said he'd move to the outfield for Eric Hosmer to come to the Padres, and I thought to myself, "If I were Hosmer, I'd tell Myers to please not do me any favors."  San Diego is like the Trojan Horse of cities (for baseball and just visiting).  It's like this, "Oh, man, San Diego is gorgeous.  What's this, 77 degrees every day?  I can get used to this!"  Five minutes later, "I am bored out of mind."  Five minutes after, "Damn, can we get out of here?"  Ten minutes after that, "If I see one more white person in flip-flops I'm going to readily embrace going to Tijuana."  Any hoo!  Hosmer isn't exactly a home run hitter.  His fly balls were goofy low last year for a guy with 25 homers.  He was the third lowest for fly balls (22.2%), fourth highest ground balls and the 29th lowest for Hard Contact.  He does hit a decent amount of line drives, and feels like a 23-26 homer guy with a few more fly balls.  He might be Kangaroo Embryo this year, but to emulate Joey Votto Jr. he's going to need to elevate the ball more."  And that's me quoting future me!"  And that's me quoting me quoting future me!  Anyway, here's what else I saw in spring training for 2018 fantasy baseball:
Jake Odorizzi – Traded to the Twins.  Twins ordered eggs Odorizzi, but all I see is: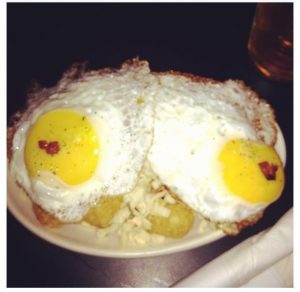 I see no discernible change from Tampa to Minny.  Odorizzi's home ERA in his career was 3.40 in 384+ IP vs. 4.35 in away games, but it's relatively standard for a guy to pitch better at home.  Everyone's better at home — you sleep in your own bed, you're in front of your own fans, you're able to make eggs into boobs at your favorite greasy-spoon diner.  Odorizzi is still in a tier to draft late in the top 80 starters for 2018 fantasy baseball.
Anibal Sanchez – Signed with the Twins to bridge the gap to Ervin Santana's return.  Shame the Twins refuse to give Stephen Gonsalves an opportunity, since he's going to be 24 years old and a top 100 prospect.  That should read, "Twins' refuse to give Stephen Gonsalves an opportunity."  Alas, the Twins signed a 34-year-old with a 6.41 ERA last year.
C.J. Cron – Traded to the Rays, as they DFA'd Corey Dickerson.  Um, huh?  I mean, I like C.J. Cron, but the Rays DFA'd arguably their best hitter?  Rays are trying to prove Marlins aren't the only Florida team that can tank.  How about this, Rays scheduled Cron job at 1B but I just C-Dick.  This is great news for Cron since he'll no longer have to fight The Sciosciapath's worst instincts….Actually, might be The Sciosciapath's best instinct all those years to bench Cron, which is still good news for Cron.  Finally, Cron gets to become Napoli away from The Sciosciapath.  In my top 20 1st basemen, I moved Cron up and his projections.
Corey Dickerson – As mentioned above, Dickerson was DFA'd by the Rays.  Ya know, the Rays best hitter.  Trailer Voice, "Since the rich teams were in collusion, then the poor teams decided to become…poorer!"  Cut to:  Rays pouring their best players out onto the curb.  "Not that kind of poorer, but okay!"  I haven't yet moved Dickerson in my rankings, because he won't be without a team for long.
Chris Carter – After trading away Cron, the Angels decided to sign Carter, aka the Wakandan C.J. Cron.  Apparently, Black Panther really impacted the Angels.  Shane Victorino wished they had just watched Moana.
Krispie Young – Signed with the Angels to act as a left-handed bat.  With signing of Chris B. Young, Angels fans now have a reason to call Kaleb Cowart, "Kale B."
Yasmani Grandal – Dave Roberts announced Grandal would be the starting catcher, against at least righties.  I.e., the Dodgers would've won the World Series if they started Grandal.  In my top 20 catchers, I've adjusted Grandal and Barnes.
Ryon Healy – Out 4-6 weeks after having a bone spur removed from his hand.  Healy feels to me like one of those guys that always seems to have a chance to break out in December, then, by the time the season rolls around, he's nursing something and fiddling-faddling up his value.  Mariners have two prominent examples of this type of player with Healy and Haniger.  The M's also have the brother of the all-time king of this type of player.  Maybe Ben Gamel can get Mat on the phone to tell these guys what to avoid.  Since Healy was already down for less than 500 ABs, I haven't yet moved him in my top 20 1st basemen for 2018 fantasy baseball, but I may still do it if he's not back by end of the spring.
Eduardo Nunez – Signed with the Red Sox.  Solid landing spot for him (less so for J.D. Martinez.  Right now, J.D.'s at City Hall like, "Can I change my name from Just Dong to Job Damnit?"  Nunez will fill-in early on for Dustin Pedroia, then play all over the field, and all over the bench when he's filling in for Hanley, who's a solid sneeze away from a 60-day DL stint.  I haven't moved Eduardo Nunez in my top 20 2nd basemen for 2018 fantasy baseball, because he always seems to get his stats whether he has a starting job or not.
Danny Salazar – Indians said Salazar is "a couple of weeks behind," but that's not true.  He's a few weeks ahead of his first setback.  Salazar is in a pitching tier in my top 60 starters where I wouldn't be drafting him, and this obviously doesn't change that.
Seung Hwan Oh – Turned out the Rangers did not sign Oh, so I removed him from my top 500 for 2018 fantasy baseball.  Guess that means it's his *pinkie to mouth* swan Seung.  I'm now back to Alex Claudio being in the lead for the Rangers' closer job, but to say I'm confident in that is to say I'm lying to you.  Sorry, you're just so trusting.
Edinson Volquez – Signed with the Rangers.  He will miss 2017 with Tommy John surgery, or as they call the surgery in Dr. James Andrews' house, "Gimme dem duckets."
Jason Vargas – Signed with the Mets to be their 5th starter, and will become their 2nd starter when three other currently unnamed Mets starters get hurt.  It's kinda hilarious how the Mets said Vargas will be their 5th starter.  Why so funny?  Count with me:  deGrom, Syndergaard, Harvey, Wheeler and Gsellman.  They had five starters already, but they just assumed someone was already hurt.
Gerardo Parra – Underwent hamate bone surgery on February 16th and said he'd be ready on March 8th, i.e., he thinks he's going in for a teeth cleaning.  Yo, Gerardo, your hands made of teeth?  You got teeth hands that you can just clean?  Seriously, three weeks for hamate bone surgery seems aggressive.  Parra's already ranked fairly low in my top 500, so I didn't adjust him (yet).
Andrew Cashner – Signed with the O's.  It's almost like the O's front office is strategically putting together a pitching staff because they own a lot of Yankees hitters in their fantasy league.