This weekend, I went to an Ikea for the first time.  First of all – you are herded through the store on a specific path like you're being herded alongside other furniture-buying sheep.
Bahhhhhh!  That bottom left frame of Buster is about how I handle crowds like that…
Anywho, at the end when you pick your furniture to buy, it's in this giant warehouse that makes the end of Raiders of the Lost Ark look like it's in a studio apartment's tiny closet.  Ish is huge!  And that giant warehouse is exactly how I used to look at starting pitching in my 10 and 12-team waiver wires through any given MLB season.  Limitless streaming opportunities – sure some with more risk than others – but pretty much a starter widely available every night that I could feel decent enough with rolling out.  Alas, it's no more, with hitting making a comeback this season.  Balls are juiced!  And in that vein, I've been overlooking a lot of the "been there, done that" pitchers that have broken through, none worse than being slow to warm up to Danny Duffy.  We've seen him have power stuff, but not hold up as a starter, getting meh K numbers in the process.  This will anger people – but I saw him as a lefty Nathan Eovaldi coming into this year.  Ouch!  In more ways than one!  But Duffy has been absolutely crazypants this season, vaulting all the way into my top-15 last week.  And through this amazing run, he hasn't even been blessed with a Pitcher Profile!  This changes now!  Here's how Duffy looked yesterday afternoon against the Twinkies:
First Inning: Duffy's first pitch is a 94 MPH fastball outside to Brian Dozier, 1-0.  Then 92 on the hands is popped out to short, one down quick.  And 94 on the outer third is laced to center by Robbie Grossman, with Jarrod Dyson getting there coasting towards the warning track: three pitches, two outs.  95 low to Miguel Sano, 92 again low, then the 2-0 fastball at 94 is popped to first, and it's about the breeziest inning we've seen in the Profiles thus far in 2016.
Second Inning: Opening the second is Trevor Plouffe and Duffy paints the outside black with a fastball, 0-1.  Ugh, then 93 right in the low inside wheelhouse is rocketed to the left field gap for a leadoff two-bagger.  Not a terrible spot, but that swing looked too natural to Plouffe – I think Duffy wanted it lower and in-er.  84 MPH slider breaks low and in to Jorge Polanco, bunt attempt goes foul 1-1, beautiful slider hits the backdoor, and that's a Chris Sale-esque big slider for a strike.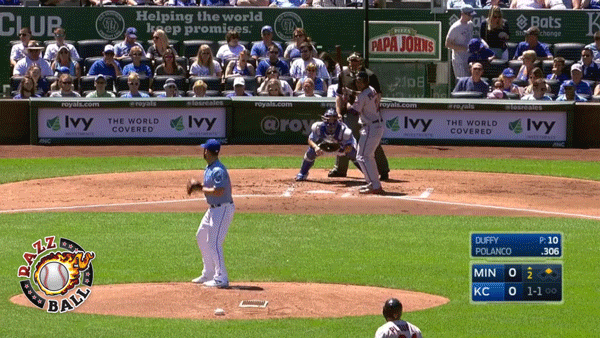 Love it!  Then Duffy goes slider again, Polanco nubs it to second, and unfortunately it's hit so slow that Polanco legs it out for an infield single. Duffy in some early trouble.  Eduardo Escobar takes 94 low, 94 again goes wayyyyyy outside, 93 sails way high and outside, and this is the bad Duffy I remember seeing in previous seasons, the guy with bad BB rates…  Then 93 is low for a 4-pitch walk, to load the bases with no outs.  Eddie Rosario takes a slider nipping the outside edge for strike one, 95 MPH heat is narrowly inside, slider breaks well low and away, the crowd starts cheering to pick up Duffy, and this 95 MPH fastball just blows him away.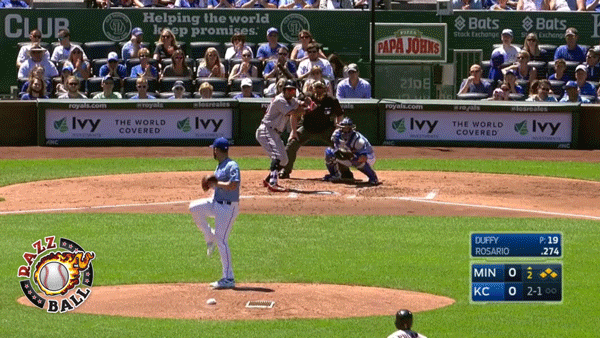 Big pitch there.  Then he goes low for 96 MPH heat to get a monster strikeout.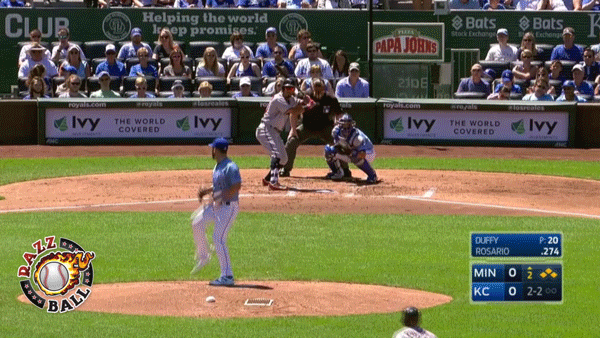 Nasty.  High change-up gets a whiff from Kurt Suzuki, then change-up again is popped to shallow left, and the gold glover Alex Gordon gets it on the slide charging in, and with it that shallow it makes the runners hold for another huge out.  So two down, and Danny Santana foul tips a first-pitch 84 MPH slider, change-up at 85 flutters into the high outside corner for strike two, then 96 on the low inside black is hit pretty hard to third, but Cheslor Cuthbert makes a nice play and gets the force at second to get Duffy out of a HUGE jam.  Gotta love having a good defense…
Third Inning: Duffy picks up a run of support, and opens the third with a 94 MPH fastball on the outside edge to Dozier, 0-1.  Slider dips low, change-up barely doesn't hit the bottom black, then outside change-up is grounded to short, one down.  Beautiful high breaking ball is in there to Grossman, 94 a little low and in, then hanging change on the outside edge is ripped down the left field line for another double.  Sano takes a change-up for a strike, fastball inside, nice change-up barelyyyyy breaks inside, change again is fouled back 2-2, outside fastball spoiled foul, then 95 paints the outside corner for a K looking, two down.  Yeahhhh, it looked a little outside, Fox Trax had it outside, yet the Royals announcers say "no doubt, strike 3!"  Lord…  Duffy drops in a hammer slider for strike one to Plouffe, slider again skips in the dirt, then 95 on the outside edge is hammered to center, Dyson looked like he kinda had a shot for it, but it skips in front of him for an RBI double – Plouffe's second – to tie the game 1-1.  But right away Polanco chops a change-up right to Duffy on the first pitch for an easy third out.
Fourth Inning:  Still a 1-1 score and Duffy jams Escobar with a fastball fouled back to open the 4th 0-1, 93 too inside, then I think a hanging change-up on the outside edge is poked up the gap for a slow rolling, leadoff single.  Then 93 on the hands of Rosario is flied to right, and dat Royals D doe!  Lorenzo Cain gets it on the slide for the first out.  Slider skips in to Suzuki 1-0, 92 MPH fastball upstairs fouled off, then the 1-1 change-up is chopped to Duffy, he hops up to make the play and it skips off his glove, he tries to recover on a diving throw to first and the throw is errant, so it ends up an infield single with an error on Duffy letting Escobar get to third.  Ugh.  One down, runners on the corners, and a first pitch fastball is fouled off by Santana, change-up dropping off the table on the outer third is whiffed over, then another 86 MPH change-up gets Santana out in front, another HUGE K.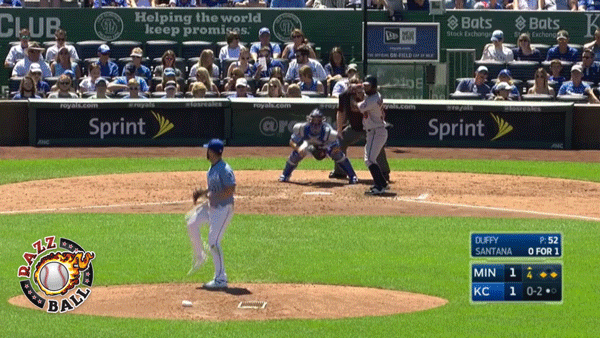 Two down, and to the third time through with Dozier taking an inside slider, 1-0.  Slider again inside tipped foul, then the 1-1 fastball at the letters is popped to shallow right and it gets Duffy out of another jam.
Fifth Inning: Still 1-1 and whewwww, first-pitch change-up to Grossman – taking a huge cut expecting a fastball – gives a big whiff, 0-1.  But then Duffy goes inside fastball and Grossman is able to turn it around on the handle for a leadoff single.  Meh, don't love going fastball there when he was looking fastball that first pitch.  Change-up outside to Sano, change again gets a whiff out there, change-up at 83 yet again gets a whiff – wish he did that to Grossman – then 1-2 fastball fouled back, and 1-2 again is another change-up that is grounded routinely to short, and it's a tailor-made double play.  Thanks for being slow, Sano!  95 looked to paint the low outside corner but is called a ball to Plouffe, outside change-up fouled back, nassssssty 84 MPH sharp slider hits the outside corner 1-2, gassssssp slider again is ripped to left but just foul, change-up drops low, fastball sails high and away, then a full count change-up on the outer third is rolled to first, easy third out.  Full count and Duffy going change-up…  Noice!

Sixth Inning: First pitch of the 6th is a change-up to Polanco, who rips it to left but Alex Gordon makes another sliding catch for a highlight-reel out on the first pitch.  Escobar takes a slider that barely nips the outside black, slider again going low is rolled foul, then 93 looked to easily catch the inside corner but called a ball, 1-2.  Duffy started stepping off the mound – I don't blame him!  Change-up flutters low and away, 94 MPH at the knees flared foul, inside slider topped foul, outside change-up nubbed foul, change again drops low an away in the dirt, full count.  Payoff pitch is then an outside fastball.  Mannn, Duffy looked to have a K there… So runner on first, one out, and Rosario is unable to hold his swing on a low change-up 0-1, slider gets the call on the outside edge 0-2 – that one looked a little outside – then 94 on the hands blows him away for Duffy's fourth K, two down.  High fastball in there to Suzuki, then outside change-up is ripped to third, but Cheslor makes another great play on a tough hop for the third out.
Seventh Inning: At 85 pitches, Duffy picks up another run to go up 2-1 on the scoreboard, and drops in a slider to Santana for a strike, 0-1.  Outside change-up fouled off, 0-2 fastball stays outside, then slider breaking into the zone on the hands is flared to right with Cain there for the first out.  Change-up in there to Dozier 0-1, 92 MPH outside that looked to have a lot of effort behind it, 1-1.  Don't love seeing a velo drop on a pitch that he looked like he wanted to get to 95-96.  Then change-up in the middle of the zone is rocketed to left for a single.  So one down, runner on first, and fastball on the hands of Grossman is fouled off, 93 paints the low outside black 1-1, then 94 again out there is flared to left for the second out.  And at 95 pitches, Yost will yank Duffy, but the Royals will hold onto the lead and give Danny Boy another W.

Final Line:  W  6.2 IP  95 Pitches (66 Strikes)  1 ER  8 Hits  2 Walks  4 K  Gamescore: 56   Gamescore+: 57.8

Final Analysis: You know, even though this wasn't one of Duffy's better starts lately, I'm actually still very encouraged.  He proved he could get around an inconsistent zone, two fluky infield singles, and not having his best stuff to turn in a great start and get out of jams.  Despite the low Ks, his Gamescore+ still came out favorably due to said fluky, lucky singles.

Obviously Duffy has a power fastball – it's what he was previously known for even when he wasn't an emerging ace.  It was usually sitting 94-95, but topped at 96 and bottomed at 92-93.  Some interesting stuff here though – 93.8 MPH is his second slowest velocity in any game this year, and only the third time he's been under 94 in 2016.  I'm not going too crazy about that though.  Also interesting is this was his first start throwing under 50% fastballs.  Lots of off-speed stuff.  So the fastball wasn't quite there, but he got around it.  And since it was down less than 1 MPH from his trends lately, I don't see a concern there, just cool to see in the numbers how I felt he looked breaking it down.  Not surprisingly with the heater down, this was the most he's used a change-up this season – 28.4%.  It was locating beautifully on the edges of the zone, and it was keeping the Twins off balance all afternoon.  And he's always had a great slider, which he was able to drop in for strikes at will.  It didn't quite have a great "swing and miss" bite this outing, but it had it's usefulness.
Not too much else to say -Duffy looks like he's going to close this season in the ace discussion for 2017.  He moved up yet another spot to 13th for me ROS, and there's no signs of it slowing down.  Since he started in the bullpen and had a shorter leash when initially put in the rotation, his innings are in beautiful shape as well at only 138.2.  Looking at the ranks below, you can see he's EASILY been the pickup of the year amongst SP.  I wish I had found him in the pitcher warehouse somewhere…  Sad emoji.
Updated Top 100 SP
(rankings for ROS based on 12-team Roto, green for risers, red for fallers)
| RANK | SP, TEAM |
| --- | --- |
| 1 | Madison Bumgarner, SF |
| 2 | Max Scherzer, WAS |
| 3 | Jake Arrieta, CHC |
| 4 | Jose Fernandez, MIA |
| 5 | Chris Sale, CWS |
| 6 | Corey Kluber, CLE |
| 7 | Jacob deGrom, NYM |
| 8 | Stephen Strasburg, WAS |
| 9 | Johnny Cueto, SF |
| 10 | Jon Lester, CHC |
| 11 | Justin Verlander, DET |
| 12 | Yu Darvish, TEX |
| 13 | Danny Duffy, KC |
| 14 | Cole Hamels, TEX |
| 15 | Carlos Carrasco, CLE |
| 16 | Noah Syndergaard, NYM |
| 17 | Zack Greinke, ARI |
| 18 | Gerrit Cole, PIT |
| 19 | Chris Archer, TB |
| 20 | Clayton Kershaw, LAD |
| 21 | David Price, BOS |
| 22 | Jose Quintana, CWS |
| 23 | Kyle Hendricks, CHC |
| 24 | Kenta Maeda, LAD |
| 25 | Masahiro Tanaka, NYY |
| 26 | Carlos Martinez, STL |
| 27 | J.A. Happ, TOR |
| 28 | Drew Pomeranz, BOS |
| 29 | Tanner Roark, WAS |
| 30 | Julio Teheran, ATL |
| 31 | Felix Hernandez, SEA |
| 32 | Jason Hammel, CHC |
| 33 | Michael Fulmer, DET |
| 34 | Danny Salazar, CLE |
| 35 | Anthony DeSclafani, CIN |
| 36 | Rick Porcello, BOS |
| 37 | Matt Shoemaker, LAA |
| 38 | Jameson Taillon, PIT |
| 39 | Ervin Santana, MIN |
| 40 | Adam Wainwright, STL |
| 41 | Jake Odorizzi, TB |
| 42 | Rich Hill, LAD |
| 43 | Robbie Ray, ARI |
| 44 | Dylan Bundy, BAL |
| 45 | Joe Musgrove, HOU |
| 46 | Dallas Keuchel, HOU |
| 47 | Ian Kennedy, KC |
| 48 | Sean Manaea, OAK |
| 49 | Marco Estrada, TOR |
| 50 | Michael Pineda, NYY |
| 51 | Chris Tillman, BAL |
| 52 | Marcus Stroman, TOR |
| 53 | Zach Davies, MIL |
| 54 | Steven Matz, NYM |
| 55 | Blake Snell, TB |
| 56 | John Lackey, CHC |
| 57 | James Paxton, SEA |
| 58 | Carlos Rodon, CWS |
| 59 | Drew Smyly, TB |
| 60 | Junior Guerra, MIL |
| 61 | Homer Bailey, CIN |
| 62 | Jon Gray, COL |
| 63 | David Phelps, MIA |
| 64 | Matt Moore, SF |
| 65 | Kevin Gausman, BAL |
| 66 | Hisashi Iwakuma, SEA |
| 67 | Aaron Sanchez, TOR |
| 68 | Steven Wright, BOS |
| 69 | Trevor Bauer, CLE |
| 70 | Jeremy Hellickson, PHI |
| 71 | Gio Gonzalez, WAS |
| 72 | Jeff Samardzija, SF |
| 73 | Scott Kazmir, LAD |
| 74 | Vince Velasquez, PHI |
| 75 | Jerad Eickhoff, PHI |
| 76 | Jaime Garcia, STL |
| 77 | Eduardo Rodriguez, BOS |
| 78 | Reynaldo Lopez, WAS |
| 79 | Matt Boyd, DET |
| 80 | Chad Green, NYY |
| 81 | Dan Straily, CIN |
| 82 | Bartolo Colon, NYM |
| 83 | Bud Norris, LAD |
| 84 | Francisco Liriano, TOR |
| 85 | Mike Leake, STL |
| 86 | Tom Koehler, MIA |
| 87 | Tyler Skaggs, LAA |
| 88 | Mike Foltynewicz, ATL |
| 89 | Collin McHugh, HOU |
| 90 | CC Sabathia, NYY |
| 91 | Jimmy Nelson, MIL |
| 92 | Andrew Cashner, MIA |
| 93 | Mike Fiers, HOU |
| 94 | Jose De Leon, LAD |
| 95 | Archie Bradley, ARI |
| 96 | Yordano Ventura, KC |
| 97 | Ryan Vogelsong, PIT |
| 98 | Ivan Nova, PIT |
| 99 | Tyler Anderson, COL |
| 100 | Kendall Graveman, OAK |
Dropped Out: Josh Tomlin, CLE (pretty terrible lately), Jose Berrios, MIN (ughhh, the jump to the Majors has crushed him), Luis Severino, NYY (ditto, except he was decent last year!  weird…), Matt Andriese, TB (has never been above the 90s, not looking great back in the rotation)
Thoughts on Duffy Ducking all the way to the top-15?  And what did I screw up in the ranks this week?  Shoot your thoughts below, and happy August pitching, Razzball Nation!