Last week, I introduced the goal of this series: utilizing data visualization to try and narrow in on fantasy baseball insights. We looked at ERA across the draft, finding some potential values based on ADP. Today, we'll take a closer look at Starting Pitcher WHIP by ADP.
To begin with, what's the context in which we should gauge whether an SP's WHIP actually helps our team? Here are WHIP trends over the last 5 years: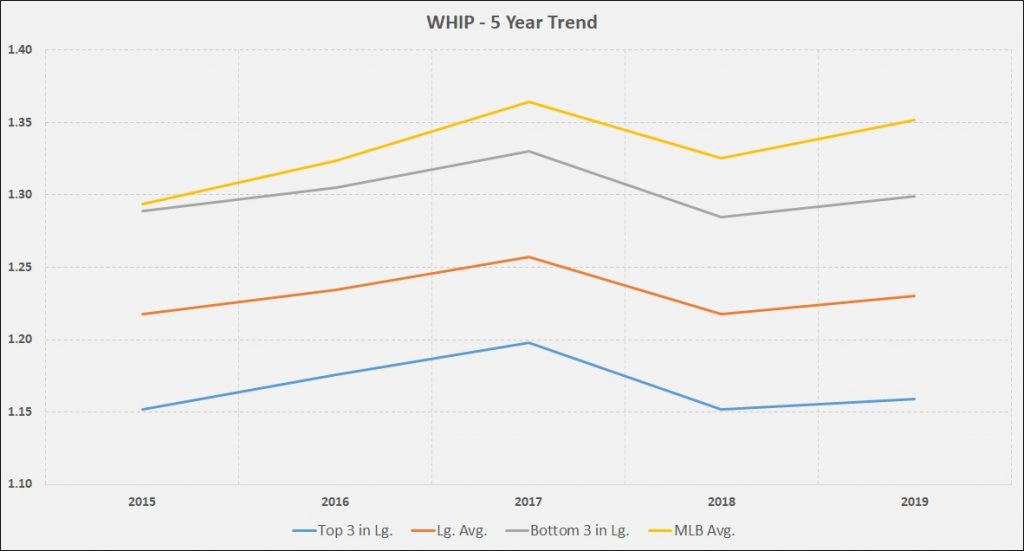 The last two years have shown relative steadiness. Unlike ERA, which spiked last year, we see only a slight uptick in WHIP. That makes sense with the ball being juiced: it's not that pitchers are giving up more baserunners, but that each ball hit is more likely to become a HR. That hurts ERA a lot more than WHIP.
Looking towards 2020, this should make WHIP a relatively safe investment. Whether the ball is de-juiced or not shouldn't dramatically impact the rate of balls landing for hits. In four of the last five years, you need a team WHIP below 1.175 to land in the top 3, and anything above 1.23 will land you in the bottom half. So, who can help our teams achieve this? The chart below plots Razzball (Steamer/Rudy) projected WHIP for SP (>99IP) vs. NFBC ADP: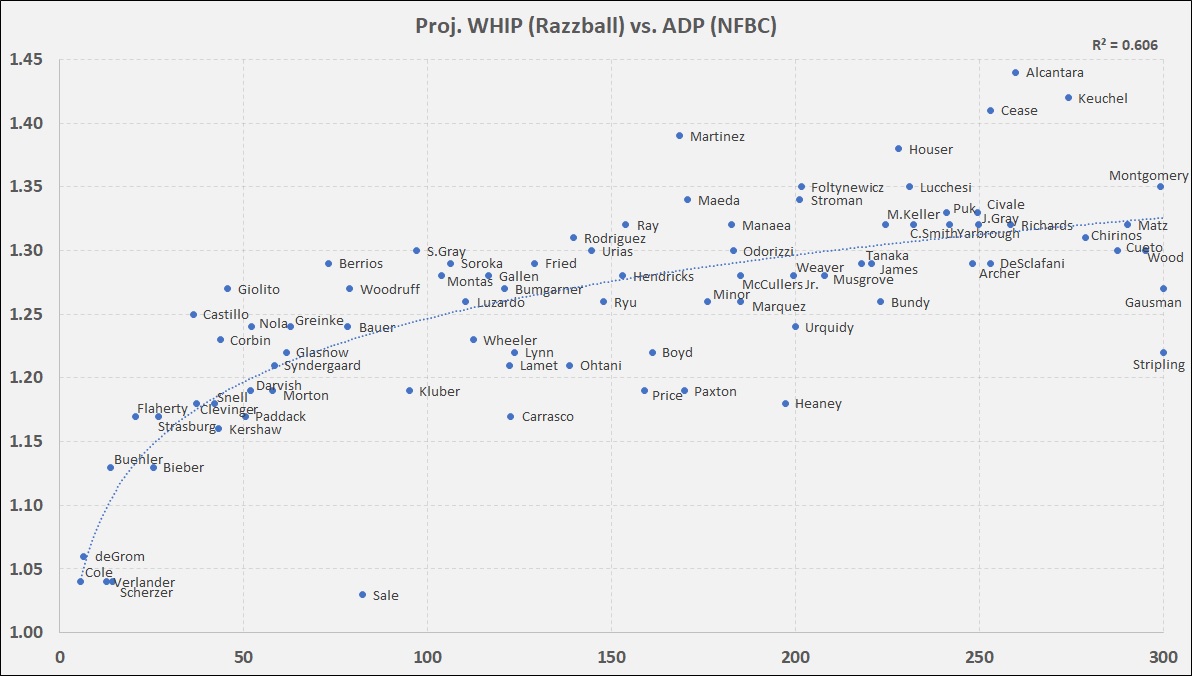 I'll give the same two caveats: 1) OF COURSE you should look at other data (age, velocity, K-rate, IP), and 2) projecting WHIP is very hard (slightly easier than projecting ERA, but hard).
To start with: only 20 pitchers are projected under 1.20. Does that sound realistic? It shouldn't! Last year, there were 36 SP with 100+ IP and a WHIP at 1.20 or less. 54(!) in 2018, 31 in 2017. and 43 in 2016.
What's going on?
Simply put, projections are built to optimize for most players. The best way to do that? Regression – expecting that most players will pitch at the level most players historically have. It takes a significant sample size before projections will assume an individual pitcher's talent is above average.
The answer isn't to throw out projections, it's to look at projections in relation to the projected player universe, not to past seasons. We care about the relative WHIP of these pitchers. The trendline helps us find the relative value of pitchers at all points in the draft.  (This explains the lowest projected WHIP as 1.03, despite every year a handful of individual pitchers going below 1.00, and the top guy below 0.90).
Enough context. Let's get to the ADP Bargains:
On the other side of the line, we find the SP projected to hurt your WHIP at cost: