Nothing is a better, giant surprise than a Rubby in the morning!
Rubby De La Rosa has always been a guy with a power fastball and plus slider, but it's never been enough.  Ks haven't been there, he couldn't get lefties out, and he's looked more and more like Nathan Eovaldi rather than "the next big thing".  But after yesterday's outing, Rubby has somehow limited lefties to a .162 average and only allowed 1 homer in 87 LH batters faced.  Compare that to last year, when lefties murdered him for .315 and 20 homers in 410 batters faced.
After a pretty brutal start – including 3 relief appearances due to the D'backs bullpen being overtaxed – I really didn't think too much about Rubby and his upside.  Kinda thought "he is who we thought he is!"  Wait, that's a different Arizona sports team…  His last 5 starts have been really good with solid Ks, but I thought for sure the Giants with their bevy of lefties would crash the party.  Alas, we got a Giant surprise!  Here's how Rubby looked yesterday afternoon in Zona against those Gigantes:
First Inning: Rubby's first pitch is a 93 MPH sinking fastball in there to Denard Span.  Fastball a little in, then 95 MPH a little on the hands is dribbled to second for an easy first out.  Fastball a little outside to Joe Panik, then heater again on the outside edge is popped up to third for another easy out.  Hunter Pence takes a fastball in there, then Rubby's first slider is a nasty 84 MPH bender that gets Pence waving, 0-2.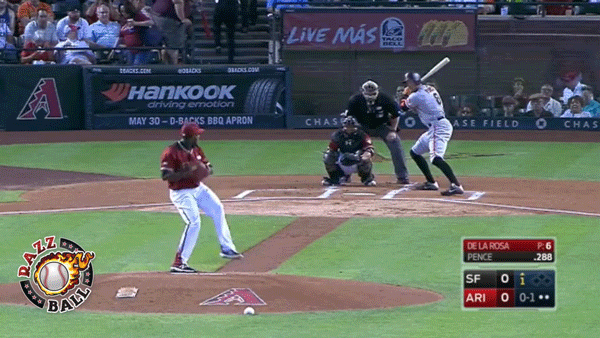 And ya know, why not?!  How about the confidence to throw it again and trust Pence can't make the adjustment.
And it's Rubby's first K wrapping up a solid, concise first inning.
Second Inning: First pitch of the second is a 93 MPH fastball in and on the hands of Brandon Belt who flares it to right for a one-pitch out.  I got a little nervous with that pitch and swing there, almost got it right in Belt's wheelhouse.  Fastball in there to Brandon Crawford, 94 MPH is a smidge high, then Rubby's first change-up – the main pitch I wanted to see – gets a whiff from Crawford breaking off the outside edge, 1-2.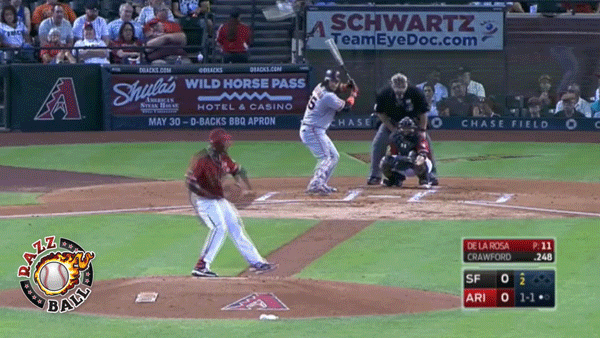 Then Rubby goes fastball and it's pulled on a line towards right, but Paul Goldschmidt leaps and makes the catch for the second out.  Very, very loud out though.  Fastball outside to Angel Pagan, fastball again a tad inside, then the 2-0 is a fastball on the outside black rolled to Au Shizz for a much easier third out.
Third Inning: Still a 0-0 game and Rubby is in there with that fastball to Conor Gillaspie 0-1, then that change-up gets another whiff – 2 for 2 for whiffs with the change to lefties – now 0-2, then big slider that almost looked more like a curveball is dribbled foul, slider low, change-up breaks low, fastball at 96 on the outside edge is slashed foul, slider pulled foul, and this is turning into a lengthy AB.  Change-up drops low, then slider breaking off the outside edge is swung through and missed for Rubby's 3rd K.  But the first pitch to Trevor Brown is a 94 MPH fastball a little up-and-in, but Brown absolutely yanks the poop out of it for a home run.  Pitch tracker had it in the top corner of the zone, but Brown must like it there.  But Rubby dials it back in with a fastball in there to Matt Cain, then fastball again gets an infield pop out for the second out.  First pitch change-up skips in the dirt to Span as we go back to the top, then fastball on the outer edge is grounded routinely to second for the third out.

Fourth Inning: First pitch big slider bends in there for strike one to Panik, fastball on the outside edge is flared foul, then 96 absolutely paints the low outside corner for a 3-pitch K to open the 4th.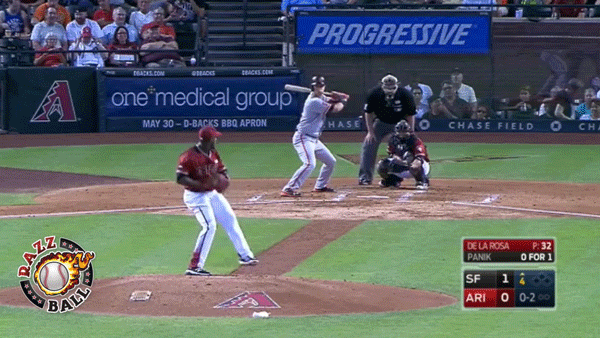 Slider bends low to Pence, slider again buckles his knees but doesn't get the call at the top of the zone, and wow, Rubby goes slider AGAIN and gets a whiff, 2-1.  Pence getting nothing but sliders – and would you believe it – slider again, whiff again!  And hell, why not, slider again and Pence has to reach out and poke it short for an easy second out.  Fastball low to Belt, change-up stays low, fastball fouled off, either a hanging slider or change-up on the outside edge is fouled back, slider in the dirt, nice slider on the hands ripped foul, then 3-2 fastball at 97 (!!!) barely misses low and inside for Rubby's first walk.  Fastball at 96 fouled off by Crawford, then 87 MPH change-up again gets a whiff from a lefty – love it – 0-2.  96 is outside, change-up drops low, slider fouled back, then change-up again at 87 just dies into the dirt, it gets Crawford swinging over it, and Rubby is out of the inning with his 4th K.
Fifth Inning: Nice two-seamer running back onto the inside edge gets strike one on Pagan, two-seamer again runs away off the outside edge and gets a whiff, 0-2.  Nasty.  Then 95 MPH two-seamer looked like a carbon copy of the first pitch but doesn't get the call, 1-2.  Two-seamer again is called inside, then fastball again inside is flared to second for an easy pop out, one down.  Slider drops into the zone on Gillaspie 0-1, fastball fouled back, change drops low, then that two-seamer yet again runs back onto that inside corner for a backwards K and Rubby's 5th.  Fastball stays outside to Brown, slider outside, then fastball sails up and in again – right near where Brown hit the homer the first time – and Brown crushes it to left but it's well foul.  Rubby needs to keep it away from there!  Fastball again up is way in 3-1, then slider drops into the zone, 3-2.  Wow, 3-1 slider.  Interesting.  Then slider again drops right into the zone for another backwards K as it nips the bottom of the zone breaking in there for Rubby's 6th K.
Sixth Inning: First pitch of the 6th is a fastball that Matt Cain puts a good swing on, but it's a pretty routine flyout to left, one down.  Span looks at a fastball zip by that looked outside but is called a strike 0-1, fastball definitely outside this time, fastball again low, change-up gets yet another whiff 2-2, fastball painting the outside edge gets an emergency swing foul, then fastball on the hands is grounded to second, two down.  Fastball just outside to Panik, change-up drops low, slider bends low, quickly 3-0.  And Rubby loses him on 4 pitches with a fastball high.  Besides the Brown HR, this is the first crack we've seen from Rubby this game.  But up is Pence who Rubby has owned with sliders, and this is getting crazy, another slider and another whiff.  I mean, this is dumb.  Slider again, whiff again.  Slider this time is too low 1-2, then Rubby slings a fastball in that absolutely ties Pence up for his 7th K.  Great time to finally get Pence something different.

Seventh Inning:  Still a 1-1 game and Rubby drops a change-up low to Belt, then fastball on the outer edge gets a great swing from Belt, but it's caught on a line on the warning track for the first out.  Belt's had a few decent looking swings.  Fastball outside to Crawford, change-up gets another whiff from Crawford – he's swung through that pitch a bunch now – 1-1, and then whiff again on the change!  1-2 now, and change is tipped back foul, 95 MPH fastball spiked in the dirt, change-up flutters low with Crawford checking his swing, then 2-2 change-up again is dribbled down the first base line, Goldschmidt gets it cleanly with Rubby covering for the second out.  Change-up is low to Pagan, fastball low, fastball again misses, another 3-0 count.  And fastball all the way down to 92 MPH misses outside for a 4-pitch walk – second 4-pitch walk of the game.  Hmmm, then out comes the trainer?!  Oh no, what in the hell is this?!  Maybe they saw that velo drop down?!  But Rubby stays in, and a 91 (!!) MPH fastball is way outside to Gillaspie, 92 MPH fastball at the knees fouled off, 92 MPH fastball way outside, slider shatters Gillaspie's bat as it dribbles foul, slider is way inside and in the dirt and it's a wild pitch which moves Pagan to second, 3-2.  Hanging, rolling slider is lined foul, then change-up drops in the dirt, and Rubby will leave after walking his last two batters.  The D'backs would end up dropping the game, but fortunately not until the later innings.  Great outing from Rubby.
Final Line:  ND  6.2 IP  101 Pitches (59 Strikes)  1 ER  1 Hits  4 Walks  7 K  Gamescore: 71 Gamescore+: 72.0

Final Analysis: "One hit?!  That's all we managed, is one goddamn hit?!"  "You can't say goddamn on the radio!"  "Eh, no one is listening anyway!"
Pretty incredible start, with Rubby getting 16 swings-and-misses from a usually disciplined Giants line-up.  Especially with their supply of lefties, which has always been Rubby's Achilles heel.  With the nice Ks and most outs pretty weakly hit, easy outs, his Gamescore+ indeed came out higher than his Gamescore.
Rubby's always had monster stuff, and it starts with a power fastball.  The four-seamer topped out at 97 – usually in the 94-95 range – and the two-seamer had some great run when he went to it, another weapon against lefties – a pitch that breaks off the outside edge of the plate.  His main off-speed is the slider, and just look at those GIFs to Pence and read through his AB again.  Pretty sure I count 11 straight sliders he threw to Pence, and he didn't have a chance.  Love the confidence there.  Then to his change-up, which was much, MUCH better than what I remembered from the last time watching De La Rosa pitch.  It got 7 whiffs this game, at least 3-4 from Brandon Crawford, and was able to keep the lefties at bay.
But to the elephant in the room – you never like to see a trainer coming out towards the end of a start with the velocity dropping and walking your final two batters.  To quote a vastly underrated movie – Enemy of the State – "It could be nothing…"  "It could be everything!"  Apparently he was bothered by some groin soreness (as was I, watching his sexy pitches!) and he had a start pushed back earlier due to sore triceps.  Neither are reportedly big deals, however, it does impact how high I could move him in the re-ranks.
While I mentioned in the open Rubby's strides against lefties – and we saw it again here – he's got a dominant 28:4 K:BB v. righties and a little bit of a scary 17:11 K:BB against lefties in nearly the same number of ABs.  His BABIP overall is .230 and LD% is a pretty lucky 15.5% thus far.  Sure, a good pitcher should be limiting line drives by giving up weaker contact, but that's a low number I would expect to go up a tad.  And while his change-up is looking good, with a pitch value at a career best, he's throwing it way less than previous seasons and throwing more fastballs and sliders.  Maybe utilizing the change a little less is making it harder for hitters to pick up?  I'm not sure…  And the broadcast did mention he's trying to embrace a high-leverage reliever mentality more and more, i.e. attacking hitters with his power stuff.  If I'm outro-ing this final analysis a little wordy, it's because I'm not 100% sure what to make of it all!  I'm cautiously moving him up, but I do think there's regression coming and I'm worried about the injuries.
Updated Top 100 SP
(rankings for ROS based on 12-team Roto, green for risers, red for fallers)
| RANK | SP, TEAM |
| --- | --- |
| 1 | Clayton Kershaw, LAD |
| 2 | Jake Arrieta, CHC |
| 3 | Chris Sale, CWS |
| 4 | Max Scherzer, WAS |
| 5 | Noah Syndergaard, NYM |
| 6 | Stephen Strasburg, WAS |
| 7 | Jose Fernandez, MIA |
| 8 | Madison Bumgarner, SF |
| 9 | Corey Kluber, CLE |
| 10 | Gerrit Cole, PIT |
| 11 | David Price, BOS |
| 12 | Jon Lester, CHC |
| 13 | Jacob deGrom, NYM |
| 14 | Chris Archer, TB |
| 15 | Danny Salazar, CLE |
| 16 | Johnny Cueto, SF |
| 17 | Taijuan Walker, SEA |
| 18 | Drew Smyly, TB |
| 19 | Carlos Martinez, STL |
| 20 | Yu Darvish, TEX |
| 21 | Felix Hernandez, SEA |
| 22 | Jeff Samardzija, SF |
| 23 | Carlos Carrasco, CLE |
| 24 | Joe Ross, WAS |
| 25 | Masahiro Tanaka, NYY |
| 26 | Carlos Rodon, CWS |
| 27 | Cole Hamels, TEX |
| 28 | Aaron Nola, PHI |
| 29 | Jose Quintana, CWS |
| 30 | Zack Greinke, ARI |
| 31 | Matt Harvey, NYM |
| 32 | Vincent Velasquez, PHI |
| 33 | Dallas Keuchel, HOU |
| 34 | Jason Hammel, CHC |
| 35 | Ian Kennedy, KC |
| 36 | Steven Matz, NYM |
| 37 | Sonny Gray, OAK |
| 38 | Marcus Stroman, TOR |
| 39 | Michael Wacha, STL |
| 40 | Francisco Liriano, PIT |
| 41 | Jordan Zimmermann, DET |
| 42 | Kenta Maeda, LAD |
| 43 | Justin Verlander, DET |
| 44 | Drew Pomeranz, SD |
| 45 | Rich Hill, OAK |
| 46 | Jaime Garcia, STL |
| 47 | Patrick Corbin, ARI |
| 48 | Wei-Yin Chen, MIA |
| 49 | Jimmy Nelson, MIL |
| 50 | Kevin Gausman, BAL |
| 51 | Hisashi Iwakuma, SEA |
| 52 | Gio Gonzalez, WAS |
| 53 | John Lackey, STL |
| 54 | Aaron Sanchez, TOR |
| 55 | Kyle Hendricks, CHC |
| 56 | Lance McCullers, HOU |
| 57 | Adam Conley, MIA |
| 58 | Tyler Glasnow, PIT |
| 59 | J.A. Happ, TOR |
| 60 | Matt Moore, TB |
| 61 | Chris Tillman, BAL |
| 62 | Juan Nicasio, PIT |
| 63 | Jake Odorizzi, TB |
| 64 | Nate Karns, SEA |
| 65 | Rick Porcello, BOS |
| 66 | Julio Teheran, ATL |
| 67 | Tyler Duffey, MIN |
| 68 | Yordano Ventura, KC |
| 69 | Jerad Eickhoff, PHI |
| 70 | Rubby De La Rosa, ARI |
| 71 | Tanner Roark, WAS |
| 72 | Jose Berrios, MIN |
| 73 | Michael Pineda, NYY |
| 74 | James Shields, SD |
| 75 | Adam Wainwright, STL |
| 76 | Eduardo Rodriguez, BOS |
| 77 | Mike Fiers, HOU |
| 78 | Marco Estrada, TOR |
| 79 | Raisel Iglesias, CIN |
| 80 | Junior Guerra, MIL |
| 81 | Robbie Ray, ARI |
| 82 | Collin McHugh, HOU |
| 83 | Edinson Volquez, KC |
| 84 | Tyson Ross, SD |
| 85 | Scott Kazmir, LAD |
| 86 | Anthony DeSclafani, CIN |
| 87 | Blake Snell, TB |
| 88 | Shelby Miller, ARI |
| 89 | Nathan Eovaldi, NYY |
| 90 | Hector Santiago, LAA |
| 91 | Andrew Cashner, SD |
| 92 | Mike Leake, STL |
| 93 | Derek Holland, TEX |
| 94 | Jon Niese, PIT |
| 95 | Sean Manaea, OAK |
| 96 | Josh Tomlin, CLE |
| 97 | Steven Wright, BOS |
| 98 | Lucas Giolito, WAS |
| 99 | Matt Andriese, TB |
| 100 | Jon Gray, COL |
Dropped Out: Luis Severino, NYY (DL – triceps strain, and was has been falling for a while now), Mat Latos, CHW (I never got him past mid-90s, but I shouldn't have ranked him either way haha…)
At some point, I just have to cash out my Matt Harvey shares at a loss…  Well, actually, the only league I had him was a keeper and I traded him in the off-season.  Woo!
Gerrit Cole is a tool.
Another faller – now that we have a usable-ish sample – is Zach Greinke.  I expect him to get better, but man did everyone's fears of regression hit hard, and then some!
Spoiler alert!  Even though we don't record the Razzball Podcast for another few hours, here's how the first 10 minutes will go – Grey: "How about that Joe Ross, hahahahahahahahahaahaha [cackle cackle] You're so dumb!"  Meh, got BABIPed in that Tigers game and an error helped rough him up yesterday against the Marlins, he'll be better.
Man, with a few of those vets I had at 15-25ish last week moving way down, it was really rough putting together that range of guys.  Johnny Cueto I was certainly wrong on, but I got a lot of flack for the Jeff Samardzija rank and he's worked out solidly.
Lord help me, I'm still holding out for Carlos Rodon.  .336 BABIP, HR rate is high, and his Ks are up with BB down from last year.
In the preseason, I said and I quote "I have the heebie jeebies about Steven Matz".  Tough to rank him any lower, but the heebies are super jeebious with his elbow and forearm getting re-evaluated today.
Three lefties get big moves up with Drew Pomeranz, Rich Hill, and Jaime Garcia in the green this week.  I still have some concerns with all of them, but they're all must-plays for the time being.
Julio Teheran has been surprisingly good for a little while now.  I don't know how much I really believe it, but he's not too old and may be finding something again…
Love me some Junior Guerra!
I would probably be head over heels for Jon Gray with that stuff of his, but Coors man…  Coors…  Still, he cracks in my ranks as the first Rockie this year.
Has Rubby been a giant surprise for you as well?  And what do you make of this week's ranks?  As always, shoot your thoughts below, and may your UCLs forever stay intact!