The phrase "I'm excited for Spring Training" is a double edged sword, especially in fantasy baseball. We're all excited to see the early signs of life on our already drafted fantasy teams, yet there is still a month of emptiness before the actual returns start trickling in. That leaves ample time for overreaction to minor injuries and excessive helium for players who put together a few good at bats.
Although many owners have the discipline to completely neglect the impacts of recency bias during the Spring, some will always fall prey to the hype, and you will feel the resulting impact in the draft room. Sometimes, it may even be good to fall prey to that hype. As we all know, fantasy baseball is often a game of balance. Below I'm going to aggregate my reaction to what has happened in the few games we have seen so far and how, if at all, I have translated these points over to the fantasy section of my baseball mind.
Best Shape of His Life and Mechanical Changes
The phrase 'best shape' will be beaten to death for all of eternity, ever single year, so really all we can do is get used to it. Take Noah Syndergaard for example, he comes into Spring with an extra 17lbs of muscle.  The headline alone is enough to make us wonder how much harder one can throw a baseball, yet as many of the astute readers in the comments section of the linked Fangraphs article point out, it is nearly impossible to put on 17lbs of muscle in that short a period of time. So we have a little bit of misinformation, or maybe simply misinterpretation, that while may seem relevant, can't really inflate Syndergaard's value higher than his 20th overall ADP according to NFBC data. It's almost like the top 20-25 are unaffected by any positive signals emitted by the troves of reporters down in Florida and Arizona. In some ways, I think I'm ok with that.
On the flip-side of weight gain, what if I told you I didn't recognize Matt Adams in his first at bats of the Spring? Crazy right? The man formerly known as 'Fat' Adams has leaned out so much, I almost feel sorry for degrading his body type in years prior. But what does this actually mean for his production? When he stepped into the box at Roger Dean Stadium on Saturday and Sunday, I irrationally expected immediate improvement. What I got instead was 0-for-3 with two strikeouts on back-to-back days. His hands start lower, he looks better, but the results just didn't follow. It's a small sample size, I get it, but sometimes these mechanical changes take time to bear fruit. Isn't it impressive I got you to care about Matt Adams for a few words?
We're all not Max Kepler after all. If any of us remember last season, Kepler credited his outbreak to a talk with Reggie Jackson. If correlation equals causation, and Jackson's words actually carried that much of an impact on a hitter's approach, why hasn't a team paid Jackson millions of dollars to fix Melvin Upton Jr. or Byron Buxton? Matt Adams is currently going well past the 400 overall mark in leagues and doesn't even have a guaranteed job with the Cardinals. While it may be easy to fall in love with a player who has changed this much, that love at the moment, is heavily based on speculation. This has both pros and cons, the pros taking the forefront as long as it's not done with much higher picks in a draft.
A majority of my love this for James Paxton this season, which I have continually expressed, comes from the results of his mechanical change from last year. When we start to see positive results of mechanical changes in players, I'm more willing to open up the rank of said player to movement in the upward direction. The issue with this stance of mine with changes that took place in the offseason circles back to the reality that again, these are just Spring Training games. It's hard to fully commit to a guy who shows results off mechanical changes simply in spring, when we know the games don't matter.
Speaking of results, by now, I'm sure we've all seen the torrid two and one third innings Tyler Glasnow strung together on Sunday (6K, 0 BB). I wrote about Glasnow possessing great value at his current ADP not too long ago. Was it a bit of speculation on both the added third pitch and shortening of his stride? Sure, but I did so acknowledging that his value is probably the lowest it will ever be before the age of 30, and the ace ceiling that I believe he possesses long term. By the end of spring, I wouldn't be shocked to see Glasnow's ADP shoot upward, regardless of whether he starts in AAA or not. Then comes the fun of deciding just how much you're willing to pay for pitcher of this caliber. Trust me, owners out there will bring you to your breaking point! If I'm going into a draft tomorrow, what's the highest I would reach for Glasnow? If I had a stable staff and was looking for a high variance arm, I could see taking him around 240 overall. That's about two rounds ahead of where he is currently going in NFBC leagues and nearly 130 spots ahead of where Grey has him in his ranks.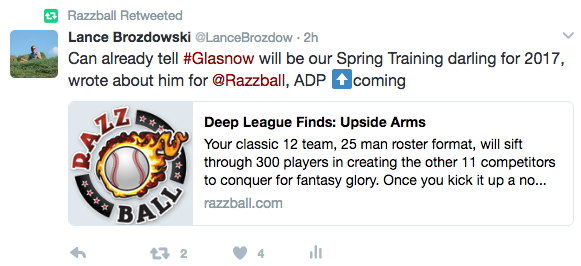 The Boys of Spring
I'm very interested to see what happens with Maikel Franco's ADP as the deja vu sets in from last spring. He popped one home run on Saturday (the other I'm tossing out the window as it was an inside-the-parker), following up a 2016 Spring where he hit nine home runs over 22 games with a .294 average. That pushed his ADP into the top 100 as we inched closer and closer to Opening Day and Franco primed us to be disappointed no matter how good his season was. I'm high on Franco again this year, and feel as though any more Spring destruction he commits won't bring with it the ADP hikes of 2016. While this has yet to be seen, his ADP sits around 125, which I would gladly jump on.
Franco seems to be following in the footsteps of a guy like Brandon Belt, who has batted over .350 in each of his last two Springs with ample power. Initially the buzz always kicked up Belt's ADP, but owners have become numb to the bombs under the Arizona sun. His 14th round ADP will probably sit tight because of it.
Danny Salazar is another guy I was very interested to watch on Sunday as he faced the Cubs B squad. Health has always been the issue, but Grey is very high on him this season, and from the looks of his breaking and off-speed pitches, midseason form isn't an insane term to throw around in describing his Spring debut. Salazar went your standard two innings, walking one batter, striking out two, and allowing one hit to who other than Eloy Jimenez. Salazar is sitting at 130 with the majority of his ADP built upon the health question mark. While there are a lot of other SPs in that window with top 10 potential, none possess the consistent strikeouts like we have seen from Salazar when he is actually on the mound.
For those of you that don't follow prospects too closely, I have Jimenez in my top 10, along with many others who appreciate the youth, size, and 'tools-y' set of attributes the 20 year old possesses. He turned on a letter-high fastball from Salazar in his first at bat for the lone base hit off the Indians starter. While there is very little chance we see Jimenez this season, he looks five years older than he actually is, and the Clint Frazier-esque bat speed makes me salivate as we know it comes with less strikeouts. Spring Training is generally our first impression of our future stars. We saw Aaron Judge and Cody Bellinger hit bombs, players like Amir Garrett and Sandy Alcantara take the hill, and we will see players of Jimenez's pedigree for the next few weeks while some of the bigger bats head to the World Baseball Classic.
Enjoy the Spring while it lasts, but be smart with your reactions.
You can follow Lance on Twitter, @LanceBrozdow, if you prefer to act like a proper millennial.