Way back in January, when the very first signs of ADP data sprouted out of the ground, I went down the rabbit hole, hoping to catch a glimpse of early signs of value. ADP at that point was more convoluted than forming an expectation for how much Pablo Sandoval would weigh coming into Spring Training, but since it was the only sign we had as to the 'market' rate for various players, I utilized it as much as I could.
James Paxton was the poster-boy of my early preseason eyebrow raise. He was going past the 200th overall pick with a maximum just outside of the 11th round. Paxton sits right now with an ADP around 192 overall according to NFBC data, with a max that has ticked up to 109 overall. Grey has Paxton as his 41st ranked starting pitcher and his 162nd overall player. Finally in the process of publishing my personal rankings, Paxton is my 27th overall starting pitcher and my 115th overall player, with still some finagling to bring that up even more if I feel so moved.
What Paxton accomplished last season was nothing short of fascinating. We see mechanical changes in pitchers a lot, but rarely do we see changes that cause such palpable success and subsequent expectations that aren't afraid to project out that success. Fangraphs did a really nice dive into exactly what Paxton changed and why success followed. Simply put, Paxton reverted to his natural arm slot on the mound, opting to venture away from the 'over-the-top' motion he used that we've seen cause problems in the past – see Wacha, Michael. This slot helped him hone his command on the inner third of the plate to righties, opening up the outside of the plate to his insanely effective cutter/slider. Eno Sarris breaks this down in the piece linked above.
When I uncovered this story last season, I was wildly intrigued for one reason. A natural arm slot, logically to me, would mean less risk for injury. The DL is something Paxton hasn't been able to avoid for most of his career, but if there was ever a storyline to give hope for health, I can't think of a better one than him being more comfortable on the mound…
Let's think of it this way. Take players like Steven Matz, Stephen Strasburg, and Rich Hill, all of whom have injury concerns. To my knowledge, none have changed anything in the past six months to mitigate those concerns aside from the universal dose of time off. In a universe where stats are king and projecting performance is a must, we can't be blind to mechanical changes, and that's why scouts will always exist. Even when the robots come. A non-pitching example of change like this is Daniel Murphy, who doubled his home run total from 2015 to 2016 after a torrid postseason. A fluke? Depends on your definition, but it's hard to argue against a clear change in Murphy's approach to become a fundamentally different hitter. J.D. Martinez is another great example. His change was much more subtle, but it turned him from a consensus bust to a player who will reap the benefits of 82 homers over three years this offseason.
In our case with Paxton, we're not even in the dark as to whether success will manifest off this change. His 2016 season was a fantastic year, and for a guy with injury problems in the past, what's more encouraging than a change in mechanics leading to a career high 171 innings?
My trust has been built back up in Paxton's health and whether that will help or hinder my judgement remains to be seen, but it's not blind trust. On top of the success Paxton had, the Mariner's have the most improved defense of the offseason, which can only help a guy like Paxton perform. Below I'm going to break out some expected seasons from Paxton, which we will then compare to Grey's rankings in hopes of getting Paxton in the top 30 SPs, like I will easily have him.

Paxton v Hernandez – Grey's 41st and 39th SPs
From 2008 to 2014 Felix Hernandez was an unbelievable workhorse, a pitcher I genuinely enjoyed watching carve through lineups, and drop one of the most consistently devastating changeups I've ever seen. But the year is 2017, Hernandez is 30, posted decreasing innings totals in each of his last two seasons, and will be throwing in the WBC. I don't have doubt that Hernandez will learn to pitch at a very respectable level into his 30s, but not coming off a season where he saw a substantial drop velocity on his fastball and sinker (shown below). I'm expecting a Justin Verlander style readjustment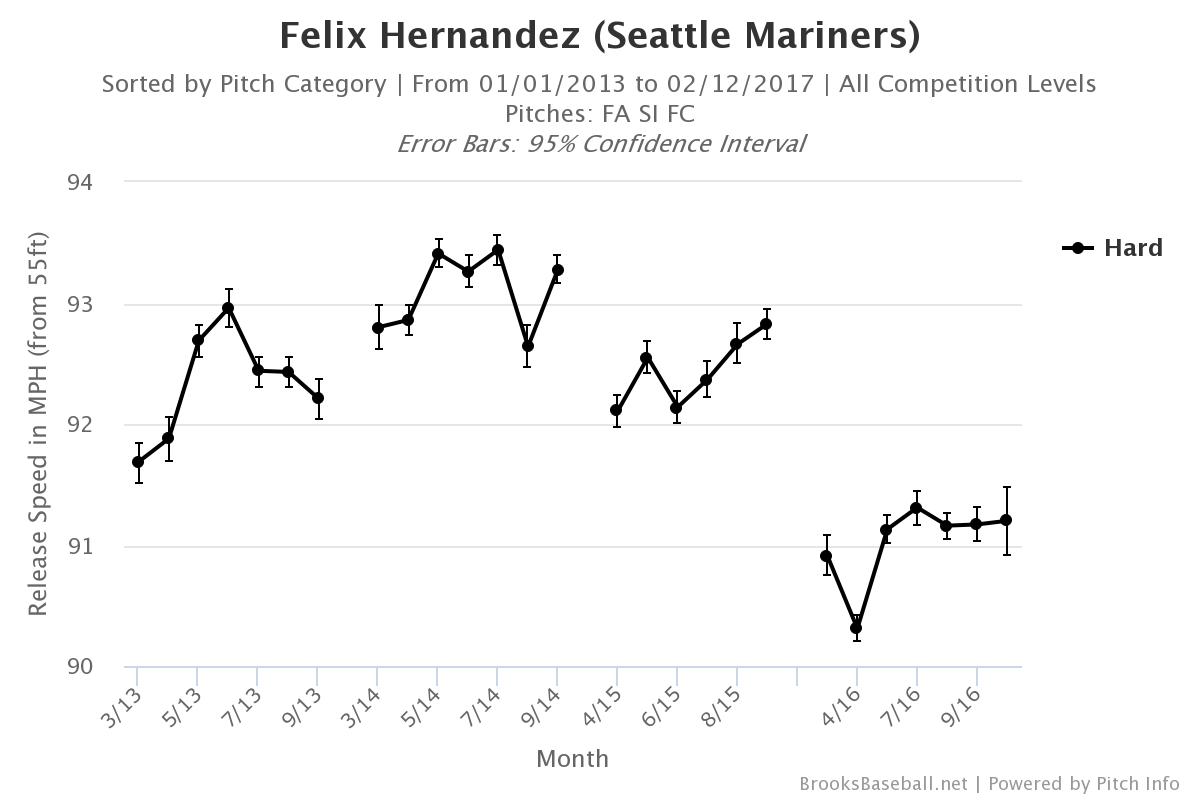 If you compare trend-lines of the future for Hernandez and Paxton, our southpaw is going in the direction you want. Hernandez is going to end up in the 3.75 ERA window with something like 30-40 less strikeouts than innings pitched (7.5 K/9). With Paxton you're going to get a better strikeout rate, with substantially more upside. This one is a no brainer.
Paxton vs Porcello – Grey's 41st and 37th SPs
Here is another example of two pitchers heading in opposite directions. The consensus is that Porcello will heavily regress, and I haven't heard many contrasting opinions. Wins may still be in the 10-15 window with the Red Sox offense, but the likelihood of everything else disappointing is tough to stomach, even with a guy going around SP3 value. I'm in the field of shying away from low strikeout arms and when you add to that negative aura around Porcello's 2017, I don't think I'll own him on any of my teams. So this one is an easy call for me too, especially when you look at the projected differential between strikeouts and ERA. I could see the argument for a bit of security with Porcello if you foresee yourself gambling on some other risky arms later in drafts, but I bet you can guess where I'm ending up on this debate.
Paxton vs Walker – Grey's 41st and 31st SPs
This is one guy I was extremely surprised to see inside Grey's top 35. While I generally see a lot of the logic in Grey's analysis, and honestly believe he is one of the most valuable analysts to follow in the industry, this is the one guy I have to draw the line with. He doesn't have a body of work at any level that gives me confidence he falls below a 3.6-3.7 ERA. Walker has had flashes of success in games, but I really don't see any evidence as to why he will be successful moving to a park that trailed only Coors in terms of offensive inflation. Add to that a lack of depth in pitch repertoire and consequential problems getting through orders a third time, and I'm staying away from Walker if he's off the board as the 31st SP. Grey counters exactly what I'm saying about needing precedent for expected future performance in his top 40 starters blurb top 40 starters, by saying that not having done it, isn't an excuse. My counter back? For any improvement this great, I want to see some change, and I don't have it yet. I'll give Walker a 3.90 ERA with an 8 K/9 and WHIP above 1.20. He's ownable, and there is upside there as Walker is only 24, but not this year my friend.
Paxton vs McCullers – Grey's 41st and 29th SPs
From disagreeing to agreeing with Grey, McCullers potential is just so attractive. The knock on him is that he possesses similar injury risk Paxton used to, mainly because of his insane 49.5% curveball usage. He has an insanely nice 13% swinging strike rate and as I have stated with Paxton above, has the past success that I can easily project out to a top 20 SP season. So why isn't he top 20? Because of the Rich Hill level injury risk. I can see extremely aggressive drafting with McCullers and others who will just completely lay off. I think I'm somewhere in the middle and am honestly still debating who I would take ahead of the other. Higher upside? McCullers because of his strikeouts. Better chance to throw 170 IP? Paxton, no questions asked. Shares my first name? McCullers! I'm torn on this one. It's all about the strain on McCullers elbow with the curve. Bold here, but give me Paxton by a hair.
You can follow Lance on Twitter, @LanceBrozdow, if you prefer to act like a proper millennial.