Sometimes a news story falls through the cracks, but Lewis Black is there to catch them in a segment we call Back in Black!  Oh wait, got a little carried away there…  I mean:
Sometimes a pitcher falls through the cracks, and Grey is there to catch them!
Now, I have somewhat of an excuse…  Due to the MLB and regional networks wanting to stick it up the rear of their viewers and black out however-the-hell-far their national maps can reach, I can't watch Orioles or Nationals games live in my region.  It's so frustrating that I sold high on Adam Jones in my keeper just because I couldn't see the homers right away!  I'm an instant gratification kinda guy, wink wink.
It's easy to follow the hitters from these teams and see the highlights, but I never see big samples from either teams' SP unless it's on national TV.  Or in this case, in a Pitcher Profile!  Grey has been all about some Miguel Gonzalez on the Podcast, and I guess it's easy for me to be a little dismissive as he's never had "huge" numbers and I can't ever watch him.  Plus, how good could he be anyway, he's not even the only starting pitcher named Miguel Gonzalez!  Mmmmmm, Alfredo.  But not the Simon kind!  Anyway, since I've seen so little of Gonzalez and he had a very under the radar 2.09 ERA in the final 3 months last year and a 2.59 ERA this year with nice Ks, I figured it was a good time to break down his last start hosting the Rays to see how he's doing pitch-by-pitch:
First Inning: Gonzalez's first pitch is a high 89 MPH two-seamer taken by David DeJesus for ball one.  Fastball again high is swung through and missed, 91 MPH heater is high and tight, fastball is fouled off, then the 2-2 two-seamer at 91 MPH runs back and paints the inside corner to start the day with a strikeout looking.  Not bad!  Steven Souza takes a four-seamer in there for strike one, then four-seam again a little higher is swung through and missed, quickly 0-2.  The velo isn't overpowering, but all fastballs and again heater at 92 high and outside, 1-2.  Gonzalez's first off-speed is a little slider that should've been strike 3 but is called low, 2-2.  Then hanging slider a tad up and in is grounded weakly to third for the 2nd out.  Not a great pitch and Souza made it close with his speed.  There's a good-looking breaking pitch with a 76 MPH curveball just low to Asdrubal Cabrera, fastball is high, fastball at 91 is swung under and missed, a good amount of swinging strikes already…  Fastball is high to make it 3-1, then 92 MPH on the inside corner is popped up to shallow right to end the inning.
Second Inning: Still rocking a ton of fastballs, Gonzalez misses high then misses outside to quickly fall behind 2-0 to Evan Longoria.  All ready to swing for the fences, Longo completely whiffs at yet another fastball to make it 2-1: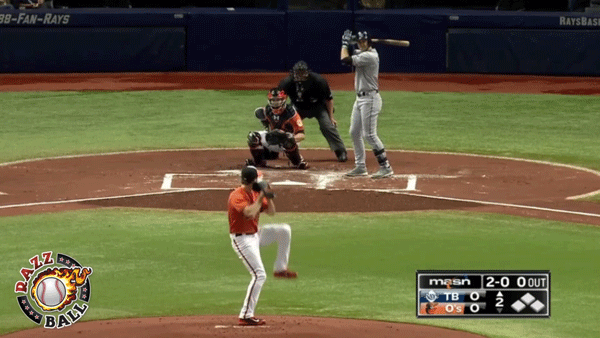 Yikes, crazy a 91 MPH fastball could make Longoria look like that!  (also, finally got the GIFs settings right to make them look damn sexy, amiright?!)  Slider hangs inside, 91 MPH fastball right at the knees is fought off foul, Gonzalez throws his fastest pitch so far at 93 MPH and it's fouled back, then the 7th pitch is another high fastball at 92 – a little further outside but otherwise almost exactly like the GIF above – and it gets Longo swinging for Gonzalez's 2nd K.  Then the first pitch to James Loney is a two-seamer and it's flied out to deep left for the second out.  Loney gave it a ride, but not enough.  And Gonzalez continues to blow fastballs by these Rays with Tim Beckham swinging late on a fastball 0-1, then a little bit of a hanging slider stayed in the zone and Beckham hits it hard through short and third for a single.  Logan Forsythe fouls back a first-pitch fastball, another high heater is fouled back, then 92 looked like it was perfect at the letters but is called high, 1-2.  After a few checks at first, Gonzalez throws another one of those inside sliders that doesn't break much, but gets an easy groundball to third to end the inning.
Third Inning: Still a 0-0 game, Gonzalez gets a backdoor slider up high to break into the zone 0-1 to Kevin Kiermaier, fastball is fouled back, 91 MPH climbs high, then a 1-2 hanging slider stays up in the zone and Kiermaier bloops it to center, Adam Jones doesn't charge the ball and Kiermaier sprinting the whole way gets to 2nd for a hustle double.  Should be an error on Jones…  Not so mad I traded him now!  And what is Kiermaier doing hitting 8th in this order?!  Anyway, Bobby Wilson swings at a first-pitch fastball and it's an easy groundout to short for the first out.  Bad AB there.  Back to the top and DeJesus takes a change-up for strike one, then either a hanging slider or a change is hit decently to center, it's caught easily though and Kiermaier moves to third.  Two outs, and wow Steven Souza bunts, but Manny Machado shows why he's such a highly regarded fielder and makes the play.  Let Gonzalez a little off the hook there with the two out bunt, hoping to surprise.
Fourth Inning: Picking up three runs of support, huge off opposing pitcher Chris Archer, Gonzalez now supports a lead with a fastball low to Cabrera.  Fastball again hits the inside corner, that mini-slider gets a foul back, fastball well outside, Cabrera pulls a fastball foul, then staying with the fastballs, a 91 MPH four-seamer gets an easy pop to third, one down.  And man, Longoria is just overmatched out there taking a swing at this breaking ball in the dirt: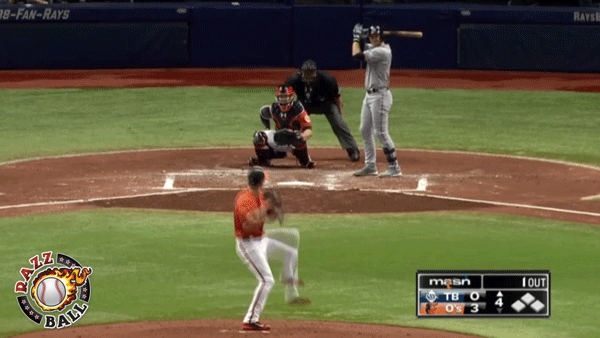 Actually might be a split-finger there, but we'll check in with classification in the Final Analysis…  A lot of pitches I've called sliders so far might've been some hanging splitters…  Longo takes a slider outside, Gonzalez barely misses outside, Longo rolls a slider low, then a fastball is popped foul but with just enough room is Machado again for another easy out.  Fastball inside to Loney, fastball lined foul, fastball paints the outside corner and the ump accidentally calls strike three…  Second time I've seen that this year!  And Gonzalez wastes no time with another burying split-finger to get Loney swinging to end the inning:
Nasty pitch there – this was the first inning I've been really impressed.
Fifth Inning: It's been a pretty breezy 4 innings and Gonzalez gets Beckham to foul back a fastball, fastball on the hands is ripped foul, then fastball again high in the zone is roped to center, but it's right to Jones for a loud first out.  That was crushed, just to the wrong spot.  Breaking ball at 77 MPH drops into the top of the zone on Forsythe, slider inside, then 91 MPH again a little high and down the middle is crushed to left for a double.  Fastball not fooling them as much right now.  Kiermaier takes a fastball inside, again heater inside, then a fastball on the outside edge is rolled over to second for a groundout.  Forsythe didn't move to third for some reason, so it's two down with a runner on second and Wilson fouls a fastball right off the mask of Orioles catcher Caleb Joseph, hanging slider is fouled back, slider again is fouled third base side, then a fastball off the outside edge is fouled to center to end the inning.
Sixth Inning: At only 65 pitches, Gonzalez delivers a fastball high to DeJesus, then fastball again is hit pretty hard to center, but Jones gets it a step ahead of the track for the first out.  In Camden that might've been trouble…  Souza takes a fastball in there, a nice splitter hugging the outside corner gets strike two, then a fastball painting the outside corner locks Souza up for another K looking.  Splitter hops in there to Cabrera 1-0, a little slider hits the outside corner, two-seamer runs outside, 92 MPH four-seam is right in there 2-2, hanging slider stays high and is tipped back foul, then another hanging breaking ball stays high and outside, but Cabrera swings through it for another K to end the inning.
Seventh Inning: Still in a great position with 73 pitches, Gonzalez rolls a curveball low, then a hanging slider on the inside corner gets Longoria to swing a smidge early foul, 1-1.  Fastball is barely tipped foul, fastball again stays high, heater goes outside, then the payoff pitch is a fastball in Longo's sweet spot, but he's just under it for a high flyout to left to the track, one out.  Another one that could've been trouble in Camden.  Loney takes a curveball that rolls into the zone strike one, he pulls early on a splitter 0-2, four-seam stays outside, then another fastball on the outside lower corner is slashed to left, but David Lough is there for the easy catch.  Two outs, and Beckham takes a sharp running two-seamer inside, 92 MPH high fastball is fouled back, 1-1.  Good to see the velo still there 88 pitches in and Beckham swings over a two-seamer, 1-2.  Then Gonzalez paints that outside corner with 92 MPH heat and Beckham can't pull the trigger for yet another K looking.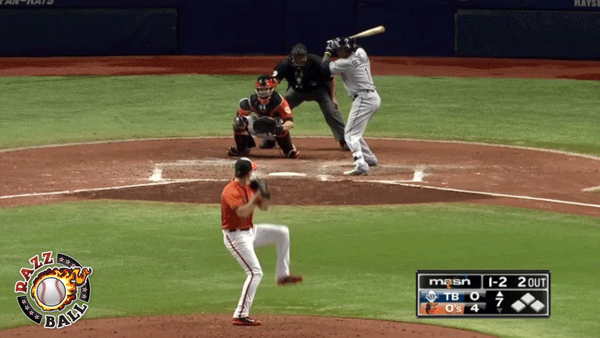 Really good command right there; you couldn't walk it to the plate any better than that!
Eighth Inning: A great curveball bends from inside to hit the low inside corner for strike one on Forsythe, curve again is low, fastball is way high and outside, then another hanging breaking pitch is bulleted right to Gonzalez and it's through his legs and up the gap for a single.  So Gonzalez might be towards the end of the line and a fastball is way too far inside to Kiermaier, but another fastball is popped up to short for an easy out.  A high and tight fastball is pulled way foul by Wilson, then fastball again that got too much of the zone is laced to center, but Jones on the run makes the catch.  Another out saved by Jones and Gonzalez trying to get through the 8th misses outside to DeJesus, 1-0.  Splitter stays inside 2-0.  Two-seamer barely catches the outside corner for a strike even though pitch tracker has it well off the plate, slider is right there in the zone 2-2, then a curveball that looked perfect hitting the lower black is called a ball, 3-2.  Bad umpiring right now, but I guess it should be 3-2 either way.  Payoff pitch is fouled back, then 3-2 again is a fastball way off the plate outside and that'll be Gonzalez's final pitch.  He leaves two on but neither come back to hurt him, and it's a great quality start from Gonzalez.
Final Line:  W  7.2 IP  105 Pitches (70 Strikes)  0 ER  4 Hits  1 Walk  6 K  Gamescore: 76  Gamescore+: 74.8
Final Analysis: To be honest, I still don't know exactly what to make of Gonzalez…  The Rays hitters saw him in the opening series this year, and Gonzalez went only 5.2 innings with 5 walks.  In this start, he showed impeccable command and the Rays were baffled…  I'm glad to see my stat working, with his Gamescore+ coming out lower than his Gamescore with some hard hit outs in his favor including a few deep flyballs that could've been trouble in Camden Yards.
Gonzalez had no trouble getting ahead in counts and pumped fastballs by the Tampa hitters sitting at only 90-92 MPH and only hitting 93 once.  I don't really see any clear deception in his delivery, but then again I'm watching him from the viewers angle and not the batters box.  He indeed throws a slider (I wasn't sure since it had so little break and almost all of them were high in the zone – they might have been hanging splitters), but it didn't do much in this game from a viewer's perspective.  It worked almost like a cutter, but most seemed hung.  He didn't throw too many curveballs this start even though he uses them 10.8% of the time on the season.  His best pitch – at least in this start – was that split-finger which comes out of the same delivery as the fastball and just dies in the dirt.  Maybe he didn't have a great feel for the slider and utilized the splitter more, but I'm surprised it's only been used by Gonzalez 14.1% of the time this year.
The fastball isn't overpowering, the slider didn't look good, and his split-finger was the only pitch that impressed me…  As implied in the title, Miguel Gonzalez looks a little pedestrian to me.  Just a guy.  But it's hard to dispute a sub-2.50 ERA over the last 3 months of 2014 and a month so far this year, especially since he's pitched 9 straight games against AL East divisional opponents.  Nine times!  Pretty impressive with the big bats in the division.
If I had to think of a comp for what Gonzalez is doing right now, it would be that run Dillon Gee had towards the end of 2013 and early 2014.  Had a long-sample low ERA, ebbs and flows with the Ks, and generally was undervalued.  Gonzalez did break into my top 100, but I have a hard time seeing him climb too much higher.  The stuff wasn't all that impressive, and he still has shown control issues with 10 walks in his first 3 games.  It was solid in this start and he's certainly worth a spec add or a stream, but I'd be nervous relying on him all year.  It doesn't help in the short term that the poor guy misses a start at the Mets and again has to pitch at the Yankees his next time out…  10 in a row!
JB's Updated Top 100 SP
(rankings based on 12-team Roto, green for risers, red for fallers)
| RANK | SP, Team |
| --- | --- |
| 1 | Clayton Kershaw, LAD |
| 2 | Felix Hernandez, SEA |
| 3 | Max Scherzer, WAS |
| 4 | Chris Sale, CWS |
| 5 | Corey Kluber, CLE |
| 6 | David Price, DET |
| 7 | Madison Bumgarner, SF |
| 8 | Matt Harvey, NYM |
| 9 | Johnny Cueto, CIN |
| 10 | Stephen Strasburg, WAS |
| 11 | Jake Arrieta, CHC |
| 12 | Zack Greinke, LAD |
| 13 | Cole Hamels, PHI |
| 14 | Gerrit Cole, PIT |
| 15 | Carlos Carrasco, CLE |
| 16 | Jeff Samardzija, CWS |
| 17 | Jordan Zimmermann, WAS |
| 18 | Garrett Richards, LAA |
| 19 | Jacob deGrom, NYM |
| 20 | James Shields, SD |
| 21 | Sonny Gray, OAK |
| 22 | Michael Wacha, STL |
| 23 | Collin McHugh, HOU |
| 24 | Dallas Keuchel, HOU |
| 25 | Tyson Ross, SD |
| 26 | Michael Pineda, NYY |
| 27 | Chris Archer, TB |
| 28 | Alex Wood, ATL |
| 29 | Scott Kazmir, OAK |
| 30 | Yordano Ventura, KC |
| 31 | Jon Lester, CHC |
| 32 | Alex Cobb, TB |
| 33 | Julio Teheran, ATL |
| 34 | Danny Salazar, CLE |
| 35 | James Paxton, SEA |
| 36 | Carlos Martinez, STL |
| 37 | Drew Smyly, TB |
| 38 | Andrew Cashner, SD |
| 39 | Francisco Liriano, PIT |
| 40 | Lance Lynn, STL |
| 41 | Trevor Bauer, CLE |
| 42 | Phil Hughes, MIN |
| 43 | Jimmy Nelson, MIL |
| 44 | Anibal Sanchez, DET |
| 45 | Jake Odorizzi, TB |
| 46 | Gio Gonzalez, WAS |
| 47 | Masahiro Tanaka, NYY |
| 48 | Mike Fiers, MIL |
| 49 | A.J. Burnett, PIT |
| 50 | Jesse Chavez, OAK |
| 51 | Jose Quintana, CWS |
| 52 | Drew Pomeranz, OAK |
| 53 | J.A. Happ, SEA |
| 54 | Mike Leake, CIN |
| 55 | Jason Hammel, CHC |
| 56 | Archie Bradley, ARI |
| 57 | Danny Duffy, KC |
| 58 | Carlos Rodon, CWS |
| 59 | Chase Anderson, ARI |
| 60 | Mat Latos, MIA |
| 61 | Matt Shoemaker, LAA |
| 62 | Shane Greene, DET |
| 63 | Doug Fister, WAS |
| 64 | Kyle Hendricks, CHC |
| 65 | Hisashi Iwakuma, SEA |
| 66 | Ian Kennedy, SD |
| 67 | Rubby De La Rosa, ARI |
| 68 | Taijuan Walker, SEA |
| 69 | Drew Hutchison, TOR |
| 70 | Anthony DeSclafani, CIN |
| 71 | Kyle Lohse, MIL |
| 72 | Hyun-Jin Ryu, LAD |
| 73 | Edinson Volquez, KC |
| 74 | Brandon Morrow, SD |
| 75 | Shelby Miller, ATL |
| 76 | Aaron Harang, PHI |
| 77 | Jered Weaver, LAA |
| 78 | Jesse Hahn, OAK |
| 79 | Jose Fernandez, MIA |
| 80 | John Lackey, STL |
| 81 | Aaron Sanchez, TOR |
| 82 | Miguel Gonzalez, BAL |
| 83 | Tim Hudson, SF |
| 84 | Noah Syndergaard, NYM |
| 85 | Mike Minor, ATL |
| 86 | R.A. Dickey, TOR |
| 87 | Chris Heston, SF |
| 88 | Rick Porcello, BOS |
| 89 | Jon Niese, NYM |
| 90 | Nathan Eovaldi, NYY |
| 91 | Bartolo Colon, NYM |
| 92 | Wily Peralta, MIL |
| 93 | Jake Peavy, SF |
| 94 | Chris Tillman, BAL |
| 95 | CC Sabathia, NYY |
| 96 | Kevin Gausman, BAL |
| 97 | Clay Buchholz, BOS |
| 98 | Alfredo Simon, DET |
| 99 | Ubaldo Jiminez, BAL |
| 100 | Travis Wood, CHC |
Dropped Out: Brandon McCarthy, LAD (TJ, ugh), Homer Bailey, CIN (TJ, but shouldn't they have figured that out last year?!), Daniel Norris, TOR (AAA)
Thoughts on Miguel Gonzalez?  Am I treating him too pedestrian?  And if any other ranks seem off, certainly let me know below and happy pitching in May, Razzball Nation!