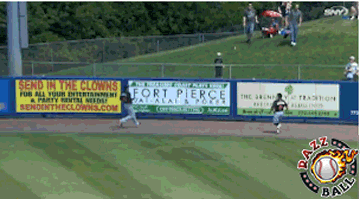 Most exciting thing to happen at spring training thus far.
Can the season start already? Spring training has all the excitement of watching The Bachelor finale through the holes in a cracker. Basically, your humble-but-nonetheless-superstitious Guru spends spring training lighting candles, arranging antlers True Detective-style and just praying guys I've already drafted don't strain a bursa sac or meet the Yellow King mowing the outfield. With only a handful of RCL drafts completed – including the writers league – the fun is just getting started. Let's fire up the jammer crammer machine ©, get to the hot corner and take a look at third baseman ranked outside ESPN's top 100 players. The third base position is a whole lot of Pam Anderson kind of top heavy with the flat girls and their nice personalities stuck in the middle and the cross dressers in the back – sounds like the worst New Orleans strip club ever. If you miss out on the stacked guys like Miguel Cabrera, Evan Longoria or Adrian Beltre don't panic, just make sure you're stuffing dollar bills into the g-strings of David Wright, Ryan Zimmerman and or Josh Donaldson's. Now if you pass on one of those guys too it might be time to take up morning drinking and fantasy NASCAR. Dale Earnhardt Jr. goes left really well – that's it for my racing analysis. There's only six third baseman in the top 100 and the guys that immediate follow test the gag reflex in a way that is not at all exciting – Aramis Ramirez *hiccup*, Pedro Alvarez *burp* and Brett Lawrie *gets bucket*. I'm passing on those guys and waiting a little longer like it's almost last call in the Razzball Lounge – we're holding out for something better. I'll risk a late CI pick on a young skank like Todd Frazier that tries hard before I wake up next to the eager lady that looks like Mike Moustakas who rolls over in the morning to say, "Let's play jam it or cram it."
Jam or Cram: Manny Machado, Baltimore Orioles
2013 Stats: 88 R, 14 HR, 71 RBI, 6 SB, .283 AV.
2014 ESPN Ranking: #111
2014 $$$ Value: $9
The Gist: The big question with the Macho Man is have you seen those ears how many plate appearances will the kid get? According to my Magic 8-Ball, *shakes* all signs point to the Machado being ready by mid-April. Machado is young – just 21 – but is no Mike Trout or Bryce Harper. While he was second in the league in doubles with 51, the power has not yet arrived – his 14 homers were 11th among third baseman.
Dirty Turban 2014 Projection: 77 R, 15 HR, 64 RBI, 7 SB, .272 AV.
Jam it or Cram it: I like Machado on my real team, not so much my fantasy team. Sorry, Buck Showalter, don't punch me in the face. Usually 51 doubles is a sure sign of power and future projections on home runs. Not so quick there, Statty McStats. I got numbers too. Machado's ISO of .148 is only meh and his batted ball distance of 278 feet wasn't even top 150 in baseball. Those numbers don't translate to 20 homers this year, especially coming off knee surgery. Don't get me wrong, I'm no Manny hater, I like like him and would pass him a note in the gym class of my dynasty league, but this year it's a CRAM.

Jam or Cram: Martin Prado, Arizona Diamondbacks
2013 Stats: 70 R, 14 HR, 82 RBI, 3 SB, .282 AV.
2014 ESPN Ranking: #112
2014 $$$ Value: $11
The Gist: Prado got off to a slow start in Arizona, but turned it on in the second half last year. Post All-Star break he slashed .324/.374/.490 with six homers, 23 doubles and 48 RBI. Hitting in front of Paul Goldschmidt and Mark Trumbo this season, Prado could score 90 runs. Then again, if I were to hit in front of Goldy I could score 90 runs and I last ran in 2003. Thanks, Rascal Scooter.
Dirty Turban 2014 Projection: 80 R, 12 HR, 71 RBI, 6 SB, .289 AV.
Jam it or Cram it: Marteeeen delivers solid stats, a low K rate, multi-positional eligibility and an ADP around the ninth round. He's also a great play in H2H and points leagues. Woo woo! Someone mentioned points leagues! Not excited? Sorry, Prado has all the excitement of an old Jay Leno monologue, yet I love him the way Jimmy Fallon loves, well, everything. JAM

Jam or Cram: Chase Headley, San Diego Padres:  
2013 Stats: 59 R, 13 HR, 50 RBI, 8 SB, .250 AV.
2014 ESPN Rankings: #125
2014 $$$ Value: $10
The Gist: A couple years ago, Headley hit 30 bombs. However, the Razzball Empire fired warning shots last season not to believe in those 30 home runs – fools gold we said. Headley hit 13 last year. Hooray we said, our predictions for failure were correct. Let's leave Josh Rutledge out of this. Jerks.
Dirty Turban 2014 Projection: 73 R, 17 HR, 76 RBI, 11 SB, .266 AV.
Jam it or Cram it: Note: Please heed the warning signs ahead. Headley has been limping around spring training with a strained calf and had knee surgery back in October. *Warning lights* His HR/FB rate also fell from 21.4% to about 11% last year. *Warning sirens* His batting average and BABIP were both career lows. Thanks for the warnings. Will Headley be motivated in a contract year to reach 30 home runs again or will those long balls just get swallowed up in Petco? And that's what she said. Know what else she said sounding like Scarlet Johansson? CRAM

Jam or Cram: Will Middlebrooks, Boston Red Sox
2013 Stats: 41 R, 17 HR, 49 RBI, 3 SB, .227 AV.
2014 ESPN Ranking: #150
2014 $$$ Value: $7
The Gist: All the shine and new car smell has worn off on Middlebrooks after a terrible 2013 season that saw him hit .227, get sent off to Pawtucket, lose his job during the World Series to Xander Bogaerts and end up gossip page fodder in the Beantown papers for his "batsmanship" with Sox sideline sex kitten Jenny Dell. Not familiar with Jenny's talents? Here ya go. You're welcome. All Jenny fantasies aside, Middlebrooks' fantasy value is falling fast. His K rate was over 25%, his walk rate was about 5%, the ISO was under .200 and in 615 career at-bats Middlebrooks has 32 homers and 33 walks.  Know who this sounds like? Ike Davis. That'll deflate your Jenny inspired chub.
Dirty Turban 2014 Projection: 62 R, 23 HR, 70 RBI, 5 SB, .255 AV.
Jam it or Cram it: Could the Sox be ready to deal Diddlebrooks? They already "reassigned" his gal pal, have Garin Cecchini warming in the minors and the Will for Giancarlo Stanton rumors have been rumbling around the Fens. As a Sawx fan, I say make it happen now. The Sox would have Giancarlo and the world would get Jenny Dell bikini pics year round. That's a win-win. Sorry about my real world baseball fantasy. Now back to the fantasy baseball blurb – CRAM.
Jam or Cram: Nolan Arenado, Colorado Rockies
2013 Stats: 49 R, 10 HR, 52 RBI, 2 SB, .267 AV.
2014 ESPN Ranking: #223
2014 $$$ Value: $2
The Gist: Every season certain players get the man crush treatment – this year it's the Mile High man Nolan Arenado. Grey wrote a sleeper post on him back in December and read it to a group of confused school children expecting "'Twas the Night Before Christmas." What's not to like kids, Arenado is a young (22), low strikeout (14%), high contact hitter (82%) with some pop (had 20 homers at High A Modesto in 2011) that plays at Coors (5,280 feet above sea level).
Dirty Turban 2014 Projection: 68 R, 17 HR, 77 RBI, 3 SB, .280 AV.
Jam it or Cram it: Arenado might be a gift better left to unwrapping next season, but with his current ADP being around the 18th round and the possibility of getting 70ish runs, 20ish homers and a .300ish average makes me want to play with him now. Worst case? Go all Platoony Tunes and start him at Coors against lefties. Bestest case? He's turns into Evan Longoria. JAM
**BONUS TRACKS**
Pablo Sandoval, San Francisco Giants: Juan Pablo was disappointing his dates last year with just 14 homers, an inability to stay on the field (over 100 games missed last three years) and an ability to swing at every pitch he sees. Despite the Jenny Craig diet, I don't see any future for us Pablo. No rose for you. CRAM
Kyle Seager, Seattle Mariners: I've seen him ranked as high as 78, as low as 140. That's too low for a guy that'll give you 20+ homers, 80+ runs and 70+ RBI. Seager fans, take those old records off the shelf and JAM.
Mike Moustakas, Kansas City Royals: Moose has been bashing this spring with three homers in nine games and a .455 average. Know who hit .455 for KC last spring? David Lough. CRAM
Xander Bogaerts, Boston Red Sox: Bogaerts has 3B eligibility too? What can he not do? I wrote my X-Man fantasy last week. Next week I write Xander fan fiction. JAM
Cody Ashe, Philadelphia Phillies: Hit .295 with 15 homers and 68 RBI in 400 AB's last year for that Lehigh Valley team that has bacon on their uniforms. Mmmm…bacon. Razzballin' Ashe believers please raise your hands. OK, we have Grey, J-Foh, one girl reader and your humble Guru. Sky, that's not your hand. JAM

Follow The Guru and his dirty turban on Twitter @TheGuruGS for fantasy ballin' wisdom and scotch-fueled selfies.