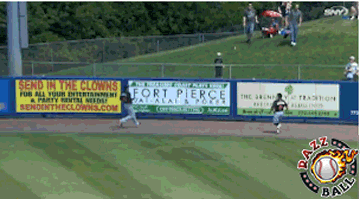 Most exciting thing to happen at spring training thus far.
Can the season start already? Spring training has all the excitement of watching The Bachelor finale through the holes in a cracker. Basically, your humble-but-nonetheless-superstitious Guru spends spring training lighting candles, arranging antlers True Detective-style and just praying guys I've already drafted don't strain a bursa sac or meet the Yellow King mowing the outfield. With only a handful of RCL drafts completed – including the writers league – the fun is just getting started. Let's fire up the jammer crammer machine ©, get to the hot corner and take a look at third baseman ranked outside ESPN's top 100 players. The third base position is a whole lot of Pam Anderson kind of top heavy with the flat girls and their nice personalities stuck in the middle and the cross dressers in the back – sounds like the worst New Orleans strip club ever. If you miss out on the stacked guys like Miguel Cabrera, Evan Longoria or Adrian Beltre don't panic, just make sure you're stuffing dollar bills into the g-strings of David Wright, Ryan Zimmerman and or Josh Donaldson's. Now if you pass on one of those guys too it might be time to take up morning drinking and fantasy NASCAR. Dale Earnhardt Jr. goes left really well – that's it for my racing analysis. There's only six third baseman in the top 100 and the guys that immediate follow test the gag reflex in a way that is not at all exciting – Aramis Ramirez *hiccup*, Pedro Alvarez *burp* and Brett Lawrie *gets bucket*. I'm passing on those guys and waiting a little longer like it's almost last call in the Razzball Lounge – we're holding out for something better. I'll risk a late CI pick on a young skank like Todd Frazier that tries hard before I wake up next to the eager lady that looks like Mike Moustakas who rolls over in the morning to say, "Let's play jam it or cram it."
Please, blog, may I have some more?