With the All-Star break happening this week, it's time to reflect on the special times we've had together. We've been undoubtedly enabling one another's fantasy baseball addiction and it's a beautiful thing. We have to fight through this time together though and do our best to shake off these cravings. In order to get through this period, let's discuss some of the bright spots we've had together and some of the things to look forward too.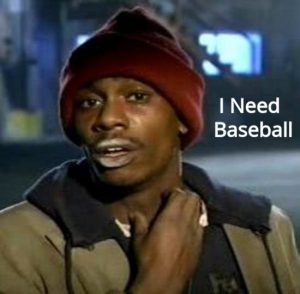 There's nothing quite like patting your own back in fantasy baseball, so let's go over some of our best calls of the season.  
Finds of the Season 
Domingo German (Week 2 vs. DET, at BAL)(Week 3 vs. KC): This is one of the streamers I was most proud of because we got on the train just before it took off. From when we recommended him against Detroit to the conclusion of that Kansas City start, German went from about 40 percent ownership to nearly 100 percent. That's really our goal here and it's clear that this dude is the real deal. Not only does German have a stout 10-2 record, he's also generating a 3.67 ERA and 1.09 WHIP while striking out 83 batters across 76 innings. Those numbers were even better before an injury he suffered at the beginning of June and he should be a stable for every fantasy team.  
Caleb Smith (Week 1 vs. COL)(Week 2 vs. NYM, at ATL): This is yet another guy that we got at the perfect time, as he's truly become a strikeout king for fantasy owners. While his 3-4 record is nothing to write home about, his 2.38 ERA and 0.94 WHIP over his first nine starts is. What's even more impressive is his 32 percent K rate, as this lefty has truly established himself as one of the most dangerous arms in the NL.   
Brad Peacock (Week 2 vs. OAK)(Week 4 vs. MIN, vs. CLE)(Week 6 vs. KC)(Week 7 at DET)(Week 8 vs. CWS, vs. BOS): Ok, clearly you guys weren't listening to me on this guy! I mean, look at this crap! I recommended him in five different articles and he never surpassed 80 percent ownership. The reason for that is because he struggled early on and kept owners away. Between May 8 and June 21, this dude was one of the best pitchers in the AL though and that directly correlates with these recommendations. In that nine-start span, Peacock pitched to a 2.63 ERA and 1.03 WHIP while striking out 61 batters across 51.1 innings. A shoulder injury slowed him down at the end of the first-half but look for him to rebound and return shortly.
Jake Odorizzi (Week 3 vs. TOR)(Week 6 vs. DET)(Week 8 at LAA, vs. CWS): The funny thing here is that I said Odorizzi was just out of the threshold for ownership percentages in my Week 8 article and that he needed to be picked up everywhere. Over his first 14 starts, Odorizzi pitched to a 2.24 ERA and 1.10 WHIP while striking out 85 batters across 76.1 innings of action. A blister ruined his last three starts of the first-half and sent him to the IL but it's clear we found a diamond in the rough with Odorizzi. 
Yonny Chirinos (Week 3 vs. BAL)(Week 4 vs. KC)(Week 5 at KC, at BAL): Haha, no wonder I recommended this guy, look at those matchups! This was actually one of my sneakiest write-ups of the year because people were sleeping on this guy. Many owners overlooked the fact that Chirinos was in that long-man role and he was quietly one of the best producers in fantasy at that time. Since I recommended him against Baltimore in Week 3, Chirinos is actually pitching to a 2.94 ERA and 0.99 WHIP.  
Honorable Mentions 
These are guys that only appeared in my article once or twice when they were below 80 percent ownership but hopefully, you picked them up and never looked back.
Mike Soroka (Week 5 vs. SD): Soroka might be the most successful pitcher that we recommended all season, as his 2.42 ERA And 1.05 WHIP makes him one of the lead horses for Rookie of the Year.  
Mike Minor (Week 6 vs. TOR): This lefty is truly one of the surprises of the season, pitching to a 2.54 ERA and 1.13 WHIP while striking out 114 batters across 117 innings of action.  
Brandon Woodruff (Week 6 vs. WSH): Woodruff actually struck out nine batters in the Nationals start and has posted a 3.14 ERA and 0.96 WHIP since. His K rate is even more impressive, striking out 126 batters across 108 innings this season.  
Lance Lynn (Week 12 vs. CLE): Since allowing eight runs at the end of April, Lynn is pitching to a 3.09 ERA and 1.11 WHIP over his last 13 starts, striking out 99 batters across 87.1 innings.  
Dud of the Season 
Relationships are tough and pretending like we've had all good times is unfair to you. I've undoubtedly had some terrible calls, so I'm going to man up and admit my biggest mistake.  
Yusei Kikuchi (Week 12 vs. BAL, vs. KC) 
This was undoubtedly my worst call of the season. I figured this guy would step it up with two home starts against the Royals and Orioles a few weeks ago and he took a huge crap all over my week. In fact, he finished that two-start week with a 7.36 ERA and 1.91 WHIP while striking out eight batters across 11 innings. That followed up a stretch in which he had a 10.20 ERA and 2.87 WHIP over his previous four starts and that should have been a huge red flag right there. The lesson we learned is to never trust a guy who's in the worst stretch of his season, no matter how tasty the matchups may be. Once again, Namaste to Yusei Kikuchi! 
Now that we have the healing out of the way, let's look forward to the future. There are some guys I'm really looking forward to in the second half and these are the sort of pitchers who could end up being league winners.  
Looking Ahead 
Yu Darvish (CHC): I have a ton of stock in Darvish and I think he's very close to going on a big run. His stuff has always been there but the command is starting to come around too. That's evident by his 4.50 ERA and 0.98 WHIP over his last seven starts which is backed by an impressive 30 percent K rate. Don't be afraid to buy low on Darvish or scoop him in any leagues where he's available.  
Ross Stripling (LAD): With Rich Hill injured, Stripling has found himself back into the Dodgers rotation. This is a guy who's deserved a starting spot for years now, pitching to a 3.16 ERA and 1.21 WHIP since the start of last season. He also has 195 Ks in 179.1 innings in that span, as he should do some serious damage in a pitcher's park like Dodgers Stadium.  
Michael Pineda (MIN): Why are people still sleeping on this guy? We're talking about a talented righty who has some nasty stuff, which is evident by his 3.47 career xFIP. While his 4.78 ERA is nothing special this season, his 1.15 WIP indicates that he's still got some serious potential. He's rolling heading into the All-Star break too, allowing one run or fewer in four of his last five starts while posting a WHIP below 1.00 and a K rate north of 25 percent in that span.  
Some other guys worth keeping an eye on are Dinelson Lamet, Danny Salazar and any of the talented Miami pitchers (Caleb Smith, Sandy Alcantara, Jordan Yamamoto, Zac Gallen, Trevor Richards and Pablo Lopez).  
We'll be back next week with our typical streamers but I hope you enjoyed this article! Thanks!