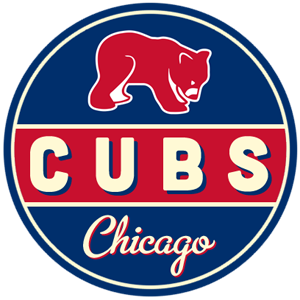 Welcome to Razzball's 2018 team previews. Over the next couple of months, we'll be previewing all of the teams and talking to writers who represent those teams around the web. We want to provide the best and most in-depth fantasy projections to go along with the asking the most useful questions to those who know their teams best. We want to talk about the players in the first half of your draft and also the deep sleepers that make you log into google and start watching Midwest Single-A ball for hours. Just kidding, don't do that, hopefully we don't go that far…
The Chicago Cubs are coming off of three straight NLCS appearances and one World Series title. The bats didn't really get going in the first half of the season in 2017 and there was no way that the starting pitching was going to be as effective in 2017 as it was in 2016. Still, the Cubs had too much all star power on the roster not to be in the thick of it throughout October. All of the manager speak and clubhouse talk points to a revamped desire to win and the off season moves points towards the same mood from the front office. The Cubs wanted to spice up the rotation so they added Tyler Chatwood, Brandon Morrow, and a guy named Yu Darvish. To take a little, you also have to give a little. Jake Arrieta and Wade Davis will not be returning next season. I talked to Alex Patt from Cubbies Crib about what to expect from this upcoming Cubs season.
MB: Yu Darvish is the big signing of the offseason and feel free to elaborate on just how big it is, but aside from Darvish, what is your favorite addition or subtraction to the Cub's pitching staff?
Alex: This is a very big addition. Darvish brings a top of the rotation talent that has proven to have the stuff of an ace. It makes this rotation so balanced that you have guys who would be top of the rotation guys like Quintana and Hendricks being in the middle of the rotation. It also sets a certain potential postseason starting four. I really like the addition of Cishek. He is a veteran guy who has served in multiple pen roles and has been effective. He also has shown a lot of enthusiasm during his time here before the season has started.
MB: With how deep the Cubs are with position players, are there any names that you feel will not end the season with the team?
Alex: I think that this core is here to stay for the most part. Though Addison Russell could be the most likely candidate for a trade at the deadline if they need something and his value is high. Ian Happ may be another guy I could see being part of a deal at the deadline. Overall I think this core will be in tact by season's end.
MB: Who has the most at bats this year between Happ and Almora?
Alex: I am going to say Almora. He will be the everyday centerfielder most likely and possibly the leadoff man. Happ will get plenty of ABs but he will be used as a utility man. Even so, if Almora is an everyday player, I feel he can get the most ABs.
MB: Is it time to give up on Jason Heyward as an offensive asset?
Alex: No. Heyward has had good seasons at the plate in the past. Last year was not great, but it was honestly around league average. With a hitting coach like Chili Davis on the staff and his track record of having good offensive seasons, I cannot count him out.
MB: Everyone has shown flashes, but who can make the biggest jump at the plate this year?
Alex: I think Schwarber is going to have a real good season. He will up his average and OBP while hitting around 40 homers. Working with Davis can potentially cut down the Ks and get some more hits in there. There were many times last year he hit the ball hard, but right at a defender. Look for him to adjust his approach and try to spray the ball a bit more. He has show the ability to go Oppo in the past, just needs more consistency.
MB: How do you feel about Brandon Morrow as the new closer?
Alex: Morrow is potentially a good choice, though does not have a lot of experience. His pitches have a lot of life and throws for good velocity. The stuff is definitely closer capable, even though he came into his own late in his career. I do feel however that Steve Cishek would be a guy to highly consider because he has been an effective closer for a number of years.
Projected Starting Lineup
Projected Rotation
Projected Bullpen
| Role | Player | Pos | IP | W | SV | K/9 | ERA | WHIP | BB/9 |
| --- | --- | --- | --- | --- | --- | --- | --- | --- | --- |
| Closer | Brandon Morrow | RP | 65 | 4 | 36 | 9.38 | 3.57 | 1.22 | 2.91 |
| Setup | Carl Edwards Jr. | RP | 55 | 3 | 0 | 11.88 | 3.38 | 1.31 | 5.00 |
*All Projections Courtesy Of Steamer
Want some arrow with that Bowe? (Pronounced Bo-wee, killing the whole pun here, but whatevs.) Explore his content over on the Football side of Razz! And you can also follow him on Twitter.