The beginning of any minor league options article has to start with the definition of what is a minor league option. Well, I don't feel like re-hashing it and there are plenty of places that you can obtain that information, so, I've placed a few links below that can provide you with you all the information that you're looking for about minor league options.
MLB Index of Players Out of Minor League Options
Minor League Options, Explained
MLB Transactions Wiki
Now that we have the formalities out of the way, it is time to get into the actual information.  For each team, I listed every player that was out of minor league options, and then color coded them based on the key below, ranging from players that won't likely be sent down to players that are not on the 40 man roster.

I want to mention that I was very generous with my 'Interesting' vs 'On the 40 man, but not that interesting' classification.  If a player could have value in the deepest of league specific drafts, I generally marked them as interesting. This article is not necessarily meant to convince you of the value of any player, but wanted to make a list of players out of options easily available.
Now, let's take a look at the players out of options. I'm going to break them down by division and list some players you should already be aware of (You're Killing Me Smalls), some that are interesting for mixed leagues (We Need to Talk About Your Flair), some league specific (Very Particular Set of Skills), and some guys that you may remember from previous seasons that have drifted into obscurity (Stop Trying to Make 'Fetch' Happen).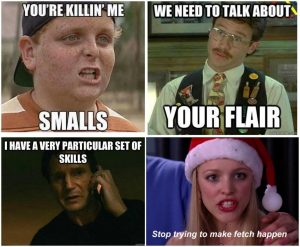 You're Killing Me Smalls: Zack Godley
Zack Godley made some changes to his pitch mix in 2017 and the results were impressive. He abandoned his terrible four seam fastball in favor of a cutter/sinker combo. However, as the season wore on, we can see that the numbers began to fall off along with his velocity. He started the season throwing the sinker 95 mph and the cutter 93, but by the end of the season the sinker was at 91 and the cutter down to 89.  Hopefully, another season under his belt will allow Godley to take the next step forward, and the humidor coming in Chase Field should be a benefit for him as well.
We Need to Talk About Your Flair: Sam Dyson and Hunter Strickland
I'm just going to lump Sam Dyson and Hunter Strickland together here and say that should Mark Melancon struggle, or if the injury proves too much to bounce back from, the Giants already put Dyson at closer last year and Hunter Strickland is a solid pitcher who probably deserves to be second in line should Melancon falter. Both are above average at keeping the ball in the park and could function as closer for the Giants.
A Particular Set of Skills: Chris Herrman
First of all, why does Chris Herrmann have to put like 5 Os and 2 Us in his name? If you're waiting at C though in your NL only, Chris Herrmann has some playing time issues and some contact problems, but he does hit for a few HRs, steals a few bases, and actually walks occasionally. He could see playing time all over the field, 1B and OF in addition to his C duties, to garner a bit more playing time.
Stop Trying to Make 'Fetch" Happen: Josh Rutledge
There was a time where Josh Rutledge was considered an upside sleeper play. His 23 year old season across AAA and MLB he went 21/21, hitting .306 in AAA and .274 in the majors for the Rockies. In 2013, as a 24 year old, he had 88 games in the majors and went 7/12 with a .235/.294/.337 slash line, and it has been downhill since then. He now seems to be organizational depth as he has been removed from the 40 man and likely won't see the majors barring an injury, and maybe multiple injuries in front of him.
Fun Fact: Kirby Yates was tied for 27th with 20 holds last season and also had a 38.1% K rate.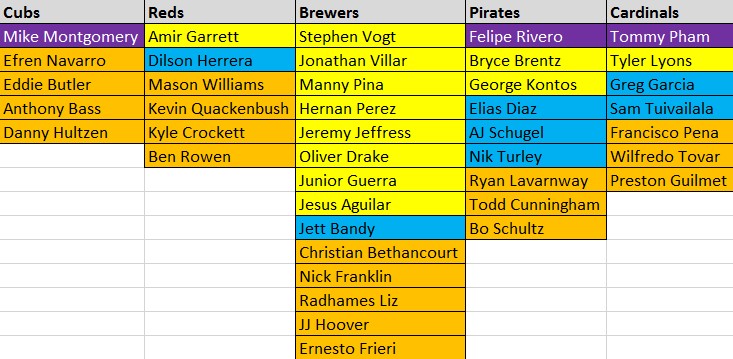 You're Killing Me Smalls: Tommy Pham
Opinions on Pham may be widely varied, but if you took 2017 off from fantasy baseball, Tommy Pham is a guy that has popped up that you should take a look at before your drafts in 2018.  With an average draft position of 57, you're going to have to decide whether you believe in the Phamtastic breakout or not. He was a 5 category contributor in 2017 with 23 HRs, 25 SBs, and a .306 average to go with a 13.4% BB rate that lead to a .411 OBP. However, Pham broke out at 29 years old, which alone brings questions into the breakout legitimacy. In addition, Pham has struggled with a degenerative eye condition over the course of his career, which can be used as a positive or negative depending on your point of view.
We Need to Talk About Your Flair: Tyler Lyons
Tyler Lyons may not be a name for 10 team league drafts, but everyone should keep him on their radar. The Cardinals currently have Luke Gregerson penciled in as their closer who is currently dealing with an oblique injury. The other primary competition to start the season will be Dominic Leone and Bud Norris.  Bud has struggled in spring training and isn't a picture of consistency, or excellence himself. Lyons had a career best 30.4% strikeout rate in 2017 with a varied pitch mix involving less fourseam fastballs and more sinkers coupled with the highest slider rate across a full season.
A Particular Set of Skills: Amir Garrett
Amir Garrett, who popped into the picture, and then faded quickly into the background in 2017, began the season in 3 starts with 19.2 IP of 1.83 ERA and 21 strikeouts with a 13% swinging strike rate. Over his next 6 starts though, he had a 10.93 ERA as he saw his control abandon him.  Amir did have a hip issue that he dealt with during the 2017 season. While I don't typically take much from spring training stats, Amir is off to a good start with 7 IP, 2 ER, and 11 Ks, and could be worth a dollar or two in your NL only. In addition, his velocity has increased this spring training from the 91.7 mph from 2017 up to 95-97 mph this spring.  Amir has said that he has fixed his arm slot and hopes to maintain a more consistent, repeatable delivery in 2018.
Stop Trying to Make 'Fetch" Happen: Kevin Quackenbush
Some people, myself included, thought Quackenbush would be the closer of the future for the Padres after his 2014 season where he threw 54.1 IP of a 2.48 ERA with a 25.2 K%. It wasn't meant to be though. Kevin enters this season at 29 years old and has seen his K% drop from 25.2% in 2014 to 18.4% in 2017, and a low of 16.6% in 2016.  He's really struggled with the homeruns as his HR/FB rate has gone from 3.8% in 2014 to 19.2% last year.
Fun Fact: Bryce Brentz, former top 100 prospect, hit 31 HRs in 494 PAs in AAA last season with a .271 avg.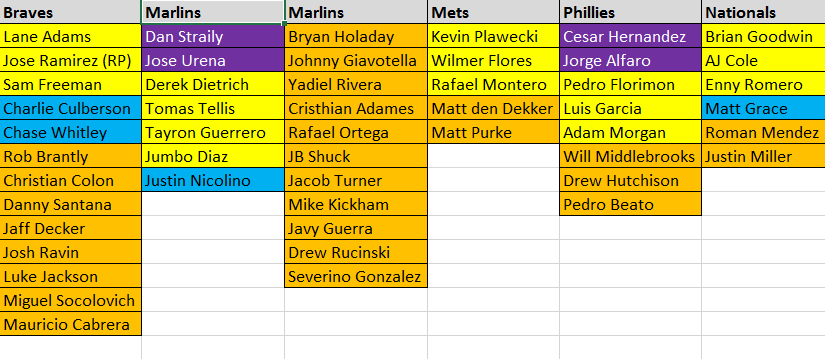 You're Killing Me Smalls: Cesar Hernandez
There wasn't much in the way of competition for this spot. Cesar really belongs more in the next part, but is the most established player on this list in regards to production. Cesar Hernandez, aka the roadblock to Scotty Kingery, deserves his spot on the MLB roster. He's a plus defender with a 10+% BB rate and a K% under 20. He hits for average and gets on base while providing a few HRs and mid-teens stolen bases. If you're waiting at 2B or MI, Cesar is a quality option that won't hurt at the position.
We Need to Talk About Your Flair: Jorge Alfaro
A catcher who can hit is always a valuable asset in fantasy baseball.  Alfaro has shown the ability to hit for average and a little pop in the minors, and at least by the numbers, had a successful call up last year. There are some concerns, and while it was a small sample size, the 21.5% swinging strike rate that went along with the 28.9% K rate definitely highlights some areas of concern for the catching prospect's first major league season. Alfaro is currently the 15th catcher off the board and while he does offer some upside, I caution looking strictly at the baseball card numbers from his limited playing time to make your predictions for his 2018 production.
A Particular Set of Skills: Jose Ramirez
The other Jose Ramirez works out of the bullpen for the Braves. In 62 IP last year he threw for a 3.19 ERA. The walk rate and the home run problems he's had in the past continued to plague him a bit in 2017. While the numbers aren't overwhelming, do notice that Jose added 2 mph to his velocity last season and is 2nd or 3rd in line for the closer job should Arodys Vizcaino struggle or get traded. Arodys is about to become arbitration eligible and the Braves could be looking to make a big splash in the next year or two with their farm system starting to reach the majors.
Stop Trying to Make 'Fetch" Happen: Danny Santana
Once a top 200 ADP, those who remember Danny Santana may recall that he had a .319 season across 101 games and 430 PAs with 7 HRs and 20 SBs. Since that time, the contact rate has dropped each season to go along with an increase in his swinging strike rate. Those looking through the batted ball data in 2014 would have seen the 23.5% soft contact and the 26.5% hard contact rates as a possible sign of bad things to come, but even at a higher level, the .405 BABIP was certainly unsustainable.
Fun Fact: Brian Goodwin, who could start for the Nats as Eaton recovers, had 13 HRs and 6 SBs in 278 PAs in 2017.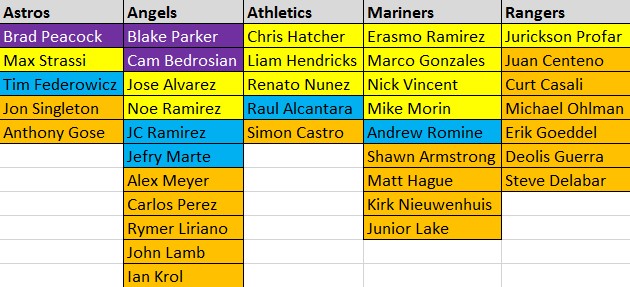 You're Killing Me Smalls: Blake Parker
Parker is currently going at an ADP of 200 as the presumed Angels closer. While reports have recently hinted that Cam Bedrosian is the favorite to close in 2018, the numbers say Parker deserves to be given the opportunity as well. Who knows what the Angels will do at closer in 2018? After all, it is Mike Scioscia we're talking about whom would probably still like to give the job to Huston Street if he could.  In 2017, Parker threw 67.1 innings with a 2.54 ERA, 0.83 WHIP, and a 33.9 K%.  As I said, he deserves to be given the opportunity to close, even over potential free agent signee, Greg Holland.
We Need to Talk About Your Flair: Brad Peacock
It would've been easy for me to put either Peacock or Cam here, and given the news that he has moved to the favorite of the Angels closer job, you should probably draft Cam over Brad Peacock.  We should take note of the excellent season Peacock put together last year.  While many people were hoping that Peacock would get the opportunity to start in the rotation this year, the addition of Gerrit Cole is likely to move Brad back to his long man out of the bullpen and occasional spot starter role. Although, that definitely does not mean he isn't useful in that role. Last year Peacock threw 132 innings of 3.00 ERA baseball with a career high 29% K rate.
A Particular Set of Skills: Erasmo Ramirez
At the back end of the AL pitching pool, Erasmo Ramirez offers a few dollars of value. There is nothing special about Erasmo, but he should have a starting job locked up for the Mariners and is not absent of strikeouts. In addition, 2 of the last 3 seasons he has managed a sub 4 ERA, which is definitely passable for a backend starter in your AL only leagues.
Stop Trying to Make 'Fetch" Happen: Jon Singleton
I was completely flabbergasted by the concept of Jon Singleton taking a 5 year, $10 million deal in 2014 prior to ever seeing a pitch in the majors.  There were those in baseball who complained that such a guaranteed contract was given to an unproven player, while others, like myself, couldn't comprehend why Singleton would push back his free agency by taking a team friendly deal with options and buyouts at the back end. Well, a few years later, and Singleton's financial advisor looks like a genius as Jon continues to toil away in the minors.
Fun Fact: Jurickson Profar walked more than he struck out in AAA in 2017.

You're Killing Me Smalls: Trevor Bauer
Trevor Bauer has been in the league for 4 years and it wouldn't surprise me if he has changed his pitch mix 10 times in that window.  Last year in the 2nd half, Bauer may have finally found something that could work moving forward. Full transparency, I have a hard time buying that Bauer will stay with the pitch mix from 2nd half last season and/or that it will continue to be as effective, but I can't ignore the numbers. In August and September when he ditched the cutter and threw more sliders and curveballs, the ERA for both months dropped to sub 3 with a 2.31 in August and a 2.90 in September.
We Need to Talk About Your Flair: Jorge Polanco
While every draft is different and you have to be aware of values that fall to you, part of my general draft strategy this year is to wait on SS and/or MI.  Jorge Polanco is one of many reasons I'm fine waiting on the SS position. Polanco is currently the 25th SS off the board after going 13/13 and a .256 average in 2017.  Among qualified hitters last year, Polanco's 85.6% contact rate was 13th best, and his 5.8% swinging strike rate was 12th lowest. Jorge also was a top 70 finisher in sprint speed with a solid 4.9 SPD rating via Fangraphs. If you couple the contact rates with the speed, and yes, maybe pair it with a  little good luck on balls in play, you can see a season with a higher average, more stolen bases, and the climbing hard hit rates hint that a few more homeruns may even be lurking.
Updated note: As of 3/18/2018, Jorge Polanco has been suspended 80 games for PED violation. You may be able to grab him cheap in a keeper or dynasty league, but unfortunately, he will likely have to take up a roster spot unless suspended players can go in the DL or N/A spot in your league.
A Particular Set of Skills: Leonys Martin
There were actually a number of people I could've selected here, but Leonys seems to be the right combination of rare category production and age pushing down his value that he should be a fairly inexpensive source of speed for your AL only leagues. Certainly a drain on your average, but most speedsters are, and especially when you get them late in your drafts. In every season that he has been given a majority of the playing time, Leonys has stolen as least 24 bags and his defense typically helps to keep him in the lineup. The 6.9 SPD score and top 130 finish on the overall sprint speed leaderboard show that the speed is still there and it's not an overly crowded OF there in Detroit.
Stop Trying to Make 'Fetch" Happen: Billy Burns
Burns had his eye catching 2015 season where he hit .294 and stole 26 bases for the As, and was going in the top 175 of drafts the following season as the leadoff man for the As. Well, the following season he hit .235/.271/.296 in 97 games. He spent most of 2017 in AAA for the Royals and didn't even merit a spot on the 40 man roster coming into 2018.  There's the furthest of outside chances that Burns can sneak into some playing time and possibly steal some bags, but not worthy of drafting in any league that I can think of.
Fun Fact: Since 2013, Leonys Martin has the 13th most SBs in all of baseball.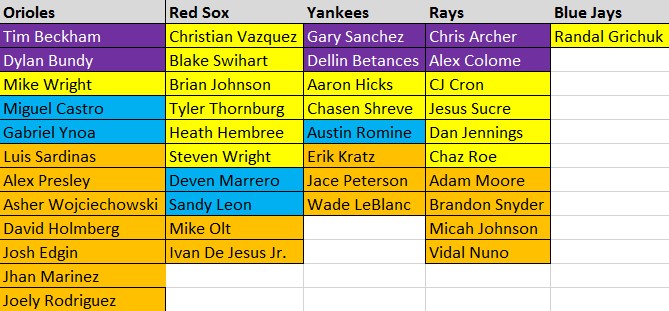 You're Killing Me Smalls: Dellin Betances
Plenty of low hanging fruit I could've picked here, but wanted to talk about Betances real quick as I believe his value should drop off a bit this season.  While the results ended up in pretty much the same place as before, there were some warning signs that may point toward a potential drop off. The most glaring item being his walk rate jumping from 9.4% in 2016 to 16.9% in 2017.  We also saw the first strike rate and the swinging strike rates at career lows of 51.3% and 12.7%.  When determining his value, we have to consider the depth of the bullpen for the Yankees and if that will present the number of opportunities it has in the past.  Betances threw a career low 59.2 IP last year. It's possible that there was just some fluctuation in the numbers given that every reliever works on such a small sample size, but I think there's enough concern that people shouldn't be reaching to make Betances their ratio specialist RP.
We Need to Talk About Your Flair: Tim Beckham
Former 1st overall pick traded for Tobias Myers. That happened to Tim Beckham during the 2017 season when the Rays shipped him to the Os. Well, the approach didn't get any better with a 29% k rate and only a 6% BB rate, but Beckham was able to hit 22 homeruns with a .278 average. He did hit .306 with 10 of those HRs in only 50 games for the Os. He has always been a groundball hitter and that didn't change last season as he had a 48.8% GB rate.  He also doubled his HR/FB rate from 10.6% in 2016 to 20.6% in 2017. Couple these items with the change in position to 3B and I'm a bit uncertain what to project from Tim Beckham this year, but he's another guy I'm fine grabbing late at SS if you're waiting at the position.
A Particular Set of Skills: Dan Jennings and Chaz Roe
Both of these guys are older pitchers at 30 and 31, but Alex Colome has been part of trade rumors for the last year plus, and he's about to become arbitration eligible in 2019. Of course, only a Florida baseball team would be concerned with a player hitting arbitration being too expensive, but it is what it is. Jennings and Roe represent the next in line, along with Daniel Hudson who was acquired in the Dickerson trade and Jose Alvarado. Roe has some intriguing upside with a 29.6 K% last season, but also brings with him an 11.4% BB rate. Jennings is not overly exciting, but was solid last year after arriving from the White Sox.
Stop Trying to Make 'Fetch" Happen: Micah Johnson and Mike Olt
Ok, there was an embarrassment of riches for this category so I had to choose 2, Micah Johnson and Mike Olt. Micah Johnson really made his mark in 2013 when he stole 61 bases at A ball, but that was really the highlight of his career. He was able to steal 28 and 26 bases in 2015 and 2016, but only warranted a few games for the major league squad. I could see Micah being a utility type still, but the time has passed on any of the prospect pedigree he once claimed.
Mike Olt always made me want to yell STEVE HOLT! Alas, we never got to see a slew of Arrested Development team names because Olt never quite panned out. After 28 homeruns and a .288 average in 2012, plenty of people thought Olt was off to the races, but after a few looks at the MLB level, the star has burnt out on Olt. It's nice to look back and remember what could have been.
Fun Fact: In 2017, Aaron Hicks was one of only nine players who had 15 HRs, 10 SBs, and a .370 OBP.
Written by Brandon 'B_Don' Myers. @ditkasausage pod on Twitter. Co-Host of Ditka, Sausage, and Fantasy Sports podcast hosted by LennyMelnickFantasySports.com