Oh man, what a week for The Pitcher Profile!  First we had Andrew Heaney called up right when last week posted, Danny Duffy stayed hot after a big ascent in the rankings, and then Rick Porcello throws 6 scoreless for his 9th win.  Power of the Profile!
The cherry on top – Heaney was awesome in his debut.  I've had him ranked since the very unfortunate TJ for Jose Fernandez, envisioning a rotation spot sooner than later.  Then when he moved up to AAA (and subsequently dominated), I moved him into the top 50 calling him a must-own.  Ahead of the hype!  I was able to catch most of his debut live, and I've got to say, I've had some Game of Thrones-esque daydreams since.  Some Will Ferrell with the blow-up doll moments… "You're my boy, Blue Heaney!"
I'm all the more excited to go back into his sizzling debut for profiling this glorious Monday, and already have a new nickname for him:  McDreamy.  McDreamy Heaney!  Wow, this is going too far… *clears throat and deepens voice* "Beer!  Titties!"  Here's how Heaney looked pitch-by-pitch in his first career MLB start:
First Inning: Heaney's first Major League pitch is a 91 MPH fastball painting the inside lower black to Eric Young Jr.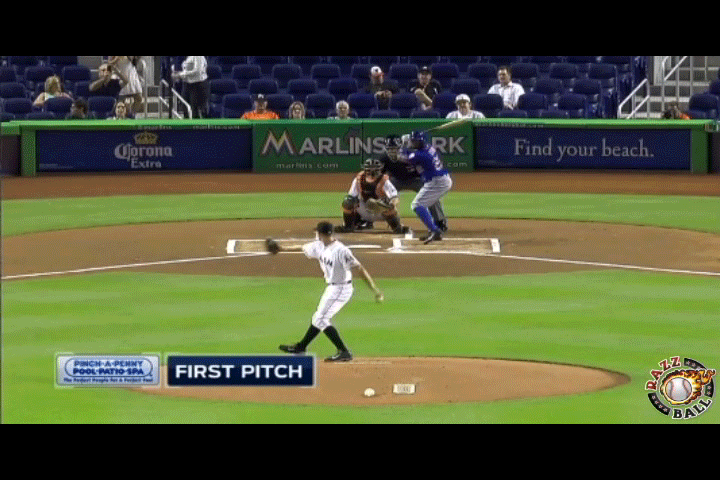 Great way to start your career.  Another fastball on the outer edge is slapped foul at 93, Heaney's first off-speed is a slider that hung a bit outside but is hit foul again, a really good slider at 80 starts low and dives out of the zone, but Young lays off for 1-2.  Fastball at 94 gets another late swing and foul (and a great catch by a fan), slider is in the dirt, and 6 pitches in still 2-2 to the leadoff man.  Heater is just inside on the hands, and the payoff pitch is another fastball that gets too much of the plate, and Young dribbles it towards short for an infield single.  Tough break there.  So lefty on lefty matchup against Daniel Murphy who takes a strike on the inside edge, fastball low, the 1-1 fastball is right on the outside black but called a ball, 2-1.  Give the rook some calls, ump!  Fastball on the hands is chipped foul, then right back on the hands and Murphy fists it weakly to second for a tailor-made double play.  Awesome start.  Another young pitcher I love – Yordano Ventura started his career with a four-pitch walk then a double play on the second batter.  Just something fun I remember…  Up is the big boy David Wright – who is mentioned by the broadcast as hitting .403 against lefties – and he takes a fastball strike, Heaney is low and away with his first change-up at 82, fastball low and inside is slashed foul, the 1-2 fastball is just inside on the hands, and then a 93 MPH fastball right down the middle – maybe a shade in the lower quadrant – gets smoked to center for a homer.  One of the hottest hitters against lefties in the NL touches up the rook.  So one run given up early, and the Mets bring up cleanup hitter Eric Campbell.  Yup, you read that right.  First-pitch fastball is just low, another heater is even lower, and out comes Jarrod Saltalamacchia for a quick chat.  Regrouping, Heaney is outside at 90, gets one on the outer edge at 90 again, then the 3-1 fastball is popped up and caught at short to end the inning.
Second Inning: One inning in the books, and Heaney starts Curtis Granderson with a fastball that's pulled foul, slider bends low and outside, then again slider that barely dips low at 78 is his best off-speed thus far – but it's taken by Granderson.  2-1 is outside with the fastball, Heaney is then further outside with the fastball for a five-pitch walk.  Even that first-pitch foul was inside, so nothing in the zone so far this inning…  But he rebounds quickly hitting the outside edge on Chris Young, then a nasty change-up that dies low in the zone gets Crispie to swing-and-miss, 0-2.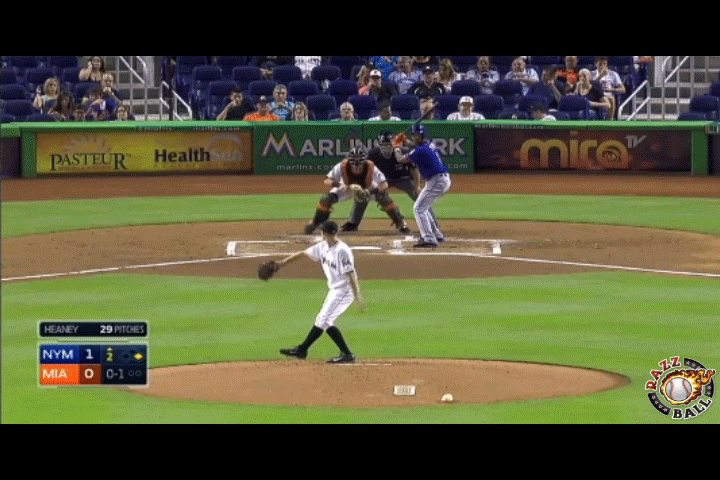 Heaney's next pitch is an 0-2 fastball that was supposed to be high, but it's right down the middle and blows Young away.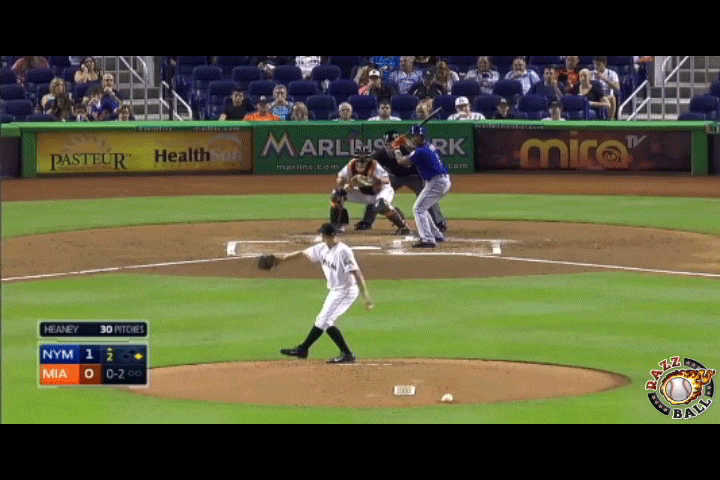 Maybe not the most memorable first-career K, but Heaney will take it!  And Taylor Teagarden takes a fastball strike, then hits a lazy flyball to center for out number two.  Fastball is high and outside to Ruben Tejada, a nice change-up on the outside edge is swung through, another change is low and outside, fastball on the outside of the plate is slashed foul, another heater upstairs nipped back foul, slider bending in the zone is fought off foul, change stays outside, then the 8th pitch of the at-bat is a full count fastball at the letters at 92, and Tejada swings through it for Heaney's 2nd K.
Third Inning: Probably a few too many pitches through 2 at 41, and his 42nd is a fastball in there to opposing starter Zach Wheeler, heater is outside, and again fastball is tapped weakly to first, with Heaney covering well for the first out.  Second time through the order and slider is in there to Young, fastball inside, a great change-up is swung on and missed, fastball goes too far inside, fastball again stays outside, and the payoff pitch is a fastball on the outside corner flared to right for the second out.  Young got a good piece of it, but guided it right to Giancarlo Stanton.  First pitch slider is yanked just foul down the first base line by Murphy – barely missing a double – then fastball is taken inside, then taken outside, 2-1 fastball is fouled off, slider with great movement is taken low, 3-2 fastball up and in is fouled off, again full count and a fastball is lined to left for an opposite field single.  Good hitting there from Murphy who wouldn't chase anything.  Big at-bat here with David Wright off the first inning homer, and fastball is in there, slider bends low and in, then another slider that stayed low but didn't have a ton of movement is hit hard to third, but Casey McGehee makes a great pick and throws him out.
Fourth Inning: Random side note – these incessant "professional painter" ads on MLB commercial breaks give new meaning to "watching paint dry".  Yikes.  Thankfully I can scrub navigate!  Anyway, Heaney's 61st pitch is a fastball on the outside lower black, slider bends low and in – we haven't seen good command of the slider yet – then another slider is cut on and missed at 76.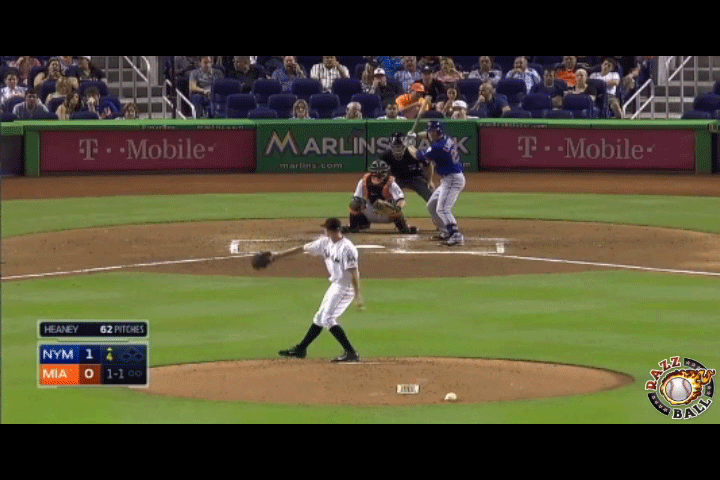 Not quite as much break, but it was a tight late break getting Campbell out in front and good to see Heaney with a little more control on that one.  Next pitch is a fastball on the hands and it's flown out weakly to center.  Slider bends low and outside on Granderson, then a fastball is a lazy flyball to left for two down.  Then the first pitch change-up to Crispie is dribbled weakly to the mound, and Heaney fields it very well and throws him out.  Great 7 pitch inning with all weak contact outs.
Fifth Inning: Heaney starts the fifth with a fastball in there on the outer edge, then Teagarden chases that slider diving low and in, 0-2.  Fastball is outside, slider is fouled back, then another slider dying into the dirt gets swung over for Heaney's third K.  Heaney sticks with that slider and bounces it for ball one to Tejada, another slider catches the outside corner, 1-1.  If Heaney can spot sliders like those for strikes, he'll be awesome.  Fastball is outside, another heater just gets out of play foul, and the 2-2 fastball is flown to left, two down.  Fastball in there to Wheeler, and again heater is grounded very weakly to second, inning over.
Sixth Inning: Heaney has been a fastball machine and brings it inside on Young, fastball again is low, then another fastball is chopped to short, and Adeiny Hechavarria makes a good stab, double clutches for some reason, and makes it a very close out call at first.  Almost another infield hit for Young, it wasn't hit too hard, but his speed and that double clutch made it close.  Fastball is in there for strike one to Murphy, Murphy then swings over that slider, 0-2.  But Heaney's 0-2 slider, while definitely low and out of the zone, didn't break as much as he wanted and it's a lazy liner just over Rafael Furcal for a single.  Wasn't hit too hard, but golfed out of the infield.  Runner on first, and Wright takes a change-up just outside, fastball is outside, Heaney challenges with a 2-0 fastball and Wright fouls it back, change-up is outside again, fastball on the outer edge is fouled off, and the payoff pitch is a change-up that stayed in the zone and would've been strike three – but Wright grounds it to short for an inning-ending double play.  Unfortunately Heaney gets no support and they pinch-hit for him in the bottom of the inning, giving Heaney a tough-luck loss in his debut.  But hey – a great outing bookended with double plays.
Final Line:  L  6 IP  91 Pitches (56 Strikes)  1 ER  4 Hits  1 Walk  3 K  Gamescore: 62  Gamescore+: 63.0
Final Analysis: An outstanding debut from the young lefty who had gathered a lot of hype before this start.  Even with the hype, he stayed cool, he stayed collected, he stayed McDreamy.  After the first inning homer, Heaney stayed calm and got a lot of weak contact in his debut – giving him a slightly higher Gamescore+ compared to his standard Gamescore.
With a smooth, repeatable delivery, he's everything I want from an NL lefty in a pitcher's park.  Nothing seems strenuous, and that includes his body language and demeanor.  He's not fidgety like Shaun Marcum, who looked like he always had hemorrhoids.  Heaney was all about establishing his fastball, mixing speeds with all sorts of movement from 89-94 (usually 91-92).  That heavy usage of the fastball along with great movement is going to rack up contact outs instead of Ks, so I don't think Heaney is going to be a strikeout machine.  He went to it 65.9% of the time Thursday night, but I see him mixing up his other offerings a tad more.  His scouting reports call his slider his "out pitch", but Heaney didn't have it going as good as I think he will moving forward.  Anywhere from 76-79, very few were in the zone with most diving low.  But I was really impressed that he changed his game plan a bit and utilized a lot of change-ups.  The Mets laid off most of the sliders, but had no answer for the changes.  Usually 80-82, that pitch was on and my favorite part about this start.  With that change-up working, it keeps righties off balanced and makes him a tough pitcher for all hitters.  David Wright hit the homer off the fastball in the first, hit probably the second hardest hit ball off Heaney for an out in the third on the slider, but a weak double play ball in the 6th on the change.  Sure this was against a horrible Mets line-up, but Heaney got better as his outing went on and hitters didn't improve the second and third time through.
I've been all-in on Heaney, and I'm more all-in.  I know Grey didn't like the debut too much, but I love the smooth delivery, the fastball movement, and that change-up was nasty.  I'm surely going to watch his next time out and keep an eye on the slider, which I think was a little off.  My ranking is aggressive, but with the glut of inconsistency outside the top 30, I think Heaney is going to have a fantastic run through the end of the season.  He pitched through college and is a tall frame with that smooth delivery – I really don't see an innings limit being too big a concern.  Heaney won't rack up the Ks, I'm guessing somewhere around 8 per 9, but he's going to be a WHIP cleanser.  Heaney should already be owned in all leagues, and while this debut was nice, he didn't get too many Ks and didn't get a win – maybe you can sneak him in a trade as a throw in.
JB's Updated Top 100 SP
(rankings based on 12-team Roto, and from this point to the end of season – green for risers, red for fallers)
| | |
| --- | --- |
| RANK | SP, TEAM |
| 1 | Clayton Kershaw, Los Angeles Dodgers |
| 2 | Yu Darvish, Texas Rangers |
| 3 | Adam Wainwright, St. Louis Cardinals |
| 4 | Stephen Strasburg, Washington Nationals |
| 5 | Felix Hernandez, Seattle Mariners |
| 6 | Chris Sale, Chicago White Sox |
| 7 | Masahiro Tanaka, New York Yankees |
| 8 | Johnny Cueto, Cincinnati Reds |
| 9 | Madison Bumgarner, San Francisco Giants |
| 10 | Max Scherzer, Detroit Tigers |
| 11 | Zack Greinke, Los Angeles Dodgers |
| 12 | Cole Hamels, Philadelphia Phillies |
| 13 | Julio Teheran, Atlanta Braves |
| 14 | Anibal Sanchez, Detroit Tigers |
| 15 | David Price, Tampa Bay Rays |
| 16 | Hisashi Iwakuma, Seattle Mariners |
| 17 | Scott Kazmir, Oakland Athletics |
| 18 | Mike Minor, Atlanta Braves |
| 19 | Jordan Zimmermann, Washington Nationals |
| 20 | Mat Latos, Cincinnati Reds |
| 21 | Corey Kluber, Cleveland Indians |
| 22 | James Shields, Kansas City Royals |
| 23 | Jeff Samardzija, Chicago Cubs |
| 24 | Sonny Gray, Oakland Athletics |
| 25 | Alex Cobb, Tampa Bay Rays |
| 26 | Homer Bailey, Cincinnati Reds |
| 27 | Jon Lester, Boston Red Sox |
| 28 | Gio Gonzalez, Washington Nationals |
| 29 | Andrew Cashner, San Diego Padres |
| 30 | Chris Archer, Tampa Bay Rays |
| 31 | Michael Wacha, St. Louis Cardinals |
| 32 | Tim Hudson, San Francisco Giants |
| 33 | Hyun-Jin Ryu, Los Angeles Dodgers |
| 34 | Yordano Ventura, Kansas City Royals |
| 35 | Andrew Heaney, Miami Marlins |
| 36 | Garrett Richards, Los Angeles Angels |
| 37 | Gerrit Cole, Pittsburgh Pirates |
| 38 | C.J. Wilson, Los Angeles Angels |
| 39 | Alex Wood, Atlanta Braves |
| 40 | Jered Weaver, Los Angeles Angels |
| 41 | John Lackey, Boston Red Sox |
| 42 | Justin Verlander, Detroit Tigers |
| 43 | Shelby Miller, St. Louis Cardinals |
| 44 | Rick Porcello, Detroit Tigers |
| 45 | Doug Fister, Washington Nationals |
| 46 | Matt Cain, San Francisco Giants |
| 47 | Wily Peralta, Milwaukee Brewers |
| 48 | Cliff Lee, Philadelphia Phillies |
| 49 | Lance Lynn, St. Louis Cardinals |
| 50 | Jason Hammel, Chicago Cubs |
| 51 | Ervin Santana, Atlanta Braves |
| 52 | Jon Niese, New York Mets |
| 53 | Dallas Keuchel, Houston Astros |
| 54 | Kyle Lohse, Milwaukee Brewers |
| 55 | Zach Wheeler, New York Mets |
| 56 | Phil Hughes, Minnesota Twins |
| 57 | Jesse Chavez, Oakland Athletics |
| 58 | Danny Duffy, Kansas City Royals |
| 59 | Josh Beckett, Los Angeles Dodgers |
| 60 | Tyson Ross, San Diego Padres |
| 61 | Nathan Eovaldi, Miami Marlins |
| 62 | Ian Kennedy, San Diego Padres |
| 63 | Tanner Roark, Washington Nationals |
| 64 | Hiroki Kuroda, New York Yankees |
| 65 | Yovani Gallardo, Milwaukee Brewers |
| 66 | Jake Odorizzi, Tampa Bay Rays |
| 67 | Tyler Skaggs, Los Angeles Angels |
| 68 | Mark Buehrle, Toronto Blue Jays |
| 69 | Trevor Bauer, Cleveland Indians |
| 70 | Mike Leake, Cincinnati Reds |
| 71 | Taijuan Walker, Seattle Mariners |
| 72 | Justin Masterson, Cleveland Indians |
| 73 | Ryan Vogelsong, San Francisco Giants |
| 74 | Bartolo Colon, New York Mets |
| 75 | Alfredo Simon, Cincinnati Reds |
| 76 | Aaron Harang, Atlanta Braves |
| 77 | Travis Wood, Chicago Cubs |
| 78 | Kevin Gausman, Baltimore Orioles |
| 79 | Roenis Elias, Seattle Mariners |
| 80 | Rubby De La Rosa, Boston Red Sox |
| 81 | Henderson Alvarez, Miami Marlins |
| 82 | Jake Arrieta, Chicago Cubs |
| 83 | R.A. Dickey, Toronto Blue Jays |
| 84 | Drew Smyly, Detroit Tigers |
| 85 | Marco Estrada, Milwaukee Brewers |
| 86 | Collin McHugh, Houston Astros |
| 87 | Marcus Stroman, Toronto Blue Jays |
| 88 | Francisco Liriano, Pittsburgh Pirates |
| 89 | Chase Anderson, Arizona Diamondbacks |
| 90 | Chase Whitley, New York Yankees |
| 91 | Matt Garza, Milwaukee Brewers |
| 92 | Tom Koehler, Miami Marlins |
| 93 | A.J. Burnett, Philadelphia Phillies |
| 94 | Jake Peavy, Boston Red Sox |
| 95 | Dan Haren, Los Angeles Dodgers |
| 96 | Jason Vargas, Kansas City Royals |
| 97 | Drew Hutchison, Toronto Blue Jays |
| 98 | Tim Lincecum, San Francisco Giants |
| 99 | Jose Quintana, Chicago White Sox |
| 100 | Vance Worley, Pittsburgh Pirates |
Dropped Out: Drew Pomeranz, Oakland Athletics ("You should see the chair!"), Jaime Garcia, St. Louis Cardinals (duh, shoulder issues…), Jorge De La Rosa, Colorado Rockies (awful)
Big news late last night that Andrew Cashner got scratched for today's start, and with a change of management a trade could be in the works/completed by the time this publishes.  Which would probably lower him if he moves out of Petco and possibly out of the NL.  Stay tuned.
Man was I glad I had Kershaw #1 last week!  That woulda looked baaaaaaad after that crazy perfect no-hitter performance.
Sheesh, poor Cardinals.  Jaime Garcia having shoulder problems shocked me more than Sportscenter's new set!  But I am legit sad to see Michael Wacha also got DL-ed with shoulder issues.  Wompa wompa wompa…  He was a big sleeper of mine, and hopefully once we get an official timetable, it won't be too long.  Doesn't sound too ominous from what I've read thus far.
Nat Gio didn't have a great return from the DL, and I have a feeling my red hot Brewers and their legion of righties will touch him up too at home.  But after that, send your buy low offers – might be the best value you can get really cheap at this point in the season.
Keuchel with 4 walks and 4 earned in both his last two.  With a BABIP still at .276 and LD rate at a very low 15% (which, sure, a groundballer on his game should give up fewer line drives) I'm slightly worried.  But only slightly, not like you're dropping him or anything.
I only moved him up 7, but C.J. Wilson has given up only 76 hits in 99.2 innings.  I'm usually anti-Wilson because the walks, but that's a pretty unreal stat.
As much as I want to move up Danny Duffy, the K:BB isn't great and he has a .213 BABIP.  I love his stuff and think he's a must-own where possible, but can't vault him too high.
I just don't know what to do with Phil Hughes.  I of course stream him in the Houston game a few back and get burnt, then decided for this week's re-rankings I would buy all-in and he lays a stinker.  Still gets the win, and in one league, I just can't make myself drop him for Duffy.
Time to go all out for Alex Wood.  I had a few comments about my thoughts on him ROS the past few weeks, and everything changes with Gavin Floyd likely out for the season, cementing Wood in the rotation.  I still want to give him a few starts before going higher, but if he has a nice debut and follow up, he'll shoot up.  Still only 60% owned in Yahoo = crazy sauce!
A big sigh of relief for Gausman owners, as his demotion was only procedural before he'll be back up for a double-header.  Hopefully he sticks past that… he should…
Sorry again about Marcus Stroman last week.  Damn clerical error.  "Well who is your mother f cleric, JB?!"  Dammit, you caught me!  But it was a precursor to his worst start!  I still think he's a decent 80ish-ranked option.  Sucks he gets the Yankees again at home instead of going in the NL at the Reds yesterday…
Whew, Jake Arrieta, you hot!  "That Arrieta is so hot right now…"  In a league with a deep wire, sure I'd grab him for the upside over teammate Travis Wood, but I'm weighing ROS and I think it's more likely this is an outlying hot streak.  I might even grab him over Vogelsong.  It's easier to make those short-term moves in the shallow leagues and readdress start-to-start vs. factoring ROS from this day forward.
Other hotties Kyle Gibson and Jesse Hahn just miss the cut.  Hahn with back-to-back no ER games, but was at the Mets and home vs. the Mariners.  Seems Hodgepadre-ish.  And Gibson I don't think delivers enough Ks for Roto formats and I don't have a trust level yet.  .255 BABIP and obscenely low 5.3% HR/FB this year.
Last week's profile-ee Vance Worley squeaks in as Mr. Irrevelent!  Huzzah!
Have I done enough to sweep you into Heaney-fever?  Thoughts on the ranks?  As always, shoot your comments below and happy pitching!