The Cubs.  The lovable losers.  The trade first and ask questions later…ers…
Say what you want about what the Cubs are doing, but I liked their blockbuster deal with the A's.  John Kruk was slamming it on Sunday Night Baseball (while my boy Rick Porcello got a bitch slap of regression), but then again I'm a Brewers fan and not a Cubs fan!
Last year, the Cubs sold Scott Feldman for current pickup of the year nominee Jake Arrieta.  So that's one thing they've done right!  Both the Shark and Jason Hammel weren't re-signing, and this ridiculous emergence from Arrieta eases the pain of rebuilding a rotation.
But we don't really care about Wrigley politics, we just want some nasty stats on our fantasy teams.  Arrieta has been absolutely unbelievable (only Clayton Kershaw has been better the past month) and he had back-to-back no-nos through 7 prior to Sunday's start.  How legit is this breakout?  Is Arrieta a sell high?  I've seen the highlights and bits of some of the previous starts, but I wanted a deeper look into his stuff and decided to Profile how he looked in yesterday's great outing against the Nationals:
First Inning: Arrieta's first offering is a fastball at 93 dipping low to Denard Span.  Another fastball at 94 is hit to center, and Justin Ruggiano takes a terrible path to the ball and it sails over him for a double.  Wow, utter BS double there and should've been an error… So early on Arrieta has to buckle down, and pours in a strike to Anthony Rendon.  A low cutter (Arrieta's go-to) at 91 gets a weak grounder between first and second, with former Gold Glover Darwin Barney making a great play to get the out.  One out, Span now on third, and 94 heat is in there to Jayson Werth, then a nasty, NASTY curveball at 81 gets a horrific whiff, 0-2.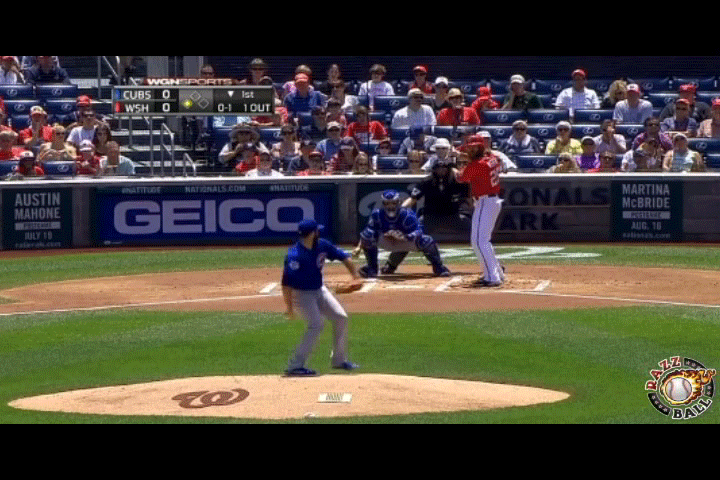 "Augustus, save some for later!"  Slider at 89 is low – at least that one was more slider-ish than the cutters I've seen, and the 1-2 curveball is hit to third – Luis Valbuena bobbles it and forces him to make the out at first.  Span scores off one major then one minor defensive miscue.  Bases clear, and first pitch huge breaking curveball is inside on Adam LaRoche, change-up low, cutter in the zone is fouled off, another cutter barely stays high and outside, 3-1.  Arrieta then goes to the fastball at 94 and it misses by a millimeter low and outside.  Both last two were tough calls – probably the right ones – but no benefit of the doubt.  Ryan Zimmerman takes a first-pitch fastball for strike one, a hanging cutter that stays shoulder high is fouled back on a weird-looking high swing, then Arrieta bounces a 93 MPH fastball for a wild pitch.  So right off the bat – Arrieta is looking awesome yet a tad off and still only given up the unlucky run.  1-2 pitch is a slider that is grounded weakly to short, ending the inning.
Second Inning: Man, Arrieta gave an interview heading to the 2nd and he carries himself like a really intelligent guy.  Just adding that in.  First pitch fastball is fouled back by Bryce Harper, then a change-up gets Harper to have to slow his bat mid-swing and Harper flies out lazily to center, one down.  Ian Desmond takes a 94 MPH four-seamer off the edge for a ball, Arrieta hits the same spot with a cutter getting a foul, another cutter fouled back, cutter again with a lot more break ends up in the dirt, 95 MPH fastball nipped foul, then the 2-2 curveball hung a bit and stayed in the zone with Desmond guiding it to center for a solid single.  I didn't see the need for Arrieta to throw a curveball there, Desmond wasn't too close on the fastballs and cutters.  But it's man on first, one down, and a fastball is fouled off by Wilson Ramos.  Cutter gets a very late waving swing through it 0-2, then a 94 MPH four-seamer somehow doesn't get the call – I guess a smidge low – 1-2.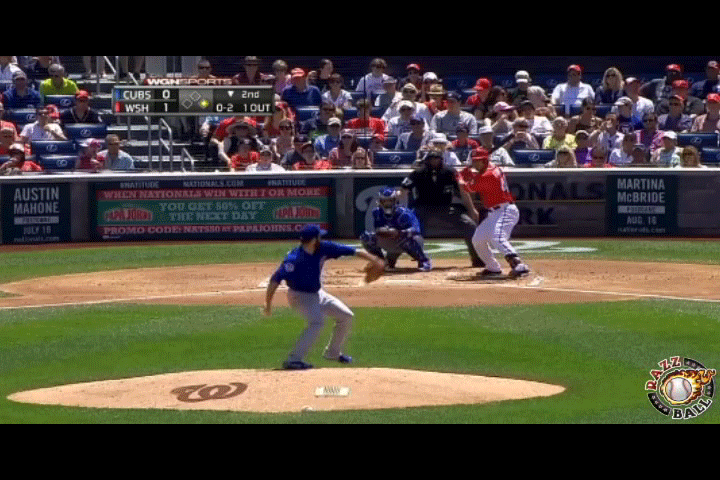 That fastball is nasty, and the ability to command that pitch with some sink on the outside corner 0-2 is pretty sick.  Following arguably his best heater thus far, Arrieta goes fastball inside fouled off, 1-2 curveball dips low, then the 2-2 cutter on the hands is squibbed towards the hole, but Barney had him shaded up the middle and makes the unassisted double play.  Good stuff.
Third Inning: First pitch 93 MPH fastball is in there to opposing pitcher Jordan Zimmermann, then another fastball is tipped weakly towards first, and Arrieta has to sprint to cover barely getting the out.  Nice defense from Jake the Snake (oops, wrong sport…).  Back to the top and Span takes a curveball that skips to the backstop, nice backdoor cutter gets the outside upper corner, another cutter gets in on Span's hands up in the zone for a tip foul, change-up flutters outside, and the 2-2 cutter is chopped to short, two down.  Power cutter at 91 dips in the dirt, then Arrieta is a tad high with it to Rendon, then the 2-0 cutter barely nicks the inside corner, 2-1.  Looked outside, but good to see Arrieta get a call.  Then Arrieta looks like he hits the outside corner with a change-up but it's barely too far out, then a 3-1 fastball on the hands gets a weak grounder to short to end the inning.  That four-seamer was at 95, and even on 3-1 when Arrieta has to give in, he's tough to hit.
Fourth Inning: Werth hits a cutter foul, a perfect fastball low and inside is in there at 95, 0-2.  Arrieta then dials up a cutter slicing out of the zone at 91 for a three pitch strikeout.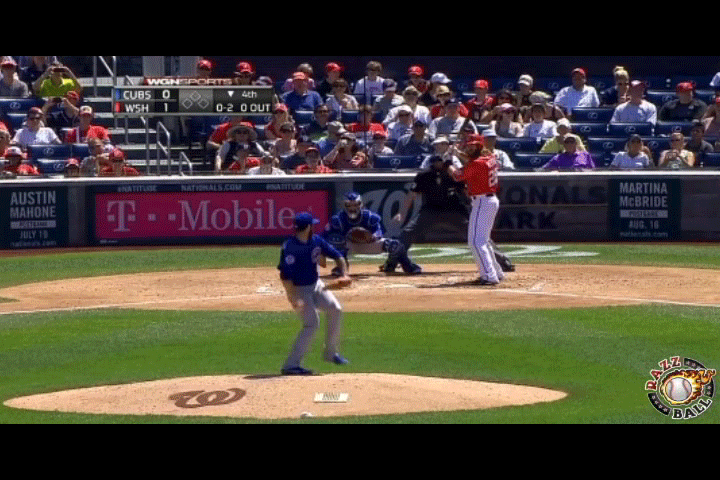 That's Arrieta's first, but he's looked sharp yet again through-and-through.  Werth looked all confused after that pitch ala Joaquin Phoenix on Letterman.  Fastball outside is hit foul by LaRoche, cutter goes inside, then a change-up at 89 is hit hard to center, caught a step in front of the track on the run by Ruggiano.  Best contact thus far, but good to see Ruggiano can catch a baseball (hah, sorry that's mean…).  Fastball is low to Zimmerman, curveball shoots vertically down the zone to just low 2-0, another sinking fastball at 94 goes low, and heater again at 94 is an inch too high for a four-pitch walk.  That last one was close, but that was Arrieta's worst attack.  Harper swings under a cutter on the outside edge 0-1, a fastball at 94 pretty far outside is chased and hit foul, then Arrieta throws that nasty curveball again and Harper swings way over top it for out numero tres.  Nasty pitch, and both Ks thus far have been this inning and both on three pitches!
Fifth Inning: Still a 0-1 game, and Desmond hits the first-pitch cutter to left for a leadoff single.  Not a horrible pitch, but Desmond sat on it.  Fastball is swung through by Ramos, then a cutter on the hands is flared to center, and Ruggiano decides to pull up on it for a single.  Geez, looked like Ruggiano could've made that catch.  I will defend it a tad with Zimmermann coming to the plate – no need to give up a triple on a misplay with the pitcher up – but horrible CF play.  Zimmermann showing bunt all the way nips a high cutter foul, another high cutter is bunted foul, then cutter times three is bunted foul again for the world's easiest K.  TGINL!  One down, and a nasty first-pitch cutter on Span's hands is barely tipped foul, 0-1.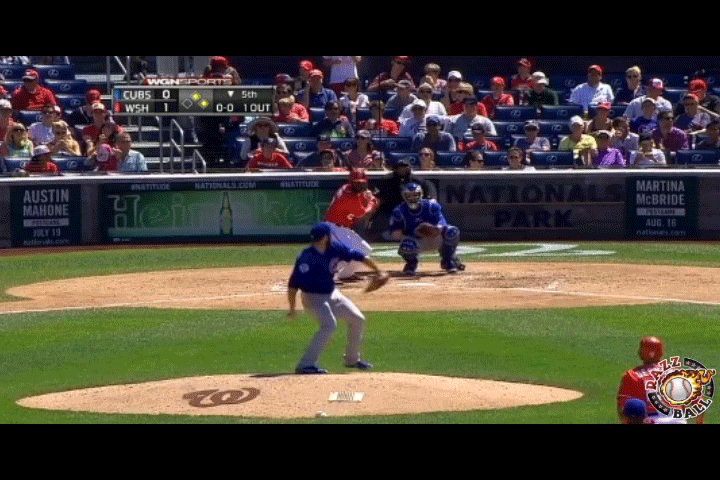 That's how to start a big at bat!  And that might've been a whiff and C misplay as well, I can't even tell!  Then a change-up at 89 is hit pretty hard to center, but caught by the world's worst CF for the out.  Good thing Span doesn't have any power!  So Arrieta is almost through it, with two down and runners now at the corners and the first-pitch cutter is sliced foul by Rendon.  Fastball is way low, another cutter is fouled, then cutter again at 89 almost front doors him, 2-2.  Fastball is fouled off, cutter again is barely inside and low, then the payoff cutter on the outer half is emergency poked to second for an easy groundout.  Big bounceback there from Arrieta.
Sixth Inning: At 71 pitches, Arrieta is hoping for a quick inning and a chance to leadoff the 7th.  He starts Werth with a curveball low, cutter barely misses outside, 95 MPH heat is microscopically low, but Arrieta again at 95 fights back a few inches higher, 3-1.  But the 3-1 cutter floats outside, and it's a leadoff walk.  Ruh roh.  Perfect 91 MPH cutter nipping the outside black on LaRoche gets Arrieta up 0-1, fastball is way outside, cutter at the letters is fouled off, 1-2 curveball sweeps into the dirt, then that awesome cutter at 89 on the outside edge is grounded to second, one down.  Werth advances into scoring position and Zimmerman takes a fastball low, cutter is in there, then cutter again at 92 barely stays on the outside black, 1-2.  One of Arrieta's best on the day.  Then the 1-2 is that sinking 95 MPH heat and it locks Zimmerman up at the knees.  Huge pitch.  4 Ks now, and Harper swings late and under the cutter just like he how started his last AB, 0-1.  Backdoor curveball at 79 drops in there, 0-2, 93 MPH fastball is way high, cutter at 90 dips low, then cutter again served up with extra nastiness runs in on the hands of a swinging Harper to end the inning.  I saw it on Sportscenter as well – Harper fails to break his bat in frustration and throws his helmet and gloves.  Unfortunately Arrieta is pinch-hit for, as he was really finding his groove.  Even though this wasn't quite the 9 or 10 K outing we've seen from him the past month, this was a pretty dirty start.
Final Line:  ND  6.0 IP  90 Pitches (58 Strikes)  1 ER  4 Hits  3 Walks  5 K  Gamescore: 62  Gamescore+: 64.8
Final Analysis: Wow.  Just, wow.  Really really impressive, and the first inning earned run should get Arrieta at least 3-4 free steak dinners from teammate Ruggiano.  With all the relatively weak contact – along with that leadoff double scoring a .1 since that should never have gotten down – Arrieta scored favorably in his Gamescore+.
Arrieta's got awesome stuff, starting with a 93-95 MPH sinking four-seamer.  Great movement when he needs it, as highlighted with that 0-2 pitch in the 2nd.  Then the huge debate – is his signature pitch a cutter or slider?  I think it's a cutter, as its movement reminds me of the pitcher I comp him to below.  Fangraphs lists it as a cutter, a pitch he has used 24.2% of the time (and probably 25.8% since a small percent have been logged as a slider).  At 89-92, it's got some ridiculous cut to it, sometimes pouring in on lefties' hands, then diving low to righties.  His curveball at 78-80 was sharp as well – not commanded as well as the cutter – but it had consistent break.  The final 5.5% of his pitches are change-ups, and I think he needs to scrap em.  Or as the Guru would phrase, "cram em!"  At 87-89, they just don't have enough separation from the heat, and look like hanging cutters.  National hitters were able to center them up, and with all the various movements of the cutters, I think he needs to abandon that pitch for a while.
So who does Jake Arrieta remind me of you may ask?  Well it's none other than my boyfriend Corey Kluber.  Porcello is my "boy" but Kluber is my boyfriend.  I've fought for both since May of last year (remember all the drop Kluber questions I had through the first month this year…?), and both are reaping rewards.  The similiarity with Kluber is that ridiculous cutter.  Kluber uses them 26.4% of the time and the pair's velocity on both that pitch and the four-seam are nearly identical.  The sharp, ridiculous movement, the debate if it's a slider… it's all there.  And since it's been Facebook-official for a while that I'm in a relationship with Kluber, I had to move Arrieta into a similar range.  Yup, you're seeing that right in my rankings.  I'm absolutely all in, and wish I had seen Arrieta's first or second start this year.  I watched a few outings last year, where the cutter wasn't a big part of his arsenal (6.1%).  Why I slept on Arrieta too much.  About the only knock on him is the lack of run support (as seen in this start) from the awful Cubbies.  This isn't a Jesse Chavez breakout with a sudden implementation and success of the cutter; Arrieta's cutter is dynamic along with more dynamic stuff (and much better control to this point).  Unfortunately, it's too late to buy him low in all likelihood, but if you can try to sneak him in a combo deal, you're gonna love the second half.
JB's Updated Top 100 SP
(rankings based on 12-team Roto, and from this point to the end of season – green for risers, red for fallers)
| | |
| --- | --- |
| RANK | SP, TEAM |
| 1 | Clayton Kershaw, Los Angeles Dodgers |
| 2 | Yu Darvish, Texas Rangers |
| 3 | Adam Wainwright, St. Louis Cardinals |
| 4 | Felix Hernandez, Seattle Mariners |
| 5 | Masahiro Tanaka, New York Yankees |
| 6 | Chris Sale, Chicago White Sox |
| 7 | Stephen Strasburg, Washington Nationals |
| 8 | Johnny Cueto, Cincinnati Reds |
| 9 | Madison Bumgarner, San Francisco Giants |
| 10 | Max Scherzer, Detroit Tigers |
| 11 | Zack Greinke, Los Angeles Dodgers |
| 12 | Cole Hamels, Philadelphia Phillies |
| 13 | Julio Teheran, Atlanta Braves |
| 14 | David Price, Tampa Bay Rays |
| 15 | Cliff Lee, Philadelphia Phillies |
| 16 | Hisashi Iwakuma, Seattle Mariners |
| 17 | Jordan Zimmermann, Washington Nationals |
| 18 | Scott Kazmir, Oakland Athletics |
| 19 | Mat Latos, Cincinnati Reds |
| 20 | Corey Kluber, Cleveland Indians |
| 21 | Jon Lester, Boston Red Sox |
| 22 | Homer Bailey, Cincinnati Reds |
| 23 | Gio Gonzalez, Washington Nationals |
| 24 | Jeff Samardzija, Oakland Athletics |
| 25 | Jake Arrieta, Chicago Cubs |
| 26 | Garrett Richards, Los Angeles Angels |
| 27 | Anibal Sanchez, Detroit Tigers |
| 28 | Sonny Gray, Oakland Athletics |
| 29 | Mike Minor, Atlanta Braves |
| 30 | Alex Wood, Atlanta Braves |
| 31 | Chris Archer, Tampa Bay Rays |
| 32 | Hyun-Jin Ryu, Los Angeles Dodgers |
| 33 | Tim Hudson, San Francisco Giants |
| 34 | Justin Verlander, Detroit Tigers |
| 35 | Yordano Ventura, Kansas City Royals |
| 36 | Andrew Cashner, San Diego Padres |
| 37 | Gerrit Cole, Pittsburgh Pirates |
| 38 | Alex Cobb, Tampa Bay Rays |
| 39 | James Shields, Kansas City Royals |
| 40 | Michael Wacha, St. Louis Cardinals |
| 41 | Jered Weaver, Los Angeles Angels |
| 42 | Rick Porcello, Detroit Tigers |
| 43 | Matt Cain, San Francisco Giants |
| 44 | Doug Fister, Washington Nationals |
| 45 | Jason Hammel, Oakland Athletics |
| 46 | Josh Beckett, Los Angeles Dodgers |
| 47 | Wily Peralta, Milwaukee Brewers |
| 48 | Lance Lynn, St. Louis Cardinals |
| 49 | Ervin Santana, Atlanta Braves |
| 50 | Kyle Lohse, Milwaukee Brewers |
| 51 | Tyson Ross, San Diego Padres |
| 52 | Zach Wheeler, New York Mets |
| 53 | Jake Odorizzi, Tampa Bay Rays |
| 54 | Ian Kennedy, San Diego Padres |
| 55 | Danny Duffy, Kansas City Royals |
| 56 | C.J. Wilson, Los Angeles Angels |
| 57 | Alfredo Simon, Cincinnati Reds |
| 58 | John Lackey, Boston Red Sox |
| 59 | Marcus Stroman, Toronto Blue Jays |
| 60 | Henderson Alvarez, Miami Marlins |
| 61 | Tyler Skaggs, Los Angeles Angels |
| 62 | Nathan Eovaldi, Miami Marlins |
| 63 | Tanner Roark, Washington Nationals |
| 64 | Matt Garza, Milwaukee Brewers |
| 65 | Phil Hughes, Minnesota Twins |
| 66 | Mark Buehrle, Toronto Blue Jays |
| 67 | Collin McHugh, Houston Astros |
| 68 | Kevin Gausman, Baltimore Orioles |
| 69 | Hiroki Kuroda, New York Yankees |
| 70 | Ryan Vogelsong, San Francisco Giants |
| 71 | Jesse Chavez, Oakland Athletics |
| 72 | Jose Quintana, Chicago White Sox |
| 73 | Mike Leake, Cincinnati Reds |
| 74 | Yovani Gallardo, Milwaukee Brewers |
| 75 | Dallas Keuchel, Houston Astros |
| 76 | Jesse Hahn, San Diego Padres |
| 77 | Trevor Bauer, Cleveland Indians |
| 78 | Shelby Miller, St. Louis Cardinals |
| 79 | James Paxton, Seattle Mariners |
| 80 | Andrew Heaney, Miami Marlins |
| 81 | Vance Worley, Pittsburgh Pirates |
| 82 | Roenis Elias, Seattle Mariners |
| 83 | Drew Smyly, Detroit Tigers |
| 84 | Bartolo Colon, New York Mets |
| 85 | Marco Estrada, Milwaukee Brewers |
| 86 | Taijuan Walker, Seattle Mariners |
| 87 | R.A. Dickey, Toronto Blue Jays |
| 88 | A.J. Burnett, Philadelphia Phillies |
| 89 | Tom Koehler, Miami Marlins |
| 90 | Jason Vargas, Kansas City Royals |
| 91 | Drew Hutchison, Toronto Blue Jays |
| 92 | Wade Miley, Arizona Diamondbacks |
| 93 | Francisco Liriano, Pittsburgh Pirates |
| 94 | Tim Lincecum, San Francisco Giants |
| 95 | Clay Buchholz, Boston Red Sox |
| 96 | Dan Straily, Chicago Cubs |
| 97 | Dan Haren, Los Angeles Dodgers |
| 98 | Rubby De La Rosa, Boston Red Sox |
| 99 | Aaron Harang, Atlanta Braves |
| 100 | Jake Peavy, Boston Red Sox |
Dropped Out: Justin Masterson, Cleveland Indians (I just can't trust him at all), Jon Niese, New York Mets (DL… again…), Chase Whitley, New York Yankees (turrible!), Chase Anderson, Arizona Diamondbacks (barely made the ranks the past few weeks, having walk/effectiveness issues), Travis Wood, Chicago Cubs (walking everyone in sight lately)
Just how good has said boyfriend Corey Kluber been?!  Can't really move him up, already had him pretty aggressively up there, but hopefully that helped out a few owners get through a mid-season puberty with a few extra Klubes.
I almost forgot to change Samardzija and Hammel's team!  Not too much changes for me for those guys – they've gotta pitch a little better in the move to the AL, but they'll get more run support.  Still a great park.  They both should be pretty happy campers with the move.
Yikes on the Andrew Heaney experience.  What's annoying is I'm usually not too big on the rooks.  Obviously a drop in shallows, but it sounds like the Marlins still have him as their 5th starter.  They can get by with a 4-man rotation until after the All-Star Break, and Heaney might be right back up.  I am holding in most of my leagues, but it's irrational and I had to move him way down.
I still really like Anibal – but coming off a rough start and with the disappearing Ks… Disappointing.
Also still like Alex Cobb, and might float some really lowball offers and hope to strike gold.  But had to move him down.
Porcello!  Rough 1st inning last night, and an unlucky extended 6th (hit and run got a grounder through, then a double play not turned before 3-run homer).  Ugh, but of course I'm not moving him.  Regression to the mean from the back-to-back shutouts.
Wacha is getting an MRI today… Hopefully we get some good news on a recovery.  Scary, but I'm an optimist and won't move him into the waiver wire abyss or out unless it's rough news.
I'm a big James Paxton fan – he looked awesome to start the year.  Will be making rehab appearances the next few weeks, and I'm bullish on him making an impact.
Jesse Hahn probably should've been ranked last week, but I wanted to see last Monday's start (vs. CIN 5 IP 0 ER 9 K) and he followed it up with a pretty strong QS yesterday.  He is on the short list of the next PP subject.
I'm surprised no one has commented on Wade Miley being absent on the rankings.  Sure his ERA blows, but he's racking up some big Ks which has pushed him in.  A little more in-depth on his numbers: 1 – Giving up way too many HRs (16.8% HR/FB), with Chase Field a big factor.  5.64 home ERA (3.19 on the road) with 12 HRs allowed to 5 on the road in the same amount of innings.  2 – LOB is an extremely low 68.7%.  3 – Slider usage is up to an even 25%, up from previous high of 16.4% last year.  4 – The slider is getting hit at a .192 average with a preposterous .139 ISO.  Erstwhile, his change-up has a .390 batting average against.  Suffice to say, Miley can lean on the slider in the second half and I think be a really good road pitcher. (stats were looked up late last night, unsure if yesterday's start was incorporated)
He hasn't been great in the Minors (or in his early stint this year in the Majors), and I might be guilty of writing my own narrative, but I just have a feeling Dan Straily is going to be interesting in the second half.  Moving to the NL, has good stuff, and the narrative part is "he's fired up since the A's gave up on him!"  Worth a shot in deepers.
Thoughts on this Arrieta surge?  What's got a craw in your fish in the rankings?  Shoot your thoughts below, and as always, may your pitchers bring you low ratio Ks!