"Three little kids run into frame — let's aim for an Asian, white and black kid — then they scream, 'Hey, it's Mac Williamson our favorite pimp!' Then Mac enters in a fedora and fur coat and hands out lollipops that say 'All day suckers' and inside the lollipop wrappers are condoms.  Can you dig it?"  That's Melvin Van Peebles on the set of the now-classic blaxploitation film, Hopefully Pence Is Shafted.  So, first things first, will Mac Williamson lose playing time to Pence, when he returns?  Have no idea what Bruce Bochy and his size 9 hat is going to do with The Gangly Manbird.  "Can The Gangly Manbird do it with a donkey?  Can you dig it?"  That's Melvin again.  My guess is Pence will play, but Pence hasn't really played for two years now, and Mac Williamson, the blaxploitation film star, is playing now and that's all that matters.  Well, also his power.  It's insane.  He has 9 homers in 16 games this year between Triple-A and the majors.  He could hit 30+ homers without even breaking a sweat.  Except when bedding two ladies, while putting another two to work.  Anyway, here's some more players to Buy or Sell this week in fantasy baseball:
BUY
Francisco Cervelli – What if all these years Cervelli wasn't a weak hitter just really slow on the objective of a hitter?  "So, I'm supposed to hit the ball hard?  How come I'm just finding out this now?"
C.J. Cron –  There's a sideview mirror attached to The Sciosciapath's hip and it reads, "Hitters are better than they appear."  As hitters move away from The Sciosciapath, they just get better and better.
Tyler Austin – Rip the ceiling off, grab onto a flying Tesla, drive Tesla with Elon Musk to Mars, get out of Tesla on surface of Mars and scream, "This is how far Austin is playing over his head!"
Jesus Aguilar – With Thames out for a few months, Hayzeus Agoolawr will commence juego'ing up in the Brewers' mug.  He could be bueno for some power and averagemente.  I took 13 years of Spanish!
Brandon Belt – A little peek inside the inner workings of Razzball.  I text Rudy for a title, and he texts me back.  Straightforward enough.  However, sometimes our texts look like this:

Marcus Semien – Then I waited about three minutes and sent this: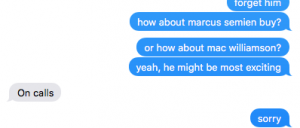 HAHAHAHA.  So annoying!  Guess I thought about blowing my load on Semien, and I couldn't stop thinking about Mac Williamson surrounded by a bunch of women who look like they should be in a Benetton ad.  In the big picture, Semien will likely be more valuable.  Plus, he can be used as paste.
Lourdes Gurriel – Yo, whatever happened to Lorde who sang about George Brett's pine tar incident?  She should do a song about Lourdes Gurriel.  "And we'll never be Royals, it's the wrong team, nah'mean?"  Don't roll your eyes, that rhymes more than the actual song.
Jeimer Candelario – Went to look at Jeimer Candelario's player page and it said, "C'mon," and redirected me to the Google page that read, "Did you mean hot schmotato?"  Then I tried a few more times to get to Jeimer's player page and it kept redirecting, so I guess we'll have to take Forces Greater Than Either Of Us's advice on this one.
Willy Adames – I like to have at least one player representing every position, but, no lie, I struggled to find a shortstop to tell you to Buy that is under 50% owned.  Guess there's Aledmys, but I've used him a few weeks in a few now, and he's not exactly lighting up the world, like Smokey the Bear's evil twin, Pyro Bear.  The Rays are hot garbage left in a glove compartment in a car parked on the sun.  Therefore, ergo, henceforth, Adames is the Rays' answer to Gleyber, and should be up in early part of June.
David Dahl – Looking for a guy who could be owned in the shallowest of leagues by June?  Look no further.  Though, if you could look further, like, through a computer screen, that's pretty cool.
Leonys Martin –  Let's jump in the Wayback Machine for a second…*psychedelic graphics*  WHOA!  Where are we?  *looks around*  2017!?  This is crazy!  I'm going to invest in Bitcoin!  *after spending 17 hours trying to figure out what Bitcoin is and how to buy it, I shrug*  Okay, I guess forget Bitcoin.  Instead, let's look at my Leonys Martin sleeper post!  I projected him for 16 HRs and 31 SBs?!  This is better than figuring out how to buy Bitcoin and making a hundred million dollars!
Michael Taylor –  Don't need the Wayback Machine for Michael Taylor, he was a sleeper this year.
Mark Canha – Not much but a hot schmotato, but let's see what the Hitter-Tron says, "I am a Sex Robot and want to put grease on my lug nuts."  Ew.
Delino DeShields –  If we were so inclined, we could go back to Delino sleeper posts from the last six years, but let's not.
Chris Devenski – I get the feeling by September we're going to look at Giles and forget at any point this year he was not the go-to closer in Houston.  With that said, Devenski should be owned.
A.J. Minter – Slow start to the year for closer turnover, huh?  In past years, a closerpocalypse had swept through the league a few times already.  Guess climate change has been fixed, thanks, science!  However, in Atlanta, they seem to be experimenting with a committee, which is shittee, but there ya go.
Jaime Garcia – This is a Stream-o-Nator call like the call it makes to 1-800-Attorney to see what the rate is to just talk.  So sad!
Walker Buehler – Is Rich Hill back?  Or is Rich Hill due back and we know he won't be back?  Prolly a mixture of the two like something from Dr. Moreau, like a monkey/donkey mix — a monkey!  Wait, that's not a good hybrid name.  I know, a donkey!  Crap.  A don-key?  Ugh.  A mon-key?  Dammit!  What would you call a monkey/donkey mix?  A monkass!
Nick Pivetta – Yo, why do you scorn my advice?  Why do you hold me in such derision?  Do you openly mock me?  Do you look at me and not get aroused, but instead think, "What a joker."  No?  Then why is Pivetta still not owned in all leagues?  Because you either hate me or yourself.  Either way, sad.
SELL
Reynaldo Lopez – He might look good tonight vs. the Royals, because:  Royals.  Stream-o-Nator even likes his start after that, and he's in the AL Central, which is packed with good matchups, and this is the worst Sell ever.  How's ever, Rey-Lo's peripherals are an absolute mess.  His walk rate is 5.6.  That is the new blech.  Lopez more like BBlopez!  Amiright?!
J.D. Martinez – I look for Sells on hitters in a few ways — high BABIPs, high strikeouts, overperforming sample sizes, to name a few.  There's a lot of noise in numbers right now, but the noise for Just Dong is just a bunch of pots and pans being banged.  He's swinging at everything early.  Not sure if he's feeling pressure of the new team and his Ks and percentage of balls swung at will settle, but there's some funkiness going on with Martinez, and he looks prone for a big slump.  Not to mention, he always gets injured.  Maybe it's nothing, so I would use the Fantasy Baseball Trade Analyzer and get value for him.  Not saying to sell him for a can of Pringles that didn't meet factory specifications and is more of a Chinese finger trap with salty snacks.