Grey comes on the podcast to blame B_Don for everything coronavirus related. Grey and Donkey Teeth are going a little stir crazy while B_Don was partying in Vegas. I think Grey was just jealous.
The trio then move on to how they are adjusting for ongoing and future drafts during this unknown period.  Grey discusses how he's adjusted his projections initially and the randomness that may ensue in a shortened season. We each offer up our thoughts on how a shortened season may adjust our approach at pitching.
We finally get to discuss Grey's Tout Wars NL auction and Grey auction value shames us poor amateurs. We discuss Grey's big purchases of Bellinger and Soto, and how that affected his auction strategy. Grey identified the types of players he needed, and we ask him about some of his buys.
Before everyone retreats to their quarantined sections of Razzball HQ (aka Grey's basement), we discuss Grey's pitching and how he thinks he can make his value staff work. Rather than watching The Office for the 53rd time under quarantine, you might as well listen to a little baseball talk. It's not like I watched a 2+ minute marble race yesterday or anything.
You can check out all of the auction results here. If you'd rather read Grey's article about his NL Tout team, you can read his article here.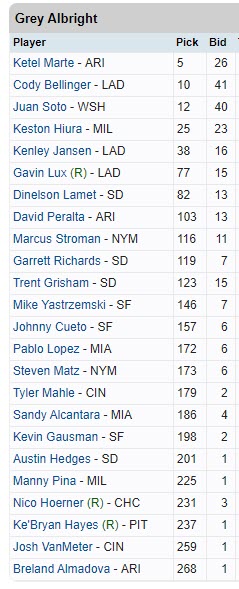 Podcast: Play in new window | Download
Subscribe: Apple Podcasts | RSS